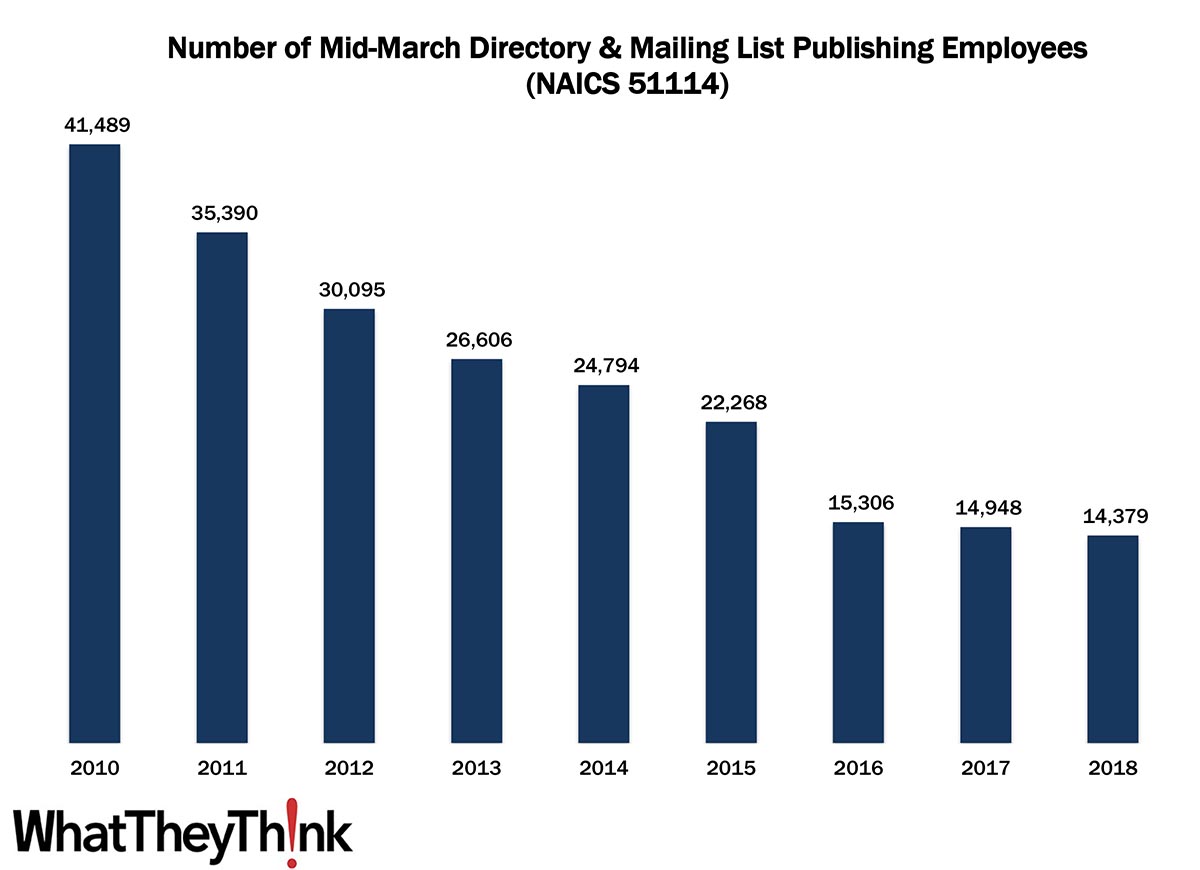 In 2010, there were 41,489 employees working in Directory and Mailing List Publishing (NAICS 51114) establishments; by 2018, that number had plummeted to 14,379, reflecting what we saw with establishments. There is no mystery to what is happening with these businesses: directories and mailing lists, when they haven't been replaced by Google, are distributed almost entirely electronically. The USPS's underutilized Every Door Direct Mail (EDDM) bypasses traditional directory publishers (when it's used at all), as some commercial printers—such as 4Over—offer and stress their EDDM services.
These counts are based on data from the Census Bureau's County Business Patterns. Every other week, we update these data series with the latest figures. These counts are broken down by printing business classification (based on NAICS, the North American Industrial Classification System). We will continue to look at employment in the publishing categories:
51119 Other Publishers
511191 Greeting Card Publishers
511199 All Other Publishers
For some of these categories, we will also supplement County Business Patterns data with Nonemployer Statistics, which counts freelancers.
These data, and the overarching year-to-year trends, like other demographic data, can be used not only for business planning and forecasting, but also sales and marketing resource allocation.
This Macro Moment
There are many aspects of the post-pandemic recovery that are unusual or at the very least atypical, but one is that business applications have been at all-time highs: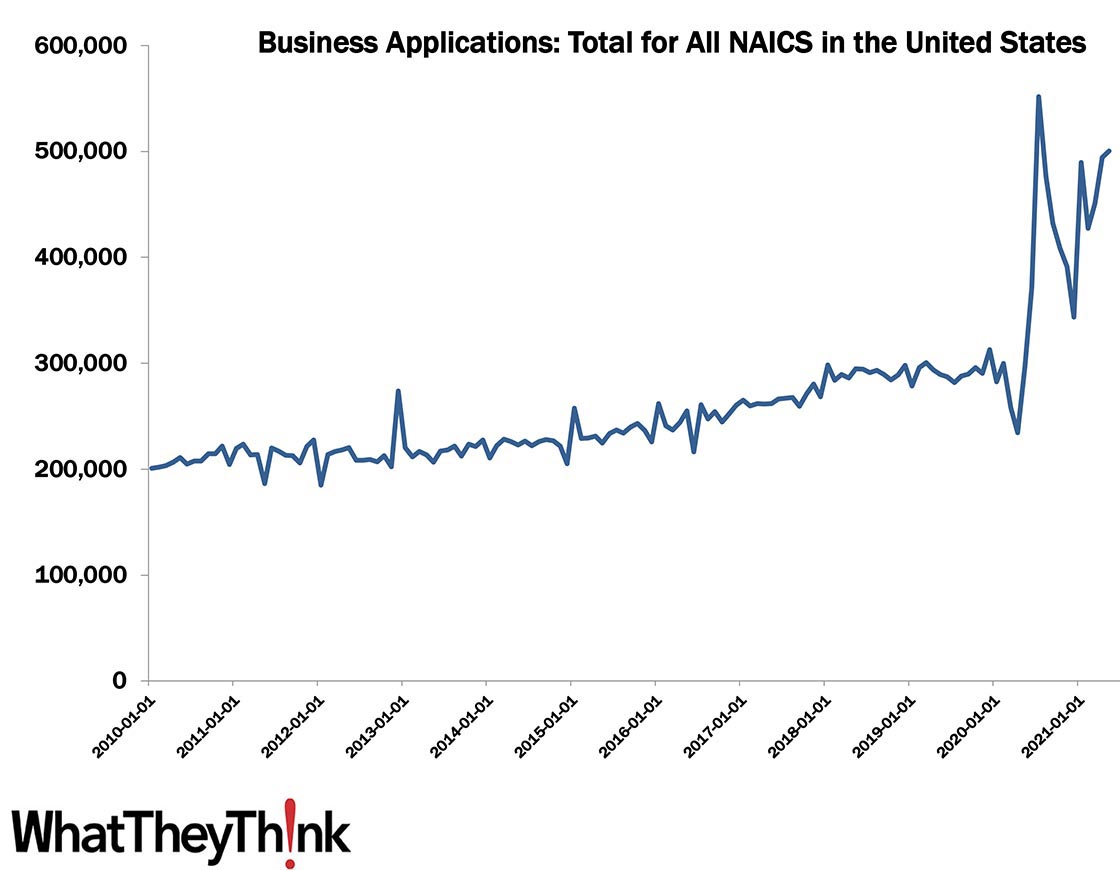 U.S. Census Bureau, Business Applications: Total for All NAICS in the United States [BABATOTALSAUS], retrieved from FRED, Federal Reserve Bank of St. Louis; https://fred.stlouisfed.org/series/BABATOTALSAUS, June 17, 2021.
Sure, some of this reflects a backlog of applications from March and April 2020, but an article late last year in the Economist believes these figures "reflect a genuine rise in American entrepreneurship. Based on a different survey Goldman Sachs, a bank, finds that the share of respondents starting a new business in the past three months has also risen sharply."
Could this be why everyone has been having such problems filling job vacancies, people are starting their own businesses? Could be—maybe the pandemic and lockdown made people more entrepreneurial, or perhaps the pandemic made more and more people rethink their life and career and give pursuing a dream a go. We'll leave the armchair psychoanalysis to the professional pundits, but still, as a story in the Wall Street Journal back in April put it, this has been a great time to search for investors in a business, especially a technology startup:
In the first quarter this year, U.S. startups raised $69 billion from investors—41% more than the previous record, set in the fourth quarter of 2018, according to data firm PitchBook Data Inc. The average valuation for startups at all stages also reached a new high, and more than tripled from last year to $1.6 billion for late-stage companies.
… Investors are offering startups five times—or more—the amount of money they are asking, and deals that used to take months now sometimes close in days, according to venture capitalists, deal makers and founders. Startups are raising cash every few months rather than every couple of years, and valuations are soaring with each new check, these people say.
The rate of people quitting their jobs has also been at a high not seen since 2000. Once all the dust clears, it will be interesting to see what the economic landscape looks like—are these permanent trends or is this a brief frenzy of activity before life gets back to what it had been?