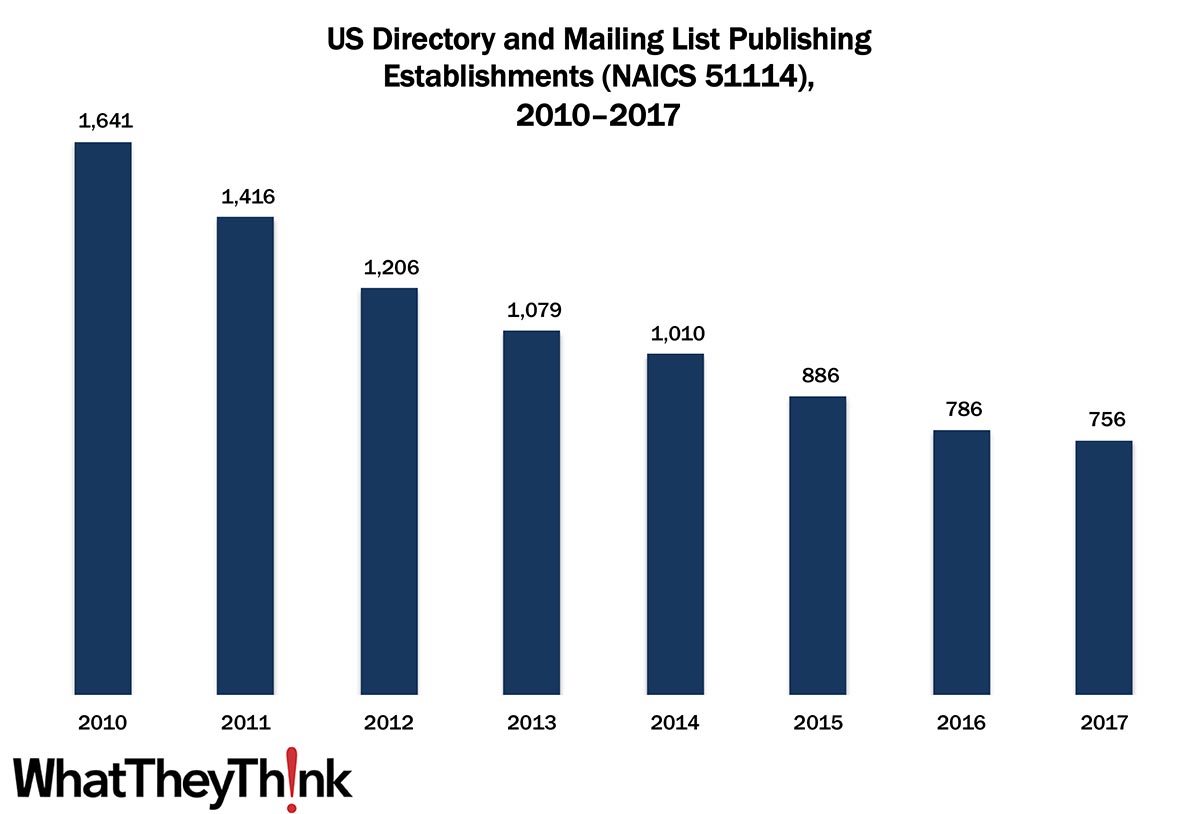 In 2010, there were 1,641 establishments in Directory and Mailing List Publishing (NAICS 51114); by 2017, that number had dwindled to 756. There is no mystery to what is happening with these businesses: directories and mailing lists, when they haven't been replaced by Google, are distributed almost entirely electronically. The USPS's woefully underutilized Every Door Direct Mail (EDDM) bypasses traditional directory publishers (when it's used at all), although some commercial printers—such as 4Over—offer and stress their EDDM services.
These counts are based on data from the Census Bureau's County Business Patterns. Throughout this year, we will be updating these data series with the latest CBP figures. County Business Patterns includes other data, as well, such as number of employees, payroll, etc. These counts are broken down by publishing business classification (based on NAICS, the North American Industrial Classification System).
These data, and the overarching year-to-year trends, like other demographic data, can be used not only for business planning and forecasting, but also sales and marketing resource allocation.
The new edition of County Business Patterns has just been released, including 2018 data. In two weeks, in our next demographic data slice'n'dice installment, we will begin including 2018 data, and we will turn our attention to the creative markets:
54143 Graphic Design Services
54181 Advertising Agencies
54182 Public Relations Agencies
54183 Media Buying Agencies
54185 Outdoor Advertising
54186 Direct Mail Advertising
Over time, we will be adding additional data from County Business Patterns, such as number of employees, payroll, and similar information for additional business classification of relevance to the graphic communications industry.