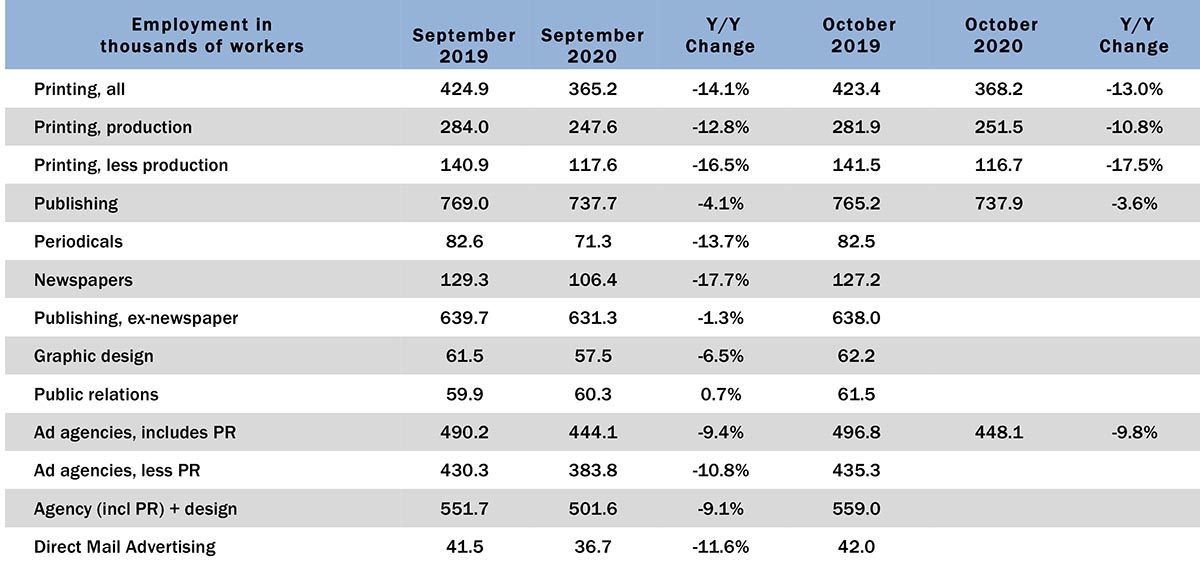 Employment figures from this year have been pretty bad (as we would expect), although we are seeing slight improvements as businesses reopen (etc.). August and September has seen the graphic communications markets in a bit of a holding pattern.
October 2020 employment figures are at least moving in the right direction from September, albeit slo-o-o-o-wly; overall printing employment in October was up +0.8% from September. The gains were in production staff continuing to come back: production employment was up +1.6% from September, while non-production employment was down -0.8% from September to October. Year over year, overall printing employment was down -13.0%, non-production employment down -17.5%, production employment down -10.8%. We have entered the age of "enforced" or "inadvertent" lean operations.
In the publishing and creative markets, employment was fairly stable from August to September (data reporting on these markets lags the printing markets)—overall publishing employment was virtually unchanged, and newspapers were down less than 1%. Graphic design employment was up +2.3% from August to September (hopefully going to work on distancing signage design) and ad agency employment was up a scosh (+0.2%), while "in this time of uncertainty" public relations was up +1.2%. Direct mail employment was down -0.8%, which for them is practically employment growth.
So September and October numbers reflect a holding pattern in industry employment, with some in the industry reclaiming laid off or furloughed employees. Whether things continue to improve or plunge into April redux remains to be seen. We are stillbreaking daily infection rate records (as are some other countries) and at the moment there seems to be little will for more shutdowns, so businesses will likely remain open. It's going to be a busy winter for health care workers.