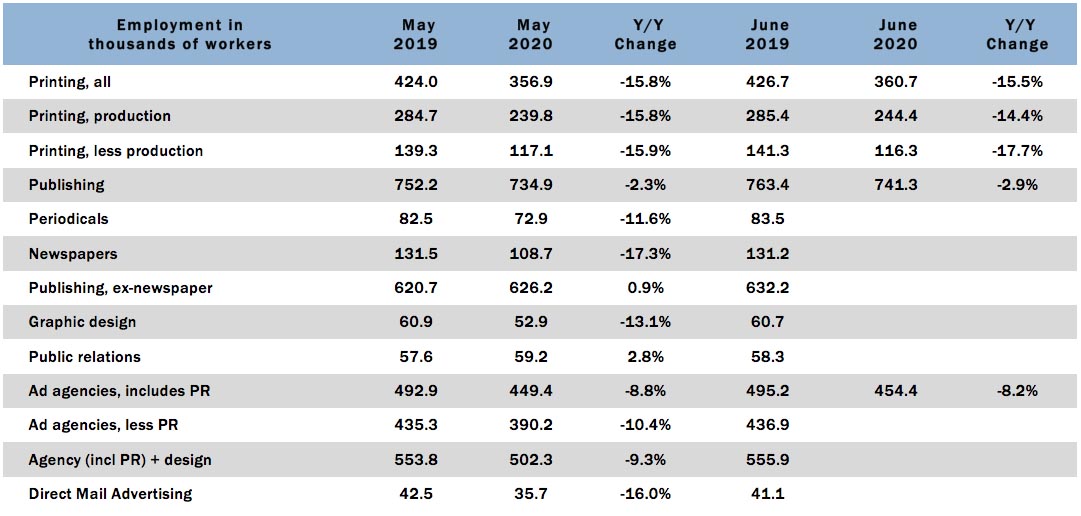 April employment figures had been pretty dismal; overall printing employment in April was down -19.2% from March. In May, we saw a slight rebound: overall printing employment was up +5.2%. Although that by no means compensated for the losses of the previous month, it at least reflected some employment growth, due, we expect, to a combination of PPP money letting companies hire back let-go employees, and some return of print work and a switch to different kinds of print work (PPE, COVID signage, etc.). Happily and unhappily, June 2020 numbers show another increase, albeit a small one: +1.1%. We'll take what we can get. Year-over-year, June employment was still down -15.5% from June 2019, which should surprise absolutely no one. (Remember, though, that April had been down -21.4% from April 2019.)
The gains were in production staff coming back: production employment was up +1.9% from May, while non-production employment was down -0.7% from May to June.
In the publishing and creative markets, April had been also been pretty bad, but the carnage seems to have slightly abated: periodical publishing employment was down -6.2% from March to April, and down only -1.0% from April to May. As for newspapers, they were down -7.0% from March to April and -3.2% from April to May. Graphic design employment was down -10.1% from March to April, but only -1.1% from April to May. Ad agencies (less PR) were down -8.7% from March to April but up +0.4% from April to May, and PR employment was down only -2.4% from March to April, but down -1.8% from April to May. (Hey, someone had to write all those "In these unprecedented times..." press releases.)
Employment amongst the typically beleaguered direct mail advertisers was down -9.2% from March to April, but down "only" -2.5% from April to May.
So May and June numbers have indeed reflected an improvement from an abysmal April, although we still have a lot of ground to make up. We're somewhat optimistic that July numbers will continue this trend, although we should not expect to see any dramatic increases in industry employment. There is also the fear, however, that as PPP money runs out for early participants, more layoffs may be ahead, which could be part of the reason for yesterday's announced spike in initial unemployment claims. There may also be more shutdowns and layoffs in areas where COVID cases are spiking, in and out of the industry.
But then, as we seem to be saying rather a lot these days, we'd be happy to be wrong.
In two weeks, we'll look at May printing shipments. You may want to start drinking now.