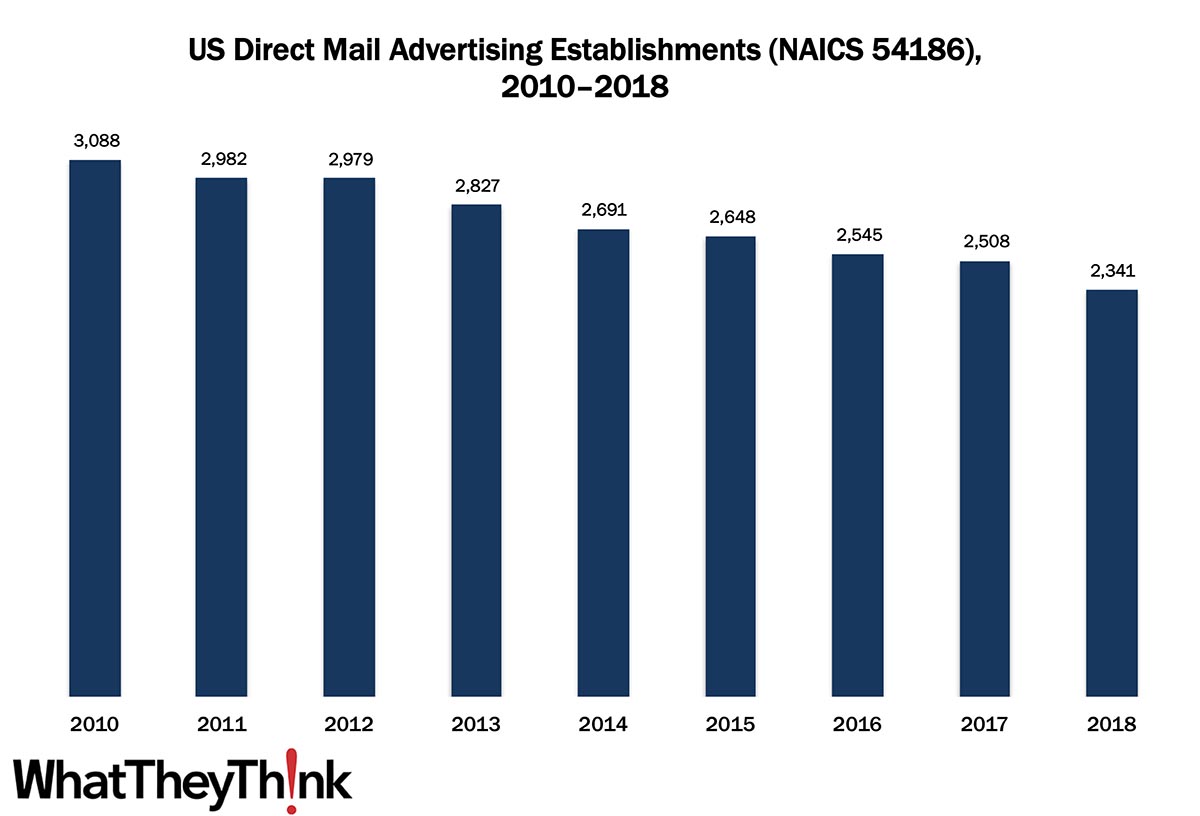 In 2010, there were 3,088 establishments in NAICS 54186 (Direct Mail Advertising). Unlike other business classifications in NAICS 5481, there was no increase in establishments post-Great Recession; there was just a continual decline to 2,341 establishments in 2018. There are a few reasons for the decline in this segment, but the dominant one is simply that much of the work of dedicated direct mail houses has shifted to more mainstream commercial printers. Another is that direct mail has been steadily declining since the mid-2000s through 2018—the fallout from economic upheavals usually includes a shift to electronic alternatives to print media, and direct mail is usually one of the first things to get cut from a marketing budget when times get rough. Once the upheaval (in this case, the Great Recession) is over, everyone has gotten used to the electronic alternatives to print and going back is a challenge. (These establishment counts obviously date from long before the COVID pandemic, but when County Business Patterns includes 2020 and 2021 establishment counts (check back here in about three or four years), we should expect to see further declines.
These counts are based on data from the Census Bureau's County Business Patterns, which now includes 2018 data. Throughout this year, we will be updating these data series with the latest figures. Census Bureau reports include other data, as well, such as number of employees, payroll, etc. These counts are broken down by publishing business classification (based on NAICS, the North American Industrial Classification System).
These data, and the overarching year-to-year trends, like other demographic data, can be used not only for business planning and forecasting, but also sales and marketing resource allocation.
The next batch of segments in our data slice'n'dice series will turn to converters:
3222 Converted Paper Product Manufacturing
32221 Paperboard Container Manufacturing
322211 Corrugated and Solid Fiber Box Manufacturing
322212 Folding Paperboard Box Manufacturing
322219 Other Paperboard Container Manufacturing
32222 Paper Bag and Coated and Treated Paper Manufacturing
322220 Paper Bag and Coated and Treated Paper Manufacturing
32223 Stationery Product Manufacturing
Over time, we will be adding additional data from County Business Patterns, such as number of employees, payroll, and similar information for additional business classification of relevance to the graphic communications industry.
This Macro Moment
Yesterday, the Department of Labor released its weekly unemployment claims report, and the employment situation is still not good:
In the week ending September 19, the advance figure for seasonally adjusted initial claims was 870,000, an increase of 4,000 from the previous week's revised level. The previous week's level was revised up by 6,000 from 860,000 to 866,000.
However, his doesn't include the 630,080 initial claims for Pandemic Unemployment Assistance (PUA), although they're down from 675,154.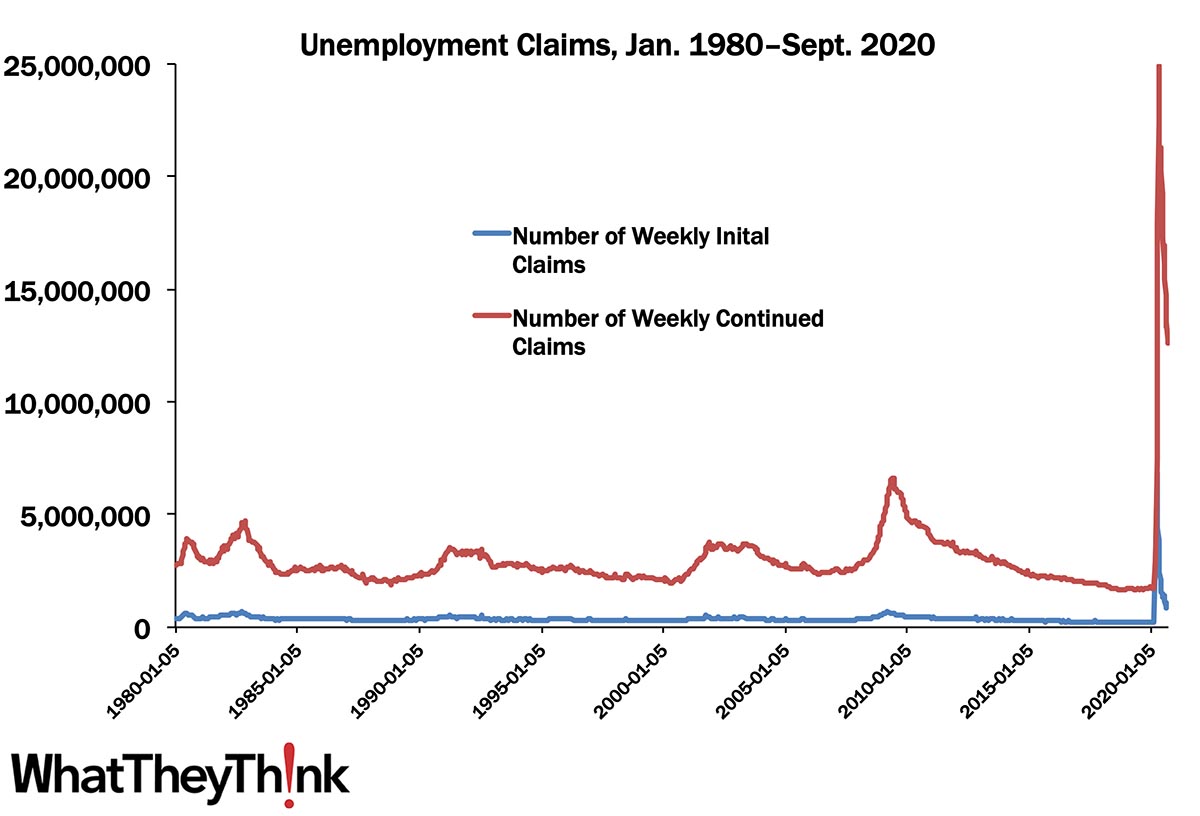 (These extreme numbers are playing havoc with our chart-making; we have some axes to grind...)
As we mentioned last month, an important number to keep an eye on is continued unemployment claims. While initial claims report those newly out of work, continued claims report those who remain out of work. For the week of September 12, continued claims decreased to 12.6 million from 12.7 million the previous week (continued claims reporting lags initial claims by a week). As Calculated Risk points out, "At the worst of the Great Recession, continued claims peaked at 6.635 million, but then steadily declined," so that's not good. Continued claims will likely remain high for the foreseeable future—to the extent that the future is in any way foreseeable.