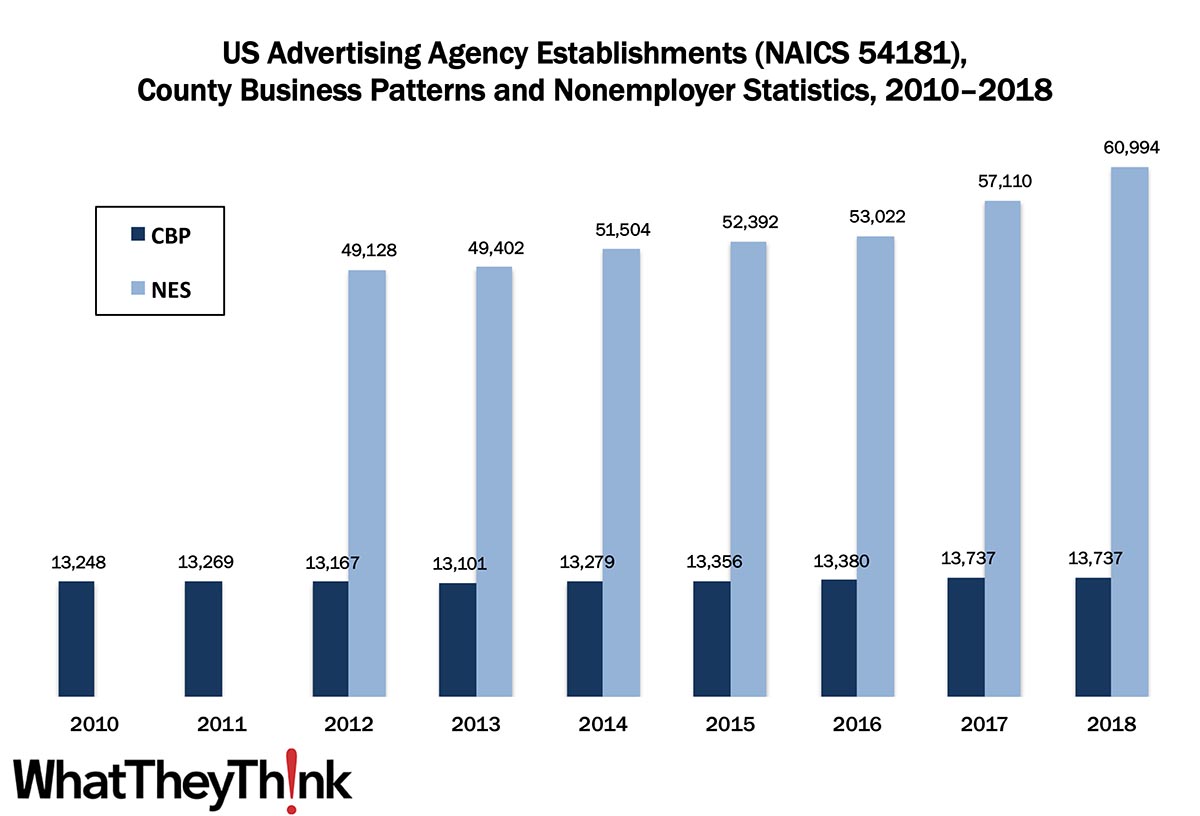 In 2010, there were 13,248 establishments in NAICS 54181 (Advertising Agencies). After something of a contraction due to the Great Recession, agencies started to grow again, peaking at 13,737 establishments in 2018, according to the latest County Business Patterns. (And we double-checked—the count was unchanged from 2017 to 2018.)
A substantial number of advertising agency "establishments" are counted as part of the Census Bureau's Nonemployer Statistics (NES), which are essentially freelancers or independent contractors. As we pointed out two weeks ago in our look at graphic designers, it's tough to get an exact count of this particular category, as Nonemployer Statistics only goes as deep as four-digit NAICS codes. NAICS 5418 (Advertising, Public Relations, and Related Services) also includes PR agencies, media buying agencies, outdoor advertising, etc., as well as "other services related to advertising," which we will look at in turn over the next couple of months. However, we can get a ballpark figure. In 2018, County Business Patterns counted 37,974 establishments in NAICS 5418, and establishments in 54181 accounted for 36% of them. In 2018, Nonemployer Statistics counted 168,608 establishments in 5418. Taking 36% of that would indicate 60,994 freelance or sole proprietor agencies establishments, up +7% from 2017. We have thus estimated the number of NES establishments going back to 2012 (which is as far back as NES goes).
Ad agencies have had to keep on top of any and all changes in mass communication and available media, and a single ad campaign today can involve some combination of print, web, social, video, and more. At the same time, chief marketing officers (CMOs) are putting more emphasis on marketing technology—data analytics, marketing automation, etc.—than what we think of as traditional marketing and Mad Men-esque advertising. A major challenge facing agencies has been marketers moving more of their marketing functions in-house, while more agency work is project-based rather than AOR (agency of record)-based, and indeed CMOs have less of a long-term relationship with their AORs than in the past. Meanwhile, TV advertising, which has been one of the various breads and butters of advertising agencies, has been upended by the streaming services, which are largely ad-free. And then there's Maude: Google, which has become one of the biggest de facto ad agencies. Automated ad-buying based on keywords has disconnected advertising from an agency, a publisher, or even content.
These counts are based on data from the Census Bureau's County Business Patterns and Nonemployer Statistics, which now include 2018 data. Throughout this year, we will be updating these data series with the latest figures. Census Bureau reports include other data, as well, such as number of employees, payroll, etc. These counts are broken down by publishing business classification (based on NAICS, the North American Industrial Classification System).
These data, and the overarching year-to-year trends, like other demographic data, can be used not only for business planning and forecasting, but also sales and marketing resource allocation.
Upcoming segments in our data slice'n'dice series will include the other "creative" markets:
54182 Public Relations Agencies
54183 Media Buying Agencies
54185 Outdoor Advertising
54186 Direct Mail Advertising
Over time, we will be adding additional data from County Business Patterns, such as number of employees, payroll, and similar information for additional business classification of relevance to the graphic communications industry.
This Macro Moment
Yesterday, the Department of Labor released weekly initial unemployment claims which came in under 1 million (963,000, to be precise)for the first time since March, although the previous week's initial claims were adjusted up by 5,000.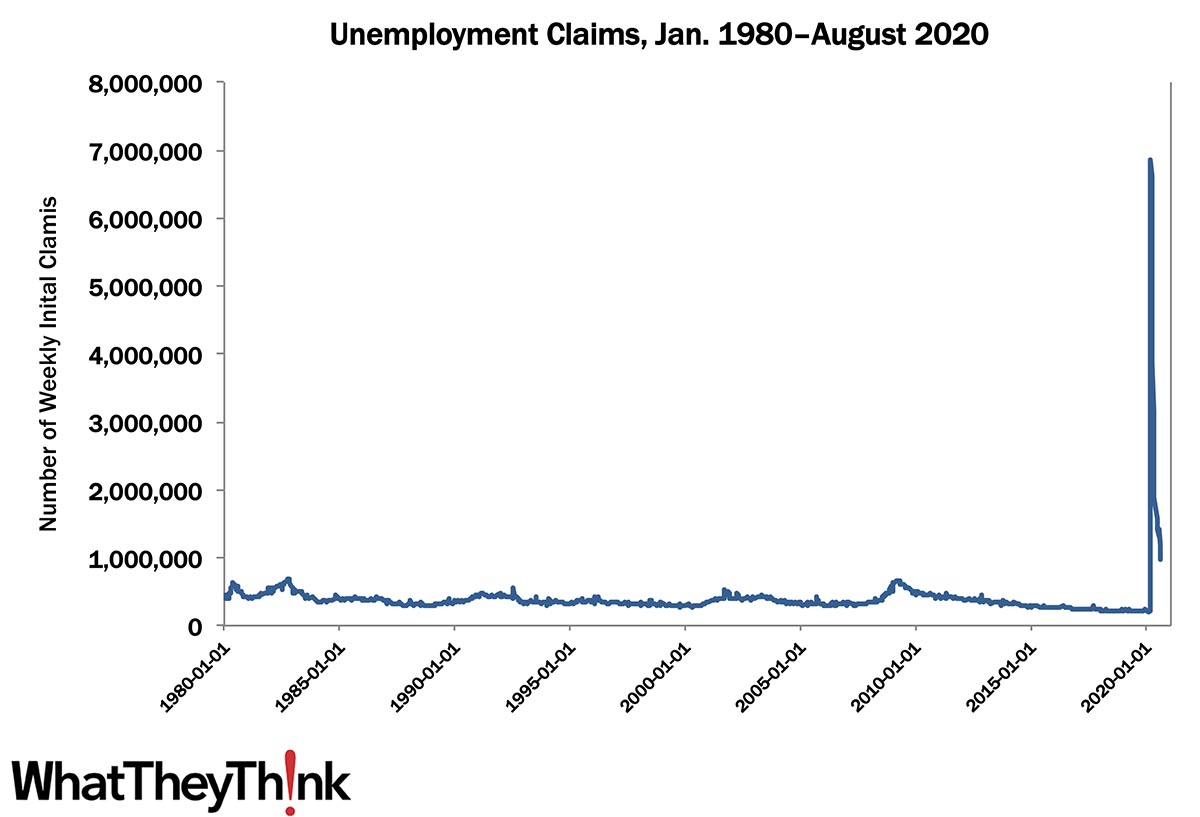 Source: Department of Labor
An important number to keep an eye on is continued unemployment claims, which although down this week (to 15.5 million from 16.1 million the previous week) will likely remain high for the foreseeable future (to the extent that the future is in anyway foreseeable).
Come back next week: we will actually have good news regarding printing shipments!