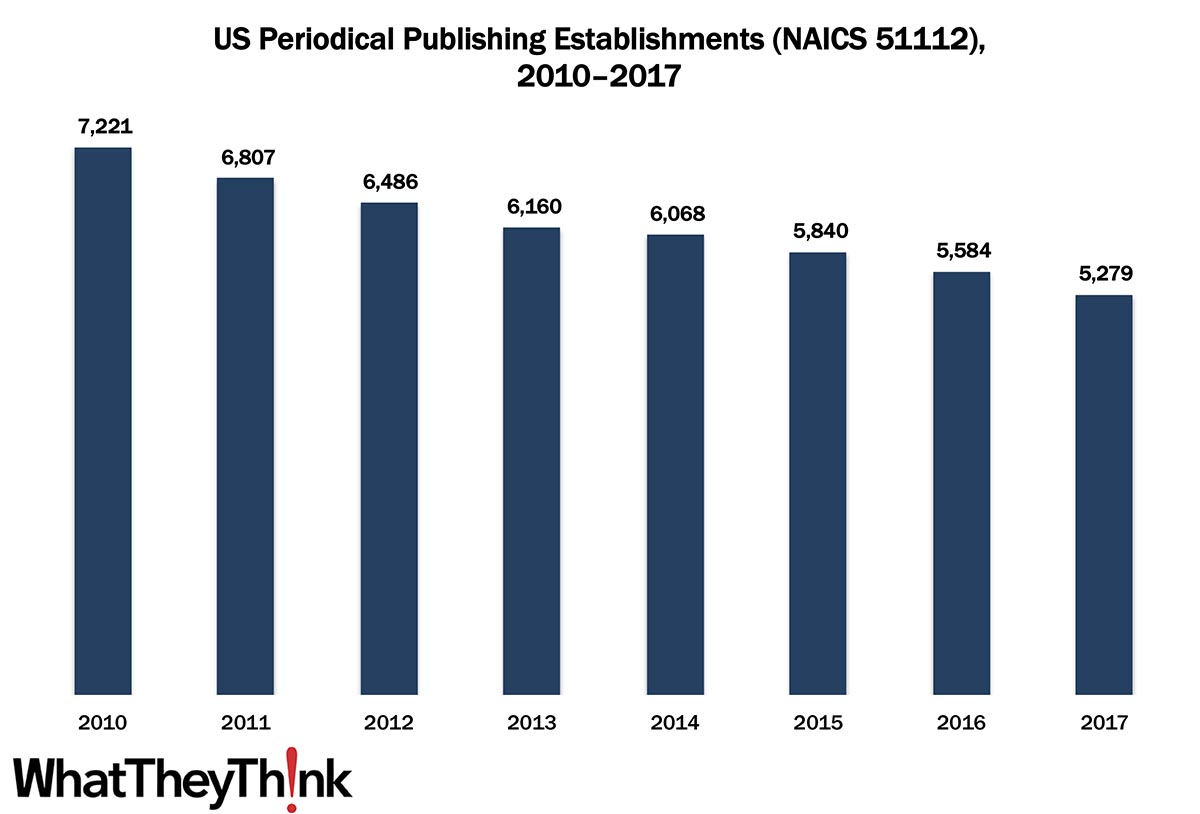 In 2010, there were 7,221 establishments in Periodical Publishing (NAICS 51112); by 2017, that number had dropped to 5,279. There is a lot going on with periodical publishing; some of it is bad news, such as magazines and their publishers shutting down, or merging, or being acquired by other entities. Perhaps the weirdest acquisition in the magazine publishing world was last year's sale of the Sports Illustrated brand to Authentic Brands Group. Not the magazine, just the brand and the ability to license its intellectual property like photos.
But focusing on print ignores the fact that magazines are just as invested, if not more so, in its digital/online component. (Even the Magazine Publishing Association changed its name to the Association of Magazine Media.) If these periodical publishers then see themselves as media companies, do they classify themselves in NAICS 51112? Also, Internet publishers, streaming media, and Web search portals have their on classification (NAICS 51913). So some of these establishment declines are very real and portend turmoil in the periodical publishing space, as publications lose circulation/readership as well as advertising (both physical and digital), but also reflect changes in what constitutes a "periodical publisher."
These counts are based on data from the Census Bureau's County Business Patterns. Throughout this year, we will be updating these data series with the latest CBP figures. County Business Patterns includes other data, as well, such as number of employees, payroll, etc. These counts are broken down by publishing business classification (based on NAICS, the North American Industrial Classification System):
511 Publishing Industries (except Internet)
5111 Newspaper, Periodical, Book, and Directory Publishers
51111 Newspaper Publishers
51112 Periodical Publishers
51113 Book Publishers
51114 Directory and Mailing List Publishers
51119 Other Publishers
511191 Greeting Card Publishers
511199 All Other Publishers
These data, and the overarching year-to-year trends, like other demographic data, can be used not only for business planning and forecasting, but also sales and marketing resource allocation.
Every other week, we will be breaking these establishment data down in different ways. Over time, we will be adding additional data from County Business Patterns, such as number of employees, payroll, and similar information for additional business classification of relevance to the graphic communications industry.
This Macro Moment
To the surprise of absolutely no one, on Monday, the National Bureau of Economic Research (NBER)—aka the recession wranglers—determined that we are indeed in a recession: "a peak in monthly economic activity occurred in the U.S. economy in February 2020. The peak marks the end of the expansion that began in June 2009 and the beginning of a recession. The expansion lasted 128 months, the longest in the history of U.S. business cycles dating back to 1854. The previous record was held by the business expansion that lasted for 120 months from March 1991 to March 2001." They added an interesting wrinkle: "a peak in quarterly economic activity occurred in 2019Q4. Note that the monthly peak (February 2020) occurred in a different quarter (2020Q1) than the quarterly peak."
The NBER acknowledges that this recession is not like past recessions. "The usual definition of a recession involves a decline in economic activity that lasts more than a few months. However, in deciding whether to identify a recession, the committee weighs the depth of the contraction, its duration, and whether economic activity declined broadly across the economy (the diffusion of the downturn). The committee recognizes that the pandemic and the public health response have resulted in a downturn with different characteristics and dynamics than prior recessions. Nonetheless, it concluded that the unprecedented magnitude of the decline in employment and production, and its broad reach across the entire economy, warrants the designation of this episode as a recession, even if it turns out to be briefer than earlier contractions."
On the plus side, the BLS has announced that inflation is down. So it's not all bad news!