Homi Shamir assumed responsibilities of President and Chief Executive Officer effective January 2001, having served as Chief Operating Officer since July 2000. Prior to July 2000, Mr. Shamir was located in Singapore serving as Vice President and Managing Director for Scitex Digital Printing Asia Pacific and Japan. Prior to joining Scitex in 1993, Mr. Shamir spent 16 years in the Asia Pacific region holding various executive positions. Education: MPA, 1990, Harvard University; BS, 1980, Hebrew University, Jerusalem, Israel.

Scitex Digital Printing, Inc. is a world leader in ultra-high-speed digital printing solutions with over 5,000 system installations worldwide and in a variety of applications ranging from addressing, personalization and variable messaging, to direct mail and short-run book printing and bill and statement printing. The company's products include the VersaMark high- resolution page printing systems and the Dijit range of narrow format printers.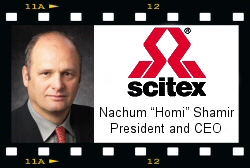 QUESTION: Homi, what types of print providers have the greatest potential for Scitex Digital Printing's technology?

Shamir: Our traditional customers have included commercial printers, lottery ticket printers, and letter shops. We continue to develop new products to meet these customers needs as their businesses grow and change. Our newest color systems products, including the VersaMark and VersaMark Vantage, meet the needs of a broad range of transactional documents printers, including service bureaus and data centers. Scitex Digital Printing is even beginning to work with on demand and quick printers and is pursuing opportunities in the newspaper market.


QUESTION: What are the most promising applications?

Shamir: Our newest group of customers represent a number of different verticals in the transactional document space, an area in which the bill and/or statement is becoming a marketing tool with personalized color messaging. These verticals include telecos, banks and financial services, and credit cards, and Scitex Digital Printing's Business Color™ is the sweet spot where their demand for low cost, high volume and print quality meet. And as we drive down the price point and size of our equipment without sacrificing quality, the door to the on demand market is opened.

Quick printers see the opportunity to print higher volumes of presentations, manuals, and handouts in full color at a fraction of today's prices on the VersaMark. This is why we are so excited to announce a new strategic alliance with the dominant player in this market at On Demand this year.


QUESTION: What are some of the things Scitex Digital Printing is doing to mitigate the problems related to putting wet ink on paper - like paper saturation and cockling?

Shamir: First, it is important to note that, for many customers with various applications, water-based ink on paper has never been a problem. However, we will always work to improve the entire printing process to broaden the acceptability of our technology. To that end, we work with paper companies to find the right fit for our customers. We also are making adjustments to the inks to reduce cockle and curl on certain papers.


QUESTION: Do you foresee alliances with vendors other than Xerox to provide different channels?

Shamir: Our relationship with Xerox, especially Xerox Europe, has enhanced our ability to reach the marketplace. This has been demonstrated through recent joint announcements regarding new installations. As we continue to evaluate our direct and indirect channels, we may find new opportunities to enhance the reach we have today.


QUESTION: Entering ON DEMAND, what products will be shown and tell us the biggest challenges to selling this technology?

Shamir: It's appropriate that you should ask about challenges to selling our technology, because our newest product, the VersaMark Vantage, takes a dramatic step toward eliminating some of those challenges. VersaMark, while highly successful, has been positioned as a high-priced, high-volume color printer. The new VersaMark Vantage is an affordable entry to Business Color, offering a lower entry price point and smaller footprint without sacrificing the quality of the VersaMark printers.


QUESTION: Explain the pricing offered to clients for your products. Do pricing plans offer both click charge and non-click charge models?

Shamir: Yes, we offer customers the flexibility of a click charge or non-click pricing programs. We've recently released new programs designed to lower a customer's initial capital outlay, linking their recurring payments to a number of months or monthly volume.


QUESTION: Your cost per page is commonly known as being about 2 cents per page, including paper for Scitex Digital Printing's offering. This would seem to be just the basic running cost. Where is this cost when fully burdened with lease, maintenance, and staffing numbers in a two shift operation running about one million pages per month? How does that compare with offset and with other new technologies such as the Nexpress 2100 and the Xerox iGen3?

Shamir: Actually, our estimates of 2 cents per page for color include the amortization, while black and white can be as low as a penny per page for higher volumes. A printer can now purchase the VersaMark Vantage to print full color, spend as little as $650,000 up front, and pay a click charge around 2 cents per impression. When you consider this system price is comparable to NexPress and iGen3, the price per page is less than the cost of color laser printing, and the throughput is three to five times greater, it's an overwhelming value proposition.


QUESTION: Which pre-and post-processing vendors are likely to offer solutions for his machines?

Shamir: We work with our current transport suppliers, Miyakoshi and Matti, as well as a range of pre- and post-processing vendors. We leave it up to the customer to decide the best fit.


QUESTION: As you brand yourself as a dominant player in the fast growing digital printing segment, what plans do you have in terms of the formal structure of Scitex Digital Printing in the next 12 to 18 months?

Shamir: We are looking to broaden the ownership of Scitex Digital Printing so that projects with large growth potential can be adequately funded. We think we have a great story to tell, and as the message gets out, we think the broader financial community will value Scitex Digital Printing much higher.