Wishing all anagram lovers a very happy Snail Event day

??????

— Richard Osman (@richardosman) February 14, 2020
Picture If You Will
Here is a cool collection of public domain, royalty-free images scanned from old books. You can search illustrations by subject, artist, or book/periodical title.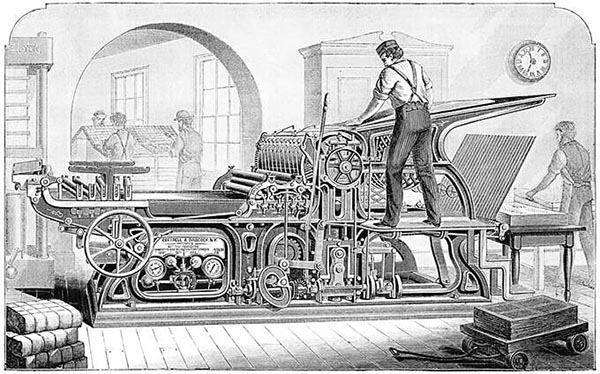 Operation Due Date
With all the talk about autonomous vehicles, here's one that was actually a good idea: Google's Bookbot, a robot that picks up Google employees' library books and returns them. Via The Verge, Google has mysteriously discontinued it, but a team of engineers are hoping to revive the Bookbot.
Um…
DAVID COPPERFIELD (1935) Freddie Bartholomew, Frank Lawton, Edna May Oliver. Dir: George Cukor 7:45 AM ET

Charles Dickens' classic tale of an orphaned boy's fight for happiness and the colorful characters who help and hinder him.

B/W, 130 mins, CC, #drama #TCM pic.twitter.com/VIm5I5fQFh

— Next On TCM (@NextOnTCM) February 13, 2020
Drawing Dinner
"Weird Al" Yankovic once cited Instagramming your meals as the epitome (or one of the epitomes) of "Tacky," but we could get on board with Itsuo Kobayashi, a former Japanese cook who drew every meal he ate—for 32 years. Forced into early retirement by a neurological disorder, and little able to walk or venture outdoors, he began to pass the time hand-drawing all his meals. His pastime resulted in an exhibition of his wok at the Outsider Art Fair in new York, and representation by Japan's Kushino Terrace at gallery.
Everyone's a Critic
Wasn't this an episode of Mr. Bean?
An art critic has apologised for accidentally destroying an installation at a prestigious art fair in Mexico. Avelina Lésper placed an empty drinks can near the work to show her disapproval when it shattered. The installation, by Mexican artist Gabriel Rico, was on display at the OMR Gallery in Mexico City. The work consisted of a large pane of glass with random objects such as a football and a feather inside and is worth an estimated $20,000 (£15,400).
Everyone's a Font Critic
We've been going for 17 years and never had a guest insult one of our fonts.
Then we met @joelycett. pic.twitter.com/YVwMmk8ZVW

— Quite Interesting Facts (@qikipedia) February 7, 2020
We Get Letters
Interested in hand-lettering? Yes, there is still such a thing! Over at Boing Boing, a link to The ABC of Custom Lettering by Barcelona, Spain-based graphic designer Ivan Castro. Perfect for anyone who wants to keep alive this lost art. Heck, we may start hand-lettering WhatTheyThink headlines.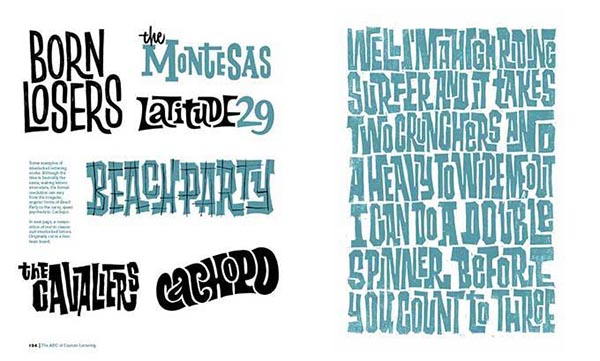 He Gets Lots of Letters
Student loans are really getting out of control: Twinsburg, Ohio, resident Dan Cain went to pick up his mail at the Post Office, only to discover 55,000 copies of the same letter. "The letters were from the College Avenue Student Loan Company. The company had intended to send Cain and his wife a statement for a student loan they took out for their daughter's tuition. Cain said the company apologized and told him there had been a glitch in the outgoing mail system."
Ya think?
Blinded by Cyans
Magenta doesn't exist on the visible colour spectrum - your brain makes it up.

— Quite Interesting Facts (@qikipedia) February 11, 2020
Cat Got Your...Oh My God!!!!
We've always been a little creeped out by the comic strip Garfield, so this reinterpretation is only an improvement.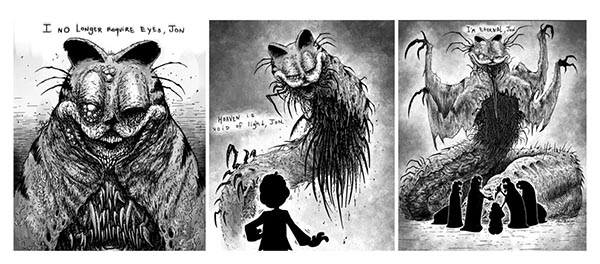 S'Neat
February 4, 2020
Carded
These kids today, with their hula hoops, their Tiktoks, and their printed greeting cards... Wait, what? Yes, via The Guardian, printed greeting cards have changed, but they are still very much a popular item.
Now that younger people can text their mates and tend to live in temporary rented accommodation, it would make sense for them to send fewer cards. Except that they don't, says Amanda Fergusson, the CEO of the 100-year-old Greeting Card Association. According to the GCA's 2019 market report, the British public spent £1.7bn on cards in 2018, with generation Z (18- to 24-year-olds) buying more cards than any other age group.
…
That "pink/blue boy/girl thing" for newborns? On its way out. Valentines are less popular than ever, although the rude variety arereportedly on the rise, while thanks to modern masculinity, Father's Day has boomed. A couple of years ago prosecco was a common motif; now, it is all about gin.
Over at the Museum of Printing, a history of the Valentine card.
Would You Like a 3D Printer with That?
Via Gizmodo, researchers at the University of Toronto developed a way to turn oil from a fast food restaurant deep fryer into a plastic resin for 3D printers. "[A] professor at the University of Toronto Scarborough...noticed that the basic molecules used to create commercially available plastic resins for 3D printers were similar to the fats used in cooking oil." (That should give you pause the next time you order a side of fries.) Turns out, McDonald's was quite happy to donate its used oil for research purposes.
Read the Fine Print
They should specify that the Bad Sex Awards is for writing. Seven years I was sending in those tapes.

— Michael Spicer (@MrMichaelSpicer) January 23, 2020
Dedicated Followers of Sustainable Fashion
Over at the New York Times, what makes sustainable fashion? Gabriela Hearst breaks the fashion industry's silence over the sustainability of fashion, and has hosted a carbon-neutral fashion show. "She has long been one of the most vocal designers in the city about climate change and fashion's responsibility therein."
Bob Barking Up the Wrong Tree
Not that we watch game shows (or at least not very often), but apparently contestants on The Price is Right are getting worse at the game. "In the 1970s, the typical guess was about 8% below the actual price. People underestimate the price by more than 20% in the 2010s." Why? Harvard researcher and fan of the program) Jonathan Hartley took a deep dive and came up with several economic reasons. One possible reason is that, back in the 70s, inflation was high and as a result consumers were much more conscious of the price of things than they are today. Another interesting reason could be that, since there are far more products today than there ever were, and consumer products companies seek to differentiate their wares in ways other than price. The result is that it's harder to keep track of the price of things.
Barking Mad
Schnauzers Rioting Outside Madison Square Garden Following Westminster Dog Show Defeat https://t.co/U2lPJXJiQy pic.twitter.com/diLgABTbkb

— The Onion (@TheOnion) February 12, 2020
Barney Is My Co-Pilot
Yeah, this wasn't going to work. "A Washington state driver is facing a hefty fine after being caught using a highway carpool lane with a giant stuffed dinosaur as their only passenger."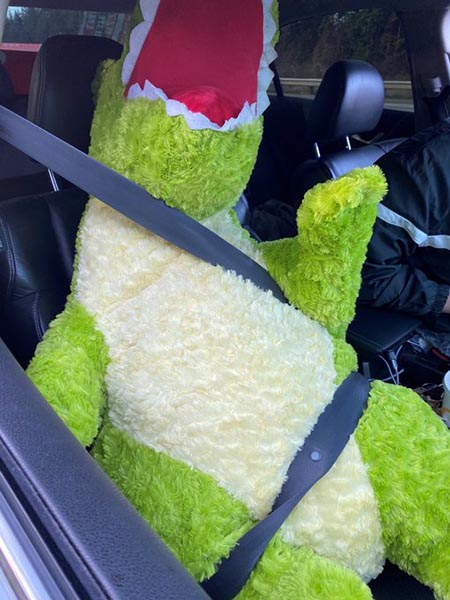 This Week in Printing, Publishing, and Media History
February 10
1890: Russian poet, novelist, literary translator, and Nobel Prize laureate Boris Pasternak born.
1898: German director, playwright, and poet Bertolt Brecht born.
1940: Tom and Jerry make their debut with the cartoon Puss Gets the Boot.
1962: Roy Lichtenstein's first solo exhibition opens. It includes Look Mickey, which featured his first use of Ben-Day dots, speech balloons, and comic imagery sourcing, all of which he is now known for.
1967: American director, producer, and screenwriter Vince Gilligan born.
1996: IBM supercomputer Deep Blue defeats Garry Kasparov in chess for the first time.
February 11
1800: English photographer, politician, and inventor of the calotype Henry Fox Talbot born.
1840: Gaetano Donizetti's opera La fille du régiment receives its first performance in Paris, France.
1843: Giuseppe Verdi's opera I Lombardi alla prima crociata receives its first performance in Milan, Italy.
1847: Thomas Edison born.
1909: American director, producer, and screenwriter Joseph L. Mankiewicz born.
1938: BBC Television produces the world's first ever science fiction television program, an adaptation of a section of the Karel ?apek play R.U.R., that coined the term "robot."
February 12
1809: English geologist and theorist Charles Darwin born.
1809: Sixteenth U.S. President Abraham Lincoln born.
1885: German publisher and founder of Der Stürmer Julius Streicher born.
1924: George Gershwin's Rhapsody in Blue receives its premiere in a concert titled "An Experiment in Modern Music," in Aeolian Hall, New York, by Paul Whiteman and his band, with Gershwin playing the piano.
1948: American computer scientist and engineer Ray Kurzweil born.
1950: English singer-songwriter, guitarist, and producer Steve Hackett born.
1994: Four thieves break into the National Gallery of Norway and steal Edvard Munch's iconic painting The Scream.
February 13
1914: In New York City, the American Society of Composers, Authors and Publishers is established to protect the copyrighted musical compositions of its members.
1923: American general and pilot, and first test pilot to break the sound barrier Chuck Yeager born.
Buzz saying Happy Birthday to Chuck Yeager is why god made Twitter. https://t.co/fgzL9Ct4Lh

— Charles P. Pierce (@CharlesPPierce) February 14, 2019
1950: English singer-songwriter and musician Peter Gabriel born.
1967: American researchers discover the Madrid Codices by Leonardo da Vinci in the National Library of Spain.
February 14
1778: The United States flag is formally recognized by a foreign naval vessel for the first time, when French Admiral Toussaint-Guillaume Picquet de la Motte renders a nine gun salute to USS Ranger, commanded by John Paul Jones.
1819: American journalist and politician, and inventor of the typewriter Christopher Latham Sholes born.
1849: In New York City, James Knox Polk becomes the first serving President of the United States to have his photograph taken.
1876: Alexander Graham Bell applies for a patent for the telephone, as does Elisha Gray.
1894: American actor and comedian Jack Benny (né Benjamin Kubelsky) born.
1924: The Computing-Tabulating-Recording Company changes its name to International Business Machines Corporation (IBM).
1961: Element 103, Lawrencium, is first synthesized at the University of California. Hopefully they sent an atom or two to Michael Battaglia.
1989: Iranian leader Ruhollah Khomeini issues a fatwa encouraging Muslims to kill Salman Rushdie, author of The Satanic Verses.
1990: The Voyager 1 spacecraft takes the photograph of planet Earth that later become famous as Pale Blue Dot.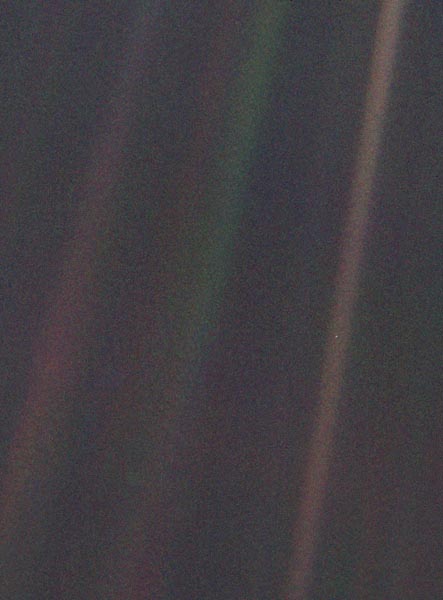 Seen from about 3.7 billion miles, Earth appears as a tiny dot (the blueish-white speck approximately halfway down the brown band to the right) in the darkness of deep space. Makes you think, don't it?
2005: YouTube is launched by a group of college students, eventually becoming the largest video sharing website in the world and a main source for viral videos.
February 15
1564: Italian astronomer, physicist, and mathematician Galileo Galilei born.
1870: Stevens Institute of Technology is founded in New Jersey, USA and offers the first Bachelor of Engineering degree in Mechanical Engineering.
1946: ENIAC, the first electronic general-purpose computer, is formally dedicated at the University of Pennsylvania in Philadelphia.
1954: American animator, producer, and screenwriter Matt Groening born.
1972: Sound recordings are granted U.S. federal copyright protection for the first time.
2001: The first draft of the complete human genome is published in Nature.
February 16
1740: Italian publisher and engraver Giambattista Bodoni born.
1933: The Blaine Act ends Prohibition in the United States. We'll drink to that.
1937: Wallace H. Carothers receives a United States patent for nylon.
1944: American novelist and short story writer Richard Ford born.
1968: In Haleyville, Alabama, the first 9-1-1 emergency telephone system goes into service.
1978: The first computer bulletin board system is created (CBBS in Chicago).