To start off your weekend right, here is Paul Barton playing Beethoven's "Moonlight Sonata" for Mongkol, a 61-year-old former logging elephant.
Boing Boing tells Mongkol's harrowing story and why the pachyderm is fond of piano music.
Write for the Cure
Shake is a new typeface created by Morten Halvorsen, based on the handwriting of a person with Parkinson's Disease. "One of the first signs of the disease is a change in handwriting," says the website."To raise awareness and fund research, we created Shake, a typeface made from the real handwriting of a person living with Parkinson's Disease. All proceeds go to finding a cure."
The person whose handwriting it is based on is Halvorsen's mother.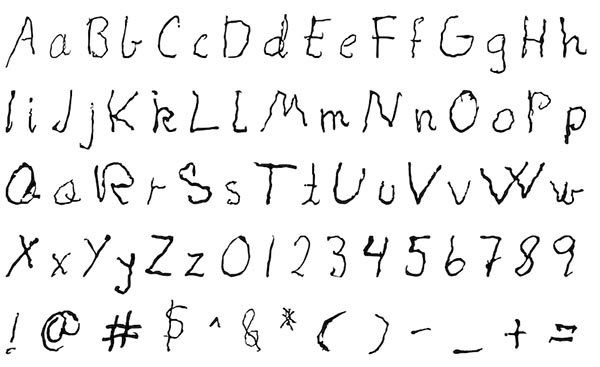 Ripping Yarns
Coming to a yarn shop near you: Pineapple Wool. And no, we are not referring to the color. It's a vegan alternative to wool that could have a big impact on the environmental footprint of the textiles industry. Sheep, watch your backs (literally)!
Droning On
Breathtaking. https://t.co/A4NHt6j7US

—♥Annotated MST ♥(@AnnotatedMST) January 31, 2020
Shark-Dressed Man
Love the ocean but wary of sharks? Now there is a new shark-proof wetsuit material developed by marine researchers at Flinders University in Australia. It has been proven to help reduce blood loss caused by shark bites, to reduce injuries, and prevent the leading cause of death. So maybe not exactly shark-proof, but better than the alternatives. Wear this suit that incorporates ultra-high molecular weight polyethylene fibers (UHMWPE) into widely used neoprene material and enjoy your swim with the sharks!
Live and Let Dye
You thought heat transfer dye-sublimation was only for polyester and polyester blends? Well, Neenah Coldenhove has a different story. The company launched a revolutionary digital pigment transfer paper at Heimtextil that allows users to transfer onto a wide range of natural and blended fiber textiles. This new paper is especially recommended for the home furnishing segment. Its strong resistance to crocking and high lightfastness make this technology especially suitable for curtains, pillows and bedding.
Old Words
Happy 100th birthday to these words!

(Or, from the English language's perspective, these *children*.) https://t.co/PNjCPptBav

— Merriam-Webster (@MerriamWebster) January 30, 2020
iSaac
Much has been written about how the printing industry having a hard time hiring staff. In Japan, though, they have difficulty hiring bartenders. Now that's serious! So, what is the solution? Of course: robots. From Reuters:
The repurposed industrial robot serves drinks in is own corner of a Japanese pub operated by restaurant chain Yoronotaki. An attached tablet computer face smiles as it chats about the weather while preparing orders.
The robot, made by the company QBIT Robotics, can pour a beer in 40 seconds and mix a cocktail in a minute. It uses four cameras to monitors customers to analyze their expressions with artificial intelligence (AI) software.
Japan is planning to use the Tokyo 2020 Olympic Games to showcase "service robot technology."
Just a Matter of Time, Really
Smart Fridge Fires Beer Into Crowd Of Appliances During Google Home's Rager In Vacationing Family's House https://t.co/Dx681nAlDA pic.twitter.com/ymt2obtG0g

— The Onion (@TheOnion) January 31, 2020
Re .Org
Boing Boing has been following a story that just came across our radar: the attempted purchase of the .org domain registry by private equity. The latest development is that the California Attorney General has delayed the transaction to get more into. The delay was likely triggered by a protest at ICANN's offices in Playa Vista. Here is the background.
Over 21,000 people, 660 organizations, and now six Members of Congress have asked ICANN, the organization that regulates the Internet's domain name system, to halt the $1.135 billion deal that would hand control over PIR, the .ORG domain registry, to private equity. There are crucial reasons this sale is facing significant backlash from the nonprofit and NGO communities who make the .ORG domain their online home, and perhaps none of them are more concerning than the speed of the deal and the dangerous lack of transparency that's accompanied it.
The lengthy article lays out some of the potential pitfalls for non-profits that could result from such a deal, should effective safeguards not remain in place.
For Score and Seven Points
Football season may be over, but here's something to keep us busy in the off-season: Scorigami. Because of American football's unusual scoring (6-point touchdowns, the hit-or-miss PAT, 3-point field goals, the odd 2-point conversion, and the even odder 2-point safety)—basically, you can't score a single point on its own—there are a lot of potential final scores that, in the entire history of professional football, have never happened. Created by Jon Bois, Scorigami determines if the final score of any given game has ever happened before—or if it is a "Scorigami," the first time a winning and losing score combination has occurred.
To answer one potential question, the 49ers–Chiefs final score of 20–31 is not Scorigami. In fact, that final score has been achieved 44 times, the first being December 13, 1946, when the then-Miami Seahawks beat the then-Brooklyn Dodgers.
Hours of fun. And kind of reminiscent of Numberwang:
Stop Sharing
Google Photos added... other people's private videos into your own export? my god you had one job: not do that https://t.co/s6d1tAhjSR

— Internet of Shit (@internetofshit) February 4, 2020
Real Estate Sections
At one time, newspapers had extensive real estate sections. Now, they are the real estate sections. Last Friday, Frank Romano commented on how newspapers are selling off their headquarters, which are then being converted into luxury apartments and condos.
Case in point: The Knick, a building in Albany, N.Y., that used to house the Albany Times Union and Knickerbocker News newspapers. "[A] new business called The Yard will give visitors an indoor outlet for ax-throwing, ladder ball, cornhole and other yard games as part of Redburn Development Partners' rehabilitation of the multi-story structure into apartments and retail space."
Ax-throwing? OK...
Since then, occupants have moved in: "I wasn't planning to move into an apartment anytime soon. I'd been living at home in the suburbs due to an aggressive student loan repayment plan. But, being the co-founder of Two Buttons Deep, a growing digital entertainment company, has afforded my partner Jack Carpenter and I some incredible opportunities. We made a deal with Redburn Development, which owns the Knick: in return for a year rent free (in separate apartments), Jack and I are chronicling life in downtown Albany as 20-somethings."
Nice work if you can get it. Do they need a managing editor?
Wacom Ole
My Wacom drawing tablet asked me to accept a privacy policy. Why does a device that is essentially a mouse need a privacy policy? I wondered.

The answer is "so that they can track the name and time of every application that you open."https://t.co/Nso2jdv0xF

— Robert Heaton (@RobJHeaton) February 5, 2020
The Paws that Refreshes
A couple weeks ago, our Around the Web research team had bookmarked a story about a brewery in Florida that "is helping shelter dogs get adopted by putting their faces on beer cans." We tabled the story for a later edition, but in the interim, a related story arose: a Minnesota woman was reading a story about the canine cans and recognized her own dog, which had gone missing three years earlier, on one of the beer cans. "[Monica] Mathis says the dog named Day Day looked like the dog she helped deliver as a puppy. A member of her family she says went missing from her Iowa home in 2017....Day Day did have a microchip with Monica's first name, but her last name had changed and the information on it was outdated. Mathis was able to provide paperwork to prove to Manatee County Animal Services that Day Day was actually her dog, Hazel."
If you're missing a dog, be sure to pick up some beer from Motorworks Brewing.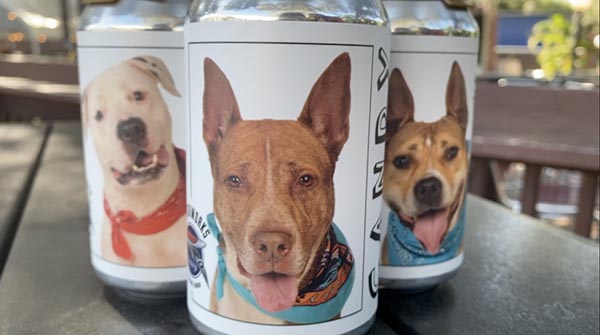 For the Dogs
How many times must we see a headline like this before we act? https://t.co/4H3cm9gAEp

— (((Josh Malina))) (@JoshMalina) January 31, 2020
Died to Be Wild
Do you want to head out on the highway, and look for adventure and whatever comes your way—but your motor isn't running? Well, apparently there is such a thing as a motorcycle hearse. Says Core77, "a longtime rider named Garland Crabb has been running a motorcycle hearse service out of Colorado since 2006."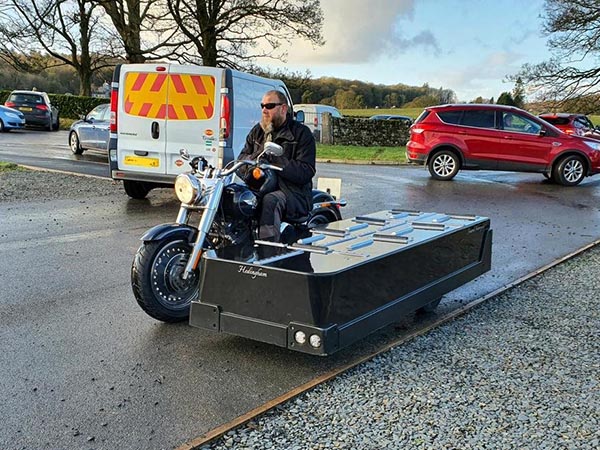 Best Tweet
Paul phoned me and asked me to join. That's what got me into The Beatles. https://t.co/HrlqdrhrvQ

— Pete Best (@BeatlesPeteBest) January 30, 2020
Hello, Dalí
Salvador Dalí and Walt Disney don't spring to mind as the most likely of collaborators, but collaborate they did. They were good friends who had met at a party in 1944 and began collaborating on a surreal animated film (no, not Fantasia) called Destino.
Alas, it was not finished in either of their lifetimes. It was rediscovered in Disney's vault in he 1990s by Walt's nephew Roy, who arranged to have it completed. A recent documentary tells the complete story of Dalí, Disney, and Destino.
Loober?
We have all been there at one time or many others: we're out and about in the world and suddenly hear the call of nature. What to do? There are many options, some more appealing than others, but a new one was unveiled at CES last month: Toto Ltd.'s "mobile toilet concept." Think of it as Uber for lavatories. "The concept envisions a small trailer converted into a "private bathroom" pulled by a car to a designated spot. The door is closed by an electrical lock, which can be opened by scanning a QR code from the app."
TrackPad
Why Amazon is tracking every time you tap your Kindle https://t.co/iWvSxMTK5d pic.twitter.com/gPtEqs8zct

— The Verge (@verge) January 31, 2020
I Walk a Lonely Road
Here's one way to clear a road of traffic: fake a traffic jam so that Google Maps users will seek, or be sent down, alternate routes. How do you fake a traffic jam? Well, you drag around a wagon with 99 cellphones with the Google Maps app open. That feeds back to Google that there are beaucoup de signals on a given street, turning it red, indicating congestion.
Simon Weckert did just that on a street in Berlin, Germany, to make a point about the flaws of big data. "The Berlin-based artist simply turned on all the phones with the Google Maps app launched, and strolled down quiet city streets with his handcart. The blocks he walked down weren't congested, but what Google Maps saw was a signal cluster. Typically that would indicate a traffic jam or some other mishap, which prompts the app to transmit that information so that users can avoid the area and seek alternative routes."
"The ease with which he upended Google Maps 'shows you how rudimentary these systems are.'"
C Section
boarding group C on a southwest flight? these are the artists. the renegades. oh you "set an alarm" so you would "check in on time?" tune in drop out we're burning our draft cards in the middle seats

— Sarah Lazarus (@sarahclazarus) December 25, 2019
This Week in Printing, Publishing, and Media History
February 3
1690: The colony of Massachusetts issues the first paper money in the Americas.
1811: American journalist and politician Horace Greeley born.
Tolbert Lanston. Born 3rd Feb 1844. Happy Birthday! Inventor or Monotype machines circa 1890. His machines used coding! The Irish font monotype keyboard is @NatPrintMuseum #Dublin
Also #Monotype #Ohio #TolbertLanston #HotMetal #Letterpress pic.twitter.com/P38X7Av5fh

— Graham Prole (@GrahamProle) February 3, 2020
1907: American author and philanthropist James A. Michener born, in rather epic fashion.
1947: American novelist, essayist, and poet Paul Auster born.
1947: English singer-songwriter and guitarist Dave Davies born.
1959: The day the music died: Rock and roll musicians Buddy Holly, Ritchie Valens, and J. P. "The Big Bopper" Richardson are killed in a plane crash near Clear Lake, Iowa.
February 4
1859: The Codex Sinaiticus is discovered in Egypt.
1960: American composer and playwright (Rent) Jonathan Larson born.
2004: Facebook, a mainstream online social networking site, is founded by Mark Zuckerberg.
February 5
1909: Belgian chemist Leo Baekeland announces the creation of Bakelite, the world's first synthetic plastic.
1919: Charlie Chaplin, Mary Pickford, Douglas Fairbanks, and D. W. Griffith launch United Artists.
1924: The Royal Greenwich Observatory begins broadcasting the hourly time signals known as the Greenwich Time Signal.
1940: Swiss painter, sculptor, and set designer (Alien) H. R. Giger born.
February 6
AD 60: The earliest date for which the day of the week is known. A graffito in Pompeii identifies this day as a dies Solis (Sunday). In modern reckoning, this date would have been a Wednesday.
1756: American colonel and politician, 3rd Vice President of the United States Aaron Burr born. Wait for it.
1945: Jamaican singer-songwriter and guitarist Bob Marley born.
February 7
1497: In Florence, Italy, supporters of Girolamo Savonarola burn cosmetics, art, and books, in a "Bonfire of the vanities."
1812: English novelist and critic Charles Dickens born.
1885: American novelist, short-story writer, playwright, and Nobel Prize laureate Sinclair Lewis born.
1898: Émile Zola is brought to trial for libel for publishing J'Accuse…!.
1997: NeXT merges with Apple Computer, starting the path to Mac OS X.
February 8
1828: French author, poet, and playwright Jules Verne born.
1834: Russian chemist and academic, and creator of the Periodic Table of Elements Dmitri Mendeleev born.
1915: D. W. Griffith's controversial film The Birth of a Nation premieres in Los Angeles.
1922: United States President Warren G. Harding introduces the first radio set in the White House.
1946: The first portion of the Revised Standard Version of the Bible, the first serious challenge to the popularity of the Authorized King James Version, is published.
1971: The NASDAQ stock market index opens for the first time.
1978: Proceedings of the United States Senate are broadcast on radio for the first time.
February 9
1737: English-American philosopher, author, activist, and pamphleteer Thomas Paine born.
1870: US president Ulysses S. Grant signs a joint resolution of Congress establishing the U.S. Weather Bureau.
1923: Irish rebel, poet, and playwright Brendan Behan born.
1964: The Beatles make their first appearance on The Ed Sullivan Show, performing before a record audience of 73 million viewers across the US.
1986: Halley's Comet last appeared in the inner Solar System.