David Dobson is General Manager for IBM's Printing Systems division. He is responsible for approximately 4,500 worldwide employees who develop, market and sell these products and services.

Mr. Dobson brings a wide range of experience to his current position as General Manager for IBM's Printing Systems division. Named to this position in June 2001, Mr. Dobson has worldwide responsibility for strategically positioning and managing IBM as a leading print provider supporting the output of e-business.

Joining the Printing Systems division in July 1999, Mr. Dobson held the positions of Vice President, Global Marketing & Strategy and General Manager for the Americas region.

Prior to IBM Printing Systems, Dobson was General Manager, Channel & Partner Services, IBM Canada, where he was responsible for channel sales of all IBM products, including mainframes, software, printers and services. He has also held numerous marketing, sales and strategy positions within IBM's Personal Systems Group, RS/6000 brand, IBM Canada. Dobson joined IBM in 1986, and holds bachelor's degrees in electrical engineering and business from McMaster University in Ontario, Canada.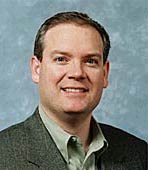 QUESTION: IBM has a very strong brand as one of the most known companies "on a small planet". Yet, many are not clear how IBM views the print and graphic arts industry. Tell us about your past efforts with commercial printers and plans going forward.

David Dobson: It was 25 years ago that IBM changed the look of every household's phone bills and bank statements with the introduction of the IBM 3800 Printing System, the industry's first high-speed, laser printer, and made its foray into production printing by shipping its first Infoprint 4100 -- which continues today as IBM's flagship high-speed, high-volume print range. The first shipment of the Infoprint 4100 to Carvajal, a major book publisher in Columbia, coincided with the first shipment of the 3800 to F.W. Woolworth in 1976. So we've been in the print industry for longer than most people realize, and the IBM Printing Systems business is only growing stronger.

Based on recent findings from analyst firm CAP Ventures, the commercial print market is consolidating, with remaining players focused on delivering a broader range of products and services, including on-demand printing, color and book publishing, to generate revenue and meet customer needs. IBM's product line, which is probably the broadest in the industry, is ideal to help commercial printers handle all these services. With this in mind, IBM Printing Systems recently introduced a variety of new enhancements available for the Infoprint 4000 and 4100 printers. IBM is continually updating their high-volume printers, to meet the ever changing needs of the commercial print market, in addition to offering customers the most comprehensive solutions on the market.

The challenge faced by many of the commercial printers is both competitive pricing and maintaining profitability as customers demand a higher quality at a lower cost while still ordering a lower quantity. IBM's robust output management and integration solutions certainly address these concerns.

In the beginning of April, IBM launched a global awareness campaign to reinforce the role of commercial and in-plant printers as a powerful force in an e-business economy heavily reliant on printed documents. The new campaign theme, "Power to the Printer," will be reflected in all integrated marketing efforts from IBM Printing Systems, including targeted print advertising, direct mail, Web presence and tradeshows. By celebrating more "power to the printer," IBM is leveraging its 40-year heritage in digital print and its integrated hardware, software and services approach, to showcase how commercial print providers are redefining their role and value in the new e-conomy.


QUESTION: Tell us about your relationship with EFI and why IBM is a partner with PrintMe Networks.

David Dobson: IBM Printing System intends to be a reseller and an OEM partner with EFI, to distribute and resell its PrintMe technology along with IBM's Infoprint range of printers and enterprise output management software. The partnership gives IBM the opportunity to offer our customers the service of anytime, anywhere remote printing, and extend IBM's well-known commitment to wireless leadership and innovation to the output environment.

IBM looks forward to working closely with EFI and intends to explore ways of integrating their breakthrough PrintMe technology into our total output management approach. Our customers will clearly benefit from the ability to print wirelessly and remotely using PrintMe's versatile, secure and flexible technology integrated with IBM's Infoprint hardware and software solutions


QUESTION: A few weeks ago, we reported on your XML efforts. The story was highly visited by our members indicating broad interest in the ability of AFP applications being web-enabled. How does XML optimize this integration?

David Dobson: Today, the growth of e-business demands that existing AFP applications be Web-enabled to streamline business processes within and between enterprises, often using XML to optimize application integration.

The addition of XML printing support to PSF helps our OS/390 and z/OS customers achieve integration of their applications and business processes across the enterprise and among partners, suppliers and customers. It provides another critical building block in their infrastructure for the output of e-business.

PSF V3.3 is the only OS/390-based software for driving AFP page printers, with full support for AFP/IPDS (Intelligent Printer Data Stream) printers from a variety of vendors. IBM's PSF V3.3 supports a new type of page layout within an AFP page definition that lets users specify formatting for XML structured data, speeding up first page to print time and thereby increasing productivity. When PSF processes the XML data file with an XML page layout it converts the output directly into the IPDS so it can be printed on production speed AFP printers.


QUESTION: IBM's research and development in the print world has accelerated. Last year, you reported a 40% increase in patents in this area alone. Tell us about the most promising ideas from the most recent patents.

David Dobson: In 2001, IBM Printing Systems was awarded 30 patents by the United States Patent and Trademark Office. Among the most significant patents issued to IBM Printing Systems in 2001 include new cost-saving breakthroughs that allow different printers to produce comparable output, and one defining a "Virtual Printer," that receives user data and converts it to the appropriate printer format. This allows customers to print documents on their existing printers without having to buy printers to match the various document formats commonly in use today.

When two patents, "Calibrating Digital Halftoning Algorithms with Multiple Personalities," and "Half-tone Screen Calibrations", are applied together, comparable quality outputs can be produced on different printers, even if printer characteristics are different. This flexibility has previously not been available to digital printers. These two patents define a procedure stored in a print server that modifies image data before printing. The resulting output image, when printed on different printers, will appear similar, or in many instances, identical. Ensuring the same output on any printer gives the commercial or in-plant printer the flexibility to match the print run volume to the printer that will provide the most profitable print job.


QUESTION: Tell us about the Infoprint family of printers. How can they help commercial printers and even end users (designers, print buyers)?

David Dobson: With the broadest and most comprehensive offering portfolio in the industry, IBM's Infoprint family provides output solutions to four key markets:

-- distributed enterprise – operating in ERP and distributed print environments, where customers use IBM solutions to create bar codes, labels, bills of lading and other real-time documents that support manufacturing and distribution. The IBM output solutions typically used by this market include the Infoprint Color 130 Plus and IBM's Impact and Non-Impact line of printers.

--high-end production print environments running highly individual statements or print-on-demand applications. The IBM output solutions typically used by this market include the Infoprint 2000 range, including the soon-to-be-released Infoprint 2085 and Infoprint 2015 printers, that comes integrated with a full function convenience copier.

--reprographics centers, who commonly use the IBM Infoprint 2000 range and associated software, including Infoprint Manager.
and

--commercial printers and outsource providers, heavy users of the Infoprint 4000 and Infoprint 4100, along with Infoprint Manager and Infoprint Workflow software solutions.

Additionally, PSD's total solutions offering, which includes hardware, software and services, helps customers make the most of their current investments while leveraging new opportunities:

--To help them print and mail more efficiently, while allowing customers to also access the same information online.

--To allow customers to scan documents and make copies... or just scan documents to distribute an electronic file.

--To print fully variable color documents designed specifically for each customer.


QUESTION: Trends indicate print buyers want lower volumes, more customization, and better quality. What are your views on these industry trends as it relates to IBM's solutions?

David Dobson: We are absolutely seeing customers wanting to print lower volumes, but in terms of efficiency -- only printing what they need and when they need. Our color solutions are a perfect example of tools customers are using to achieve customized output.

One example is Canadian insurance and investment company, Clarica. Clarica's innovative use of print-on-demand marketing techniques using the IBM Infoprint Color 130 Plus allowed the company to conduct one-to-one marketing with customized direct mail brochures, increase the sales force's self-serve capability, increase its brand control, strengthen its use of advanced technology and realize great savings by eliminating outdated inventory and printing the right brochures for the right customer.

Additionally, enabling the flow of information between the printer and a customer's database is critical for a company to remain viable in today's market. Through IBM's Consulting and Integration Services, businesses are able to streamline processes, reingeneer aspects of output production systems and move to new technologies, enabling e-output distribution and centralized document management.


QUESTION: What is your economic outlook for this year and how did your unit fair during the slowdown.

David Dobson: IBM is a significant player in the digital printing marketplace, and has remained so throughout the many changes that have faced our industry and economy over recent years.

Our primary markets have been centralized print of the corporate IT organizations and mission critical distributed print of various functional departments within larger organizations. These will continue to be very important markets and focus areas for us. However, we recognize other trends that will have increasing importance. As some of our customers begin outsourcing their document printing business to companies that specialize in document production, outsourcing companies will increasingly become customers for our hardware, software and services.

Other significant trends we are taking notice of is the shift from analog presses to digital printing devices, and the impact of the Internet and e-business applications. IBM Printing Systems is well positioned to capitalize on these shifts because they have the strengths where the market is going -- digital and network heritage, standards based on an open architecture, flexibility relative to obtaining the latest print engine technology, world class service and the ability to leverage IBM's e-business capabilities to deliver end-to-end solutions.


QUESTION: Finally, can you tell us a little about your news today announcing IBM's new mid-range cut-sheet printers?

David Dobson: IBM Printing Systems today announced two new additions to our family of Infoprint cut-sheet printers, bringing data centers and in-plant print shops a high-speed printing solution that also operates as a fully functional convenience copier.

The Infoprint 2085 and Infoprint 2105 are mid-range, feature-rich, black and white cut-sheet printers that are more robust and less expensive than alternative printers in its class. With the introduction of these two printers, our cut-sheet printer family now boasts a small, medium and large option.

These complement IBM's popular Infoprint 2000 - its heavy duty, cut-sheet production unit - and at the other end of the scale, the Infoprint 70, an entry-level, IPDS cut-sheet printer. At speeds up to 85 and 105 pages-per-minute, they are easy to install, configure and manage, and come integrated with full function digital copying capabilities. The user-friendly touch screen offers access to a full range of printing and copying features with integrated document finishing. The integrated scanner and 100 sheet automatic document feeder help users benefit from the "scan once/print many" feature to increase system flexibility.

Both new printers will feature Copy-Connect, allowing users to link the two printers with a single cable to double the printing output.

Thank you David for giving our members a great view of your future plans. We appreciate your time.