Within the inkjet market, more than 90% of production color inkjet printers for labels and packaging use UV curing inkjet inks while less than 10% use inks with aqueous chemistry.
UV inkjet dominates the market for a variety of reasons, including reliability, fast curing, high durability, and the ability to print spot varnishes and textures.
Unlike UV inkjet inks, aqueous inkjet inks generally have no toxicity concerns, and that feature has helped aqueous inkjet to grow in recent years.
By Bob Leahey
Introduction
Color digital print for labels and packaging can easily be viewed as a contest between digital print technologies, mainly between electrophotography (EP) and inkjet. On the EP side, there's another contest between liquid toner EP of HP Indigo and dry toner EP, mainly from Konica Minolta and Xeikon. On the inkjet side, UV inkjet has dominated thus far—of all production-level color inkjet printers for labels and packaging operating in the field today, more than 90% use UV curing inkjet inks while less than 10% use inks with aqueous chemistry. There are signs, however, that aqueous inkjet is gradually rising. This is due to a mix of developments occurring at a range of companies, and to some market psychology.
Why UV Leads Today
It's important to start by stating that there are some good reasons why UV inkjet has achieved its leadership role in the digital print for packaging market. The first is UV inkjet's reliability—UV inks don't dry with exposure to air, so printheads can work well even if they're used intermittently. Additionally, UV and LED curing lamps are compact and work quickly, curing printed images almost instantly. Those cured images also have high durability, making UV inkjet as good for industrial print as it is for fine graphics. For fine graphics, UV inkjet also has two helpful extras:
The ability to print spot varnishes
The ability print textures, either for print or decoration
When it comes to packaging, though, UV inkjet does have one major weakness: the potential migration of uncured, toxic monomers from packaging printed with UV inkjet ink. This is a concern in terms of packaging for foods and beverages, the core of the "fast moving consumer goods" segment. In fairness, ink manufacturers have responded to this challenge by formulating "low migration" UV inkjet inks that cure more thoroughly than conventional UV inkjet inks, enough to comply with key standards for packaging materials (e.g., Swiss Ordnance, Nestlé Guidance Note). These low migration inks have helped UV inkjet, but they haven't completely erased concerns about the technology among food brandowners. Although these concerns may now be more emotional than rational, they still exist.
Aqueous inkjet inks, the main alternate to UV inkjet inks, generally have no toxicity concerns. This feature has enabled aqueous inkjet to grow in recent years. This growth started with label webs, but it is now beginning to shift to the direct digital printing of packaging such as cartons and pouches. Aqueous inkjet ink has a main disadvantage of its own, though: its printed output cures by evaporation or thermal energy. In a low-speed, low-volume printer, that's not much of a problem, since curing can be just passive air-drying. For a high-speed printer, though, drying is a much bigger challenge. A high-powered thermal dryer is generally needed, and that's commonly a big part of the printer.
Aqueous Inkjet in Packaging…So Far
Label printing is by far the packaging market's biggest digital print application, thanks to 25 years of history. For about 15 of these years, UV inkjet systems from many vendors have been major contributors. By contrast, production-level aqueous inkjet label webs come mostly from a tiny minority—top examples include Epson, with its 4000 Series SurePress devices, and Colordyne and Trojan, two Memjet OEMs.

Epson and Trojan printers
With the exception of the Colordyne 3600 Series, these printers are mostly low-volume. At the same time, however, bigger, faster webs are beginning to emerge. Memjet is part of the reason for this shift—new versions of its aqueous technology, DuraLink (2018) and DuraFlex (2019), are qualified for high- and highest-volume printers, with durable heads and pigment inks for light-resistant prints (first-generation Memjet products featured short life heads and dye inks). At Labelexpo, at least three OEMs showcased prototypes based on one or the other of the new "Dura" technologies: Astronova (DuraFlex), Colordyne (DuraLink), and UP Group (DuraLink).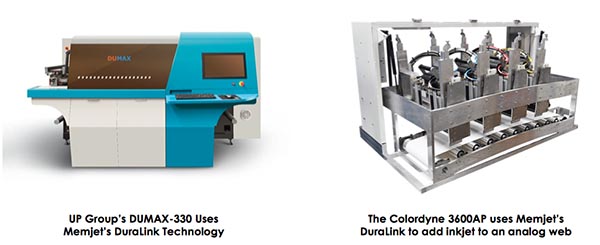 UP Group and Colordyne printers
Some other companies and technologies are also likely to help spur the role of aqueous inkjet for packaging. Two examples, as evidence:
Uteco Converting (Italy) has placed its first Sapphire EVO in 2019 (CMYK, 622mm web, 250mpm), based on Kodak's aqueous-only continuous inkjet
Mouvent, the digital arm of Bobst, showed its aqueous LB702-WB (up to seven colors, 360mm web, 100 mpm) based on Fujifilm Dimatix Samba, with placements expected to start in 2020
Aqueous for Package Printing, Too
Apart from label printing, aqueous inkjet is starting to show up in each of the main direct package printing applications. In folding carton printing, Heidelberg's PrimeFire and Landa's S10 have seen their first commercial installations, and more are coming. Both of these systems are aqueous inkjet printers in B1 format—a welcome size, given that offset presses for folding cartons often use sheet media with about the same dimensions. In flexible packaging printing, where HP Indigo EP webs are dominant, a few aqueous inkjet web options are now available, including:
The T-4 from Trojan (Denmark) and the MVZ 1000 from Rigoli (Italy), both based on Memjet technology
The FXIJ 1080 from ThinkLab (Japan), with an unknown printhead supplier
The Uteco Sapphire EVO, based on Kodak technology
In fine graphics printing for corrugated, single-pass aqueous printer options vary widely. Some examples include:
Low-volume, manually-fed devices like the New Solution NS Multi-LG and the Xanté Excelagraphix 4800, both based on Memjet technology
The automated board printer HanGlory 1604 from Hanway (China)
The T-Series corrugated liner paper printer from HP PageWide (USA), which prints up to seven colors at up to 183 mpm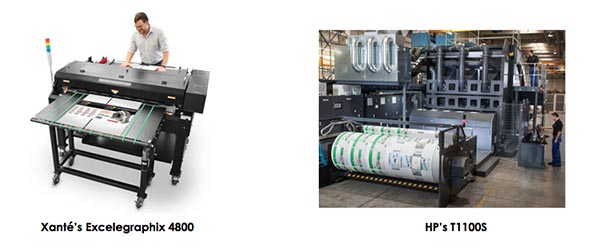 Xanté and HP printers
The Bottom Line
What does the future hold for UV vs. aqueous? A short answer to this question is to say that while aqueous is starting to increase its share of the digital packaging pie, the entire pie itself is also growing. This is because the overall packaging market grows with the population, making it a very compelling print market. At the same time, digital print—albeit a tiny share of all packaging printing at this time—grows within it because it helps to meet the packaging market's basic needs for mass customization and operational efficiency. UV inkjet is the source of most of that digital print now, but today's market indicates that aqueous inkjet will contribute more and more in the years ahead.
Bob Leahey has many years of experience in consulting to the peripherals and supplies industries. At Keypoint Intelligence – InfoTrends, his main work has been to conduct custom research projects, most often on inkjet, thermal, and color laser technologies used for commercial and industrial applications. He is also the main analyst for InfoTrends' Color Digital Label and Packaging (CDLP) continuous information service. His clients have included a wide range of printer and supplies manufacturers, and other companies, in all regions.