Demand growth for retail-ready packaging is originating within emerging and transitional economies, with Asia-Pacific accounting for 4.5 million metric tons—nearly half the total global demand—according to Smithers latest report, The Future of Retail-Ready Packaging to 2024.
Meanwhile, Western markets, which are relatively mature, will show below-average growth through 2024, although South and Central America will account for the second-highest volume demand—at 1.7 million metric tons. The total global demand stands at 9.1 million metric tons.
Global demand in value for retail-ready packaging (RRP) exceeded 29.1 million metric tons in 2018, having grown by an average of 4% annually since 2014. The market was worth an estimated $57.46 billion in 2018.
Growth in RRP Demand by Region, 2019–24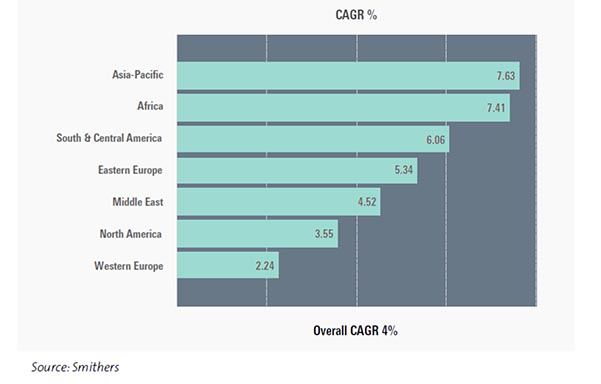 RRP consumption is expected to increase on average by 5.4% annually from 2019 to 2024, reaching a total of nearly 40 million metric tons valued at $77 billion at constant 2018 prices.
A range of demographic, social, and technological drivers will stimulate demand for RRP, ranging from simple population growth to the increasing use of flexible packaging with its consequent requirement for RRP to display and merchandise the packs.
As with much packaging consumption, there is a correlation between demographic factors and future demand in RRP. In particular, greater urbanization in Asia-Pacific is introducing more consumers to Western-style supermarket retailing for the first time—and hence retail display formats.
Within the 21st-century store, the advantages of retail- or shelf-ready formats will remain fundamentally the same for both retailers and brandowners, but new steps and technologies will help entrench these further across the forecast period.
Advantages for Retailers
Reduced in-store costs, such as labor to stack shelves or design specific promotional displays, are advantages for retailers. Large retailers are publishing in-store guides for staff that explain the store layout in conjunction with retail-ready formats. Walmart, for example, has a 284-page guide for employees. This will see a push to greater standardization in the size of RRP formats across the forecast period.
Simultaneously, demographic shifts and the types of goods consumers are buying favor RRP. More single-person households and more frequent shopping visits are inclining the market toward more individual unit sales of smaller volume packs. Pouch packaging is leading to improved formats to display these in store.
Advantages for Brandowners
Retail-ready packaging allows brandowners greater control over how their products are displayed within the retail environment, and thus how they connect with the shopper. In an era when brand loyalty has diminished significantly, this creates a clear opportunity to improve shopper engagement. In order to create more connection with shoppers and maintain their positions in the retail space, however, brands must also look toward innovation and increasing consumer convenience.
There are several technology factors that are benefiting brands, such as digital printing with inkjet presses. It is easier to commission short-run corrugated jobs, in low order numbers, and receive them quickly from the print service provider, which allows greater flexibility in ordering corrugated RRP and allows more use of promotional RRP. While this has always been possible for major consumer holidays, such as Christmas, wider availability of digital print means this can be extended to more minor events, such as Halloween or Valentine's Day.
End-Use Trends
Retail-Ready Packaging Consumption by End Use, 2018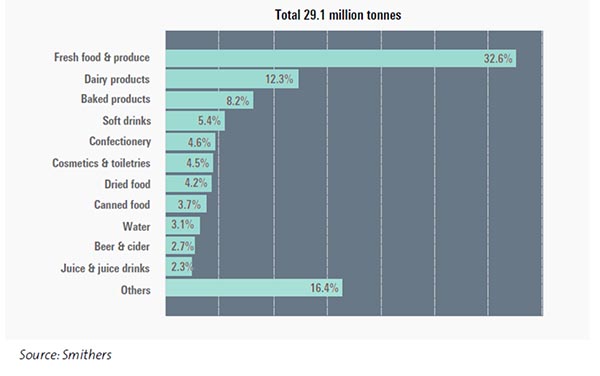 The use of RRP in the fresh produce, dairy, and bakery markets accounted for more than half the total volume consumed in 2018. These three sectors are expected to retain their dominant market share over the medium term. Overall, there is expected to be a slight shift in market share in favor of non-food items through 2024.
Innovation is at the forefront of development in the RRP industry, with many end-use sectors enjoying the benefits of new designs in RRP.
Frozen foods and household care products will show the highest growth among the various end-use sectors for RRP, at CAGRs of 8.1% and 6.9% respectively. The lowest growth lies in pet food (2.51%) and canned food (2.58%).
Pack Formats
Die-cut containers account for 55% of the volume demand for RRP in 2018 with plastic making up nearly a quarter of the total. By 2024, these two formats will maintain their relative positions, but the major shift will be from shrink-wrapped trays to modified cases, with a 2% market share changing places between these two formats.
Die-cut containers will remain popular and slightly exceed the mean market growth across the study period, defending their current large market share.
Through 2024, the growth will be fastest in modified cases, with a 10.1% CAGR by volume pushing consumption from 2.44 million tons (2019) to 3.93 million metric tons (2024). There will be new demand for shrink-wrap trays will be low, at a sluggish 1.8% CAGR, and demand will actually drop in developed economies—Western Europe, the US, Canada, and Japan.
For more information about Smithers' latest report, The Future of Retail-Ready Packaging to 2024, please download the brochure at https://www.smithers.com/services/market-reports/packaging/the-future-of-retail-ready-packaging-to-2024.