To get your frigid Friday started correctly, we present...
Just a horse wearing a three-piece Tweed suit
(https://t.co/j02BI9V9Ld) pic.twitter.com/lU5eSFX7VP

— 41 Strange (@41Strange) January 9, 2020
Bathroom Reading
Quite literally. Launched last year, Facility is a new magazine that, says Boing Boing, "contains articles about the architecture, politics, and culture of restrooms." Adds co-founder/editor Erin Sheehy: "Our first issue includes an interview with some plumbers, an essay about fluorescent lighting, a history of delousing at the El Paso-Juárez border, an exploration of the laws that led to sex-segregated bathrooms, personal stories, artist projects, and more—we even have horoscopes!"
We can see it now: "Virgo—Avoid the food court at the Baltimore airport." "Aquarius—There is such a thing as too much hydration."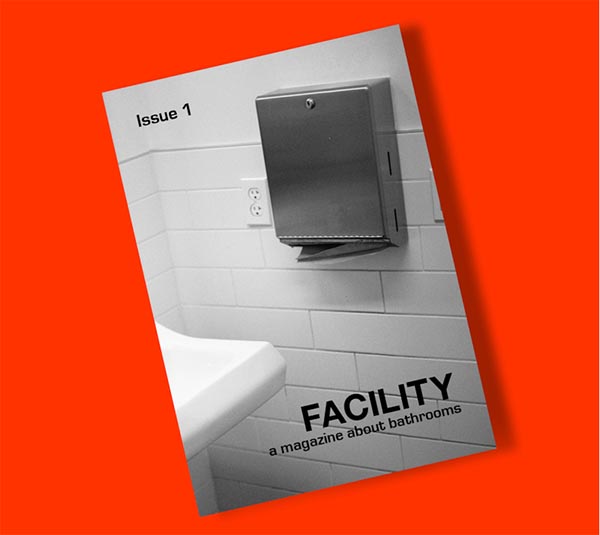 And if the publication goes down the toilet, that may be part of its business plan.
The Mummy Speaks!
Here's an interesting use of 3D printing: "printing" the vocal tract of an Egyptian mummy in order to determine how he would have sounded. From Scientific American: "3-D printing and body-scanning technology have lent a little bit of voice to a relatively young artifact: the more than 3,000-year-old mummy of an ancient Egyptian named Nesyamun."
Medical imaging led to the development of "a 'vocal tract organ' that plays vowel sounds through a 3D-printed replica of a larynx." They then used this idea to see if they could give voice to Nesyamun. (Since it's a mummy, we're guessing it would say "Mmmfff! Mmmfff!") How accurate is it? "Overall, I think it was a well-made study," says one of the researchers. Curiously, Nesyamun had nothing to say about it.
What Would Freud Say About Dad Jokes?
Sigmund Freud: I fell over

Me: A Freudian slip?

Sigmund Freud: Not funny – I stepped on glass

Me: Is it a bit of a pane?

Sigmund Freud: You're enjoying my misfortune

Me: Yes, it's shard-in-Freud

— Ayn Randy (@ItsAndyRyan) January 21, 2020
"Stop Printing Unicorns!"
The New York Times has an excellent series called "Op-Eds From the Future" in which, says the Times, "science fiction authors, futurists, philosophers and scientists write Op-Eds that they imagine we might read 10, 20 or even 100 years from now."
In a recent installment, sci-fi author Fran Wilde envisions a time when bioprinters (aka 3D printers) will be common children's toys. "Fisher Price Waterhouse [!!! —Ed.] will soon offer a line of kid-friendly bioprinters in bright colors....There's so much possibility here for creativity, for immersive learning through technology. But caution is necessary. The moral and environmental consequences of bioprinting extend far beyond the grasp of young minds." To wit:
Making bioprinting more accessible to the public — especially to children — will be likely to lead to even worse disasters than last Friday's blockade of the Chicago I-899 skyways off-ramp by a herd of miniature unicorns. Sure, the unicorns (whose origins are unknown) were the size of ducklings, but their appearance caused several accidents and a moral quandary.
These bioprinted unicorns were living creatures with consciousness — as defined by the A.I. Treaty of 2047 — trying to find their way in the world. Busy commuters had to take over the driving of their autonomous vehicles, which were not programmed to deal with miniature unicorns. But the drivers quickly became just as confused as the cars: While more ephemeral than our vehicles, these creatures were so obviously alive that no one could bring themselves to run over their pink, rainbow-maned forms.
Another installment from 2022 looks at what will likely be the end result of the streaming wars. ("We should have bought the DVDs.")
Speaking of which...
I Land in the Stream
Via The Verge: "The Streaming Wars have barely started and they're already exhausting."
Kinda makes you want to read books.
Jo Branding
Is jacuzzi a brand name or a generic term? How about sellotape, or dungarees?
Find out as you play against Jo in our Brand new quiz...
BRAND OR NO BRAND WITH JO BRAND! pic.twitter.com/YFXIoSanzw

— Quite Interesting (@qikipedia) January 10, 2020
Read the Small Print—If You Can
Developments in packaging printing have helped brands print important pharmaceutical text at ever-smaller sizes, saving a lot of packaging real estate. But is this a good idea? The folks at Core 77 have some issues: "If there's one failure of package design that seems to be consistent across brands, it's the microscopic fonts used on medicine labels. They provide crucial information on products often being purchased by elderly folk with less-than-stellar eyesight, but the brand name is always given way more real estate than the active ingredients."
What's the solution? Stores seem to have come to the rescue: "Smart stores compensate. This Rite-Aid's solution: A shelf-mounted magnifying glass on a retractable line."
Promises Promises
I'm not convinced my new toaster can quite deliver everything it promises. pic.twitter.com/Tf4lTpVEvW

— David Mitchell (@RealDMitchell) December 27, 2019
Divine Comedy
Over at McSweeney's, an amusing reimagining of Dante's nine circles of hell for linguistic transgressions.
Fourth Circle:
Hated Abbreviations
ICYMI, this level is for people who use OPAs (off-putting abbreviations) to show off their supposed hipness and/or needlessly confuse others. New abbreviations are constantly being invented and CASJdropped into conversation. The souls are expected to KTOS (know them or suffer). Good luck with your KLRDT (Keats-like rapidly degenerative tuberculosis) as you're also subjected to MMMTDs (massively multi-personal medieval torture devices). Are you doing OK? No. You're doing AWACBE(as well as can be expected), given the MNNTKUWNVECD (mind numbing need to keep up with non-vocabulary-extending cultural dross). In short (but is it really?), it's annoying AF.
A Head of the Game
Here's a headline that will catch the eye. From the Daily Beast: "The Bizarre Fight Over a Wealthy Biochemist's Frozen Head Keeps Getting Weirder" Sounds like it was pretty weird to begin with.
For biochemist Dr. Laurence Pilgeram, death was just the start of all the trouble. He had been (when alive) a proponent of Alcor Life Extension Foundation's cryonics program (i.e., they freeze a body right after death and hope to be able to revive it at some point in the future). They can perform whole-body preservation or what they call "head-only neuropreservation" where they (and we're not making this up) keep the head on ice until such a time as there develops the technology to regrow the body. (There is no known technology for regrowing an entire body from just a nose.)
Anyway, Dr. Pilgeram died abruptly, and after his body was kept too long at the medical examiner's office and was thus unsuitable for whole-body preservation, the head was removed and sent to Alcor. The rest of the body was created and sent to his family. (There's a surprise package you don't want to get.) Alcor wasn't paid for this (for kind of obvious reasons), and has been trying to strip Pilgeram's son of his inheritance. It's a bizarre story—or, as the story's subhead says, "Vast riches and a lifelong obsession with fringe technology are threatening to tear a family apart." Sounds like it already did.
Livin' on the Fridge
Recipe Clipping On Fridge Officially Outlives Newspaper It Came From https://t.co/L4WaxEfMiy pic.twitter.com/ctrgiJRm1Z

— The Onion (@TheOnion) January 21, 2020
A Killing in Real Estate
Bored with the Property Brothers? Had enough of Fixer Upper? Find This Old House just too...well, old? How about a home improvement show that remakes and remodels houses where a murder was committed? Does that sound appealing? No, we didn't think so either, but, well, coming soon: Murder House Flip, which will air on the new mobile-streaming service Quibi. Says Today: "So, what can viewers expect from this new home improvement show? A 'colorful cast of forensic specialists, spiritual healers and high-end renovation experts,' according to the press release. '(They'll) uncover the crimes, shocking secrets and scandalous history of the homes.'"
Gotta love it: "forensic specialists, spiritual healers and high-end renovation experts."
To quote The Amityville Horror: "Get out! Get out!"
Needy
When I sign into a website, I feel so needy and pathetic when I click on "Remember me."

— (((Josh Malina))) (@JoshMalina) January 21, 2020
Keyboard Solo
And now, Around the web presents a musical interlude: Leroy Anderson's "The Typewriter" (a concerto for orchestra and solo typewriter):
Wikipedia has more about "The Typewriter." "The typewriter was modified so that only two keys work to prevent the keys from jamming. According to the composer himself, as well as other musicians, the typewriter part is difficult because of how fast the typing speed is: even professional stenographers cannot do it, and only professional drummers have the necessary wrist flexibility."
Heavy
Zeppelin. https://t.co/u1HtoXlRGk

— J. Elvis Weinstein (@JElvisWeinstein) December 24, 2019
What Happens in Vegas...Redux
Last month, we linked to a story about someone in Las Vegas putting cowboy hats on pigeons. Now, a pigeon sporting a sombrero was recently spotted in Reno.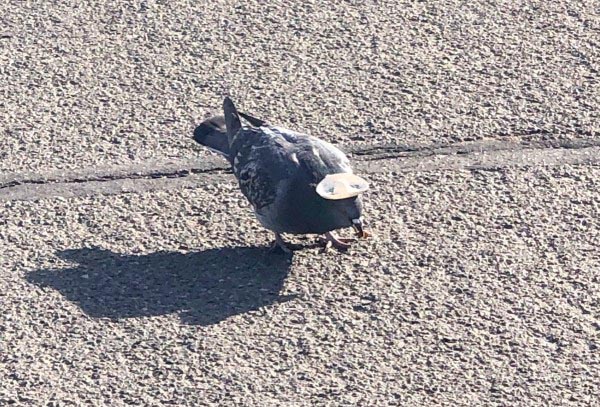 Now, as amusing as this may be, gluing a hat on a bird (or any other living creature) is a bit cruel. If you can't persuade the bird to wear it of its own accord, you are just not cut out to be a seller of hats. In fact, you'd have to be mad as a hatter...
There's Only an App for That
If only there were some way to physically insert money into a laundry machine so I wouldn't have to rely on an app pic.twitter.com/z8J8wgkXXW

— Sanae Rosen (@sanaerosen) December 15, 2019
Wind Beneath my Wings
On the other hand, you can glue whatever you'd like to this robot pigeon—if you dare. "Building a 'bird robot' that flies with fixed wings is easy enough, but creating something that bends and flaps its wings like a real animal is surprisingly difficult. Now, a team of researchers has taken a huge step toward achieving that lofty goal with a new artificial avian aptly named PigeonBot." Knowing that you don't mess with success, they used actual pigeon feathers.
Just keep it away from statues.
This Week in Printing, Publishing, and Media History
January 20
Please be aware that it's Penguin Awareness Day. John Ruskin was entirely correct. #PenguinAwarenessDay #penguins #pengwengs pic.twitter.com/CM6EPTLWzk

— Letters of Note (@LettersOfNote) January 20, 2020
1894: American cartoonist and creator of Little Orphan Annie Harold Gray born.
1920: Italian director and screenwriter Federico Fellini born.
1920: Damn it, Jim, American actor DeForest Kelley born.
1929: In Old Arizona, the first full-length talking motion picture filmed outdoors, is released.
1937: Franklin D. Roosevelt is sworn in for his second term as U.S. President, the first Presidential Inauguration to take place on January 20 following the ratification of the 20th Amendment.
1954: In the United States, the National Negro Network is established with 40 charter member radio stations.
1986: In the United States, Martin Luther King, Jr. Day is celebrated as a federal holiday for the first time.
January 21
1535: Following the Affair of the Placards—an incident in which anti-Catholic posters appeared in public places in Paris and in other major French cities, including one on the bedchamber door of King Francis I—French Protestants are burned at the stake in front of the Cathedral of Notre Dame de Paris. Don't underestimate the power of display graphics!
1789: The first American novel, The Power of Sympathy or the Triumph of Nature Founded in Truth by William Hill Brown, is printed in Boston.
1924: English actor, singer, and screenwriter Benny Hill born.
1953: Co-founder of Microsoft Paul Allen born.
1971: The current Emley Moor transmitting station, the tallest free-standing structure in the United Kingdom, begins transmitting UHF broadcasts.
January 22
1573: English poet John Donne born.
1788: English poet and playwright Lord Byron (né George Gordon Byron) born.
1889: Columbia Phonograph is formed in Washington, D.C.
1898: Russian director and screenwriter Sergei Eisenstein born.
1927: Teddy Wakelam gives the first live radio commentary of a football match anywhere in the world, between Arsenal F.C. and Sheffield United at Highbury.
1947: KTLA, the first commercial television station west of the Mississippi River, begins operation in Hollywood.
1984: The Apple Macintosh, the first consumer computer to popularize the computer mouse and the graphical user interface, is introduced during a Super Bowl XVIII television commercial.
January 23
1546: Having published nothing for 11 years, François Rabelais publishes the Tiers Livre, his sequel to Gargantua and Pantagruel.
1656: Blaise Pascal publishes the first of his Lettres provinciales.
1783: French novelist Stendhal (né Marie-Henri Beyle) born.
1832: French painter Édouard Manet born.
1919: American actor, game show host, and TV pioneer Ernie Kovacs born.
1957: American inventor Walter Frederick Morrison sells the rights to his flying disc to the Wham-O toy company, which later renames it the "Frisbee."
1998: Netscape announced Mozilla, with the intention to release Communicator code as open source.
January 24
1670: English playwright and poet William Congreve born.
1947: American singer-songwriter Warren Zevon born. Life'll kill ya.
1984: Apple Computer places the Macintosh personal computer on sale in the United States.
January 25
1507: Swiss printer Johannes Oporinus born.
1759: Scottish poet Robert Burns born.
1783: English-American businessman and philanthropist and founder of Colgate-Palmolive William Colgate born.
1858: The Wedding March by Felix Mendelssohn is played at the marriage of Queen Victoria's daughter, Victoria, and Friedrich of Prussia, and becomes a popular wedding processional.
1881: Thomas Edison and Alexander Graham Bell form the Oriental Telephone Company.
1882: English novelist, essayist, short story writer, and critic Virginia Woolf born. Who's afraid?
1915: Alexander Graham Bell inaugurates U.S. transcontinental telephone service, speaking from New York to Thomas Watson in San Francisco.
1937: The Guiding Light debuts on NBC radio from Chicago. In 1952 it moves to CBS television, where it remains until September 18, 2009.
1947: Thomas Goldsmith Jr. files a patent for a "Cathode Ray Tube Amusement Device," the first ever electronic game.
1949: The first Emmy Awards are presented; the venue is the Hollywood Athletic Club.
1960: The National Association of Broadcasters reacts to the "payola" scandal by threatening fines for any disc jockeys who accept money for playing particular records.
1961: In Washington, D.C., President John F. Kennedy delivers the first live presidential television news conference.
1961: 101 Dalmatians premieres from Walt Disney Productions.
1964: Blue Ribbon Sports is founded by University of Oregon track and field athletes, which would later become Nike.
January 26
1918: American author Philip José Farmer born.
1926: The first demonstration of the television by John Logie Baird.