If at any point you're feeling sad or cross today just have a look at this picture of a man who loves his giant onion pic.twitter.com/fRLMo4M00w

— Giles Paley-Phillips (@eliistender10) January 11, 2020
Candy Crush
WhatTheyThink contributor Pete Basiliere writes to Around the Web:
I was at CES 2014 when 3D Systems unveiled its device for 3D printing food (candy, really). Discussions that I had turned up the fact the samples that 3D Systems provided to attendees and appeared to be made during the show were not produced on site due to health regulations. Instead they had been produced ahead of time in a controlled environment.
Fast forward through six tumultuous years at DDD (with former HP exec Vyomesh Joshi at the helm for much of the time) and it appears the device is reappearing in a more developed form.
Yet another example of the future of jetting technologies beyond inks.
Fidoify
Spotify will now make a playlist for your cat https://t.co/uIWL73yyrF pic.twitter.com/HmZFTR0M6z

— The Verge (@verge) January 15, 2020
Charge Up Your Workouts
Are your workout clothes charged up and ready to use? Japanese firm Wisenfit EMS offers rechargeable workout clothes that can help with muscle gain, improved endurance, rapid fat burn, or muscle relaxation, depending on your workout goals. And the good news? It functions up to eight hours on only a 5% charge. (Don't you wish your phone could do that?)
Fleeter Feet
Are you an avid runner? Looking to evaluate and improve your running form? At last week's Consumer Electronics Show (CES), ASICS launched a new "smart shoe" called the Glideright that can help runners run more efficiently. From Gizmodo:
The Glideride has a special sole that's designed to reduce how much your ankle flexes during a run. According to ASICS, the more your ankle flexes, the less efficient you are at running. The less efficient you are, the more energy you waste and the faster you tire out on long-distance runs.
Each run was recorded on video and then run through ASICS's proprietary Run Analyzer program. After that, I got a chance to look at my results and it was honestly one of the first times I've realized how many little things go into running. ASICS told me I have decent form—as in I don't bounce too high, which is bad for knees. And compared to their dataset of 10,000 runners, I generally fall within acceptable averages for arm and leg movements. That said, in the normal shoes my ankles flexed 35 degrees. The same run in the Glideride shoes dropped that number down to 24 degrees. Since both runs were fairly short, it's hard to say how that would translate over longer distances like a 5K or a 10K. Maybe I'd be able to run longer at my max pace, but it's impossible to know for sure without testing it for myself.
ASICS also introduced an even more advanced show called the EvoRide which also "measures things like overall efficiency, vertical movement, landing load, kicking force, foot strike, stride height, and ground contact time. And because the sensor is in both shoes, you can get a picture of how symmetrically—or asymmetrically—you run."
Car Boot
Had to pull over in order to reboot my car, love being in the future

— Zach Holman (@holman) January 12, 2020
Neckwear
CVS's epic length receipts may be a pain in the neck, but now you can keep your neck warm with this handmade CVS receipt scarf which, ironically, is shorter than an actual receipt. Only $19.95 at Etsy, and with a much shorter receipt.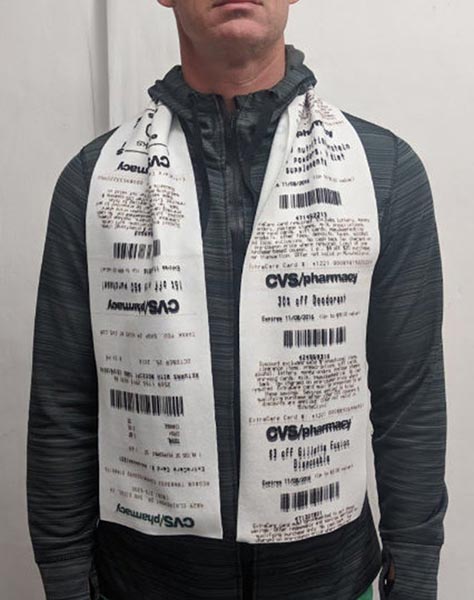 It's probably a good idea to make sure that whoever made the scarf didn't buy anything embarrassing. Also, if you return the scarf, do you need to include the receipt? If so, which one...?
Livin' Brick
From the New York Times: living bricks!
an interdisciplinary team of researchers at the University of Colorado, Boulder, has created a rather different kind of concrete — one that is alive and can even reproduce.
Minerals in the new material are deposited not by chemistry but by cyanobacteria, a common class of microbes that capture energy through photosynthesis. The photosynthetic process absorbs carbon dioxide, in stark contrast to the production of regular concrete, which spews huge amounts of that greenhouse gas.
Bacteria-based concrete also has the ability to heal its own cracks.
Red Dot Fever
A headline from Wired caught our attention and distracted us: "How Slack ruined work."
"Technology advances usually supplant what has come before but Slack hasn't, it's just doubled the pain," he says. The problem, Miller explains, goes beyond the inconvenience of monitoring another inbox. He sees Slack as a particularly "scary offender" in stopping people getting their work done because it encourages them to be constantly distracted.
And when you hear that Slack clack noise, it's very easy to
Just Our Type
Looking for "an advanced, open source, hyperrealistic, multilingual typewriter font for a new decade!"? No, nor were we, but now there is one: TT2020. Says Boing Boing: "Creator Fredrick Brennan (previously) points out that most fonts which attempt to create the look of a real analog typewriter lack alternative glyphs and other modern features, displaying tell-tale repetitions of aberrations and flaws. He spotted some recent howlers in expensive Hollywood productions that should know better, such as The Joker." TT2020 comes in a variety of weights and styles. Or you could just go buy a proper typewriter.
In related news: during the Cold War, the Russians used to bug US Embassies' Selectric typewriters, capturing typists' keystrokes. Ingeniously, other parts of the typewriter were repurposed to supply power to the transmitters.
Interstellar Overdrive
Overdrive is one of the biggest—if not thebiggest—ebook lenders to libraries. Librarians have a love-hate relationship with it (DRM-related), but it is one of the few affordable options for libraries to supply ebooks to patrons of both public and academic libraries.
Oh, well, it was nice while it lasted: "Global Investment Firm KKR to Acquire Overdrive For an Undisclosed Amount."
The Revolution Will Not Be Published
A decade ago, publishing gurus were predicting that the 2010s would be the decade of the "ebook revolution." Well, not so much. Sure, people buy and read them, but by the end of the 2010s, they pretty much stayed at about 20% of book sales, with print comprising the remaining 80%. Vox has a look at the revolution that wasn't: "the digital natives of Gen Z and the millennial generation have very little interest in buying ebooks. 'They're glued to their phones, they love social media, but when it comes to reading a book, they want John Green in print,' says [Andrew Albanese, a senior writer at trade magazine Publishers Weekly and the author of The Battle of $9.99. "The people who are actually buying ebooks? Mostly boomers." Why? The ability to increase the font size.
He's Got a Point
A stopped clock is correct twice a day, but a sundial can be used to stab someone, even at nighttime. JOHN HODGMAN

— Quite Interesting (@qikipedia) January 14, 2020
Check It Out
Via CNN, the New York Public Library recently released its list of the Top 10 checkouts of all time. At the top of the list? The Snowy Dayby Ezra Jack Keats. It's a children's picture book about a boy named James enjoying the first snowfall, and has been checked out of the NYPL 485,584 times since it was published in 1962. Number two is The Cat in the Hat, and number three is 1984.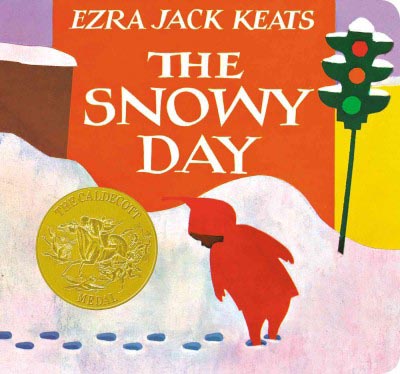 Hey 19
What if Stacey's mom was Jessie's girl and her phone number was 8675309?

Never mind, some of y'all are too young for that mind blower. ??

— JayQwellin (@DarkCovfefe) January 10, 2020
"The" Most Powerful Word
What is the most powerful word in the English language? We all probably have our own ideas, but for the BBC that word is "the." (But of a letdown, really.) "'The' tops the league tables of most frequently used words in English, accounting for 5% of every 100 words used." But that's not all: "'the' lies at the heart of English grammar, having a function rather than a meaning. Words are split into two categories: expressions with a semantic meaning and functional words like 'the', 'to', 'for', with a job to do. 'The' can function in multiple ways....Helping us understand what is being referred to, 'the' makes sense of nouns as a subject or an object. So even someone with a rudimentary grasp of English can tell the difference between 'I ate an apple' and 'I ate the apple'."
Kentucky Fried First Aid
"For the love of God, this man is bleeding out! Someone get me bandages!"

"I have gravy." pic.twitter.com/2JFjpQwDA0

— Super 70s Sports (@Super70sSports) January 11, 2020
Holding Court
One of the most distinctive—and yet unwieldy—instruments in the rock world was the Mellotron. Basically, it was an upright organ cabinet filled with recorded strips of tape. When you played the keyboard, it ran the tapes over a set of tapeheads, triggering the sounds. It was often used to make bands sound more orchestral; the Moody Blues made extensive use of it and they were often dubbed "Pindertrons" as Moodies keyboardist Mike Pinder had once worked for Streetly Electronics, the manufacturer of the Mellotron, as a tester and was one of the few who could keep the often unwieldy instrument in proper working order, especially on tour. Pinder introduced the Mellotron to John Lennon, who used it on "Strawberry Fields Forever," and it would eventually become one of the hallmark instruments of the progressive rock era.
Indeed, the Mellotron produced the distinctive sound of one of the pioneers of progressive rock, King Crimson. On the 51st anniversary of the of the founding of the first incarnation of Crimso, Boing Boing takes an inside look at this unlikely instrument.
Not So Grand Piano
Roland made the Cybertruck of grand pianos https://t.co/OFXV4lTDgc pic.twitter.com/LCeIpiFG17

— The Verge (@verge) January 9, 2020
A Farewell to the King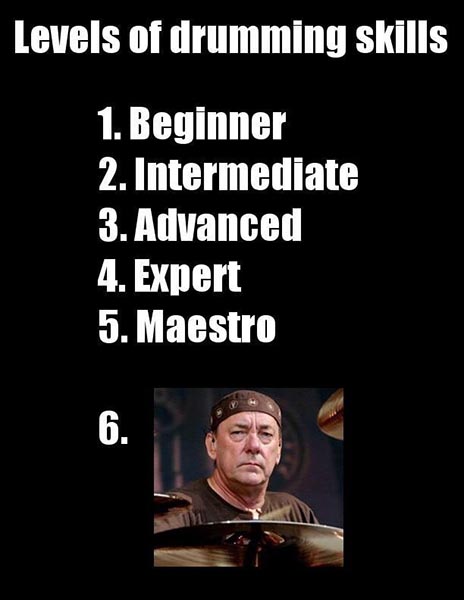 This Week in Printing, Publishing, and Media History
January 13
1888: The National Geographic Society is founded in Washington, D.C.
1898: Émile Zola's J'accuse…! exposes the Dreyfus affair.
1910: The first public radio broadcast takes place; a live performance of the operas Cavalleria rusticana and Pagliacci are sent out over the airwaves from the Metropolitan Opera House in New York.
January 14
1952: NBC's long-running morning news program Todaydebuts, with host Dave Garroway.
1967: The Human Be-In takes place in San Francisco, California's Golden Gate Park, launching the Summer of Love.
1973: Elvis Presley's concert Aloha from Hawaii is broadcast live via satellite, and sets the record as the most watched broadcast by an individual entertainer in television history.
January 15
1759: The British Museum opens.
1876: The first newspaper in Afrikaans, Die Afrikaanse Patriot, is published in Paarl.
1892: James Naismith publishes the rules of basketball.
1936: The first building to be completely covered in glass, built for the Owens-Illinois Glass Company, is completed in Toledo, Ohio.
1941: American singer-songwriter, musician, and artist Captain Beefheart (né Don Van Vliet) born.
1962: The Derveni papyrus, Europe's oldest surviving manuscript dating to 340 BC, is found in northern Greece.
1967: The first Super Bowl is played in Los Angeles. The Green Bay Packers defeat the Kansas City Chiefs 35–10.
2001: Wikipedia, a free wiki content encyclopedia, debuts online. (Well, that's what Wikipedia; best doublecheck that.)
January 16
27 BC: Gaius Julius Caesar Octavianus is granted the title Augustus by the Roman Senate, marking the beginning of the Roman Empire.
1492: The first grammar of the Spanish language (Gramática de la lengua castellana) is presented to Queen Isabella I.
1605: The first edition of El ingenioso hidalgo Don Quijote de la Mancha (Book One of Don Quixote) by Miguel de Cervantes is published in Madrid, Spain.
January 17
1706: Benjamin Franklin born.
1867: German-born American film producer and co-founder of Universal Studios Carl Laemmle born.
1904: Anton Chekhov's The Cherry Orchard receives its premiere performance at the Moscow Art Theatre.
1929: Popeye the Sailor Man, a cartoon character created by E. C. Segar, first appears in the Thimble Theatre comic strip.
January 18
1882: English author, poet, and playwright A. A. Milne born.
1993: Martin Luther King, Jr. Day is officially observed for the first time in all 50 states.
January 19
1736: Scottish-English chemist and engineer James Watt born.
1764: The world's first mail bomb severely injures the Danish Colonel Poulsen, residing at Børglum Abbey.
1809: American short story writer, poet, and critic Edgar Allan Poe born.
1829: Johann Wolfgang von Goethe's Faust: The First Part of the Tragedy receives its premiere performance.
1853: Giuseppe Verdi's opera Il trovatore receives its premiere performance in Rome.
1883: The first electric lighting system employing overhead wires, built by Thomas Edison, begins service at Roselle, N.J.
1915: Georges Claude patents the neon discharge tube for use in advertising.
1940: You Nazty Spy!, the very first Hollywood film of any kind to satirize Adolf Hitler and the Nazis, premieres, starring The Three Stooges, with Moe Howard as the character "Moe Hailstone" satirizing Hitler.
1953: Almost 72% of all television sets in the United States are tuned into I Love Lucy to watch Lucy give birth.
1983: The Apple Lisa, the first commercial personal computer from Apple Inc. to have a graphical user interface and a computer mouse, is announced.
1986: The first IBM PC computer virus is released into the wild. A boot sector virus dubbed (c)Brain, it was created by the Farooq Alvi Brothers in Lahore, Pakistan, reportedly to deter unauthorized copying of the software they had written.