Editor's Note: Last week, Exstream Software launched version 3.0 of their highly touted Dialogue software. Its the twelfth major release. Version 3.0 enhancements include double byte character set support for Asian business environments; enhanced HTML output; TIFF output for fax delivery and archival & retrieval systems; an interface to IBM's WebSphere MQ middleware; multiple-up support; and more. Dialogue v3.0 also adds the ability to run in a click-based, or "as needed" environment, using meters that attach to the back of the computer.

Exstream Software has an impressive list of over 75 customers worldwide including heavy-hitters like Merrill Lynch, Fidelity Investments, AFLAC, American Express, AT&T, Xerox, KeyBank, Bouygues Telecom in France, La Caixa Bank in Spain, and UNUM in the UK.

Davis Marksbury is the president and CEO of Exstream Software. He founded the company in January 1998 in Lexington, Kentucky. Marksbury is a known "visionary" in the document publishing industry, with Exstream being the third company he has successfully launched to address complex technology challenges in this industry.

In 1984 he co-launched PDR Information Services, a national information consulting firm, and in 1992 he and business partner, Dan Kloiber, started PDR Advanced Technology, where they developed StreamWeaver, today's most widely used software for processing print streams. Marksbury is a two-time finalist in Inc magazine's "entrepreneur of the year" award, and graduated from the University of Kentucky in 1980 magna cum laude with a bachelor's degree in engineering.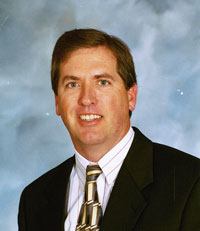 QUESTION: The various aspects of content, digital asset and document management are hot topics in the market these days. CRM is increasingly related to these issues. Where does Exstream Software and Dialogue fit in?

Davis Marksbury: Exstream was one of the first companies to recognize the convergence of the traditional document composition, document production and CRM industries, and the need to for a multi-channel personalization solution. When we launched the company in January 1998, most investments were being made to build infrastructure and tools for the Internet--and many companies were focused on building CRM tools for delivery of messages through that medium.

Our view was that the vendors developing these tools had too narrow a view of customer contact channels--almost all were missing or ignoring the ongoing mailing activity as a means of customer relationship management. We believed that to do effective enterprise CRM, companies had to have a multi-channel strategy that included their mailings (which account for over 90% of contacts with customers).

Our goal with Dialogue is to build the world standard software platform for what we call multi-channel enterprise personalization.


QUESTION: Many of your competitors have focused on specific industry segments or they only build solutions for one output channel like color. Obviously there are advantages to serving niches, but Dialogue reaches all, right?

Davis Marksbury: Yes, most competitive products in the market today were designed to build specific types of documents. Some are good at statements, while others are very focused on specific industries (like insurance), and still others just focus on building correspondence. It is extremely difficult to implement a comprehensive personalized communication strategy if you have to use different tools for different types of applications. With Dialogue, not only do we enable all types of documents, but we are striving to be the world-class provider in all areas of personalized enterprise publishing.

When I say multi-channel - Dialogue must be able to natively build all types of personalized print and electronic documents. Sure, there are lots of tools out there that will convert from one format to another, but many have significant drawbacks--especially in the areas of performance and document integrity. The other thing we mean by multi-channel is that a company should only have to design a document one time (in a device-independent mode), and then select any output channel--whether that's color, high or low resolution, requires the same or different resources, etc.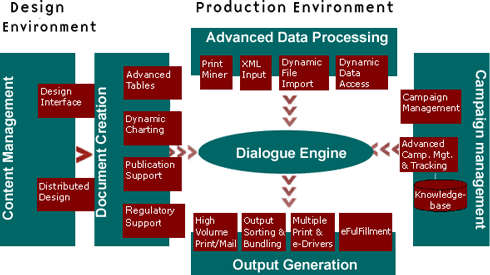 QUESTION: Tell us about the different publishing and delivery methods that Dialogue can support.

Davis Marksbury: We think there are three primary types of document-based communications that an enterprise has with its customers: On Demand, Production, and Interactive.

You can think of on-demand publishing as event-driven document generation, with the typical applications being 1:1 marketing or fulfillment. On demand is typically very low volume with a tendency toward color.

Production publishing is the very high volume document creation and fulfillment that goes through an enterprise's printing and mailing centers, with statements and invoices being typical applications. Production publishing is a very complex process where millions of customers are being sent personalized documents, through potentially many different delivery channels (simultaneously), and where quality and performance are critical.

Interactive publishing is the process by which distributed users author new documents through an interactive wizard process (typically through the Internet or on laptop computers). Interactive publishing applications include support for a branch office environment to create quotations and proposals, support for a call-center to generate letters, or support for customers to interactively request a personalized document over the Web.

Dialogue was designed so that any document application can be seamlessly created in any of these publishing modes.


QUESTION: How does Dialogue support all the types of marketing-driven personalization needs?

Davis Marksbury: Most document applications in the market today are exactly that--document applications. To support enterprise personalization, a solution must enable distributed marketing organizations to design and target marketing campaigns for integration in to documents at run time. Not only does this mean support for the various marketing groups within an enterprise, but also the groups within the extended enterprise.

For example, a service bureau must enable the marketing organizations of their customers to drive messages, while an automobile company might want to enable marketing by all of the dealers within their network. The system has to support a distributed marketing model, and have a methodology for allowing marketing users to easily add 1:1 marketing messages and offers to communications. And, finally, the system must be able to track the communications that occur, and leverage that information to build a meaningful conversation with the customer.


QUESTION: When we speak to our members who buy print, many say it still takes a long time to implement "overall changes" to their documents. How important is speed?

Davis Marksbury: When we started in 1998, we saw that it took most companies months or years and huge amounts of money to develop a new type of document like a statement. Our customers are seeing tremendous cost and time-to-market advantages using Dialogue. But really, when you think about it, you can't do effective personal communications if your cycle times are this long. Marketing people normally talk about cycle times measured in hours or days--not months.

The other aspect of faster and cheaper is processing performance. As personalization becomes more of a mass production process--where every customer receives a unique communication--performance will be more and more critical and a key part of the total cost equation. So, to achieve our goals, we had to develop the best document composition solution, as well as all of the other capabilities required for true enterprise personalization.


QUESTION: Again on the subject of your competitors. Do you see the rush of newer firms as creating confusion in the market? And to what extent does that confusion have the effect of slowing the decision-making process when a company is deciding which solution is best for them?

Davis Marksbury: Personalized communications is a hot market and you are right, there are many new players in this industry. But most of these new companies are not focused on our area. As I mentioned earlier, Exstream's target is multi-channel enterprise personalization. We believe that enterprises need all of the capabilities this type of solution provides to really achieve their customer relationship performance objectives.

When we started in 1998, we saw an opportunity to be the first to market in enterprise personalization--that meant being a technology leader and market pioneer, taking on many challenges that hadn't been solved before. At that time, there were many different document composition tools in the market, but none took a true enterprise view of the problem. Today, most of the new players in the market seem to be tackling a narrow aspect of the overall enterprise publishing problem. While the marketing messages from these companies are likely confusing some of the customers, we really haven't been significantly impacted by delays in the customer's purchasing process.

QUESTION: How should a company decide what solution(s) are most appropriate for their needs?

Davis Marksbury: All companies are in different stages of the personalization process. Whether they are just trying to send out the correct statement to someone, or have fully embraced the customer relationship personalization model, I think the general requirements are the same:

- Look for a solution that supports as many types of document applications as possible. Even if an organization is looking only for a tool to help drive correspondence, they should expect to have broader needs in the future.

- Look for a solution that provides a growth path. If an organization buys products that are too narrowly focused, they will have difficulty expanding the use or application. Companies investing in these products normally are making a five-year decision--and they had better allow themselves some flexibility. For example, if you don't have a need for interactive publishing today you probably will within the next two or three years. You should know that the solution you acquire today can handle that requirement in the future.

- Look for solutions that provide a strong workflow component. Distributed authoring, multi-state delivery, regulatory requirements, and extended enterprises make for some complex workflow needs. Tack on the need to manage a multi-channel delivery process and you will see that workflow might be one of the most important things to look for--and one that buyers should expect to have integrated into their personalization system.

- Look for solutions that are intuitive to use. Most systems that were built in the 1980's and early 1990's were built on a programming paradigm. These are very difficult to use, result in long development cycles, and are difficult to deploy (requiring high-skilled individuals). Many products might look easy in the demo, but really get under the covers and understand what it will take. If your manager doesn't understand it, it is too complex!

- Look for solutions that are truly multi-channel. This means that they natively produce the outputs in an efficient manner. We have seen many vendors claim to be multi-channel, but they are really using transform tools to convert from the format they produce to another one--with many attendant problems that might not be readily apparent (like quality of the conversion, file sizes, loss of indexing and other intelligence in the document).

- Understand the costs. Over the life of using a product, it is not uncommon that the cost of the software is almost insignificant compared to the costs of developing applications, integrating the workflow process, building and processing documents, and so forth. You should really focus on building a total cost-of-ownership model.


QUESTION: Exstream seems to focus primarily on financial services, healthcare and service bureaus. Who are some of your main competitors and how do you differentiate Dialogue from their offerings?

Davis Marksbury: We have really focused our strategy on companies that deliver high volumes of customer communications, as well as the organizations that support them--like service bureaus. We believe that most of the companies in these industries are looking for ways to communicate more effectively.

In my view, Exstream's Dialogue is the only product in the market that really supports enterprise personalization. We have different competitors based on which aspect of this spectrum you look at. We have different competitors if a customer wants to do statements than we might if the customer is looking at doing insurance documents.

We differentiate Dialogue in all of the areas that I mentioned before, but our biggest differentiator is how fast it is to build robust applications, and how much money that can be saved by only have to use one solution for enterprise personalization.

DALBAR conducted a study that showed companies save 30%, 50% and sometimes 75% of the time and costs when they use Dialogue vs. other products. While the benefits of this are obvious, what might not be so obvious is that this opens the opportunity for companies to develop many more applications than they could in the past. For service bureaus (or services groups within larger companies), this can result in significantly more revenue opportunity and new selling strategies. For example, one of our service bureau customers now fully prototypes document applications as part of their bidding process--giving their customers a strong sense of security on the time/cost proposal, but also the sense that they know what they are buying and will have much more opportunity to tweak the application (as they all ultimately do).


QUESTION: As the technology matures some aspects of content and digital asset management will no doubt become integrated into standard business software offerings, much like many desktop publishing functions. Do you see some of the tools of content and digital asset management being integrated in this way? What aspects do you think won't be so readily integrated?

Davis Marksbury: My view is that for enterprise personalization to be effective and a mainstream solution, it must come off-the-shelf as a totally integrated end-to-end solution. We have all heard some of the success stories where a large company took a content management system and integrated it with a document production tool and one or more delivery tools; and oh, by the way, a campaign management tool. There are very few companies that can afford to pay for this type of integration, and the opportunity costs related to the months or years of development.

Certainly, Microsoft and perhaps others will be offering document and digital asset management capabilities as part of their solutions. Exstream is really focused on delivering an end-to-end, or what we call data-to-delivery, solution. While content management is a robust part of our offering, we think the real power comes from the total solution Dialogue provides.


QUESTION: Exstream is impressive not just for the functionality of Dialogue but also for the rate at which it rolls out new versions. Do you expect to keep up this pace this year?

Davis Marksbury: We had to develop software at this pace in order to achieve the vision we had for Dialogue. Today, Dialogue is composed of seven product suites and almost thirty modules--all of which are part of the same code base and are therefore 100% integrated.

I think we have a world-class development organization--likely one of the best in the industry. With that talent, and an object-oriented product architecture, we are able to develop software in a fraction of the traditional time. As such, you should expect us to continue development at this pace. In the future, we will continue to add new features to the existing product suite, and add new modules or suites as we expand the definition of enterprise personalization.


Thank you Davis for sharing your time with our members.