Editor's Note: As we have noted in previous reports, one challenge Xerox faces is selling their high-end production printers, like the iGen3, to commercial printers. In some cases, the company is perceived as a competitor by digital printers and for mid to large commercial printers - why would they select Xerox when all their other "iron" is made by MAN Roland, Komori, Heidelberg etc.?

Xerox believes that printers will make the decision based on their quality, cost, service support and expertise in digital printing, not just on relationship. Xerox executives think it would be an easier decision for the printer to choose the best product, since that is what his/her livelihood is built on.

Now that digital color printing is increasingly meeting the quality needs of traditional commercial printers, Xerox is aggressively stepping up its efforts to reach this segment of the market. To be specific, Xerox is recruiting highly experienced commercial printing and graphic arts experts to open new doors and to bring new skill sets to the Xerox sales and support team. Many are filling newly created positions as commercial print solutions executives (CPSE), who lead Xerox commercial printer accounts.

Their leader? Elaine Wilde. She is the senior vice president and general manager of the Worldwide Graphic Arts Industry Business and one of the main architects of the company's new thrust into the commercial print market. She has held the position for about a year and a half. A 25-year veteran of Xerox, Wilde has also held a variety of sales, marketing, and general management positions, many of which touched on the graphic arts industry. Prior to taking her position in the Worldwide Graphic Arts Industry Business, she was vice president of marketing and strategy for Public Sector Operations.

Joining Elaine in this discussion are recently hired Xerox commercial print solutions executives:

- Juan Antonio Flores, who joined Xerox after 19 years in the graphic arts, most recently with Kodak Polychrome Graphics. He is based in Spain;

- Mike Florio, who recently left the printing services department of The Color Wheel, a New York City-based communications company;

- Lonnie Jackson, who has worked with Agfa, Creo, and the Graphic Arts Technical Foundation;

- Paul Marzin, who came to Xerox from Heidelberg and is based in Paris, and

- Kerri Shoemaker, who came from Scitex Digital Printing and has also worked at Heidelberg and Indigo, and is based in the United States.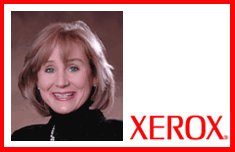 Question: Elaine, why do you think commercial printers are more interested in digital color printing today than they were in the past?

Wilde: The global economic slowdown of the last year or two has tightened print buyers' pocketbooks, hurting profitability for many traditional commercial printers. Simultaneously, a new generation of digital color presses is reaching the market that is capable of delivering the performance level commercial printers require more than ever before. Consequently, interest in the digital short-run color and variable information printing opportunity is growing. Many commercial printers see it as their best opportunity for developing they new sources of profit and growth they seriously need.


Question: What are you doing to improve your penetration into the commercial printing market?

Wilde: The commercial print segment of our Worldwide Graphic Arts Industry Business has been marketing directly to commercial printers for about three years. But today, for the first time, we have a wide range of products specifically targeted at enhancing the business of traditional commercial printers. We are also reinvigorating our sales staff and support programs to better support this market with a goal of being one of its core suppliers.


Question: Last week we reported that Xerox has already taken 100 reservations for the iGen3. Tell us about this product and other Xerox products for commercial printers.

Wilde: Xerox is the clear market leader in the equipment that addresses the heartland digital color printing requirements of traditional commercial printers, and we have a well-rounded set of products to meet needs for proofing as well as toner-based and digital offset production.

The Xerox DocuColor 2000 Series of Digital Color Presses is the industry's leading product for digital color production printing. It accounted for nearly one-and-a-half times as many unit sales as all the competition combined in 2000 and 2001, due in part to its innovative digital blanket, which expands the range of substrates that can be imaged, and improves image quality.

The DocuColor iGen3 Digital Production Press is building on that success by setting benchmarks in image quality, economical running costs, reliability, flexibility to handle a range of substrates and productivity.

For lower volume short-run printing and proofing, the Xerox DocuColor 12 family applies the same imaging technology as the DocuColor 2000 to a 12-pages-per-minute (ppm) engine. With its Matchprint Professional Server from Kodak Polychrome Graphics, the system produces the only xerographic prints that are SWOP (Specifications for Web Offset Publications) certified for proofing colors on an offset press.

And for longer short runs, we offer our DocuColor DI series of direct imaging digital offset presses.


Question: And what have you done to re-invigorate your sales force?

Wilde: We are refining and augmenting our sales organization to sell to traditional commercial printers in the manner in which they are accustomed, and to help them adjust to the new demands of digital printing.

Specifically, we've appointed about two dozen sales reps worldwide with commercial print experience to the newly formed position of commercial print solutions executive or CPSE. Each CPSE will take the lead in calling on commercial printing businesses in his or her territory - except in cases where an existing Xerox sales rep has a strong relationship. These are knowledgeable independent sales representatives who can help commercial printers improve and grow their businesses. They represent a whole new breed for Xerox - and a whole new level of commitment to this market.

In addition, we're recruiting specialists - known as iGen3 tigers - who are focusing exclusively on selling and supporting the new DocuColor iGen3 in the full range of environments- corporate in-plants, data center service bureaus and other locations, as well as commercial printers. The iGen will also be supported by SmartPress consultants, who will provide on-site support following DocuColor iGen3 installations, to build volume on the new equipment and ensure a fast start.

Finally, we employ solutions engagement managers (SEMs), who specialize in selling and supporting graphic arts-focused solutions, such as digital book publishing or variable information printing.


Question: What is the nature of the support you offer commercial printers?

Wilde: Xerox has long been a leader in supporting its customers with worldwide technical service and support, staff training, and assistance in sales and marketing. Many of these existing programs are relevant to traditional commercial printers - and some new programs have been introduced especially for this segment.

Among the newer programs is the Profit Planner Print Cost Estimator, a job cost estimating tool written in Microsoft Excel. The Profit Planner calculates job costs using industry-standard budgeted hourly rates calculations and provides cost comparisons for running jobs on digital and offset presses. Printers can enter their specific cost variables to easily calculate the most cost-effective press for a given job to help them manage their shop more efficiently, and to find break-even points for running jobs on offset versus digital presses.

Training has long been a Xerox strength. Today, the Xerox Marketing Partnership Program offers corporate in-plant and graphic arts print providers a range of leading self-instruction and classroom training on Xerox products, industry solutions and sales and marketing.

Xerox also contributes directly to print providers' marketing efforts by engaging in ongoing communications with print job creators and print buyers, to help them understand the advantages of digital printing and building print volume for digital print providers. The Xerox Graphic Arts Industry Business also runs the Xerox Premier Partners program, which provides a vehicle for sharing printing knowledge, resources and business opportunities.

In most markets, Xerox offers 24x7 technical support as well as self-service options that can improve uptime and reduce the number of Xerox service calls required, for operations with their own service expertise. Print providers can also engage Xerox consulting services to provide specific skill sets or temporarily boost staff depth.


Question: Why would an experienced graphic arts professional join the Xerox sales team?

Flores: In my most recent position, working for Kodak Polychrome Graphics, I've been following the introduction of Xerox into the graphic arts market very closely, noticing what they were offering to the market, and trying to understand their strategy and objectives. I noticed that digital printing was taking an important position in the graphic arts sector, offering alternatives solutions that offset can't offer and a wide range of applications. Why Xerox? Because I consider it the market leader in digital printing with a product catalog wider than any other supplier in the market. I always thought experience is an added value and in this sense, Xerox is also above the rest.

Shoemaker: I wanted to work mainly on the DocuColor 2060 and iGen3, but I'm also excited to work with the DocuColor 12 and Matchprint Server. Xerox has an alternative for almost every commercial print customer.

Jackson: Personally, I decided to join Xerox for a number of reasons: The opportunity to work with the iGen3 product, a fabulous digital print product portfolio, and the opportunity to teach the commercial print industry about Xerox and its offerings.


Question: In many mid to large commercial print firms, Xerox has little to no ongoing relationship in terms of equipment already placed. As you "pitch" to these commercial printers, what key strengths will you highlight?

Florio: Xerox's strengths in the commercial printer market is very simple - leadership in digital technology and variable data. The industry is growing in that direction and Xerox has the best products in the market. They also have the best partnering programs all around, and they offer true solutions.

I love what Xerox brings to the table for clients in terms of servicing and support. I also have never been part of a company that invests so much in their employees. That is important because the training we get goes right back to the customer. Xerox prepares us to help customers with the total solution: sales, marketing and business rules for today, tomorrow and the future. The company's commitment to help commercial printers is unbelievable.

Marzin: Four strengths I see are: 1) Xerox's dedication to, and focus on digital printing. 2) The company's vast experience in developing and servicing their products. 3) The way the company understands the needs of not only their customers, but also their customers, customer. Xerox is a marketing company and has a great marketing vision. And, 4) Xerox thinks about the end results before they develop a product.

Shoemaker: Short run and variable data. The quality of the DocuColor 2060 is beautiful and it's a great alternative because the price is so reasonable.


Question: How do you think Xerox stacks up against its competition?

Shoemaker: Having sold and been trained on both Nexpress and Indigo, I am confident we have the lowest cost per page and the best quality, support, technology and product mix of any digital print supplier.


Question: How important is the traditional commercial print market to Xerox?

Wilde: The future success of Xerox is tied directly to the ability of print providers to profit and grow with digital printing. That's why we are so committed to supporting our customers in this industry, and so dedicated to helping them profit and grow.


Question: Do you think Xerox is developing a higher profile in the commercial print industry and a reputation as a valued supplier?

Jackson: I didn't consider Xerox a player in the commercial print industry. Now, not only do I include Xerox as a player, I consider Xerox a major force in this industry.