You can't really discuss on-demand technology without acknowledging Electronics For Imaging (EFI). Their Fiery print controller set the pace for delivering high-quality, short-run color and black and white digital printing solutions. Today, over one million EFI print controllers have been sold and installed in leading corporations, advertising agencies, graphic design studios and print-for-pay businesses around the world. In fact, its common to hear print buyers request "Fiery Prints."

EFI has expanded its print controller product family to include EDOX and Splash print controllers. The entire line of EFI controllers offers solutions sophisticated enough for high-end print production and affordable enough for the office desktop.

In 2001, EFI debuted its PrintMe Networks Internet printing solution. It allows you to print to any printer on the PrintMe network from any wireless device without any cables or drivers. Print anywhere, anytime and on demand.

Prior to joining EFI in 1995, Mr. Guy Gecht was Director of Engineering at Interro Systems and held software management positions at ASP and Apple Israel. Between 1985 to 1990, he served as an officer in the Israeli Defense Forces, managing an engineering development team and, later, was an Acting Manager of one of the IDF's high-tech divisions.

Gecht has risen through the ranks at EFI, serving in a variety of management and engineering roles. He was named CEO in January 2000. During the last few years, he has orchestrated the development of two new products: eBeam (an Internet office appliance) and Velocity (a software suite for color printing).

With more than 900 employees, the company is headquartered in Foster City, CA. EFI was recently named one of Silicon Valley's top companies by the San Jose Mercury News.






Question: At ITEX in February, your keynote address was entitled "Reports of the Death of Printing are Greatly Exaggerated." Please explain the main points of your speech.

Gecht: My ITEX speech focused on showing how modern technology has led to increases in printing despite predictions to the contrary and I also challenged the printing industry to create new printing technologies to meet the changes in the way people work today.


Question: How is the Internet affecting the way we communicate today and how will it affect it in the future?

Gecht: The world has gone Internet crazy. Consumers want everything to be available anywhere, instant, and hassle free. However, printing still requires drivers and cables. It was for these reasons that EFI spent a lot of effort developing the PrintMe Networks technology.


Question: How has EFI factored in the trend to wireless communications into its business model?

Gecht: Mobile printing is the next big trend that is going to affect everyone who involved in the printing business. For EFI's this is one of the most important initiatives. We committed to enable everyone with a pager, cell phone, Palm Pilot, or other PDA to be able to print seamlessly everywhere they go. We view PrintMe Networks as the missing piece in consumer mobility.


Question: How does EFI define remote printing? Is remote printing a trend for the future?

Gecht: PrintMe Networks is like a global phone system for printers. It connects printers to the Internet and gives each printer a unique ID that's like a phone number. Users can then use this ID to print to any printer on the PrintMe Network. There is no setup, drivers or cables required. Anyone with an Internet-connected mobile device or a wireless connection can easily print to any PrintMe-enabled printer or even a standard fax machine. Remote printing is not just a trend for the future, but fills a definite need that is lacking in today fast paced business environment.


Question: Last fall, EFI announced it was working with major industry players such as Adobe, Xerox and Yahoo on PrintMe. What's the latest news on PrintMe and your partners?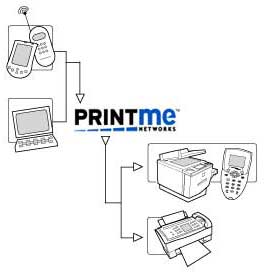 Gecht: On March 12 EFI had a "Go Live" event in New York City where we launched the availability of PrintMe Networks service. At the event we also announced several new partners like IBM, Canon, IKON, Palm, OfficeMax, Minolta and many more. This is in addition to the partnerships we announced last year like Adobe, who said they will incorporate the PrintMe service into the company's Acrobat and other products. Xerox also announced plans to move ahead and begin offering PrintMe via the company's Office Services Sales Force.


Question: Recently EFI started shipping a whiteboard appliance, called the eBeam System. How does this product fit into EFI's corporate strategy?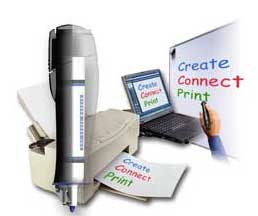 Gecht: EFI has a history of developing innovative products and eBeam is a result of that innovative environment. This low-cost product allows end users to connect to an existing whiteboard directly to the Internet so they can share, save, print, or e-mail what they draw on the board. eBeam is one more imaging product we brought to the market to enhance the productivity of end users.


Question: EFI offers a number of software products for the printing and graphic arts industries. Which is the most popular product and why?

Gecht: EFI offers software products that appeal to a range of customers. We have solutions for the demanding graphic arts professional, the corporate business environment, and desktop users. We see growing popularity of our Velocity suite and believe the new GA software we just released will be also very successful.

Question: You've been with EFI for eight years now. Two years ago you went from being President to CEO. How has that change in vantage point changed your thinking about the company and the industry?

Gecht: I feel I have a lot more responsibility now. Not just for our shareholders, customers and employees, but also for the Printing Industry, which currently is suffering the effects of a slow spending environment. For EFI to be successful, the industry needs to advance. This drives EFI and myself to work harder in providing our share of support to our industry.


Question: Recently EFI reported for the last quarter in 2001 revenues for the quarter were down $70 million over the same quarter in 2000. What part of that reduction was due to the economy and what is EFI's outlook for 2002 revenues?

Gecht: Our Q4 revenue in 2001 was roughly 20% below the same quarter a year earlier. No doubt the tough economy and the slow demand of color devices hurt our results. We didn't provide any revenue guidance for the full year 2002, but we repeatedly said that we are committed to continue to invest heavily in developing new technologies that will increase efficiency and competitiveness of print professionals.




Question: EFI has changed a lot since Efi Arazi founded the company in 1989 and the first Fiery server was produced in 1991. What, in your opinion, have been the most significant changes in the company?

Gecht: We are actually very proud of the way we managed to maintain the company's culture over the years. While we have many more employees compared to the first few years of the company's existence, we successfully managed to keep the efficient, customer-focused foundation we have always had. We never let internal politics or bureaucracy interfere with the way we do business. We are constantly promoting innovation and creative ideas that help make the people who use our technology more competitive. I hope that if you talk to me again in another ten years, we will still have the same culture.