Herpetologists Discover Species Of Frogs That Evolved To Spontaneously Grow Top Hat And Cane https://t.co/4HgqKYKr5f pic.twitter.com/GqcTNwjg71

— The Onion (@TheOnion) December 7, 2019
Full Graphene Jacket
Cary Sherburne is back with more Graphene news. This time, it's a jacket you will never want to take off: breathable, waterproof, ultralight, and durable. The jacket of your dreams? If one dreams of jackets, then yes!
Rear View Mirror
Re-sharing something I'd shared last year, as a reminder of the value of seeing the user's perspective.#ux #psa pic.twitter.com/oV6H3F55Cu

— Avinash Kaushik (@avinash) December 12, 2019
Dropped Call
Home valuations are often arrived at, it seems, by what was at one time called "fuzzy logic." But one home in Utah was a head-scratcher:
The Deseret News reports a house built in 1978 in an unincorporated area of the county was recorded in 2019 tax rolls with a value of more than $987 million. That's an overestimate of about $543 million in taxable value.
Until:
Wasatch County Assessor Maureen "Buff" Griffiths told officials last month a staff member may have dropped a phone on a keyboard. Griffiths said the accident has resulted in a countywide overvaluation of more than $6 million.
Doh!
But Is it Art?
idiot. you can buy a banana for half that price at Whole Foods https://t.co/TPxQOEVqlE

— Matt Oswalt (@MattOswaltVA) December 7, 2019
They Might Be Giant
Merriam Webster has announced its 2019 Word of the Year and it is they. They?
Lookups for they increased by 313% in 2019 over the previous year.
English famously lacks a gender-neutral singular pronoun to correspond neatly with singular pronouns like everyone or someone, and as a consequence they has been used for this purpose for over 600 years.
More recently, though, they has also been used to refer to one person whose gender identity is nonbinary, a sense that is increasingly common in published, edited text, as well as social media and in daily personal interactions between English speakers. There's no doubt that its use is established in the English language, which is why it was added to the Merriam-Webster.com dictionary this past September.
DoT
We've been chronicling the rise of the Internet of Things. Now, we may be seeing the dawn of the "DNA of Things." What? A letter to Nature describes it as a "storage architecture to create materials with embedded memory."
DNA storage offers substantial information density1,2,3,4,5,6,7 and exceptional half-life3. We devised a 'DNA-of-things' (DoT) storage architecture to produce materials with immutable memory. In a DoT framework, DNA molecules record the data, and these molecules are then encapsulated in nanometer silica beads8, which are fused into various materials that are used to print or cast objects in any shape.
The practical use?
DoT could be applied to store electronic health records in medical implants, to hide data in everyday objects (steganography) and to manufacture objects containing their own blueprint. It may also
Uh oh!
facilitate the development of self-replicating machines.
Going Viral (and Bacterial)
Rogan Brown is an artist who fuses the scientific with the artistic, creating intricate paper sculptures based on microorganisms. Says Pendulum: "From individual cells, bacteria and other microbiological organisms, to corals, fossils, geological formations and more, each structure is meticulously translated into paper form with a scalpel, similar to the way scientists perform precise dissections."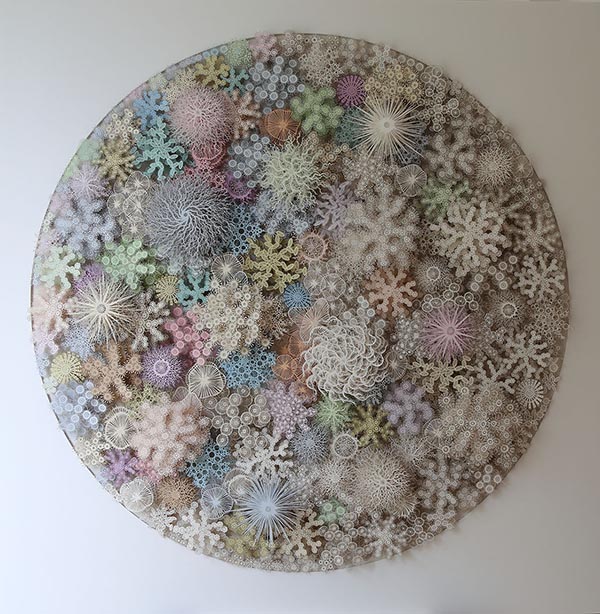 Tis the Season...
...to buy lots of wrapping paper. But, via Core77, Warren, Pa.'s local paper, the Times Observer, printed a full page of cat-themed Christmas wrapping paper, the idea being that readers would recycle the paper to wrap gifts.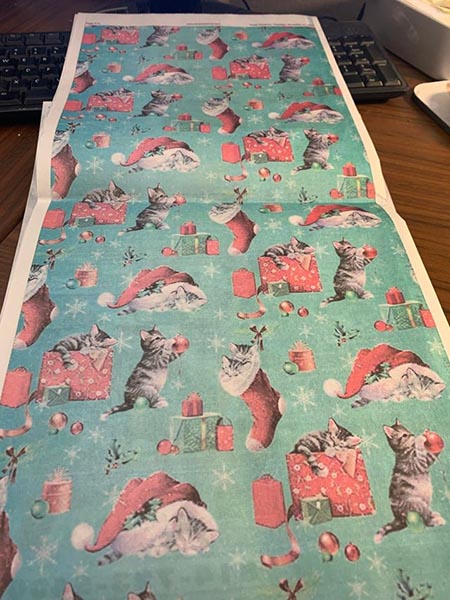 Given the news lately, we'd be cool with the entire newspaper featuring cat wrapping paper.
Each Thesis Sold Separately
The bestselling Playmobil of all time was of Protestant reformer Martin Luther. All 34,000 units sold out within 3 days. pic.twitter.com/9QPBL0GzKs

— Quite Interesting (@qikipedia) December 12, 2019
Ecommerce
Big Picture blogger Barry Ritholtz always offers a reality check on retail sales figures and a recent post put the rise of ecommerce in context.
In 2018, the last year of complete data including holiday shopping, online sales totaled $517 billion out of total retail sales of $3.62 trillion. 2018 saw online retail sales in the U.S. pass half a trillion for the first time ever. That is about double what it was a decade ago.
...In 2007, E-commerce accounted for barely 1 in every $20 dollars spent at retail. By 2011, that had increased to 1 in every $14 dollars. Last year, it doubled to 1 in every $7 dollars.
Yes, E-commerce is growing quickly, with half of the increase coming from Amazon.com. But it is only one of many factors, and it is impacting profitability tremendously. But as noted Friday, America has been wildly overstored for at least 2 decades.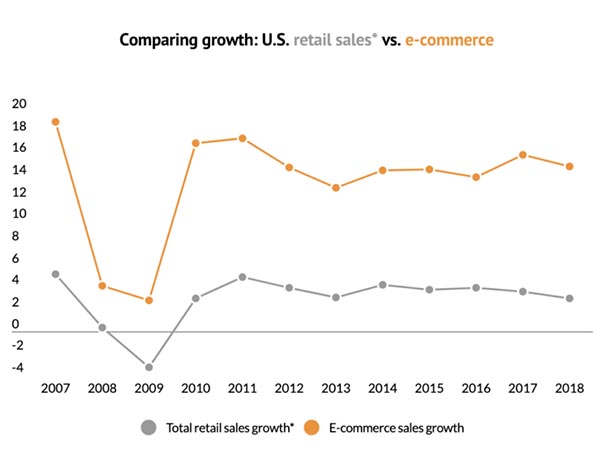 *Factoring out the sale of items not normally purchased online, such as fuel, automobiles and sales in bars and restaurants.
Source: Digitalcommerce360
Ship Etailers Say
Over at The Atlantic, "Stop Believing in Free Shipping: How retailers hide the costs of delivery—and why we're such suckers for their ploys."
Truth in Signage
I dont know who did this but Birmingham salutes you pic.twitter.com/wfST201YOH

— Adam Andrew Hayes (@adamhayes900) December 7, 2019
Every Breath You Take
Signage that stalks people as they walk by it is nothing new, but Consumer Reports has taken notice of...billboards that take notice:
When we go out into public, we are often surrounded by screens showing ads. They can be on the side of the road, at the gym, in store windows, in doctors' offices, and in elevators. You might assume that the marketing messages are playing on a loop, but sometimes these ads are changing because people like you are nearby.
...Once your phone is detected near a screen showing a particular ad, an advertising company may follow up by showing you related ads in your social media feed, and in some cases these ads may be timed to coordinate with the commercials you see on your smart TV at night.
How many of you have shopped for more upscale items just so you could get a better class of ad following you around the Internet?
Out-of-home advertising is increasingly making use of the same models that inter advertising has adopted: serving ads based in the data of the people likely to be seeing them.
That's All?
For every 100 ml of beer you drink, your body produces 160 ml of urine. pic.twitter.com/1qPZ3YlNVn

— Quite Interesting (@qikipedia) December 8, 2019
Home Invasion
Engadget's capacity for threats knows no bounds: "Alexa is coming to low-spec devices like light switches and thermostats." Huh? "Amazon's Alexa voice assistant has migrated to a lot of devices of late, including eyeglasses, ear buds and microwave ovens. Now, the company has revealed that it will run on devices with as little as 1MB of memory and a cheap Cortex-M processor. That means you can expect to see Alexa on all kinds of relatively dumb devices from lightbulbs to toys."
Putting a Tail on the Cat
This robot lets you remotely surveil your cat and track its daily step count https://t.co/XTz42018ge pic.twitter.com/zEM2y5JZSU

— The Verge (@verge) December 5, 2019
Nor Any Drop to Drink
When you really want a cold drink but first need to debug a Security Certificate of your Samsung fridge. @internetofshit pic.twitter.com/o2ymgpeO3q

— Monique Farantzos (@farantzos) December 5, 2019
What Happens in Vegas...
...is sometimes pretty darn weird. To wit: someone has been putting tiny cowboy hats on Las Vegas pigeons.
It might very well be the only thing charming about Las Vegas.
Trek or Treat
The Wreath of Khan?? pic.twitter.com/jh6RUwOupz

— Marshall Julius (@MarshallJulius) December 8, 2019
Chicken Fire
We linked to this last year, but it is back by popular demand: KFC's chicken-scented yule log.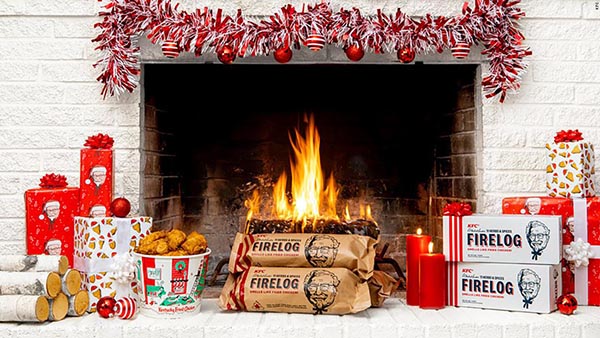 This Week in Printing, Publishing, and Media History
December 9
1608: English poet and philosopher John Milton born. ("There goes paradise," said his mother.)
1793: New York City's first daily newspaper, the American Minerva, is established by Noah Webster.
1897: Activist Marguerite Durand founds the feminist daily newspaper La Fronde in Paris.
1906: American admiral, computer scientist, and designer of COBOL Grace Hopper born.
1960: The first episode of Coronation Street, the world's longest-running television soap opera, is broadcast in the United Kingdom.
1965: A Charlie Brown Christmas, first in a series of Peanuts television specials, debuts on CBS.
1968: Douglas Engelbart gives what became known as "The Mother of All Demos," publicly debuting the computer mouse, hypertext, and the bit-mapped graphical user interface using the oN-Line System (NLS) at the Association for Computing Machinery/Institute of Electrical and Electronics Engineers (ACM/IEEE)—Computer Society's Fall Joint Computer Conference in San Francisco.
1979: The eradication of the smallpox virus is certified, making smallpox the first of only two diseases that have been driven to extinction (rinderpest in 2011 being the other).
December 10
1520: Martin Luther burns his copy of the papal bull Exsurge Domine outside Wittenberg's Elster Gate.
1768: The first edition of the Encyclopædia Britannica is published.
1815: English mathematician and computer scientist Ada Lovelace born. Working on Charles Babbage's Analytical Engine, she s often considered the first computer programmer. (She was also the only legitimate daughter of Lord Byron.)
1884: Mark Twain's Adventures of Huckleberry Finn is published.
1909: Selma Lagerlöf becomes the first female writer to win the Nobel Prize in Literature.
December 11
1918: Russian novelist, historian, short story writer, and Nobel Prize laureate Aleksandr Solzhenitsyn born.
1972: Apollo 17 becomes the sixth and final Apollo mission to land on the Moon.
December 12
1821: French novelist Gustave Flaubert born.
1901: Guglielmo Marconi receives the first transatlantic radio signal (the letter "S" [***] in Morse Code), at Signal Hill in St John's, Newfoundland.
December 13
1962: NASA launches Relay 1, the first active repeater communications satellite in orbit.
1972: Apollo 17 astronauts Eugene Cernan and Harrison Schmitt become the last humans to set foot on the Moon.
December 14
1902: The Commercial Pacific Cable Company lays the first Pacific telegraph cable, from San Francisco to Honolulu.
1903: The Wright brothers make their first attempt to fly with the Wright Flyerat Kitty Hawk, N.C.
1948: Thomas T. Goldsmith Jr. and Estle Ray Mann are granted a patent for their cathode-ray tube amusement device, the earliest known interactive electronic game.
1972: Apollo astronaut Eugene Cernan is the last person to walk on the moon.
December 15
1791: The United States Bill of Rights becomes law after it is ratified by the Virginia General Assembly.
1939: Gone with the Wind (the highest inflation-adjusted grossing film) receives its premiere at Loew's Grand Theatre in Atlanta, Ga.