ICYMI: Icy MI pic.twitter.com/lfKPIybUs4

— John Moe (@johnmoe) November 30, 2019
Brewing Up Plastic Alternatives
Via Packaging World, Danish brewer Carlsberg Group is ramping up its sustainability efforts and is attempting to reduce their overall environmental footprint. One of those efforts is its use of Snap Pack, "a pioneering technology from KHS GmbH subsidiary NMP Systems that replaces the plastic wrap, plastic ring carriers, or other secondary packaging used for Carlsberg's six-count can multipacks with adhesive dots that glue the cans together. The new multipacks were introduced in the U.K. and Norway in September 2018 and in Denmark in early 2019. Carlsberg estimates the Snap Pack will reduce the amount of plastic used by 50% to 76%, depending on the type of secondary it's replacing." We'll drink to that!
It Just Seems Longer
There were 3 years, 2 months and 1 day between the first tweet and the billionth tweet.

— Quite Interesting (@qikipedia) December 5, 2019
Expanding Wastelines
A new aspect of waste and excessive carbon footprint is included in this Washington Post article: brands jetting around the world as they line up their next collection. But that's only part of high fashion's disregard for the climate crisis.
The sustainability puzzle is the problem that affects every corner of the fashion industry. Fashion's global production chain pollutes the environment. Its factories, pushed to their limit, too often abuse an overwhelmingly female workforce. Because fashion's fundamental operating principle rests on planned obsolescence, brands are in a ceaseless cycle of replacement and replenishment. Fashion's job is to goad you into wanting, needing more.
Hounding Baskerville
Fifty years after he died in 1775, the coffin of typographer John Baskerville was uncovered during the construction of a canal. For the next 8 years it was kept in a warehouse where people could see the mummified corpse for 6d a time.

— Quite Interesting (@qikipedia) November 29, 2019
Fatal Fashion
Here's a movie that may be on Cary Sherburne's must-see list: In Fabric, about a cursed dress that has dire consequences for all who wear it. (No, really.) From the New York Times review:
The dress is bad news. It gives Sheila a rash and destroys her washing machine. It will do much more damage before the film concludes. "Don't tell me you're scared of a dress," one character says. Right? Strickland risks ridiculousness with shots of the dress hovering, with menace, in a room at night. But the tableaus work.
...
But is the movie scary? Well, yes. The film spaces out several nasty and effective frights. And as its narrative seems to deliberately devolve into a dissociative dream, even the funny material hits with a choke in the throat. The general dread becomes overwhelming, a black shroud that perhaps can only be cleansed by fire. But let's avoid spoilers …
We envision a whole new film genre: textile-based horror films. Coming soon... Die Sublimation. It'll terrify you to the very fiber of your being.
You Laugh...
McDonald's Prints Calorie Count Right Onto Meat https://t.co/2ceavWIjVh pic.twitter.com/8E9llZEmUy

— The Onion (@TheOnion) November 27, 2019
PEN Is Mightier...
PEN America has just issued a new report called "Losing the News: The Decimation of Local Journalism and the Search for Solutions," which, says the New York Times, "paints a grim picture of the state of local news in every region of the country. The prelude is familiar to journalists: As print advertising revenue has plummeted, thousands of newspapers have been forced to cut costs, reduce their staffs or otherwise close." We're not entirely convinced that loss of print revenue necessarily has to be cause for doom; there are other business models out there. Still, that's an argument for another time. The result is "a crisis in local news coverage in the United States that has frayed communities and left many Americans woefully uninformed."
Map My Ride
The New York Times has a really cool animated look at the development of its modern subway map. In 1979, the city hired Manhattan design firm Michael Hertz & Associates to redesign what subway riders felt was a confusing map of the system. "The M.T.A. subway map is a record of how graphic design, politics and geography have shaped the city over the last 40 years."
AI-yi-yi, Part the Infinity
OpenAI has released the full version of its GPT-2 text-generating AI system. It was announced some time ago, but, says The Verge, "withheld the full version of the program out of fear it would be used to spread fake news, spam, and disinformation." (Then why...? Oh, never mind.) "GPT-2 is part of a new breed of text-generation systems that have impressed experts with their ability to generate coherent text from minimal prompts. The system was trained on eight million text documents scraped from the web and responds to text snippets supplied by users. Feed it a fake headline, for example, and it will write a news story; give it the first line of a poem and it'll supply a whole verse."
You can try out a web version at TalkToTransformer.com and enter your own sample text. So we did, from our last printing shipments report: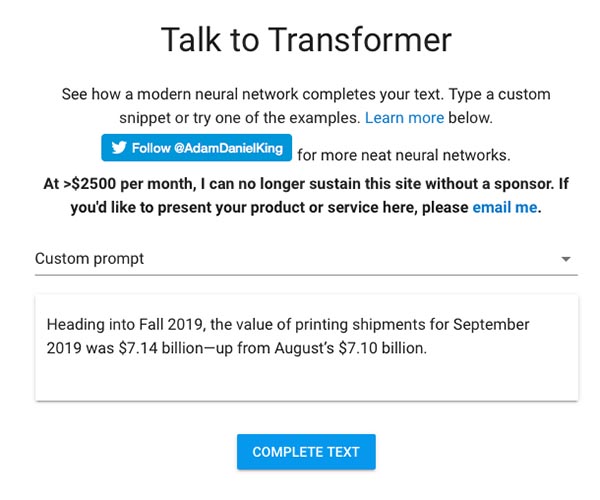 So what did it come up with?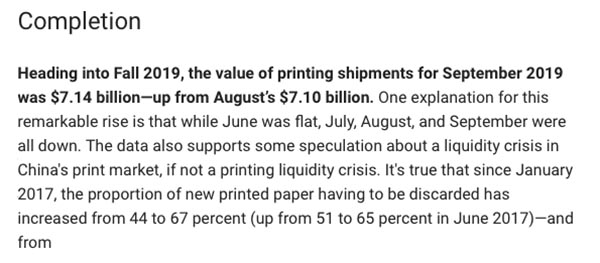 Well, aside from the fact that that was the exact opposite of what happened, it works great! —WhatTheyThink Writing Unit #826.
A Bridge Too Far
Here's a headline to conjure with: "This AI-Powered Toothbrush Is Like a Fitness Tracker For Your Mouth." Oh, they mean that's a good thing. From Gizmodo's review of the Oral B Genius X toothbrush: "There's artificial intelligence built-in so the Genius X can evaluate your brushing style, but you can also manually track things like brushing your tongue, flossing, bleeding gums, and whether or not you used an oral rinse. You can view your results over months, embark on "journeys" (e.g, if you want blinding white teeth, you can select a two-week whitening journey), and unlock achievements."
If it ever gets hacked, your dental health could be in peril.
Bad Sign
help I'm trapped in a sign factory pic.twitter.com/9ZltjIZZZI

— Internet of Shit (@internetofshit) December 2, 2019
Polo Grounds
One of the most famous travel books of all time is The Travels of Marco Polo (aka Book of the Marvels of the World and Il Milione), written around CE 1300, which gave Europeans their first look at the exotic lands of China, Japan, India, and other Asian countries. Polo had spent 20 years wandering in the Far East and, when he returned to Italy, he was thrown in prison for participating in a naval battle between Venice and Genoa. His book—which would become a bestseller—came about by Polo telling the tales of his travels to his cellmate, Rustichello da Pisa, who was a romance writer and spiced things up a bit.
A recent story in the Guardian talks about the discovery of a new parchment that offers more detail on the last year of Polo's life in Venice, and how a group of friars also had a hand in editing his meisterwerk, not only to make it more descriptive and "moralized," but also to translate it into Latin (from Franco-Italian) which helped make it the bestseller it became.
First Class Mail
Need a holiday gift for a history nerd?
Send them:
?1 amazing letter every week
?? Written by figures like Patton, Stowe, and Lincoln
?? Paired with the background info they need to interpret it
?? Stamped & Mailed to their door on fine stationery

?? https://t.co/8ifOr3DyJp pic.twitter.com/8HTVA7msTS

— Michael Sitver ?? (@msitver) November 28, 2019
Like a Rolling Pin
Via Boing Boing, this holiday season, add a little mess o'potamia to your parties with gingerbread cuneiform tablets—easy to make with this handy cuneiform rolling pin: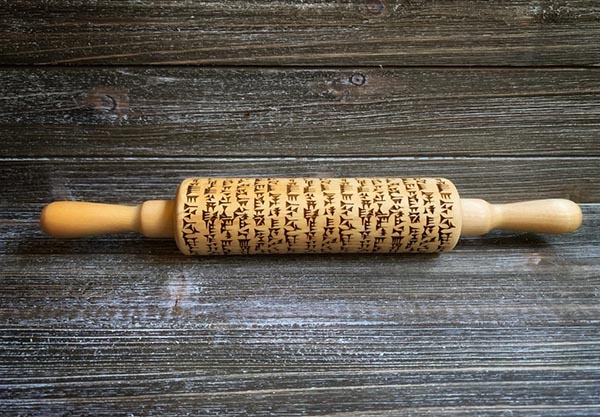 It comes via Tavola Mediterranea, "the home of culinary archaeology on the web." It can be purchased here. Also be sure to check out their recipes from antiquity and many other resources that combine archeology and cuisine.
What a Burn
Coldplay To Skip Tour Due To Environmental Concerns https://t.co/u7v3xnJkyW #WhatDoYouThink? pic.twitter.com/WFQgGxh6s5

— The Onion (@TheOnion) November 25, 2019
Cop A Peel
Sure, the times we're living in can seem a little bananas...and sometimes quite literally. Case in point: Kalamazoo, Mich.' s Steve Braithwaite was out for a little joyride when he was pulled over by a Michigan State Trooper. That'll happen. Bracing for a ticket, he was surprised when the trooper instead gave him $20 and compliments on his vehicle, which just happened to be a large banana.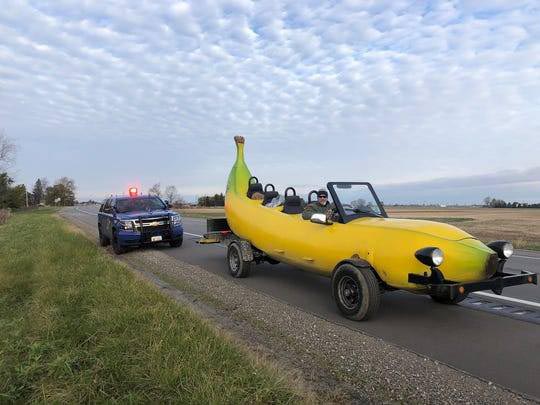 Says the Detroit Free Press, "Braithwaite has been traveling across the country in his contraption that he calls the Big Banana Car. The former Kalamazoo resident designed it in 2011 out of a 1993 Ford F-150....Braithwaite started The World Needs More Whimsy Tour Grand Tour last April, where he has traveled to Los Angeles, Phoenix, Dallas, Orlando, Chicago and, of course, Kalamazoo."
I Am Curious Yellow
Here's an interesting gift idea: Michael Pastoureau's Yellow: The History of a Color follows up the "history of color" expert's volumes on blue, black, green, and red. The book "traces the visual, social, and cultural history of yellow. Focusing on European societies, with comparisons from East Asia, India, Africa, and South America, Yellow tells the intriguing story of the color's evolving place in art, religion, fashion, literature, and science."
Read an excerpt over at Pop Matters.
Do the Math
If you do the math, this means that Shakespeare wrote all of Henry IV. https://t.co/x0Ap9MmJhb

— (((Josh Malina))) (@JoshMalina) November 24, 2019
What's the Welsh for "Password"?
Are you looking for a way to come up with more secure passwords? Try this if you dare: an algorithm that will generate secure passphrases in Welsh. Says Boing Boing: "As difficult as it would be for any human or computer to figure out a nonsense phrase like, 'correct horse battery staple,' it would be even more difficult to guess, 'stwffwl batri ceffyl cywir,' especially when there are only about 700,000 Welsh speakers to begin with." According to various password-checking sites, "it would take 11 quattuordecillion years or 1 trillion trillion trillion years for a computer to crack 'DrefnasidRhyd-y-meirchSefydlogiad6'"—which of course means "The ford of the horses was arranged."
Alas, the creator of the algorithm admits, "It's probably not a good idea to actually use this, since the wordlist is freely available along with the algorithm being used." Ah. Still, it's kind of fun to create silly phrases in Welsh.
Bloody Bugs
It would take about 1.1 million mosquitos to completely drain a human of blood.

— Quite Interesting (@qikipedia) November 24, 2019
Anyone who has been in Florida for any length of time already knows this.
Shockin' Around the Christmas Tree
Looking for a renewable power source for your Christmas lighting? Take a tip from a Tennessee aquarium: use an electric eel. Specifically, an electric eel named Miguel Wattson. (An eel with a surname? OK...) Says The Guardian: "A special system connected to Miguel's tank enables his naturally occurring shocks to power strands of lights on a nearby tree, the aquarium said in a news statement. Miguel releases low-voltage blips of electricity when he is trying to find food, aquarist Kimberly Hurt said."
Well, it'd break the ice at Christmas parties, that's for sure.
Face Value
They only read Genesis. https://t.co/E9U64Mhyom

— ??????? (@ItsMeHenning) November 21, 2019
The Dismal Science Made Cute
Do you want to learn more about economics, but wish it could be taught using cat videos? If so, good news! Kittyconomics features a cat purrfessor (oy vey) that teaches basic economic principles such as preference, value, opportunity cost, and scarcity. Watch them if you dare.
Since Dr. Joe was declawed, we may try this idea for our next economics webinar. However, your average housecat would be inappropriate for a business presentation, so we are in the process of training a live panther to effectively communicate printing industry statistics, bringing new meaning to the term "survivor bias."
Aisle Be By Myself
There is a fellow introvert on the Sephora customer experience team who deserves A RAISE RIGHT NOW pic.twitter.com/4Aan7lUyVD

— Cami Williams (@cwillycs) November 4, 2019
Room with a View
Hey, bargain-hunting travelers, want to spend only $1 for a hotel? Book a room at the Asahi Ryokan hotel in Fukuoka, Japan, where the room rate is only $1 a night. Is there a catch? Of course there is: the guest's entire stay is livestreamed on YouTube. Why on Earth...?, you may well ask. Says UPI: "[Owner Tetsuya] Inoue said room No. 8 is now equipped with cameras that are always livestreaming on his YouTube channel, One Dollar Hotel. He said the feed is video only and the cameras are pointed away from the bathroom area to give guests some privacy. 'Young people nowadays don't care much about the privacy,' Inoue said. 'Some of them say it's OK to be [watched] for just one day.'" Do they?
Is that an effective business model? "He said the hotel loses money with the $1 stays, but once his YouTube channel reaches 4,000 view hours, he will be able to monetize the scheme with ads."
Taking a Toll
Watching The Godfather, it just occurred to me that if they had E-ZPass lanes back in the 40s, Sonny Corleone might not have been killed.

— Frank Conniff (@FrankConniff) November 28, 2019
Treezilla
Nothing—and we mean nothing—says Christmas like Godzilla. Which is why we were jazzed to see that someone has created a Godzilla Christmas tree—Treezilla—that even exhales smoke. Says Boing Boing: "Its creator, Steven Newland of New Zealand, recently sold it in auction for $415 NZD (approx. $269.58 USD)." We'd pay that.
Watch it in action.
A Mothra tree would be a great way to get rid of those ugly wool Christmas sweaters.
This Week in Printing, Publishing, and Media History
December 3
1857: Polish-born British novelist Joseph Conrad (né Józef Teodor Konrad Korzeniowski) born.
1910: Modern neon lighting is first demonstrated by Georges Claude at the Paris Motor Show.
1994: The PlayStation developed and marketed by Sony Computer Entertainment is released in Japan.
December 4
1791: The first edition of The Observer, the world's first Sunday newspaper, is published in the U.K.
1875: Austrian-Swiss poet and author Rainer Maria Rilke born.
1881: The first edition of the Los Angeles Times is published.
1965: The Grateful Dead makes its first concert performance under that name (they had been founded as The Warlocks).
December 5
1901: American animator, director, producer, and screenwriter Walt Disney born.
1901: German physicist and Nobel Prize laureate Werner Heisenberg born. Of that there is no uncertainty.
December 6
1877: The first edition of The Washington Post is published.
1953: Vladimir Nabokov completes his controversial novel Lolita.
1955: American actor, comedian, and screenwriter Steven Wright born.
December 7
1923: American actor and comedian Ted Knight born. Sorry, Lou.
1930: W1XAV in Boston, Massachusetts telecasts video from the CBS radio orchestra program, The Fox Trappers. The telecast also includes the first television commercial in the United States, an advertisement for I.J. Fox Furriers, who sponsored the radio show.
December 8
1861: American businessman, and founder of General Motors and Chevrolet, William C. Durant born.
1894: American humorist and cartoonist James Thurber born.
1951: American essayist, travel and science writer Bill Bryson born.
1962: Workers at four New York City newspapers (this later increases to nine) go on strike for 114 days.
1980: John Lennon is murdered by Mark David Chapman in front of The Dakota in New York City.
2013: Metallica performs a show in Antarctica, making them the first band to perform on all seven continents. (Master of Penguins?)