By 2029, print industries will change significantly as a result of economic, technological, demographic, ecological, and behavioral factors, according to a new report from Smithers. Projected to reach $139 billion in 2019, digital print output is forecast to grow by 65% over the next 10 years to reach $230 billion by 2029. This dynamic growth rate will be driven by incursions into package printing, as well as books and other graphic printing areas, according to Smithers report The Future of Digital Print: Long-Term Strategic Forecasts to 2029.
The in-depth forecast from Smithers shows that the global digital print market will reach just over the equivalent of 3 trillion A4 prints in 2029 at an average CAGR of 5.3% in value over 2014–29. New digital equipment and consumable sales will grow, reflecting the cost-effectiveness of inkjet and electrophotography for short to medium runs. The new capabilities in digital printing will enable print suppliers to offer customers greater agility while a number of societal trends will fuel overall digital print growth.
Online Publishing and E-Commerce
The current shift from physical print to online in publication, advertising and transactional print sectors is resulting in lower print volumes and an increased consumer expectation for content (online or printed) to be more tailored to their interests, which supports digital printing. E-commerce and m-commerce (mobile commerce) sales are increasing, disrupting traditional retail and enabling more efficient supply chains. In this area, the ability to produce goods or packaging on demand exists and will grow using digital printing.
Sustainable and Printed Packaging
In packaging, brand owners are looking for innovations to support a switch to more sustainable packaging while seeking new ways to use printed packaging to engage consumers (including versioning, personalization of packaging design, and using time-sensitive event-related packaging). These factors together support increased demand for cost-effective, short-run print and digital print processes.
Key Industry Growth Segments
The growth in digital print between 2019 and 2029 is predominantly based on increased demand in books, advertising, commercial print, labels and packaging. Together these products account for 97.5% of the value growth. The highest growth is in packaging, which increases from $6.3 billion in 2019 to $32.5 billion in 2029, a huge increase of 418% over the decade.
Unlike publications and graphics, printed packaging will grow in both analog and digital processes. Book printing is also forecast to grow very strongly from $8.0 billion in 2019 to $23.4 billion in 2029, anincrease of 194% over the 10-year period. Inkjet printing is being adopted in book printing as a means for short-run end-to-end book production that is cost effective. The process enables new product offerings, such as self-publishing. For publishers, digital print allows both the operation of just-in-time supply chains and the ability to keep slow-selling titles available in their catalogs.
The overall print and printed packaging market is shrinking in volume, and only growing analog print by value because of the growth in digital print, which commands premium pricing. By volume the share of overall printed output from digital print processes grows from 2.3% in 2014 to 3.2% in 2019. It more than doubles to 6.7% by 2029.
Global digital printing and printed packaging markets, 2014–29 ($ billion, constant 2018 prices & exchange rates)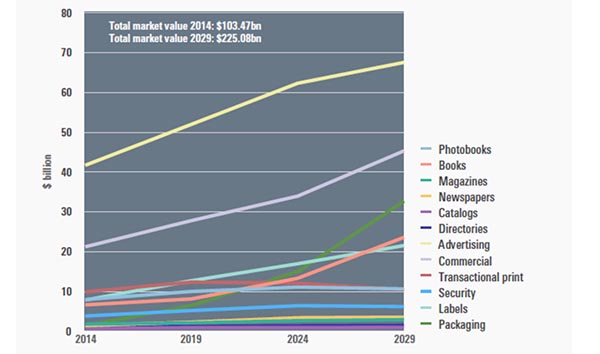 Source: Smithers Pira
The figure above shows the digital print market by print product. In 2019, four sectors generate print output values exceeding $10 billion—advertising, commercial, transactional print and labels—together accounting for 75% of total market value. By 2029 seven sectors are over $10 billion—advertising, commercial print, packaging, labels, books, photobooks and transactional print. Advertising and commercial print are the largest sectors by value in 2019 (accounting for 57% of the market), remaining so in 2029 when they account for 50% of value.
Evolving Digital Printing Technology
On the supply side, digital print technology is improving. Significant R&D investments in hardware, software and chemistry are delivering presses that are more reliable and productive and bring new capabilities that open new applications. Equipment can be integrated into complete production systems that reduce cost of manufacture by re-engineering manufacturing. In addition, economies of scale are being realized as demand for printheads, inkjet ink and toner increases. High-productivity digital presses can use bulk ink packaging and direct distribution of ink and toner, which lowers the delivered cost of consumables.
Over the next 10 years digital printing technology will develop along with the associated eco-system of workflow, substrates and finishing. The overall communications sector will be very different in 2029 as rapidly developing social media and online methods connect more people and things. Inkjet and electophotography methods will evolve with incremental improvements in equipment performance while ink technology will deliver better results on a wider range of standard print and packaging substrates.
The most significant change for digital printing over the next 10 years will be through developments integrating digital print, particularly inkjet, into broader production systems. This includes workflow and finishing to simplify and speed up time to market for many print products. This has already happened in some cases, for example books, where high-speed single-pass inkjet presses are linked to servo-controlled finishing lines that slit, fold and collate book blocks, delivered for loading into a binder. This allows printers to add real value to their publisher customers by helping reduce the publishing risk through delivering lower run lengths cost effectively, down to single copies.
For more information on The Future of Digital Print: Long-Term Forecasts to 2029 and other market reports, visit smithers.com.