IMO, not enough attention has been paid to doughnutgraphic lettering. It's really expressive. pic.twitter.com/DaA4M3sxmd

— Jill Gage (@JillEGage) November 10, 2019
Dream Weaver
Wow, this automated digital weaving loom would be nice to have for anyone who weaves on a hand loom. Setup for a weaving project often takes longer than the project itself. "Though I have to say there was a lot of pleasure in physically working with the yarns during the setup process," says our Cary Sherburne. The point of this new loom, the TC2 loom from Digital Weaving Norway, is to make it easier and faster for designers to produce either complex one-off projects or prototypes targeted for later production. Automation is impacting all aspects of the textile industry, from knitting and sewing to—now—prototype weaving.
One Toke Over the Line
Hemp Cigarettes seem to be turning into a big deal. Who doesn't love abusing their lungs? Anyway, here's an investment company that has determined there is enough growth opportunity for them to join the clamor—at least six other brands are listed on Amazon, plus roll-your-own solutions. Claims include the ability to reduce or eliminate tobacco smoking and gaining benefits from CBD. What's not clear is how much CBD is actually absorbed into the body from these cigarettes and whether people still risk lung damage from inhaling the smoke. Note: these are made from industrial hemp, which has less than 0.3% THC content, the psychoactive ingredient in marijuana. So enjoy the possible health risks without any of that pesky enjoyment.
The Fabric of Our Dreams
Canadian design students will now be able to use the latest technology to make their custom fabric dreams a reality, thanks to a partnership between Epson Canada and Toronto's George Brown College. The college's Fashion Exchange officially launched its much-anticipated Leading Innovation in Fashion Technology (LIFT) Lab October 29 at its Fashion Exchange hub.
Sept, Huit, Neuf...
1. My kid can count to nine in French now
2. It's devastating
3. I brought this on myself

— Lin-Manuel Miranda (@Lin_Manuel) November 8, 2019
Bye, Valve
If you had a few extra bucks kicking around this week, you could have headed over to an auction at Landmark on the Park in Manhattan and picked up a kicky hat made of an unusual material: sea silk. Not made from silkworms, it instead comes from Pinna nobilis, the noble pen shell, a species of Mediterranean mollusk.
Measuring up to a meter in height, these large bivalves root themselves to the seafloor by emitting hundreds of fibers, known as byssus (think of the grizzled threads you might find on a common mussel). Once extracted from the shell, cleaned and spun, it possesses a beautiful dark chestnut color, once compared to the "burnished gold of some flies and beetles".
Sea silk was once highly prized. "The British admiral Horatio Nelson wrote of his intention to send his lover, Emma Hamilton, a pair of gloves made from byssus. Jules Verne chose to dress his narrator in Twenty Thousand Leagues Under the Sea, Dr Pierre Aronnax, in 'sea-boots, an otterskin cap, a greatcoat of byssus lined with sealskin'."
Small Batch
According to the Royal Society of Chemistry, you would need £96,546.79 to obtain the necessary amounts of carbon, oxygen, hydrogen, calcium, phosphorus, potassium, and other elements required to create Benedict Cumberbatch. (h/t @billbrysonn)

— Quite Interesting (@qikipedia) November 13, 2019
Zagat's Back
Once upon a time, New Yorkers (and dwellers in other cities) chose restaurants using the venerable Zagat Guide. The ubiquitous burgundy-colored guidebooks were the Yelp! of their day (it was the rare restaurant that didn't post a copy of a glowing Zagat review in its window). It went through some changes of ownership, and was last seen in print in 2016. But as of next year, Zagat's back in print, baby.
Guy Smiley
Harvey Ball, designer of the iconic smiley face, was paid $45 for his design and never took out a trademark on the image. He never regretted not cashing in on the success, saying "Hey, I can only eat one steak at a time, drive one car at a time." pic.twitter.com/mDhkwqBcwo

— Quite Interesting (@qikipedia) November 14, 2019
Tale of the Tape
OK, as much as some of us are nostalgic for older technologies, we're not sure we can get on board with this comeback. Says the Guardian: "Forget the vinyl revival. The cassette tape will be back on Christmas lists this year as high-profile artists ranging from Coldplay to Robbie Williams and Liam Payne release albums on a format that has come back from the dead."
Good Lord, no. It was a horrible format! How many times did you embark on a long car trip with your favorite album blaring out of the tape deck, when suddenly there was a strangulated gurgle (and not a young Geddy Lee) and you pressed Eject to have it vomit out a tangled mass of tape? And it didn't just happen in the car; even high-end tape decks often "ate tapes" (as we referred to the phenomenon at the time) and you'd have to get out a pencil and laboriously respool it all back onto the reels. OK, auto-reverse was a convenient feature, but vinyl was a much-preferred format.
So why is this of all things coming back?
As with vinyl's comeback, however, music fans seem eager to embrace the quirks of physical formats, in this case such as winding tapes by hand with a pen and turning it over at the end of each side. Some websites also mention the hiss of the tape as an appealing feature.
Really? Unless you're a fan of mid-90s Guided By Voices, tape hiss is a bug not a feature. Oh well. Chacun à son goût. What's next...8 tracks?
"Ear Data"
Why are we doing this to ourselves https://t.co/ieSzAlwxPI

— Internet of Shit (@internetofshit) November 12, 2019
Olivetti Oiled
Ordered! Engadget has a précis of a new book called The Mysterious Affair at Olivetti: IBM, the CIA, and the Cold War Conspiracy to Shut Down Production of the World's First Desktop Computerby Meryle Secrest.
The world's first desktop computer didn't take shape in a Menlo Park garage or the bowels of a corporate production facility. It was created in a workshop in Northwest Italy owned and operated by the Olivetti family.
Olivetti was known for its typewriters and its first—the first—personal computer, the P101, debuted at the New York World's Fair in 1965. It was a hit. "[E]veryone from NASA to the US military was clamoring for these highly sought after 'super-calculators.'" However:
Shortly after the P101's debut, Adriano Olivetti, the head of the family suffered a mysterious and fatal heart attack at the age of 58, just 18 months before the company's talented engineer, Mario Tchou, died in an equally suspicious car accident.
Now That's a Knife
The Giant is the largest Swiss Army knife ever made. This 7-pound, 9-inch-wide tool has 87 implements including: awl, tyre tread gauge, flashlight, metal saw, universal wrench, and needle-nose pliers. (Image: Hugo Cadavez.) pic.twitter.com/RLg1Bs12m0

— Quite Interesting (@qikipedia) November 13, 2019
Bubble Machine
Are we in the middle of a new technology bubble? It doesn't really feel like it, but a long feature at The Correspondent argues that online advertising is the new dot-com bubble. "In 2018 $273bn was spent on digital ads globally. We delve into the world of clicks, banners and keywords to find out if any of it is real. What do we really know about the effectiveness of digital advertising?"
OK, Bloomberg
Says Bloomberg: "There's No Such Thing as Millennials or Boomers." Well, that's a relief. But if so, who are all these people? "There's no evidence that any sorts of personality traits or character flaws go along with so-called boomers, Gen X-ers, millennials or members of Gen Z."
There are two real things that are going on, however. One is that as people age, they go through different stages in life — not quite in lock step, since people reach various maturity levels and adulthood milestones at different times (or not at all). But there's a progression.
And there are events (wars, recessions) and new technologies which may affect those in college or seeking their first jobs differently from those who are older and more established.
Perfect. pic.twitter.com/UGO5Dz0t3n

— Jay Kuo (@nycjayjay) November 14, 2019
Barking Up the Wrong Tree
It was really only a matter of time. From Boing Boing:
now there's a dog whose learned to "talk." Not with sign language, but with a soundboard. According to her speech-language pathologist person, Christina Hunger, Stella the dog has already learned 29 words and several phrases. By pressing her paw on the pre-programmed buttons, she has learned to say what's on her mind.
Is there really all that much on a dog's mind?
They could probably do the same for a cat, but it would be NSFW.
The Sound of Simmering
This sounds like something The Residents would have done. Anyway:
A classical orchestra in Germany aims to "make climate change audible" with a reworking of Antonio Vivaldi's famous violin concertos "The Four Seasons" using algorithms based on climate data.The project reimagining one of the most widely recognised classical works is entitled "For Seasons" and will be performed in Hamburg on Saturday.
A collaboration between musicians, artists and software developers, the composition has been described by its creators as "disharmonic" and "uncomfortable"
Hello, Dalí
Back in the 1970s, Salvador Dalí was approached by the producers of the 1973 James Bond film Live and Let Die to design a Tarot deck, which was to be used as a prop in the film. Apparently, what Dalí was asking would have blown the film's budget so the deal fell through, but he ended up designing the entire 78-card deck anyway. It was issued as a limited edition in 1984, but has long been out of print. Now, Dalí. Tarot. is being reissued, along with its instruction booklet. You can preorder it here, and how could you not want to? Perfect for the Surrealist on your Christmas list.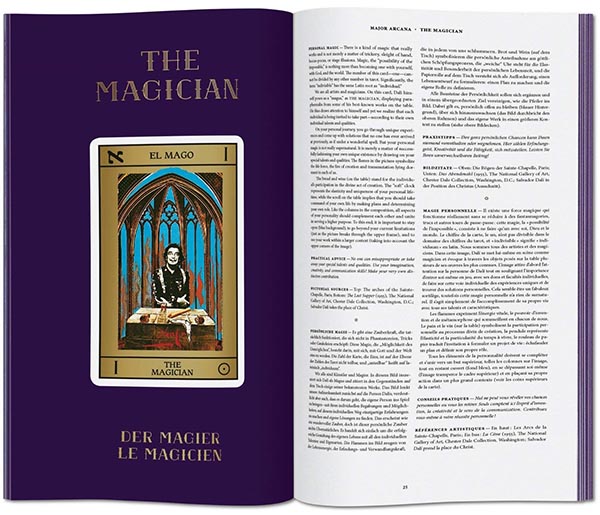 BCC: Jacob Marley
These 3 ghosts keep trying to teach me the meaning of Christmas in the middle of the night which pisses me off because it's like, okay this could have been an email ??

— Anna Drezen (@annadrezen) November 8, 2019
Two Words to Haunt You this Weekend...
Hyena Robots—and they're no laughing matter.
His Hair Was Perfect
Trader Vic's is trying to make a comeback. I encourage it simply because it will make more people think of Warren Zevon.

— J. Elvis Weinstein (@JElvisWeinstein) November 12, 2019
This Week in Printing, Publishing, and Media History
November 11
1675: Gottfried Leibniz demonstrates integral calculus for the first time to find the area under the graph of y = ƒ(x).
1821: Russian novelist, short story writer, essayist, and philosopher Fyodor Dostoyevsky born.
1922: Listen: American novelist, short story writer, and essayist Kurt Vonnegut born.
November 12
1945: Canadian singer-songwriter, guitarist, and producer Neil Young born.
1980: The NASA space probe Voyager I makes its closest approach to Saturn and takes the first images of its rings.
1990: Tim Berners-Lee publishes a formal proposal for the World Wide Web.
November 13
1850: Scottish novelist, poet, and essayist Robert Louis Stevenson born.
1940: Walt Disney's animated musical film Fantasia is first released, on the first night of a roadshow at New York's Broadway Theatre.
November 14
1840: French painter Claude Monet born.
1851: Herman Melville's novel Moby-Dick is published in the U.S.
1889: Pioneering female journalist Nellie Bly (aka Elizabeth Cochrane) begins a successful attempt to travel around the world in less than 80 days. She completes the trip in 72 days.
1916: American screenwriter and producer Sherwood Schwartz born.
1922: The British Broadcasting Company begins radio service in the United Kingdom.
1952: The first regular UK Singles Chart is published by theNew Musical Express.
1967: American physicist Theodore Maiman is given a patent for his ruby laser systems, the world's first laser.
Happy 50th birthday to the best memo. https://t.co/Gdz5f7XjR8 pic.twitter.com/8ae5AwPpmP

— Letters of Note (@LettersOfNote) November 14, 2019
November 15
1926: The NBC radio network launches with 24 stations.
1968: The Cleveland Transit System becomes the first transit system in the western hemisphere to provide direct rapid transit service from a city's downtown to its major airport.
1971: Intel releases the world's first commercial single-chip microprocessor, the 4004.
November 16
534: Justinian I, who was an Eastern Roman (Byzantine) emperor in Constantinople, approves and publishes the second and final revision of the Codex Justinianus.
1889: American director, producer, and playwright George S. Kaufman born.
1904: English engineer John Ambrose Fleming receives a patent for the thermionic valve (aka the vacuum tube).
1914: The Federal Reserve Bank of the United States officially opens.
1938: LSD is first synthesized by Albert Hofmann from ergotamine at the Sandoz Laboratories in Basel.
November 17
1749: French chef Nicolas Appert born. He invented the principle of canning.
1790: German mathematician and astronomer August Ferdinand Möbius born. (It's not true that his life had no beginning and no end.)
1839: Oberto, Giuseppe Verdi's first opera, opens at the Teatro alla Scala in Milan, Italy.
1944: College basketball coach Jim Boeheim born.
1947: American scientists John Bardeen and Walter Houser Brattain observe the basic principles of the transistor, a key element for the electronics revolution of the 20th century.
1968: Viewers of the Raiders–Jets football game in the eastern United States are denied the opportunity to watch its exciting finish when NBC broadcasts Heidi instead, prompting changes to sports broadcasting in the US.