A branch of ABI made digital print headlines in 2015, when Budweiser had a big run of shrink sleeves for Bud Light cans printed by HP Indigo liquid toner electrophotographic web printers.
This month's news from ABI in Leuven is different for two reasons—it is direct object printing (DOP) and it involves ABI's own equipment.
Managers at the Leuven site note that ABI's direct object printing is still in the early stages of development, as are strategies for its use.
By Bob Leahey
Introduction
AB InBev (ABI) is the biggest brewer in the world and in turn one of the largest printers of primary packaging, nearly all of it bottles and cans. This month, the famous drinks company is launching a campaign for its Beck's brand in the UK, using glass bottles that ABI has printed using "direct object printing" inkjet technology developed at a site in Haasrode, Leuven, Belgium. In brief: ABI has developed with a partner, Dekron, its first UV inkjet printing line for high-speed direct digital printing of glass bottles. This process "tattoos" curved glass surfaces with high resolution graphics and can also yield tactile effects such as raised print and embossed designs. ABI has printed 200,000 bottles for the project on its inkjet equipment using nine different designs, each new and made specifically for the current UK campaign.
This Isn't ABI's First Rodeo!
For observers of digital print for packaging, this development is not entirely surprising. Direct object printing (also called direct-to-shape printing) is a young but established inkjet alternate to hard copy labels for bottles, cans, and tubes, and also an option for decorating various products like cell phones and soccer balls. Meanwhile, ABI, which owns hundreds of beer brands globally (from local brews to global ones such as Budweiser and Stella Artois) has an out-sized need for mass customization and creative print options. Also, at least one branch of ABI has made digital print headlines before, when Budweiser had a big run of shrink sleeves for Bud Light cans printed by HP Indigo liquid toner electrophotographic web printers in 2015. Using HP Indigo "Mosaic" software, the printers turned 31 initial designs into 200,000 unique variants, in effect creating variable data design.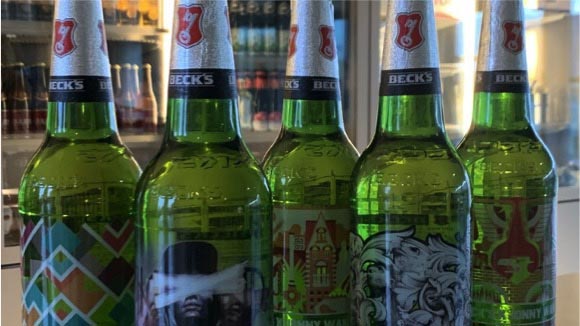 Beck's beer bottles, printed directly by ABI Tattoo Alpha Plant DOP line. Source: AB InBev
In that earlier US example, though, the printing was for shrink sleeves and it was done by an outside service provider. This month's news from ABI in Leuven is different for two reasons—it is direct object printing (DOP) and it involves ABI's own equipment. The alpha line that ABI has revealed is still mostly under wraps, but a recent interview with managers at the company revealed some bits:
The inkjet core is from the former Till GmbH (Kelkheim, Germany), which is now Dekron, the digital subsidiary of drinks industry automation giant Krones AG (Neutraubling, Germany).
Fluids for the ABI line are CMYK colors plus white and clear varnish if needed, with UV curing, and bottle transport is via rotary, continuous motion carousels (thus not a linear motion).
The UK project, the first major one for ABI's alpha DOP line, printed bottles at a rate of 2,500 per hour, but higher speeds are possible.
The system's software is capable of variable-data printing, so far just for numbering, but other VDP applications, such as personalized print and images, are also being considered.
There are no more particulars about the existing ABI line, but the range of Dekron production-level DOP print systems is at least indicative. The two Dekron "DecoType" inkjet systems for production runs of glass bottles print process color images up to 190mm (7.5 in.) tall; both use continuous motion rotary transport, are based on Xaar inkjet print heads, and offer CMYK colors, white, varnish, and spot colors optionally. One other spec to consider: DecoType Compact prints up to 5,000 containers per hour, and DecoType Performance prints up to 36,000 per hour. Thus, depending on the image, the ABI line could ultimately print bottles at much higher rates and with a greater range of colors.
A Leuven Lab
AB InBev's DOP project is occurring at the company's endearingly named "Tattoo Innovation Plant" in Leuven, with the company's global R&D operations nearby. The Tattoo Innovation operation is in effect ABI's laboratory for studying digital printing of glass bottles and other containers, making prototype packaging and, most recently, developing production digital printing. The site includes multiple other digital printers, such as monochrome inkjet units from Till (Dekron); a tabletop color inkjet cylinder printer from Mimaki for tests; also a low volume production cylinder printer, the Helix from Inkcups (Danvers, Mass.).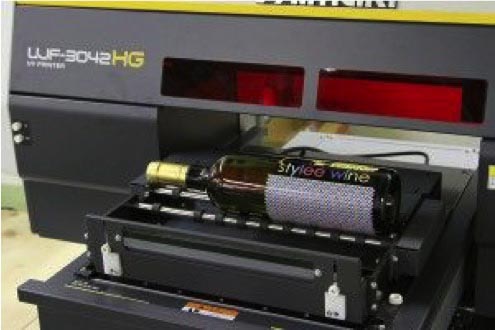 Mimaki Kebab printer example. Source: Mimaki
Besides direct object printing, though, there is at least some color digital printing of hard copy labels at Tattoo Innovation Plant, so far just the L801 tabletop label printer from Afinia (Chanhassen, Minn.), based on Memjet thermal inkjet (aqueous inks).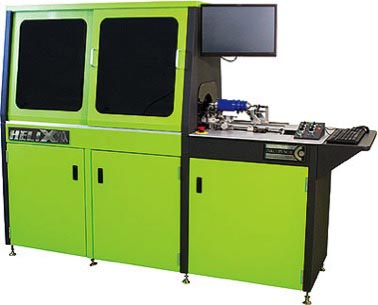 Helix from Inkcups, industrial inkjet printer for straight and tapered cylinders. Source: Inkcups
Managers at the Leuven site note that ABI's direct object printing is still in the early stages of development, as are strategies for its use. Besides testing its alpha DOP line for the Beck's project, ABI wants to know which digital print applications will be attractive for which types of products, and in particular if digital print can make a product more profitable. DOP in general provides a practical way to get at least initial answers from internal clients at ABI, who can see concept bottles printed on any of the site's different technologies. For now, the expectation is that DOP for ABI beers will be used for premium products in glass bottles, serving as a digital alternate to hard copy labels and, in particular, to ACL (applied ceramic label) decoration. ACL decoration, which uses screen printing and high heat to fuse ceramic inks to glass, yields not only fine, durable print but also tactile effects. UV inkjet can provide its own durable color graphics and tactile finishes, but with special advantages in terms of short run and variable data printing.
Interestingly, ABI's DOP project has an edge in terms of sustainability. DOP eliminates hard copy labels, whether paper or film. Also, the Beck's bottles are one-way containers but they are recyclable; ABI claims that the high heat of the glass recycling process vaporizes the UV inks and renders them as harmless ash. (There is a contrast here with PET bottles, where the recycling process for PET containers printed with UV inkjet can yield "rPET" feedstock that holds unreacted monomers from the inks.)
The Bottom Line
ABI's Leuven news is an important vote of confidence in DOP and digital printing in general, from one of the world's most important brand owners. As noted above, ABI experiments with various digital print methods, including digital labels. We expect ABI and others to succeed with DOP, both because of capable inkjet technology vendors (e.g., Dekron, Inkcups, Mimaki) and ABI's need to mass-customize and innovate. That said, we don't expect DOP to displace hard copy label printing in a major way at ABI or within the wider beer industry anytime soon. Hard copy labels are huge and entrenched there, as are the services of label converters, and color digital printing of hard copy labels is also established and growing there, and far beyond any experimental stage. DOP images on glass, though, are an elite option today. They are themselves essentially labels and, given their appearance, features, and feel, are compelling, helpful alternates to ACL decoration; this makes them a welcome addition to digital print for packaging.
Bob Leahey has many years of experience in consulting to the peripherals and supplies industries. At Keypoint Intelligence – InfoTrends, his main work has been to conduct custom research projects, most often on inkjet, thermal, and color laser technologies used for commercial and industrial applications. He is also the main analyst for InfoTrends' Color Digital Label and Packaging (CDLP) continuous information service. His clients have included a wide range of printer and supplies manufacturers, and other companies, in all regions.