SPESA is an industry association for suppliers to the sewn products industry that includes apparel, upholstered furniture, home textiles, transportation interiors, leather goods, footwear, and industrial textiles —in other words, anything a needle goes through in the production process.
These suppliers are manufacturers and distributors of machinery, equipment, and related parts and supplies, systems, technology, supply chain solutions, along with other products and services used for the development, manufacture, or distribution of sewn products.
Its Executive Conference, held in New Orleans in October of 2019, was attended by approximately 80 executives from the industry, and it was a lively event. It was planned and organized by the SPESA board, led by its new leadership team: Michael McDonald, President; Maggie McDonald, Vice President, Communication; and Marie D'Avignon, Vice President, Operations.
A highlight of the conference was a keynote "fireside chat" interview with James Carville, political consultant and known as the Ragin' Cajun, a Louisiana native. Mr. Carville spoke passionately about a range of topics, from politics to the climate emergency, and even a bit about Louisiana history. He kindly took time for photo opportunities with attendees. He's shown here with the McDonalds and Marie D'Avignon.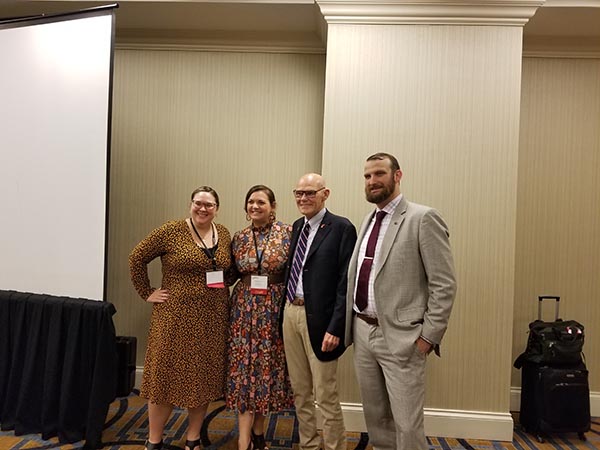 Although we frequently talk about our divided nation, and I'm sure there were folks on both sides of the aisle in attendance, it was heartening to hear the discussions on often sensitive topics without any acrimony.
Another important featured speaker was Chris Pilkerton, Acting Administrator of the United States Small Business Administration (SBA), who shared his thoughts on the industry, his introduction to it and the concept of Maker Spaces, the transformation the industry is undergoing, and his desire to use the industry as a case study that can help other industries be successful. As a pilot project in the textile industry, the goal of the SBA is to take an area of the country that has abundant expertise in a specific sector; in this case, it's North Carolina's sewn products industry. The SBA is helping to pull together federal, state, local, and private sector resources—with the ultimate goal of launching a revitalization effort to bring manufacturing jobs back to the United States
Also on the speaker roster was Lloyd Wood, Deputy Assistant Secretary for Textiles, Consumer Goods and Materials, who indicated his organization is encouraging industry players to seize on the opportunity to use sustainability as a key driver, saying, "I'm asking myself, is anyone measuring this? If so, who and can I talk to them?"
Kimberly Glas, President & CEO of the National Council of Textile Organizations, on the panel with Mr. Wood, noted, "U.S. manufacturers have to produce things on shore from a sustainability perspective. Why does a T-shirt have to travel halfway around the world? If you are sourcing locally, near the U.S., this is saving resources. If we are not in the sustainability game, we are on the defensive. We should be on the offensive as an industry."
It's worth noting that part of SPESA's name is "the Americas." There were representatives at the conference from a number of countries in the Western hemisphere, as well as many that do significant business there. Throughout the discussions, opportunities in Canada, Mexico, Colombia and other Western Hemisphere countries were noted. Tariffs, of course, were discussed, and Glas added, "I don't know what the end result of tariffs will be, but they have resulted in more people looking at the Western Hemisphere, and more companies realizing it makes good business sense not to rely solely on China.
On the same panel, Jeremy Wootten, President and CFO of HomTex, Inc., noted, "We are at a demonstrable point in supply chain development where people are going to make decisions that protect themselves from volatility. How much more security is there in my supply chain if it is more Western? There is a value associated with certainty, a confidence level that the price I contract with you today will be the same in a few months." He also admitted that 100% of the industry will not come back, so it is important to look at a hybrid supply chain, commenting, "Some products might not need the speed to market [that local production delivers]."
One point that came out in the discussions was how U.S. trade law can actually benefit China in circumventing tariffs, especially when products are purchased through online retailers such as Amazon. According to U.S. Customs & Border Protection, "Requiring that all non-originating materials meet a tariff change rule (TCR) is a simple principle. However, through the application of de minimis, we can disregard a very small percentage of non-originating materials that do not meet the TCR. (In most cases, these materials may not exceed seven percent of the transaction value of the good adjusted to an FOB basis.)"
The de minimus level—or the cost below which which an imported product does not require application of tariffs—was recently raised from $200 to $800, creating a huge loophole in today's world of ecommerce. According to Glas, "125 million de minimus shipments per day are processed by Customs, and no tariff is applied. You don't have to list the country of origin, don't have to certify it is a safe product, and there is no duty because the individual that ordered the product is actually the importer. This is a significant problem no one is talking about."
Workforce issues were also a hot topic at the conference, from the perspective of attracting new talent to the industry, training issues, and changing the perception among parents and young people about careers in the manufacturing industry. Dan St. Louis, Executive Director of the Manufacturing Solutions Center, together with Tea Yang, Program Coordinator, The Industrial Commons and Work in Burke, and Tanya Wade, Project Coordinator, Carolina Textile District, presented an interesting panel on the work they are doing in the Carolinas to address these issues. And their services are not limited to businesses located in the Carolinas. If you are struggling with manufacturing issues, a visit to their website is well worth your time.
One interesting point they brought forth is that they have brought about 12,000 eighth graders through the Center since 2014, and also worked with these eighth graders to set up visits to manufacturing companies in the area. St. Louis explained that catching students at a very young age presents more opportunity to encourage them to consider the industry—and, in fact, a number of students who participated in this program have set goals to enter the industry, and were already on the path in high school.
Robotics and automation for the sewn products industry was also a hot topic at the conference. Cut-and-sew have historically been the bottlenecks to manufacturing on demand. Cutting has become increasingly automated, and sewing is now the last mile of automation. Progress is being made in this area, primarily through the use of smart sewing machines and robots. This short video shows how a San Francisco startup, SewBo, has designed a system to robotically create a garment. A water-soluble stiffener is used to enable the robot to effectively handle the fabric. It can be washed out of the garment when it is complete and recycled.
I also learned a new term: cobots, which are robots that cooperate or collaborate with humans instead of replacing humans in the manufacturing process, making the process more efficient. According to ManufacturingLounge.com, "It's estimated that human handling of materials and objects on assembly lines can be reduced by up to 75% [with the use of cobots], depending on the items being made."
This just scratches the surface of what was covered in this excellent two-day conference. Our congratulations go out to Michael, Maggie, and Marie for putting together a very successful event. We look forward to attending many more!