When I join a conference call, instead of announcing my name, I perform Sweeney Todd in its entirety.

— (((Josh Halloween))) (@JoshMalina) March 21, 2017
As the World Kerns
Just in time for Halloween, two New York-based creative directors—Zack Roif and Matthew Woodward—created a new typeface specifically designed to irritate graphic designers. It's called Hellvetica, which is basically Helvetica with horrible kerning. It's perfect for those who miss the old days of Courier substitutions.

We may use it in our print edition.
The First Ghost Writer
Famous printing interventions. https://t.co/Psn3VNlt1E

— PrintWeek (@printweek) October 29, 2019
Living On the Edge
If you have not yet heard of the edge (it's deliberately not capitalized and has nothing to do with U2's guitarist), you will. It is a technology from Hewlett Packard Enterprise that, says The Atlantic:
allows an unprecedented amount of data to be collected and processed at its exact source—hundreds of times faster than before—enabling next-level digital and personalized experiences. At the arenas of the future, this will give basketball fans the ability to track microstats, watch the action through AR glasses, and interact with enhanced second-screen experiences. More than that, it will mean complete customization, wherein fans choose how they experience the game, while arenas cater to these preferences. Indeed, the way fans engage with even a single possession will be completely transformed by the edge.
It is so fast that Syracuse University football fans can receive personalized antidepressant prescriptions even before a game starts.
But wait, there's more:
The applications of the edge span beyond sports, too, covering everything from healthcare to hospitality to transportation. Autonomous vehicles, for instance, will rely on the edge, as will doctors performing remote surgery.
Maybe you can even perform surgery in a moving autonomous vehicle.
THAT'S FAIR
In 2007, a New Zealand woman was fired for using caps lock too often in work emails.

— Quite Interesting (@qikipedia) October 28, 2019
You Are What You Wear
BBC News asks: "Can it ever be green to buy clothes and only wear them once?" Yes, it responds, "if you buy second-hand ones and sell them again when you're finished with them."
Sylvie Mackower, 20, from London wasn't thinking about the environment when she set up an account on an app called Depop to sell on items she no longer wore.
"I really just wanted to get rid of old clothes and get a bit of money doing it," she says.
The Depop social shopping app blends the aesthetic and social aspects of Instagram with the buy-and-sell format of eBay. It was established in 2011 by Simon Bekerman and now has over 15 million users in 147 countries.
Fake News
The first newspapers ever published in England were forbidden from printing any news about England. Instead, they covered 'Newes from Italy, Germany, Hungarie, Spaine and France.'

— Quite Interesting (@qikipedia) October 29, 2019
Disk Eject
Says The Verge: "The US Defense Department has finally ended the use of 8-inch floppy disks for coordinating the country's nuclear forces."
Cool; what have they upgraded to: 3.5-inch floppies? Jaz drives? Or cutting-edge SyQuest technology? "[T]he USA's Strategic Automated Command and Control System (SACCS) has transitioned to a 'highly secure solid state digital storage solution.'" If they migrate to the cloud, would it be a mushroom cloud?
Still, there is an advantage to using such an old technology, as Commander Adama would appreciate: "The antiquated system, which runs on an IBM / Series 1 computer, has its advantages. It's entirely offline, for example, which cuts off a key attack vector." Especially when the Cylons attack.
When the Sun Is Over the Lanyard...
I'm writing a piece for an in flight magazine about the first time you wore a personalised lanyard... how did it feel?..did you keep it?.. did you struggle with the fastening?..has life ever been as good since?..#LanyardMemories

— bob mortimer (@RealBobMortimer) October 28, 2019
If you have ever seen Bob Mortimer on the extremely funny British panel show Would I Lie To You?, you know that he is quite probably telling the truth.
Marginal Notes
Read the marginal notes left behind by medieval scribes: pic.twitter.com/8UJjS0acoC

— Ken Hunt (@Jkchunt) October 31, 2019
The Kids Today
Here's a study those of us in the communications business ignore at our peril: The Common Sense Census: Media Use by Tweens and Teens, 2019.
This large-scale study explores how kids age 8 to 18 in the U.S. use media across an array of activities and devices—including short-form, mobile-friendly platforms like YouTube—to see where they spend their time and what they enjoy most. Combined with the data from the 2015 report, the 2019 census gives us a clearer view of how young people's media use has evolved over time. The results speak to the individualized uses of media and the increase in time spent with personalized content on social media and in online videos—and the way shared family viewing and other formative media experiences are changing as a result.
Kids take their media habits with them into adulthood, so a childhood spent marinating in digital technology will lead to the expectation that electronic media will always be there. (We're already seeing this among the Millennials and it will only become more pronounced when Gen Z—and whoever follows Gen Z—hit adulthood.) This will naturally impact their relationship with print.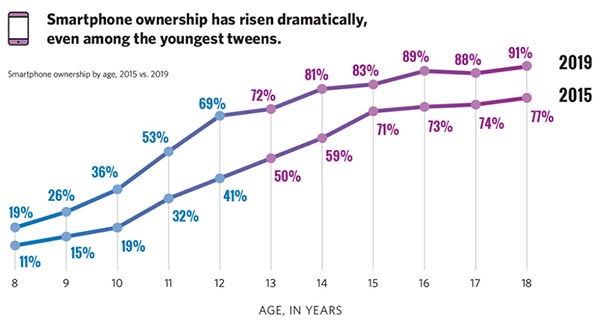 Would I Lie to You?
To be fair, David Attenborough would probably agree, @RealDMitchellhttps://t.co/nMQgkqR7wM pic.twitter.com/wQsms55HKm

— Faber & Faber (@FaberBooks) October 28, 2019
Big Bills
Many parents are used to their kids running up massive cellphone charges...but eagles? From AP: A wildlife group in Russia attempted to track the migration patterns of 13 eagles by attaching transmitters to the birds that would send text messages with their positions four times a day. The researchers were expecting the birds to stay in Russia or Kazakhstan, where text messaging is cheap (2–15 rubles, or 3–15 cents each). Unfortunately, the birds veered off into Iran, where roaming charges are pretty high (49 rubles, or 75 cents per message). This blew the researchers' budget, so they had to resort to crowdfunding; the "Top up the eagles' mobile" raised 100,000 rubles. The mobile carrier switched them to a cheaper plan.
Wait until the eagles start tweeting.
Bugged
You have made me unhappy. pic.twitter.com/3rp9NTcNoD

— Letters of Note (@LettersOfNote) October 30, 2019
I thought you'd like this @RobynHitchcock pic.twitter.com/p2kjLxkIxM

— Misha Teller (@boozician) October 30, 2019
Do You Hear What I Hear?
From CNet: "security researchers have found that malicious apps designed to eavesdrop can sneak through Google's and Amazon's vetting processes. On Sunday, Security Research Labs disclosed its findings after developing eight voice apps that could listen in on people's conversations through Amazon's Echo and Google's Nest devices."
Presents of Mind
Are you rubbish at gift wrapping? So are we, but as it turns out, that may mean the recipient will only like it more. Via Gizmodo, a new study out of the University of Nevada and published in the Journal of Consumer Psychology found that "you shouldn't waste your time immaculately wrapping the gifts you bought everyone—they're more inclined to like what's inside if the presents are wrapped poorly." However, that may only work for friends and family: "there's a better chance an acquaintance (where a favourable relationship is less established) will like the gift when it's wrapped neatly, as the extra time and care taken is an indication that the gift giver views the relationship as important and worth continuing."
Candy Crush
Halloween is over for another year, but some if you (or maybe even your kids) have some of their Halloween candy left. Sift through the post-trick-or-treat rubble with Boing Boing's extensive "Candy Hierarchy," which made the rounds of social media last week and "collects, confirms, codifies, and captures the essence of candy priority."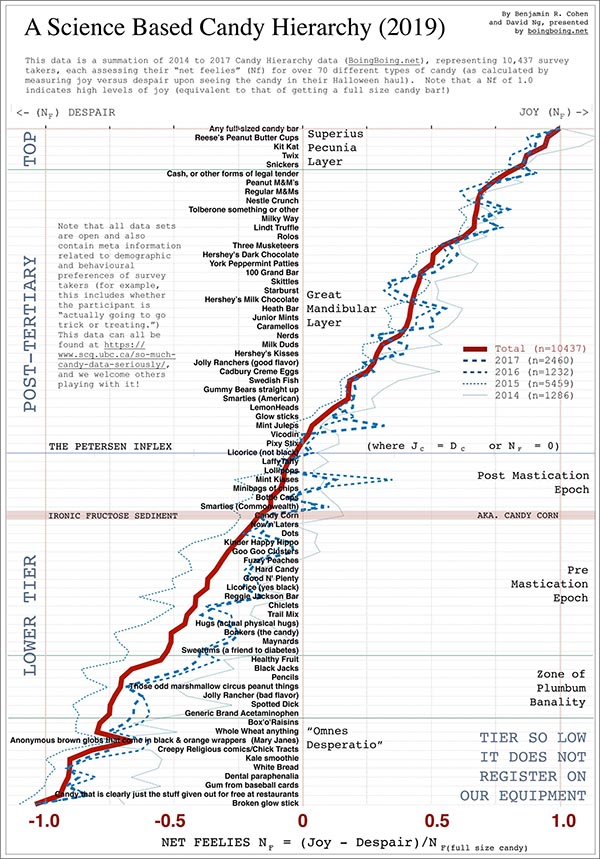 This is the kind of thing we would expect Dr. Joe to be doing in retirement.
This Week in Printing, Publishing, and Media History
October 28
1726: The novel Gulliver's Travels by Jonathan Swift is published.
1886: In New York Harbor, President Grover Cleveland dedicates the Statue of Liberty. The first ticker tape parade takes place in New York City when office workers spontaneously throw ticker tape into the streets as the statue is dedicated
October 29
1969: The first-ever computer-to-computer link is established on ARPANET, the precursor to the Internet.
October 30
1885: American poet Ezra Pound born.
1938: Legitimately fake news—Orson Welles broadcasts his radio play of H. G. Wells' The War of the Worlds, causing anxiety in some of the audience in the United States.
October 31
1795: English poet John Keats born.
1963: English singer-songwriter and guitarist Johnny Marr born.
November 1
1512: The ceiling of the Sistine Chapel, painted by Michelangelo, is exhibited to the public for the first time.
1604: William Shakespeare's tragedy Othello is performed for the first time, at Whitehall Palace in London. A few years later...
1611: Shakespeare's play The Tempest is performed for the first time, again at Whitehall Palace in London.
1941: American photographer Ansel Adams takes a picture of a moonrise over the town of Hernandez, N.M., that would become one of the most famous images in the history of photography.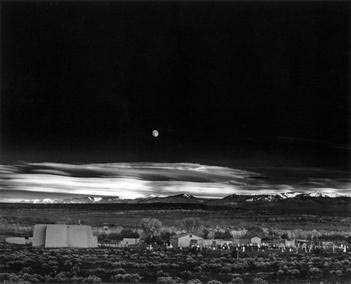 1968: The Motion Picture Association of America's film rating system is officially introduced, originating with the ratings G, M, R, and X.
November 2
1920: KDKA of Pittsburgh starts broadcasting as the first commercial radio station.
1936: The British Broadcasting Corporation initiates the BBC Television Service, the world's first regular, "high-definition" (then defined as at least 200 lines) service. It was renamed BBC1 in 1964.
1960: Penguin Books is found not guilty of obscenity in the trial R v. Penguin Books Ltd, the Lady Chatterley's Lover case.
1988: The Morris worm, the first Internet-distributed computer worm to gain significant mainstream media attention, is launched from MIT.
November 3
1838: The Times of India, the world's largest circulated English language daily broadsheet newspaper, is founded as The Bombay Times and Journal of Commerce.