Little Little Women
Torn between hanging out on Instagram or reading a novel? Well, thanks to a partnership between the New York Public Library and Mother New York, you can now do both. Classic works of literature have been designed to be read on the NYPL's Instagram.

The User's Tale
The earliest known technical manual in English (on how to operate astronomical instruments) was written by Geoffrey Chaucer. pic.twitter.com/n1ZudTOxf6

— Quite Interesting (@qikipedia) October 16, 2019
Joe Chip Is Up
Via Boing Boing, The Folio Society has developed a deluxe edition of Philip K. Dick's 1969 scifi classic Ubik. It features full-color illustrations and an introduction by Kim Stanley Robinson (author of the excellent Mars trilogy, among other scifi novels). "Award-winning independent art studio La Boca present this edition in a special die-cut slipcase that typographically shows the title and combines with the vibrant binding to confuse the eye." And then let the book itself confuse the mind, in that inimitable Philip K. Dick way.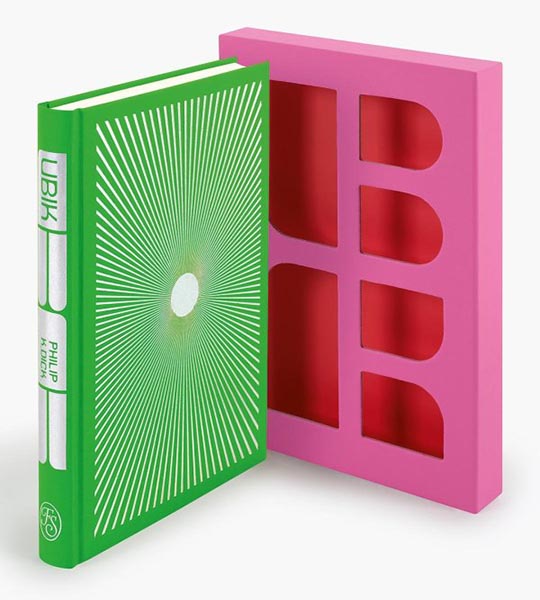 Fangs for the Memories
Are you a fan of Bram Stoker's Dracula? We are, too, and Beehive Books has launched a Kickstarter to develop "an entirely new way to experience Stoker's masterpiece." No, not by actually having real vampires visit you in the night, but by presenting the book in an entirely new way: "It's the entire original text of Dracula, presented as a gorgeously designed and curated briefcase full of maps, letters, diaries, newspaper clippings, telegrams, and phonograph records." The publisher worked with Dracula expert (and Bram's descendent) Dacre Stoker "to bring you the most immersive way imaginable to experience this modernist masterpiece of gothic horror."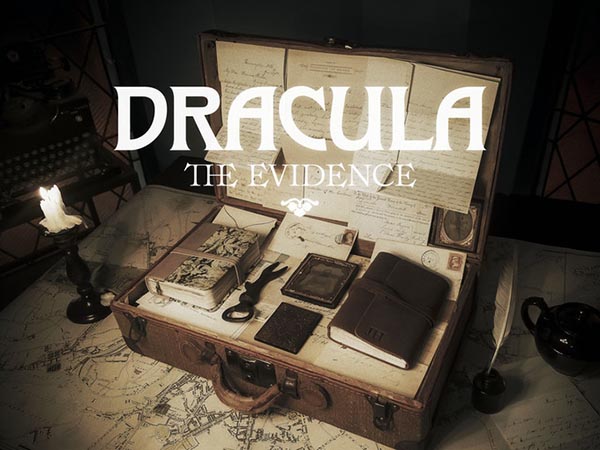 Obscure Joke #1
For meetings that don't last as long as you expect them to pic.twitter.com/4rF4uDgQfc

— Dave Weigel (@daveweigel) October 15, 2019
Also be sure to wear an overcoat in that room.
Word Space Invaders
Are you a fan of old 1970s and 80s arcade games? And typography? Well, then, good news! A new book called Arcade Game Typography, curated by author and Monotype UK typeface designer Toshi Omagari, "gathers together 250 pixel typefaces, all carefully chosen, extracted, redrawn and categorised by style, and each with an accompanying commentary by Omagari." It also includes essays on videogame typography theory and practice, "documenting the unique advantages and challenges presented to designers of these bold, playful and often quirky alphabets."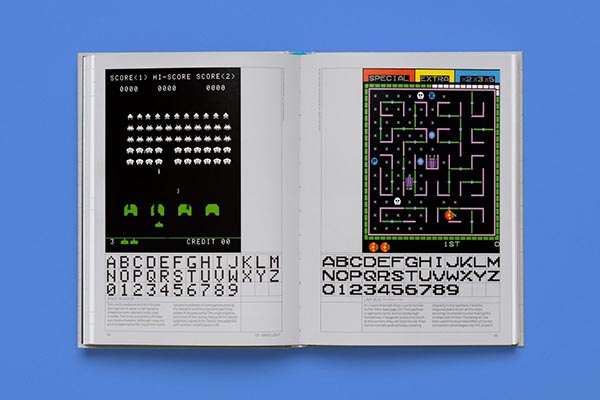 Any of the above books would make great Christmas gifts. And speaking of Christmas...
Catvent
A highlight of the holiday season for many people is the Advent calendar—opening a little window each day and pulling out a daily gift, be it a LEGO brick, a piece of chocolate, or some manner of potent potable. But why should humans have all the fun? This year, Trader Joe's is launching an Advent calendar for cats. Says the Trader Joe's podcast via Mental Floss: "the calendar contains treats made from salmon and seaweed—two ingredients that cats love and that are good for them, too. If they're patient enough to eat one treat a day for the 24 days leading up to Christmas, your cat will be rewarded with a 'gigantic,' fish-shaped treat on day 25."
Of course the trick will be to keep the cat from mauling the whole thing as soon as it goes up.
Wait...Trader Joe's has a podcast?
Don't Get Excited
Stone-Hearted Ice Witch Forgoes Exclamation Point https://t.co/ztcgBiAjv4 pic.twitter.com/g23adGbvK4

— The Onion (@TheOnion) October 16, 2019
To Coin a Word
Here's a fun word game to play: over at Merriam-Webster, a feature called Time Traveler lets you find out what words were first used in print the year you were born.
Ace of Cups
. @Kotkamills has created a plastic-free material for #cups, ISLA® Duo cupstock. This plastic-free and easily recyclable cupstock is based on water-based dispersion barrier. It is digitally printable on Xeikon 3500 range using dry toner technology https://t.co/NVAlXPFTmu pic.twitter.com/FVxeN3O5O6

— Xeikon Café (@XeikonCafe) October 15, 2019
Spot-Tee-Fy
Have you ever heard of the British Bring Me the Horizon? Nor have we, but they are taking an interesting approach to their merch: "personalized T-shirts to people based on their Spotify listening data." Basically, says The Verge, you go to their site, enter your six favorite songs from Bring Me the Horizon's new album (amo), "It then takes your list and any of your previous listening habits with Bring Me the Horizon on Spotify and uses music intelligence platform The Echo Nest to analyze loudness and energy....You're then delivered a mock-up of the shirt, which is the unicursal hexagram symbol often used by the group, saturated in a smear of color unique to your data." Bear in mind, this only accesses Bring Me the Horizon Spotify data, not all your data. It's an interesting idea for uberfans of the group.
Squid Pro Quo
Ah, so the truth comes out ...#QuidProQuo #TuesdayMorning pic.twitter.com/4aW8oQMcdR

— Professional Printing Center (@PPC_VA) October 15, 2019
The Chips Are Down
Earlier, we mentioned Philip K. Dick's dystopian scfi novella Ubik, whose protagonist is a technician named Joe Chip. Coincidentally, in what sounds like something out of a Dick story, workers at a company in Wisconsin were embedded with microchips. Says USA Today: "Sporting 'I Got Chipped' T-shirts, some 40 workers at Three Square Market, a firm that makes cafeteria kiosks aimed at replacing vending machines, got tiny rice-sized microchips embedded in their hands."
The company says the chips are not designed to track the employees (it has no GPS capabilities) but rather replace badges and computer log-ons. Essentially, they just scan their hands. Anyone worried about Big Brother, says Three Square Market President Patrick McMullan, should "take your cell phone and throw it away." He's got a point.
Vegetable Rights
Best comment goes to @octoberrust0713:

"Was he arrested for.....stalking?" https://t.co/eqNLzE3sW7

— George Takei (@GeorgeTakei) October 15, 2019
Bridging the Gap
The New York Times asks, "Does Your Toothbrush Have an App Yet?" Thankfully, no. But why do you ask? "New technology is creating some excitement in the formerly ho-hum world of dental care." Ah. Digital scanners and 3D printers are changing the face (as it were) of dental repairs, and dentists are using social media to promote their repair work.
Some years ago, Oral-B launched an Internet-connected toothbrush, so you could get feedback on your brushing habits. There is always the fear, though, that someone would hack into it and blackmail you by threatening to send the data to your dentist. But perhaps we're just being paranoid.
You Laugh...
I'm picking up a pancreas from Kinko's in 2 hours. https://t.co/1WWGzMpZEn

— J. Elvis Weinstein (@JElvisWeinstein) October 14, 2019
What Do We Know About CBD?
CBD-infused products are sprouting everywhere like...um...well, like weeds (plural). CBD (aka cannabidiol)— like the titular Ubik in Phiip K. Dick's novella—is being touted as a cure for just about everything. "From oils and nasal sprays to lollipops and suppositories, it seems no place is too sacred for CBD," says the New York Times, which has a good feature that looks at the (so far scanty) research on the effects—positive and negative—of CBD. Is it the wonder drug of our age? No. Does it help for some things? Yes, like anxiety and depression. "While there is hope for treating other conditions with the plant extract, Epidiolex remains the only CBD-derived drug approved by the F.D.A. Most of the research on cannabidiol has been in animals, and its current popularity has outpaced science. 'We don't have the 101 course on CBD quite figured out yet,' said Ryan Vandrey, an associate professor of psychiatry and behavioral sciences at Johns Hopkins University School of Medicine."
Obscure Joke #2
I mean, I watched Cannon, and I kind of liked it, but from what I'm reading, Harold Bloom was its biggest adherent for his entire life. That kind of passion is admirable. Rest In Peace. pic.twitter.com/KqV9WDo33P

— Frank Conniff (@FrankConniff) October 15, 2019
Uh Oh
Bloomberg Businessweek asks, "What Happens When a Vacuum Company Tries to Make an Electric Car?"
It sucks.
(Please use the Comments field at the end of this article to register any complaints.)
This Week in Printing, Publishing, and Media History
October 14
1582: Because of the adoption of the Gregorian calendar, this day does not exist in this year in Italy, Poland, Portugal, and Spain.
1884: George Eastman receives a U.S. Government patent on his new paper-strip photographic film.
1888: Louis Le Prince films the first motion picture, Roundhay Garden Scene.
1894: American poet and playwright e. e. cummings born.
1912: The Power of Paper: Former president Theodore Roosevelt is shot and mildly wounded by John Flammang Schrank. Regardless, Roosevelt delivers his scheduled speech—the text of which in his coat pocket blunted the impact of the bullet.
1926: The children's book Winnie-the-Pooh, by A. A. Milne, is first published.
1947: Chuck Yeager becomes the first person to exceed the speed of sound.
1968: The first live TV broadcast by American astronauts in orbit is performed by the Apollo 7 crew.
October 15
99 BC (probable): Roman poet and philosopher Lucretius born.
70 BC: Roman poet Virgil born.
1582: Adoption of the Gregorian calendar begins, eventually leading to near-universal adoption.
1783: The Montgolfier brothers; hot air balloon makes the first human ascent, piloted by Jean-François Pilâtre de Rozier.
1844: German composer, poet, and philosopher Friedrich Nietzsche born.
1881: English novelist and playwright P. G. Wodehouse born.
1908: Canadian-American economist and diplomat John Kenneth Galbraith born.
1923: Italian novelist, short story writer, and journalist Italo Calvino born.
1926: French historian and philosopher Michel Foucault born.
1939: The New York Municipal Airport (later renamed LaGuardia Airport) is dedicated (and has not been updated since).
1956: FORTRAN, the first modern computer language, is first shared with the coding community.
October 16
1758: American lexicographer Noah Webster born.
1847: Charlotte Brontë's novel Jane Eyre is published in London.
1854: Irish playwright, novelist, and poet Oscar Wilde born.
1923: The Walt Disney Company is founded.
1927: German novelist, poet, playwright, and Nobel Prize laureate Günter Grass born.
1950: The Lion, the Witch and the Wardrobe by C.S. Lewis is published.
October 17
1558: Poczta Polska, the Polish postal service, is founded.
1771: Premiere in Milan of the opera Ascanio in Alba, composed by Mozart at age 15.
1814: Eight people die in the London Beer Flood.
1827: Bellini's third opera, Il pirata, premieres in Milan.
1888: Thomas Edison files a patent for the Optical Phonograph (the first movie).
1907: Marconi begins the first commercial transatlantic wireless service.
1915: American playwright and screenwriter Arthur Miller born.
1919: RCA is incorporated as the Radio Corporation of America.
October 18
1851: Herman Melville's novel Moby-Dick is first published as The Whale.
1922: The British Broadcasting Company (later Corporation) is founded by a consortium, to establish a national broadcasting service.
1947: American singer-songwriter and pianist Laura Nyro born.
1951: The Studio for Electronic Music was established at the West German Broadcasting facility in Cologne, making the first modern music studio.
1954: Texas Instruments announces the first transistor radio.
1964: English journalist, author, and programmer Charles Stross born.
1979: The Federal Communications Commission begins allowing people to have home satellite earth stations without a federal government license.
October 19
1386: The Universität Heidelberg holds its first lecture, making it the oldest German university.
1900: Max Planck discovers Planck's law of black-body radiation.
1903: Swedish wrestler and actor Tor Johnson born.
1931: English intelligence officer and author John le Carré (né David John Moore Cornwell) born.
October 20
1632: English physicist, mathematician, architect, and designer of St Paul's Cathedral Christopher Wren born.
1882: American actress Margaret Dumont born.
1882: Hungarian-American actor Bela Lugosi born.
1971: American rapper, producer, actor, and admirer of fine, digitally printed wall décor Snoop Dogg (né Calvin Cordozar Broadus Jr.) born.
1973: The Sydney Opera House is opened by Elizabeth II after 14 years of construction.