It's been awhile since we've seen a study on the use of personalization in direct mail campaigns, so I was pleased to see new research on this topic. The study, "Personalization Is Pushing the Envelope," was released by NAPCO Research based on responses from more than 1,300 marketers.
Most impactful for me? Marketers' campaigns are evenly split between personalized, segmented, and mass mailings, and when personalization is used, it's moved well beyond the simple name-only personalization that used to dominate the market. Only one-third (34%) of these marketers' campaigns fall into the "mass media" category. The rest are evenly split between targeted/1:1 campaigns (35%) and segmented campaigns (31%).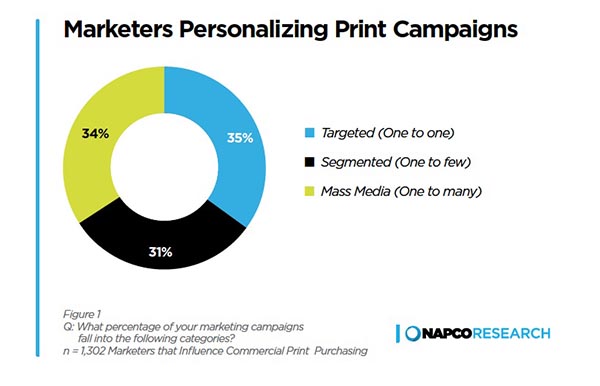 While the majority of respondents are doing name-only personalization, more than one-quarter (27%) are doing "highly personalized" mailings, defined as mailings that include variable images, text, or large portions of the communication being fully dynamic. Twenty-six percent are personalizing with custom text and offers.
Among the industry segments doing the most highly personalized mailings?
Financial services (36%)
Retail (29%)
Manufacturing (27%)
Media/entertainment (26%)
Nonprofit (20%)
It's encouraging to see that not only are marketers doing higher-end personalization, but they are tracking results and proving that it works. Overall, 44% of respondents say that personalized marketing campaigns increased their responses, on average, by 16%.
Half or more of these marketers, however, either saw no benefit to personalization or didn't know whether it provided benefit or not. If you are tracking and the results aren't what you are expecting, OK. But between 22% and 39% of respondents didn't know whether their efforts were working. This means either they aren't tracking or aren't analyzing the results. How do you know whether personalization is worth the additional investment if you aren't paying attention?
Those who were most likely to not see a benefit to personalization in their mailings were educational institutions and manufacturers (27% and 24%, respectively, seeing no benefit). But then, approximately one-third of both segments didn't know whether personalization was boosting their responses or not. Could they be benefiting and they just don't know it?
Retailers report the highest average increase in response rates. More than half (55%) see increased response rates with personalization, with an average lift of 17% over static mailings. Retailers are also the least likely not to know whether personalization works for them (only 22% say they don't know whether it is beneficial). Tracking is a good thing!
What's keeping marketers from doing even more personalization than they already are? NAPCO Research found that the top challenges were budget limitations, difficulty of database maintenance, cost, lack of actionable data, and staff expertise.
Download your copy of the report here.