if I put the roomba I bought my ex for his birthday out on the streets of Brooklyn do you think it will find it's way back to him in SF like that charming 90s movie about the lost cat and dog

— Internet of Shit (@internetofshit) September 17, 2019
Sounds like it's time to reboot The Incredible Journey.
Hang Ten
Stay warmer surfing the next big wave! Here's more news on Cary Sherburne's favorite miracle material, Graphene: Billabong, global maker of surf & snow technical clothing and gear, recently announced its plans to be the first surf brand to go to market with a suit that utilizes graphene. The surfing apparel will be called Furnace Graphene, and is scheduled to appear in Billabong's 2019 fullsuit line.
Sew What?
If you've ever done any sewing—or know anyone who has—you have come across the famous Coats brand of thread. Now the company has expanded far beyond those humble beginnings with Coats Digital, full solution suites for brands and manufacturers that even includes a Product Lifecycle Management (PLM) solution called VisionPLM, placing the company smack in the middle of the highly competitive arena of workflow solutions for textiles and apparel, an industry undergoing a significant analog-to-digital transformation.
Solid to Liquid
Nike Recalls Sweat-Wicking Shirts That Pulled Gallons Of Liquid Directly From Wearers' Bodies https://t.co/yVNbOm5xjU pic.twitter.com/a2lSZTJfTh

— The Onion (@TheOnion) September 17, 2019
Glove Is the Answer
[email protected] recently launched a new video series (sponsored by Best Buy) called "What's Next in Tech?" and a recent installment was called "'Sonar Gloves' and the Incredible Future of Wearable Tech" and detailed a visit to the University of Minnesota Wearable Technology Lab. "Sonar gloves"? Actually yes: they are designed for firefighters and have range-finding sensors built in that let first responders navigate dark, smoky rooms. The gloves vibrate more strongly when they are close to a wall or other object.
Three Chairs for Wearable Tech!
But not this.
You can put on this wearable chair in only 30 seconds pic.twitter.com/ozsjGxpP7c

— Tech Insider (@techinsider) September 19, 2019
Talking Through Your...
Looking for a way to effortlessly keep tabs on your heart health? Most heart monitoring involves blood pressure cuffs, scales, and portable electrocardiogram monitors—devices which are not always used consistently or regularly. However, a researcher at RIT has come up with a heart monitor built into a device most people use often and—for the most part—regularly: a smart toilet seat. Say what?
Unlike sensors that are used in a hospital or existing in-home monitoring devices, the toilet seat captures data from nonstandard locations—such as measuring blood oxygenation on the back of the thigh, rather than the finger. We developed custom circuitry and algorithms to work with this data, including one that accurately identifies heartbeats in noisy data.
The researchers have published two peer-reviewed journalpapers and tested the technology on more than 300 human subjects. They are in the process of commercializing the technology and plan to seek FDA approval in 2021.
Instant Sarcophagus
"Honey, did the earth move for you, too— Ahhhhh!!!"
These beds can save your life in the event of an earthquake. pic.twitter.com/PUkhSEKrUw

— Digital Trends (@DigitalTrends) September 15, 2019
Actually, the earthquake would be less terrifying.
This Won't End Well
More ammunition for our impending robot overlords: self-repairing machines. "A European commission-funded project, led by scientists at the Free University of Brussels and the University of Cambridge, aims to create "self-healing" robots that can feel pain, or sense damage, before swiftly patching themselves up without human intervention. The researchers have already successfully developed polymers that can heal themselves by creating new bonds after about 40 minutes."
What could possibly go wrong?
How Do You Like Them Big Apples?
According to a recent Boing Boing headline, "This footage of New York in 1993 will make you miss New York in 1993."
While that's true, some of us just miss 1993 in general.
Your Desert Island Disc...
If you were stranded on a desert island and could only listen to one album the rest of your life, how do you think you got in that situation? I mean, that sounds awful.

— John Moe (@johnmoe) September 17, 2019
...Might Not Be This One
Finnish metal band Nightwish have written an entire concept album about Scrooge McDuck. pic.twitter.com/9wXDAgYGoc

— Quite Interesting (@qikipedia) September 19, 2019
Have they performed at Finland's Heavy Metal Knitting World Championship?
Board Stiff
Which sport is the most physically grueling for its players? Pro football? Soccer? MMA? Would you believe...chess?
Robert Sapolsky, who studies stress in primates at Stanford University, says a chess player can burn up to 6,000 calories a day while playing in a tournament, three times what an average person consumes in a day. Based on breathing rates (which triple during competition), blood pressure (which elevates) and muscle contractions before, during and after major tournaments, Sapolsky suggests that grandmasters' stress responses to chess are on par with what elite athletes experience.
"Grandmasters sustain elevated blood pressure for hours in the range found in competitive marathon runners," Sapolsky says.
During the 1984 World Chess Championship, Anatoly Karpov had lost 22 pounds over 48 games. "'He looked like death,' grandmaster and commentator Maurice Ashley recalls." As a result, today's chess masters undergo a diet regimen and fitness training as if they were training for the Olympics.
Snakes on a
Plane

Bus
This is beyond brilliant advertising. Talk about a vehicle wrap ?? ?? #graphics #Advertising #marketing #printing #print #printer #vehiclewrap #GraphicDesign #MondayMotivation pic.twitter.com/f4Uf5uLr7f

— Print Loud (@PBanding) September 16, 2019
As I Write This
Letter

Email...

There is no doubt that email is perhaps going the way of the written letter. The author of a new book lamenting the rise of email over traditional handwritten communication may not have a problem with that. Randy Malamud's email, a new entry in Bloomsbury's Object Lessons series, aims to, says the author, "examine how the discourse of email both extends and disrupts established traditions of letters, writing, rhetoric, and social communication." Email, he continues, is "…paltry…disappointing…grammatically challenged…shape-shifting" whilst in handwritten letters, "Lives were lived, assignations were arranged, manifestoes were mailed, wars were waged." Let's not tell this guy about the telephone.
The
Bell

Ringtone Tolls for Thee

Last week, the Washington Post Express newspaper published its last printed edition, going out with a cover that went a bit viral: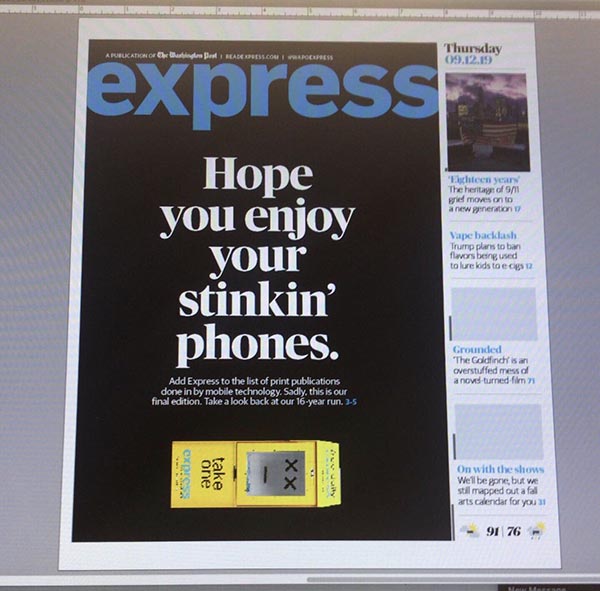 Sour grapes, for sure, but we sympathize.
Still, the venerable BoSacks spoke out about the cover, and the problem of blaming publishers' problems on the Internet, an argument he has been making since...well, since the advent of the Internet: "blaming phones seems an inadequate business plan."
most are adapting to new business models and truly thriving. The "thriving" thing is independent of substrate. Can a future and a profitable base be made on paper? Yes. And can an empire be constructed solely on digits and electrons? Absolutely.
To me, the best is a plan that includes multiple paths of revenue.
Where are you in this cycle?
I see this as an ever-changing era of tremendous opportunity and growth for electronically coordinated information distribution, something I called El-CID somewhere in the late 1990s.
The single element that has not changed in the last two decades is that publishers still hire writers and editors. Personnel format the information and send it to various vendors for global distribution. You could say that nothing has changed except the speed and mechanism of delivery.
Pole Position
Did not expect to be emotionally gutted by a utility pole this morning pic.twitter.com/5olhl9WoAk

— Bradford Pearson (@BradfordPearson) September 12, 2019
"Hurts, Don't It?"
Fast food news this week swirled around the fact that the meatless Impossible Burger is hitting grocery stores. But the real story was at the other end of the healthy eating* spectrum, perhaps dubbed the Inadvisable Burger: the thus-far limited launch of KFC's Chicken and Donuts Sandwich: a chicken fillet sandwiched between two fully glazed donuts. Served with a large Maalox milk shake, we suspect.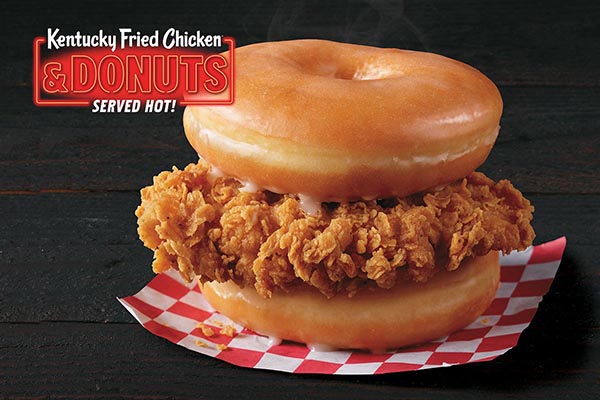 We can't wait for the Chicken Tenders with Chocolate Pudding Dipping Sauce, Buffalo Chicken Wing Ice Cream, and Chicken Pot Pecan Pie.
*There are often caveats about what constitutes "healthy."
This Week in Printing, Publishing, and Media History
September 16
1880: The Cornell Daily Sun, the U.S.'s oldest, continuously-independent college daily, prints its first issue in Ithaca, N.Y.
1959: The Xerox 914, the first successful photocopier, is introduced in a demonstration on live television from New York City.
1959: The Xerox 914, the first successful photocopier, is introduced in a demonstration on live television from New York City.
September 17
1787: The United States Constitution is signed in Philadelphia.
1920: The National Football League is organized as the American Professional Football Association in Canton, Ohio.
September 18
1851: First publication of The New-York Daily Times, which later becomes The New York Times.
1927: The Columbia Broadcasting System (CBS) goes on the air.
1709: English lexicographer and poet Samuel Johnson born.
September 19
1796: George Washington's Farewell Address is printed across America as an open letter to the public.
September 20
1878: American novelist, critic, and essayist Upton Sinclair born.
September 21
1937: J. R. R. Tolkien's The Hobbit is published.
1866: English novelist, historian, and critic H. G. Wells born.
1947: American author and screenwriter Stephen King born.
September 22
1789: The office of United States Postmaster General is established.
1888: The first issue of National Geographic magazine is published.
1991: The Dead Sea Scrolls are made available to the public for the first time by the Huntington Library.