PrintEx was co-located with Visual Impact and the Label and Packaging Expo to create a one-stop shopping and education opportunity.
Using a combination of the attendee's badge and QR codes on labels from each machine, Fuji Xerox created a compelling story that went beyond speeds and feeds.
On the software side, the PrinIQ team had a great, functional booth that accommodated half a dozen demonstrations as well as concurrent conversations
By Pat McGrew
Introduction
Print has a long tradition in Australia and New Zealand, with many of the earliest printers coming from around the world to build new businesses that serve the needs of firms of all sizes and segments. This year's PrintEx event in Sydney continued the tradition of bringing together vendors that serve the printing market and the printers who execute based on the needs of their clients. From the 13th to the 16th of August, over 8,000 print professionals converged on the Sydney Olympic Park to experience the latest in hardware and software in document production, commercial print, labels, and packaging. The event included a well-laid-out exhibit hall, on-floor education sessions, educational breakfasts, and a number of private events hosted by vendors and sister association groups. PrintEx was co-located with Visual Impact (which demonstrated some of the latest solutions for the sign and display and wide-format industries) and the Label and Packaging Expo. The overall experience delivered a one-stop shopping opportunity as well as a one-stop education opportunity.
There were quite a few partners, so PrintEx 2019 was a complex event to accomplish. Visual Connections Australia is a suppliers association resulting from the 2015 merger of the Graphic Arts Merchants Association of Australia and the Visual Industries Suppliers Association. The association partnered with Printing Industries Association of Australia, which serves as an advocate for businesses and their owners in the printing, packaging, and visual communications industries.
What Made This Show Remarkable?
Trade shows are an essential component of industry education. They provide an opportunity to speak with familiar vendors while also exploring emerging technologies from a smorgasbord of industry providers. They open the door to lively conversations and vital networking opportunities that can frequently lead to trade relationships as well as new product development. Thanks to a combination of on-floor educational sessions and engaging product demonstrations, PrintEx 19 was a worthwhile endeavor for any printer in Australia or New Zealand.
The Fuji Xerox team assembled one of the most compelling demonstrations to grace a show floor in recent memory. After a simple badge scan, the company was able to produce a bag full of personalized materials for show attendees. The badge scan triggered a welcome message on screens throughout the booth as well as the production of XMPie-built collateral across a host of devices in the stand. Using a combination of the attendee's badge and QR codes on labels from each machine, the experience created a compelling story that went beyond speeds and feeds. In addition, Fuji Xerox implemented old school and new school technologies to demonstrate a new product option that combined a Fujifilm instant camera and an Iridesse-produced photo frame. The demonstration would have been good by itself, but the background story made it great. The technology can be used to create branded materials for a variety of events at schools, businesses, and sporting conclaves. All of these materials created branded mementos that were designed to drive engagement.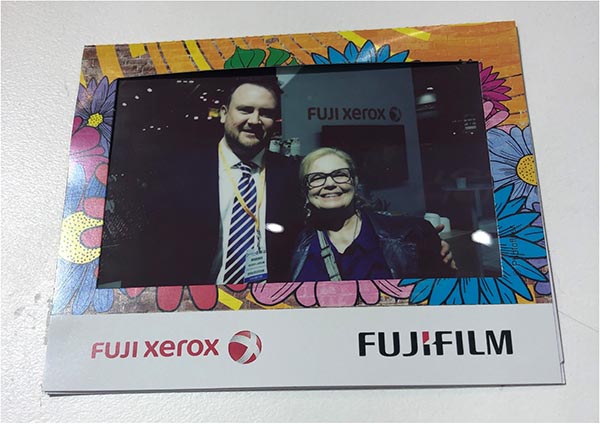 Iridesse-produced photo frame from Fuji Xerox.
Although every vendor in attendance at the event showed excellent technical printing capabilities, the Fuji Xerox team told the entire story. The company also developed a contest that encouraged designers to create compelling images for the Iridesse, which were then displayed in the company's stand. Each participant received a voucher as part of their winnings, but the best part is that the contest enabled Fuji Xerox to create a legion of designers who are interested in the Iridesse device. That's how you work a trade show!
On the software side of things, the local PrintIQ team was equally impressive. Although this firm has been making waves in Europe and North America, PrintEx enabled PrintIQ to market on its home turf. To compete with the glitz and glitter of the hardware vendors, the PrintIQ team had a great, functional booth that accommodated half a dozen demonstrations as well as concurrent conversations. Over the course of the show, there was rarely a time when every one of PrintIQ's demo stations wasn't operating in full force.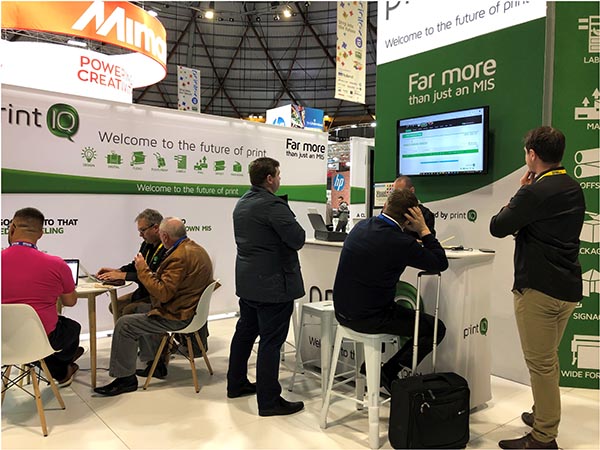 PrintIQ's booth at PrintEx.
PrintIQ has a story to tell the market, and it wants to be sure it is heard: the company is shedding its do-it-yourself, spreadsheet approach in favor of managing print work. Like most markets, those in Australia and New Zealand have seen some contraction, but they have also seen consolidations, mergers, and expansion into new areas. The demand for shorter-run jobs is accelerating, and customers are requesting more complex projects. A high-quality workflow management system that can bolt to payment systems, web-to-print systems, shipping, and inventory systems can help add capacity to production lines.
It is worth noting that there was a printed show daily for each day of the event that was full of photos, product information, and educational program news. Show daily publications are essential for any print-related show, and this particular one was useful every single day.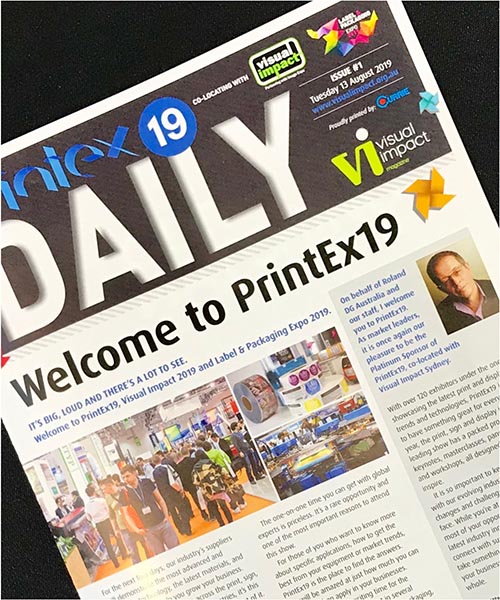 Printed Show Daily from PrintEx.
The Bottom Line
The 2019 National Print Awards during the event celebrated the best that print has to offer. Congratulations to all the winners and honorable mentions! Some of the most compelling printed products in the world come from Australia and New Zealand, so the award winners from these areas are always notable. To view the full list of winners, visit https://www.piaa.org.au/awards/the-36th-annual-national-print-awards-winners-photos/. Don't forget to scroll through the photos of these print luminaries on their night of recognition!
PrintEx 2019 was worthwhile for all who attended. If you're interested in other printing shows in this area, Australia's next big print event will be PacPrint in Melbourne in 2021. Expectations are already quite high for this biennial event!
Leveraging more than three decades as an evangelist for technology in communication, Keypoint Intelligence – InfoTrends' Pat McGrew uses her technical and marketing background to lead the industry toward optimized business process and information workflows. She has worked with companies to help them define their five-year plans, audited workflow processes, and developed sales team interventions and education programs. She educates the industry in production workflows to promote effective communication. If you have stories to share, Pat would love to hear from you! She can be reached via Twitter (@PatMcGrew), LinkedIn, or e-mail ([email protected]).