As for printing jokes, it's hard to beat the April Fool's Day prank The Guardian played on the world in 1977.#NationalTellAJokeDay @printweek @guardian pic.twitter.com/aZU1HXIhbi

— Museum of Printing (@MOPrinting) August 16, 2019
1985
It's not just news that can be fake, but books as well, apparently. From the NY Times:
I bought a dozen fake and illegitimate Orwell books from Amazon. Some of them were printed in India, where the writer is in the public domain, and sold to me in the United States, where he is under copyright.
Others were straightforward counterfeits, like the edition of his memoir "Down and Out in Paris and London" that was edited for high school students. The author's estate said it did not give permission for the book, printed by Amazon's self-publishing subsidiary. Some counterfeiters are going as far as to claim Orwell's classics as their own property, copyrighting them with their own names.
As if that weren't bad enough, they very often aren't even accurate reproductions.
One reader discovered, to his surprise, that his new copy of "1984" had passages that were "worded slightly different." Another offered photographic proof that her edition was near gibberish. A third said the word "faces" was replaced in his copy with "feces." Getting Orwell books that skip a chunk of pages seemed to be a routine experience.
Printer's Devil
On the other end of the book spectrum, designer Todd Thyberg has launched a Kickstarter to fund "The Miskatonic Papers—an experiential letterpress-printed book inspired by H.P. Lovecraft's work." Says Thyberg:
The Miskatonic Papers is an experiential book; you don't just read it, you explore and experience the mystery assembling it from various pieces. It's like breaking open a time capsule and then trying to figure out what happened over 100 years ago. Composed of 50 printed pieces including letters, telegrams, drawings, newspaper clippings, a broadside, burned tatters of found stationery, and a journal which was written by hand and printed by letterpress. All of these items, letterpress printed, hand stamped, aged and weathered, comprise this Stygian work of unnameable horrors. You'll even receive a cast resin fragment of the artifact that lies at the heart of the story; painted, aged and imbued with evil.
They Had a Point
In 1977, the New York Police Department thought that the 'Son of Sam' serial killer could be a freelance journalist because in his letters he correctly used semicolons.

— Quite Interesting (@qikipedia) August 21, 2019
Occult Classics
Ever been to Amsterdam's Bibliotheca Philosophica Hermetica, also known as "The Ritman Library"? Nor have we, but we'd love to check it out sometime. It is the world's largest occult library—which is to say, it houses the biggest collections of occult texts, not that there is anything particularly preternatural about the library itself (although you never know). It includes "more than 25,000 occult texts, covering 'Hermetics, Rosicrucians, Theosophy, alchemy, mysticism, Gnosis and Western Esotericism, Sufism, Kabbalah, Anthroposophy, Catharism, Freemasonry, Manichaeism, Judaica, the Grail, Esotericism, and comparative religion.'"
Now, thanks to some financial help from Dan Brown (as a thanks for the library helping him with his books), the library has been digitizing portions of its collection for what it is calling The Hermitically Open Library.
Safe and Sound
It's coming from inside the house! https://t.co/DDNG775aQe

— J. Elvis Weinstein (@JElvisWeinstein) August 21, 2019
Getting (Baseball) Carded
Over at ESPN, a rundown of some baseball card "fails" (as the kids say). "From bat-handle obscenities to boa constrictors and mascot photo bombs, these are 10 of the funniest and most memorable baseball cards ever."
Cal Ripken's cellphone might have been the cutting edge of technology in 1994, but it hasn't aged especially well. But who knows—maybe they'll come back into style.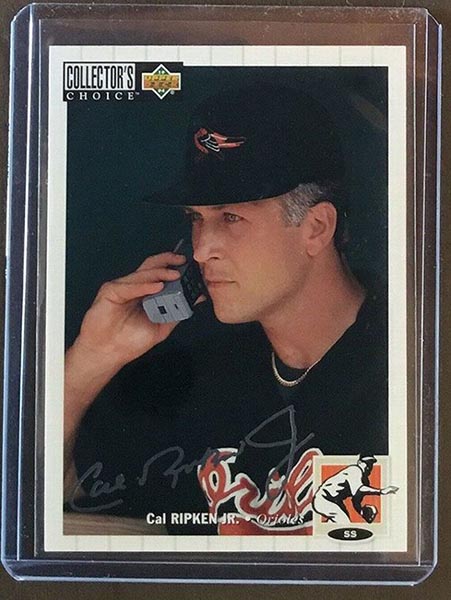 Getting (Apple) Carded
Have an Apple Card (Apple's attempt to launch a credit card)? Well, it turns out you might want to keep it away from leather and denim—you know, the materials most likely to be found in wallets and pants, the places where one tends to keep credit cards. From the BBC: "Keeping the card in a leather wallet or in the pocket of a pair of jeans could cause 'permanent discolouration.' The Apple Card is a relatively plain matt[e] white credit card made of titanium, which was designed to stand out against other credit cards." But not next to them: "storing the card with other credit cards can scratch and damage it." Good grief: "Apple has published a guide advising customers how to 'safely store and carry' their Apple Card."
Basically, you should always leave home without it.
Guerrilla Signage
We've written about this before, but those boat-mounted digital billboards that circumnavigate Manhattan are still around—although Governor Andrew Cuomo just signed legislation outlawing them. Which could possibly be effective, but probably won't be.
But even as the governor and state lawmakers claimed victory, the company responsible for the billboards, Ballyhoo Media, remained defiant, saying it would continue operating in some form. They questioned the stringency of the ban, which prohibits any vessel with a digital billboard from "operating, anchoring or mooring in the navigable waters of the state" if they have "flashing, intermittent or moving lights."
Gov. Cuomo said the floating billboards "distract from the great natural beauty of our waterways." Neither the Hudson nor the East River is exactly the Hanging Gardens of Babylon, is it?
Flat Broke
Apartment Broker Recommends Brooklyn Residents Spend No More Than 150% Of Income On Rent https://t.co/2R8aFWviJF pic.twitter.com/akCAiPs41W

— The Onion (@TheOnion) August 21, 2019
Flolloping in Denver
If you want a good distraction, head over to The Guardian (or YouTube) for a video of what has been called "the great mattress migration of 2019," in which high winds caused several dozen inflatable mattresses to tumble across a park in Denver.It's oddly soothing.
Chicken Market
Forget bulls and bears, there could very well be a chicken market, as indicated by this headline from Bloomberg: "Popeyes Chicken Sandwich Is an Economic Indicator."
Strong economies and tight labor markets put strains on fast-food companies. How can they remain profitable when wages are rising? The social media frenzy over the new chicken sandwich at Popeyes shows the success of one classic play: introduce an iconic new menu item, and charge more for it.
It's not just chicken, and it's not a recent phenomenon.
Perhaps it's no surprise that the two iconic burgers in the fast-food industry -- Burger King's Whopper and the McDonald's Big Mac -- were both introduced during times of low unemployment like we have today. The Whopper came first in 1957, in a year when the unemployment rate dropped as low as 3.7%. Burger King's co-founder noticed that a rival establishment was selling well with a bigger burger, and he sought out to imitate it.
FogCam Is Going Dark
For 25 years, the San Francisco FogCam kept watch on the mist-shrouded San Francisco State University campus where the FogCam's creators had been taking computer science classes. It had been the world's longest-running webcam on the Internet. Now, Jeff Schwartz and Dan Wong are pulling the plug, and it will go dark August 30. "Schwartz says he was inspired to create it when he was learning how to script. Around the same time, he became intrigued by the first-ever live webcam that actually pre-dated the Internet: the Trojan Room Coffee Pot cam."
They Only Have Eyes for You
Boeing use potatoes to test their in-flight Wi-Fi, as they reflect and absorb the signals similarly to people. The project is called Synthetic Personnel Using Dialectic Substitution- or SPUDS.

— Quite Interesting (@qikipedia) August 22, 2019
Oh, Fur Crying Out Loud
For those who want to take a selfie with their cat but can't get Tiddles to look into the phone camera, we present: The Cat Selfie, a phone attachment that has a little bell that rings to attract kitty's attention. (Clever, but...£12?!?)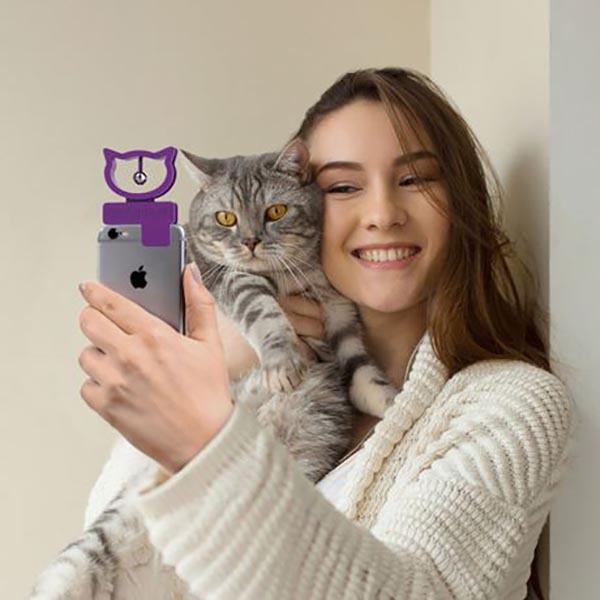 One Egg Is an Oeuf
While we wouldn't advise it, you can use blood as a substitute for eggs in cooking - using a substitution ratio of approximately 65g of blood for one egg.

— Quite Interesting (@qikipedia) August 17, 2019
"Honey, are my scrambled eggs ready— Oh my God!!!!"
This Week in Printing, Publishing, and Media History
August 19
1631: English poet, literary critic, and playwright John Dryden born.
1646: English astronomer and academic John Flamsteed born.
1839: The French government announces that Louis Daguerre's photographic process is a gift "free to the world."
1906: American inventor (the Fusor) Philo Farnsworth born.
1921: Star Trek creator Gene Roddenberry born.
1939: English drummer and songwriter Ginger Baker born.
1964: Syncom 3, the first geostationary communication satellite, was launched.
August 20
1858: Charles Darwin first publishes his theory of evolution through natural selection in The Journal of the Proceedings of the Linnean Society of London, alongside Alfred Russel Wallace's same theory.
1882: Tchaikovsky's 1812 Overture debuts in Moscow, Russia.
1890: American short story writer, editor, novelist H. P. Lovecraft born.
1920: The first commercial radio station, 8MK (now WWJ), begins operations in Detroit.
1926: Japan's public broadcasting company, Nippon H?s? Ky?kai (NHK) is established.
August 21
1888: The first successful adding machine in the United States is patented by William Seward Burroughs.
1952: English singer-songwriter and guitarist Joe Strummer born.
1961: Motown releases what would be its first #1 hit (in America), "Please Mr. Postman" by The Marvelettes.
August 22
1485: "A horse! My kingdom for a horse!" The Battle of Bosworth Field, the death of Richard III, and the end of the House of Plantagenet.
1849: The first air raid in history. Austria launches pilotless balloons against the city of Venice.
1862: French pianist and composer Claude Debussy born.
1893: American poet, short story writer, critic, and satirist Dorothy Parker born.
Dorothy Parker, born on this day in 1893, informs her editor that she has writer's block. pic.twitter.com/z2qCZ73fkR

— Letters of Note (@LettersOfNote) August 22, 2019
1902: Theodore Roosevelt becomes the first President of the United States to make a public appearance in an automobile.
1920: American science fiction writer and screenwriter Ray Bradbury born.
1971: American singer-songwriter and guitarist Craig Finn born.
August 23
1946: English drummer, songwriter, and producer Keith Moon born.
1966: Lunar Orbiter 1 takes the first photograph of Earth from orbit around the Moon (not Keith).

1973: A bank robbery gone wrong in Stockholm, Sweden, turns into a hostage crisis; over the next five days the hostages begin to sympathize with their captors, leading to the term "Stockholm syndrome." (Some trade shows are like that.)
1991: The World Wide Web is opened to the public.
August 24
1456: The printing of the Gutenberg Bible is completed.
1891: Thomas Edison patents the motion picture camera.
1995: Microsoft Windows 95 is released to the public in North America.
1998: First radio-frequency identification (RFID) human implantation is tested in the United Kingdom.
August 25
1609: Galileo Galilei demonstrates his first telescope to Venetian lawmakers.
1835: The first Great Moon Hoax (not Keith) article is published in The New York Sun, announcing the discovery of life and civilization on the Moon. (No one would ever fall for something like that today.)
1954: English singer-songwriter, guitarist, and producer Elvis Costello (né Declan MacManus) born.
1991: Linus Torvalds announces the first version of what will become Linux.
2012: Voyager 1 spacecraft enters interstellar space becoming the first man-made object to do so.