Statistics That Give Us Paws
Great moments in correlation:
If you have the parasite Toxoplasma gondii, which is usually carried by cats, you are more likely to start your own business.

— Quite Interesting (@qikipedia) August 15, 2019
All Dressed Up
CuteCircuit scores a fashion and science first and the world's most technically advanced dress, the Intu Graphene Dress, a little black dress marking the first time that the revolutionary, Nobel Prize-winning "miracle material" has been incorporated into fashion.
Fashion Foe Pas
It's not often that fashion lines are introduced at a security event, but it was at the DefCon cybersecurity conference that "hacker and fashion designer" (interesting combo) Kate Rose debuted her Adversarial Fashion line. The dress features a set of images of license plates that, when they are scanned by an automatic license plate reader, get added to a license plate database. Apparently, the idea is to clog up the database so that that kind of surveillance becomes "less effective, more expensive, and harder to use without human oversight." Uh huh.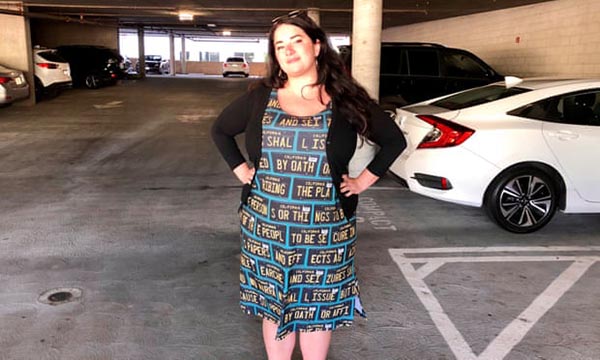 One should beware the law of unintended consequences. The same story discusses "Droogie," another hacker who thought the secret to license plate invisibility and "auto immunity" was to register a custom plate that read "NULL," which signifies an empty entry in a database. However, every speeding ticket for which a valid license plate could not be found was thus assigned to his car—a $12,000 ticket tab. Way to stick it to The Man!
Directionless
I could have told you Delta lost its compass years ago. https://t.co/5SVgTwrbyV

— J. Elvis Weinstein (@JElvisWeinstein) August 14, 2019
The Heat Is On, Unfortunately
From The Verge: "The June Oven debuted in 2015 as a $1,495 countertop oven that uses a camera and computer vision to identify food that's been placed inside." A bit pricey for a toaster-oven, but, OK, fine.
"[I]ts second-generation ...[is] billed as 'seven appliances in one': an air fryer, dehydrator, slow cooker, broiler, toaster, warming drawer, and convection countertop oven. It also pairs with an app that allows people to choose their temperature and cooking settings, as well as live stream their food as it cooks thanks to the built-in camera." We guess it's handy to check your food without having to get up and make the arduous trek to the kitchen, so, again, fine.
But, ruh-roh: "At least three smart June Ovens have turned on in the middle of the night and heated up to 400 degrees or higher. The ovens' owners aren't sure why this happened, and June tells The Verge that user error is at fault." Of course it is. "The company is planning an update that'll hopefully remedy the situation and prevent it from happening again."
Talk Is Cheap, Listening Even Cheaper
From Boing Boing: "Behold the AmazonBasics Alexa-Equipped Microwave, a $40 item whose low price is belied by the fact everything you say to it is held in contingent perpetuity in an Amazon datacenter."
You Really Can't Judge a Book by Its Cover
Lots of the predictably tedious 'this is photoshopped' crew getting their customary kicks: I really wish it was, but it isn't. https://t.co/o2eyX7224f

— Fergus Butler-Gallie (@_F_B_G_) August 14, 2019
Cold Comfort
This headline could quite possibly win the award for the most surreal ever written (which is saying something these days):
"Teen's tweets from her smart fridge go viral after mother confiscates phone."
Cursive! Foiled Again!
Still makes me laugh ?? pic.twitter.com/DmStCV4KgJ

— Liv Matthews (@LV_matthews) August 9, 2019
Welcome to Fantasy Island
Have you ever wanted to experience an Amazon job interview? No, we haven't either. But if you have $4,600 burning a hole in your pocket, here's an offer you probably should refuse:
An Airbnb host in Seattle is offering mock Amazon interviews for $4,600.
...
According to the Airbnb listing, the five-hour interview takes place in a coworking space in Seattle's Belltown area. Candidates are interviewed by former Amazon employees who they are matched with based on the job they're aiming to secure.
Got To Dash
Why we need hyphens: because old school music is not the same as old-school music.

— Editor Mark (@EditorMark) August 9, 2019
OK, So We're Doin' This
In 1837, two Parisian law school professors had a duel because they couldn't agree on whether a certain passage should end with a colon or a semicolon.

— Quite Interesting (@qikipedia) August 14, 2019
Bet one of them had a semi-colon afterward.
The Big Apple Gets Cored
"This is going to be a great city when they finally finish building it." —Will McAvoy, The Newsroom
If you have been to New York City in recent years, you know that it is under a constant state of construction. Alas, as per this article in The Guardian, its retail landscape is in a state of destruction, as the Retail Apocalypse seems to be something not confined to suburban shopping malls:
The striking deterioration of some of Manhattan's most popular shopping districts was underscored by the decision on Monday by Barneys, the city's famous fashion emporium, to seek bankruptcy protection.
The dire financial position at Barneys has emerged as other retail landmarks in the city have already closed their doors. Lord & Taylor – one of the city's largest department stores, with an entire building on Fifth Avenue – recently closed down; its space was sold off to WeWork, the office rental company, and Amazon.
Sign-Off
I woke up in a cold sweat last night to create this content. I present: the Email Sign-off Alignment pic.twitter.com/SkNpXxrj5V

— Julia Burnham (@juliarburnham) August 9, 2019
Yes, And?
"Ozzy Osbourne is a genetic mutant, DNA research proves."
[Scientists] discovered a never-before-seen mutation that may explain Osbourne's ability to consume alcohol in great quantities and several genetic variations that predisposed him to drug and alcohol dependencies.
"Ozzy is indeed a genetic mutant," writes Bill Sullivan in his new book, "Pleased to Meet Me: Genes, Germs and the Curious Forces that Make Us Who We Are" (National Geographic), out this month.
Intel Inside
Do you want an electronic storage device that knows you inside and out? Do you need to smuggle clandestine documents across borders? Do you really want to spend lots of quality time at airport security? Why not try The Pegleg:
The whole thing is coated in an implant-safe material and sewn under your skin, where it can be powered by an external battery that uses an induction coil to transmit power to it.
>Like a regular Piratebox, the Pegleg is a meshing file-server that you fill with any files you want to share or keep, and which can be fetched from nearby wifi-enabled devices.
>Unlike the Piratebox, the Pegleg can't be (easily) confiscated at a border crossing or other checkpoint, and the Constitutionality of compelling disclosure of keys or logins is more complex and muddled (possibly to the benefit of the bearer) than with other devices.
Disarming
From The Verge:
Tesla's Model 3 doesn't come with a physical key. Instead, it can be unlocked and turned on with a smartphone, a car-shaped key fob, or a keycard that comes in handy if you don't have a fob or your phone dies. One creative driver figured out a way to make sure that she can always unlock and start her Model 3: she implanted the RFID tag from the keycard into her forearm.
The process involved dissolving the key card in acetone, encasing it in a biopolymer, and then going to a "body modification studio" to have it implanted.
Hopefully she won't need to sell the car or have it valet-parked anytime soon.
We Get That a Lot
From the moment I picked up your book until I put it down, I was convulsed with laughter. Some day I intend reading it. GROUCHO MARX

— Quite Interesting (@qikipedia) August 14, 2019
This Week in Printing, Publishing, and Media History
August 12
1865: Joseph Lister, British surgeon and scientist, performs the first antiseptic surgery.
1887: Austrian physicist and Nobel Prize laureate Erwin Schrödinger born.
1949: Scottish-English singer-songwriter, guitarist, and producer Mark Knopfler born.
1960: Echo 1A, NASA's first successful communications satellite, is launched.
1981: The IBM Personal Computer is released.
August 13
1756: English caricaturist and printmaker James Gillray born.
1888: Scottish engineer and inventor of the television, John Logie Baird, born.
1889: William Gray of Hartford, Connecticut is granted United States Patent Number 408,709 for "Coin-controlled apparatus for telephones."
1899: Director Alfred Hitchcock born.
August 14
1457: Publication of the Mainz Psalter, the first book to feature a printed date of publication and printed colophon.
1885: Japan's first patent is issued to the inventor of a rust-proof paint.
1888: An audio recording of English composer Arthur Sullivan's "The Lost Chord," one of the first recordings of music ever made, is played during a press conference introducing Thomas Edison's phonograph in London. (Now available on iTunes.)
1945: American actor, comedian, musician, producer, and screenwriter Steve Martin born.
1950: Cartoonist Gary Larson (The Far Side) born.
1965: American producer, director, and screenwriter Brannon Braga born.
1975: The Rocky Horror Picture Show, the longest-running release in film history, opens in London.
August 15
1843: Tivoli Gardens, one of the oldest still intact amusement parks in the world, opens in Copenhagen, Denmark.
1912: American chef and author Julia Child born.
1914: The Panama Canal opens to traffic with the transit of the cargo ship SS Ancon.
1915: A story in the New York World reveals that the Imperial German government had purchased excess phenol from Thomas Edison that could be used to make explosives for the war effort and diverted it to Bayer for aspirin production.
1939: The Wizard of Oz premieres at Grauman's Chinese Theater in Los Angeles, Calif.
1965: The Beatles play to nearly 60,000 fans at Shea Stadium in New York City, an event later regarded as the birth of stadium rock. This would lead to...
1969: The Woodstock Music & Art Fair opens in upstate New York.
August 16
1858: U.S. President James Buchanan inaugurates the new transatlantic telegraph cable by exchanging greetings with Queen Victoria of the United Kingdom. However, a weak signal forces a shutdown of the service in a few weeks.
1930: The first color sound cartoon, called Fiddlesticks, is made by Ub Iwerks.
1954: The first issue of Sports Illustrated is published.
August 17
1908: Fantasmagorie, the first animated cartoon, created by Émile Cohl, is shown in Paris, France.
1945: George Orwell's novel Animal Farm is first published.
August 18
1868: French astronomer Pierre Janssen discovers helium.
1958: Vladimir Nabokov's novel Lolita is published in the United States.