Venti Your Frustration
Is your idea of a morning routine going into a Starbucks, ordering a coffee, buying a newspaper, and hanging out for a while? Well, it is for some people. Alas, though, anyone hoping to linger with a printed newspaper will have to bring their own, as Starbucks has announced that it will no longer be selling newspapers. Says the New York Times:
The company said this week that it would stop carrying print editions of The New York Times, The Wall Street Journal, USA Today and local newspapers at its 8,600 locations across the country.
Starbucks did not give a reason for the change, but said it would also remove shelving fixtures that display whole-bean coffee and grab-and-go snacks.
Nor Any Drop to Drink
a literal thirst trap https://t.co/NA4yMibOCv

— Internet of Shit (@internetofshit) July 17, 2019
Hell's Bells
Huh. Kid came home from school and said the school bells no longer work because someone breached the school's wifi. cc. @internetofshit

— Asher Wolf (@Asher_Wolf) July 17, 2019
Closing the Book
Pearson, the world's largest education publisher, "has taken the first step towards phasing out print books by making all its learning resources 'digital first...'" If any students still want to use a printed textbook, they will have to rent them—and the printed books will not be updated as often as the etextbooks. "The firm currently makes 20% of its revenues from US courseware, but has been struggling as students increasingly opt to rent second-hand print textbooks to save money. To counter this Mr Fallon said Pearson would stop revising print books every three years, a model that has dominated the industry for 40 years."
MAD As Hell
Some of us were crushed by the recent news that Mad Magazine, a staple of many of our childhoods (after all, the magazine was saddle-stitched), was being discontinued.
Many of the "usual gang of idiots"—as the writers and cartoonists were credited—were household names for many a Boomer or Gen X youngster (today, a Don Martin reference gets nary a "splorsh!") and one of the most popular was Al Jaffee, who had invented not only the recurring "Snappy Answers to Stupid Questions" feature, but also the back-page fold-in which was rarely short of brilliant.
Boing Boing found a great profile of Jaffee (who is still alive at 98!) in the Jewish Review of Books.
Sign of the Times
10/10 church sign pic.twitter.com/93RArm2Kmb

— Jeremy McLellan (@JeremyMcLellan) July 15, 2019
Semicolonoscopy
The semicolon: some folks love it, some hate it, most people misuse it. But now comes a new "deceptively playful-looking" book by Cecelia Watson that serves as a treatise on the oft-maligned punctuation mark. From The New Yorker:
The semicolon itself was a Renaissance invention. It first appeared in 1494, in a book published in Venice by Aldus Manutius. "De Aetna," Watson explains, was "an essay, written in dialogue form," about climbing Mt. Etna. Its author, Pietro Bembo, is best known today not for his book but for the typeface, designed by Francesco Griffo, in which the first semicolon was displayed: Bembo. The mark was a hybrid between a comma and a colon, and its purpose was to prolong a pause or create a more distinct separation between parts of a sentence. In her delightful history, Watson brings the Bembo semicolon alive, describing "its comma-half tensely coiled, tail thorn-sharp beneath the perfect orb thrown high above it." Designers, she explains, have since given the mark a "relaxed and fuzzy" look (Poliphilus), rendered it "aggressive" (Garamond), and otherwise adapted it for the modern age: "Palatino's is a thin flapper in a big hat slouched against the wall at a party.
Dark
Finally tried #FaceApp to see what I'd look like when I'm older pic.twitter.com/vgaCzR7fNe

— Hrishikesh Hirway (@HrishiHirway) July 17, 2019
To the Moon
Tomorrow will mark the 50th anniversary of the moon landing, and while we celebrate the giant leap for mankind made by Neil Armstrong and Buzz Aldrin (and Michael Collins), we should not forget all the people behind the scenes who made the moon landing possible, some of whose names are still unknown 50 years on.
Over at Vox, some recognition for Margaret Hamilton, who was head of the team at the MIT Instrumentation Laboratory that had written the software for the Apollo Guidance Computer. It was Hamilton's code that actually saved the mission when the spacecraft's radar started sending random data to the computer—overloading the system and potentially thwarting the execution of the computational tasks needed for landing. Hamilton had anticipated this kind of problem, and had written in safeguards.
••••
Last week saw the passing of computer pioneer Fernando Corbató, who helped invent computer time-sharing (which would lead to the personal computer) and in the process also devised the idea of the computer password. We celebrate his life and work nonetheless.
"Repent, Harlequin!"
Over at Vox, a helpful primer on the hot new app that's big with the kids: TikTok. Briefly, it's "memes set to music," which sounds horrifying:
The gist is this: Users film videos of themselves lip-syncing or acting out comedy sketches, up to 15 seconds long, and can choose from a database of songs, effects, or sound bites. Collaboration is a major incentive — you can do a "duet" with someone by replying to their video, which creates a split-screen diptych, thus feeding into an endless chain of reactions. Users can also upload their own sounds, so it's possible to lip-sync to someone else's original video.
Its parent company, ByteDance, has now become the world's most valuable startup.
Time Unfolds...
In an interesting idea, IBM has patented a smartwatch that somehow unfolds into a much larger tablet computer.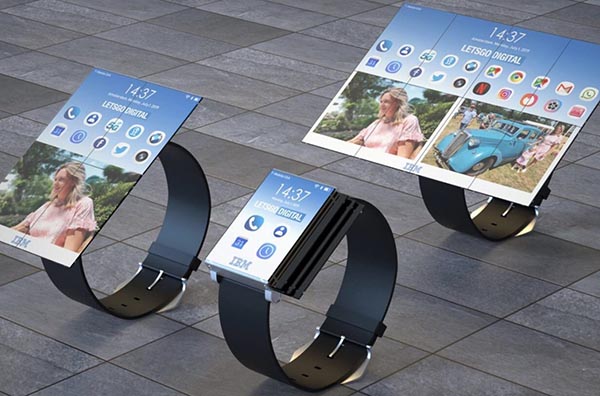 Down the Middle
We all dread ending up in an airplane's center seat (well, some of us dread ending up in any airplane seat), but a new design just may make the experience less horrible.
The design comes via Colorado-based seating startup Molon Labe (Greek for 'come and take them'—more on that below) and gives the middle seat a bit more breathing room by moving it two inches lower and three inches further back from the side seats.
The armrests feature a stepped design so that middle passengers can get the lower, back portion while their neighbors use the front part—hopefully putting an end to elbow wars once and for all. Passengers won't get any extra legroom, but the layout would allow middle seats to get wider, increasing from the standard 18-inch width to 21 inches.
Paint
Have you ever wondered whatever became of the thousands of paintings that the late Bob Ross created for his TV show The Joy of Painting? No, nor did we, but the New York Times found out anyway. Turns out they are all being stored at the Herndon, Va., headquarters of Bob Ross, Inc. And while none of them are for sale, some have been donated to the Smithsonian.
Bob Ross made three versions of each painting that appeared on "The Joy of Painting." The first was made before the show, to be used as a reference. He painted the second during the 26-minute taping, sometimes with last-minute improvisations. The third was made afterward, for instructional books.
Chant
Remember 1994's runaway bestselling album Chant, the album of Gregorian chants that peaked at No. 3 on the Billboard 200 music chart, and went double platinum? Its popularity was believed to be due in large part to its having been marketed as "an antidote to the stress of modern life." Ha! Well, if we thought 1994 was stressful, maybe we need the monks today more than ever. And we can have them, thanks to this soothing online Gregorian Chant Generator.
Breaking Really Bad
Police: Flushing drugs could create Alabama 'meth-gators' https://t.co/2ZebPDImfW pic.twitter.com/jvZXLvGVYY

— AL.com (@aldotcom) July 15, 2019
Conjugational Visit
It has taken a while for some folks to get accustomed to using the words "text" or "friend" as verb, but this is not a new thing. In fact, Back in 1928, F. Scott Fitzgerald, deciding that the word "cocktail" could be a verb (and for him and Zelda, it certainly was), actually devised an entire conjugation for it—including the present ("I cocktail"), pluperfect ("I had cocktailed"), subjunctive ("I would have cocktailed). And, of course, the imperative: "Cocktail!" Don't mind if we do!
A Portrait of the Artist As a Troublemaker
When James Joyce and Ernest Hemingway went out drinking together, Joyce would start fights and then hide behind Hemingway, shouting "deal with him, Hemingway! Deal with him!"

— Quite Interesting (@qikipedia) July 15, 2019
In at the Finnish
Three words: heavy metal knitting. Yep, on July 11, Finland hosted the first-ever Heavy Metal Knitting World Championship, which we're sure our own Cary Sherburne will want to attend next year.
While combining heavy metal music with knitting might not seem an obvious match, the organizers say it's similar to other unusual events in Finland, such as world championships in air guitar, swamp soccer, and wife carrying — Finnish ways of goofing around and making the most of the long summer nights in these northern latitudes.
Perhaps its the long dark winters, but Finland boasts (if that's the word to use) the highest number of heavy metal bands per capita of any country in the world, with more than 50 bands per 100,000 people.
Participants came from nine countries—yes, including the U.S. Who won? The five-person Japanese team Giga Body Metal that featured "crazy sumo wrestlers and a man dressed in a traditional Japanese kimono."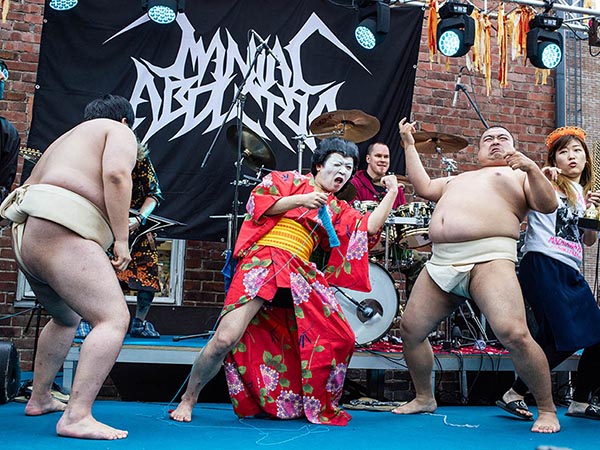 http://www.heavymetalknitting.fi
The event was such a success that it will be held again next summer. Cocktail!
Bowled Over
At some point in our lives (presumably an early one), we have had Twinkies for breakfast. Now, coming soon to a cereal aisle near you, Hostess Twinkies cereal. Less guilt, more abdominal issues.
Taking the Cola Wars Seriously
I've decided to become a "Pepsi Still Has a Secret Navy" truther. https://t.co/2shygXTICD

— Maggie Koerth-Baker (@maggiekb1) July 16, 2019
This Week in Printing, Publishing, and Media History
July 15
1606: Dutch painter and etcher Rembrandt van Rijn born.
1779: American author, poet, and educator Clement Clarke Moore born.
1799: The Rosetta Stone is found in the Egyptian village of Rosetta by French Captain Pierre-François Bouchard during Napoleon's Egyptian Campaign.
1930: Algerian-French philosopher and academic Jacques Derrida born.
1947: American singer-songwriter and musician Roky Erickson born.
1956: English singer-songwriter and guitarist Ian Curtis born.
2003: AOL Time Warner disbands Netscape. The Mozilla Foundation is established on the same day.
2006: Twitter is launched, and civilization bgeins its inexorable decline.
July 16
1661: The first banknotes in Europe are issued by the Swedish bank Stockholms Banco.
1907: American farmer and businessman Orville Redenbacher popped out.
1935: The world's first parking meter is installed in Oklahoma City, Oklahoma.
1956: American playwright and screenwriter Tony Kushner born.
1969: Apollo 11, the first mission to land astronauts on the Moon, is launched from the Kennedy Space Center at Cape Kennedy, Fla.
CBS News is livestreaming the Apollo 11 launch on its YouTube channel:
July 17
1717: King George I of Great Britain sails down the River Thames with a barge of 50 musicians, where George Frideric Handel's Water Music is premiered.
1889: American lawyer, author, and creator of Perry Mason Erle Stanley Gardner born.
1902: Willis Carrier creates the first air conditioner in Buffalo, N.Y.
1954: American author, screenwriter, and producer J. Michael Straczynski born.
1955: Disneyland is dedicated and opened by Walt Disney in Anaheim, Calif.
July 18
1811: English author and poet William Makepeace Thackeray born.
1937: American journalist and author Hunter S. Thompson born.
1968: Intel is founded in Mountain View, Calif.
1992: A picture of Les Horribles Cernettes was taken, which became the first ever photo posted to the World Wide Web.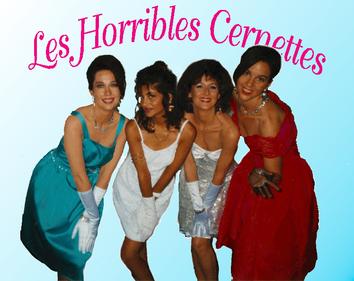 July 19
1834: French painter, sculptor, and illustrator Edgar Degas born.
1868: American "singer" and educator Florence Foster Jenkins born.
1947: English singer-songwriter and guitarist (Queen) and astrophysicist Brian May born.
1977: The world's first Global Positioning System (GPS) signal was transmitted from Navigation Technology Satellite 2 (NTS-2) and received at Rockwell Collins in Cedar Rapids, Iowa, at 12:41 a.m. Eastern time (ET).
1983: The first three-dimensional reconstruction of a human head in a CT is published.
July 20
1822: Give peas a chance—Austro-German monk, geneticist and botanist Gregor Mendel born.
1903: The Ford Motor Company ships its first automobile.
1938:– The United States Department of Justice files suit in New York City against the motion picture industry charging violations of the Sherman Antitrust Act in regards to the studio system. The case would eventually result in a break-up of the industry in 1948.
1969: Apollo 11's crew successfully makes the first manned landing on the Moon in the Sea of Tranquility. Americans Neil Armstrong and Buzz Aldrin become the first humans to walk on the Moon six and a half hours later.
July 21
1816: German-English journalist and founder of Reuters Paul Reuter born.
1899: Ernest Hemingway born.
1911: Marshall McLuhan, Canadian author and theorist, born.
1948: Doonesbury creator Garry Trudeau born.
1969: At 02:56 UTC, astronaut Neil Armstrong becomes the first person to walk on the Moon.