Mary Meeker Slide Roulette—Spin #3
Earlier this month saw the release of the latest edition of the annually anticipated Internet Trends Report from Mary Meeker. Commemorating June as Mary Meeker month, we continue with Mary Meeker Slide Roulette, in which we randomly pick a slide out of the 333 in the deck.
Round and round she goes… Our third spin lands on Slide 52: "Voice":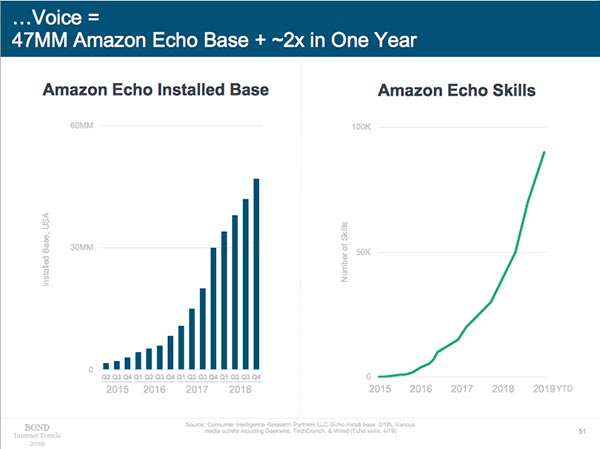 I Talk to the Wind
We don't have Alexa, so to be funny, I yelled at my TV, "Alexa, pause the movie!"

And Alexa did.

And we looked around like ??.

Turns out a new remote we got for our old Firestick turned my TV into Alexa. So now I'm looking around. Anything could be Alexa. Toaster, throw rug.

— Robin DeRosa (@actualham) June 22, 2019
Madvertising
Were you provoked to outrage by Charmin's concept of "Millennial toilet paper," IHOP's name-change to IHOb, or Kraft's "Salad Frosting"? No, nor were we, but to be online is to steeped in outrage, and brands are getting hip to the fact that any publicity is good publicity and rather than fear, they are seeking to exploit the trolls. Says Vox:
It's no secret that a crucial fixture of internet culture is the collective roasting of a clumsy ad, and marketing has always been about sparking a conversation. So, brands have learned to leverage outrage, rather than joy or humor or political zeitgeist, for their own gain. The fastest way to the top of the trending page is to create your own mini-backlash; mild enough to not leave lasting damage, but annoying enough that everyone wants to get in on the fun.
Click through to the article for an interesting interview with Mark Bartholomew, author of an article titled "The Law of Advertising Outrage."
Looking for a Good Bookstore?
Dove & Hudson is a wonderful used bookstore in Albany, N.Y., at the corner of, well, Dove and Hudson Streets. It was opened three decades ago by Dan Wedge, and, as the Albany Times-Union points out, Wedge, now 70, is looking for someone to take it over. "Eight years ago, Wedge began what he described as a semi-retirement, shuttering the bookstore for the first seven days of every month. (Check the calendar before making the trip.) Now, he's asking Dove & Hudson's large and loyal community for suggestions on how the store could outlast its proprietor. In other words, he's hoping to find a buyer for the business and its building, which he owns, or someone with another solution, however creative, for keeping an old store in an old neighborhood open."
We alas may be seeing more of this. Earlier this year, John DeMarco, the founder/owner of another great Capital Region antiquarian bookstore—Lyrical Ballad in Saratoga Springs, N.Y.—passed away.
A Handy Watch
If you are one of those people who have trouble telling time with an analog timepiece, this watch from Anicorn probably won't be much help (via Core77).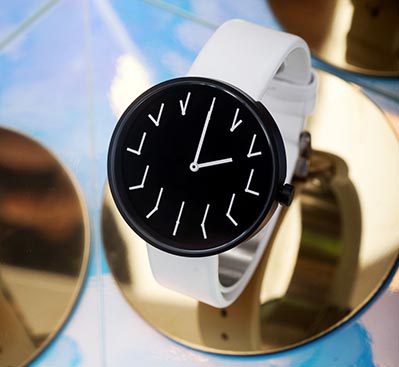 Roasting Design
Speaking of Core77, an industrial design news and information site, they recently launched a weekly "Design Roast" in which the editors poke fun at questionably designed objects, furniture, and appliances. Very entertaining—and often head-scratching. (But then, as we saw a few items ago, it only gives them publicity!) For example: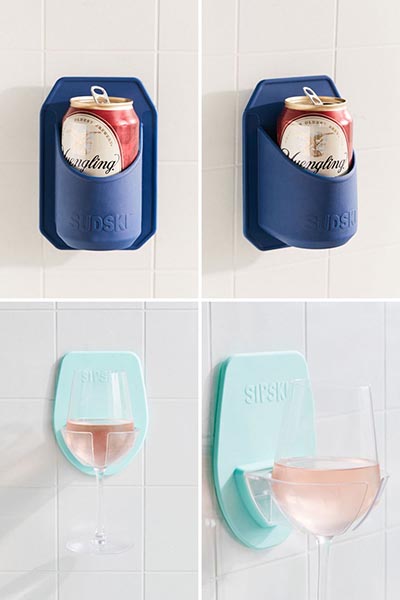 I often want to drink beer or wine while taking a shower, so I designed these. And in my experience, when you stick things to tile they never fall off. So with a wine glass hanging from the wall and me being boozed up and barefoot, what could go wrong?
Invisible Ink
85% of the world's writing systems are on the verge of disappearing - you can find examples of them and help with research and preservation at https://t.co/1MC6KNL6SU

— Quite Interesting (@qikipedia) June 20, 2019
Map Quest
Once again, loathsome individuals ruin a good thing. This time it's Google Maps, which, says an article in the Wall Street Journal, "is filled with false business addresses created by firms pretending to be nearby." Buyer beware, right? Quite literally, yes.
The ruse lures the unsuspecting to what appear to be Google-suggested local businesses, a costly and dangerous deception. A man arrived at Ms. Carter's home in an unmarked van and said he was a company contractor. He wasn't. After working on the garage door, he asked for $728, nearly twice the cost of previous repairs, Ms. Carter said. He demanded cash or a personal check, but she refused. "I'm at my house by myself with this guy," she said. "He could have knocked me over dead." The repairman had hijacked the name of a legitimate business on Google Maps and listed his own phone number. He returned to Ms. Carter's home again and again, hounding her for payment of a repair so shoddy it had to be redone.
Master of the Public Domain
We're sorry we missed this, but if you are in L.A. this weekend and want something to do on a Saturday afternoon, check out Public Domain: The Musical.
The characters of nearly every beloved animated movie musical (from "The Little Mermaid" to "The Lion King" to "Frozen") began as fairy tales and stories from the public domain.
But what about the public domain characters who haven't gotten their big break? In "Public Domain: The Musical," characters from the bottom of the barrel audition with all-new original songs to show why they deserve to have their own time in the spotlight.
By all accounts (well, one anyway), it's pretty funny.
We could not help but be reminded of Mystery Science Theater 3000's idea for a karaoke machine that only plays songs in the public domain.
"Ave Maria..."
Slugfest
Grace Hopper was a pioneer in the field of computer programming, who is perhaps most commonly known for recording the first known computer bug. Quite literally: it was a moth that got stuck between relay contacts of a Harvard Mark II computer. She recorded the incident in a logbook—and even taped the offending insect to the page.
We were reminded of Ms. Hopper this week—and how our technological accomplishments can be brought down by such lowly creatures as insects or, in the case of Japan's high-speed rail system, a gastropod: "A single, small slug has been blamed for a massive power failure that brought part of Japan's high-speed rail network to a standstill last month....During a later inspection of the network's electrical equipment, the company's engineers discovered a dead slug, measuring about 2 to 3 centimeters (0.7 to 1.1 inches) long. According to a company spokesman, the slug had burned to death after touching an electrical cable leading to the mass power failure."
Insert own Amtrak joke here.
Women Who Print
Dinah Nuthead was the first woman to run a printing press outside of Massachusetts and the first woman to be licensed as a printer in the colonies.#worldcupofprintinghistory #USA #SWE

Photo credit: https://t.co/w5zxWEkogF. @SoMdNews @SoMdNewsSports pic.twitter.com/LsU5jsXCP8

— Museum of Printing (@MOPrinting) June 20, 2019
Women Who Program
Interested in computer history? Be sure to check out The ENIAC Programmers Project (free documentary, as well). Founder Kathy Kleiman has spent 20 years researching the original six programmers of the ENIAC (Electronic Numerical Integrator and Computer), the first modern computer, created during World War II. These original six ENIAC programmers were all women and they had to basically invent programming, since there were no such things as programming codes at the time (they would be invented a few years later by Betty Holberton for the UNIVAC). Says Boing Boing: "The women stayed on the ENIAC project after the war because 'no solider returning home from the battlefield could program ENIAC,' and went on to train the next generation of ENIAC programmers, also creating modern computer science education; they also went on to create the first computer instruction codes."
Danger: USB
Every time you try to plug something into a USB drive, there's basically a 50-50 chance you'll insert it the right way on the first try. Annoying, right? Well, even the inventor of USB thinks it's annoying. From Digital Trends: "Stating what hundreds of millions of people around the world have known for years, [Ajay] Bhatt told NPR recently: 'The biggest annoyance is reversibility.' While the 50-50 design of the USB plug can sometimes feel more like 90-10 when we go to use it, Bhatt insists there was a good reason for designing it in the way that he did: cost."
Apparently, making a reversible USB plug would have required double the circuits and wires, doubling the cost. But then it probably would have paid for itself in time not lost.
On the Rocks
Nature adapts to changes in bizarre ways. Take for example the increasing ubiquity of plastic. On the Portuguese island of Madeira, researchers have discovered what they have dubbed "plasticrust:" a veneer of plastic encrusted right onto the rocks. From Gizmodo:
By randomly sampling rocky areas of the shoreline, the researchers found that over three years, the crusts had gone from a single sighting to covering nearly 10 percent of the rocks' surfaces. Chemical analysis of the stuff revealed that it was polyethylene, an extremely common plastic often used in single-use packaging and food containers.
CSI: Tacky
Due to the variety available and the difficulty of removing it entirely from a location, glitter has been used as evidence in solving dozens of crimes, including at least one murder.

— Quite Interesting (@qikipedia) June 27, 2019
Fishbots!
From Nature (or, more appropriately perhaps, "Nature"): "Researchers have created a robotic fish powered by a battery fluid that its developers dub 'robot blood'."
...and they have a plan...
When Life Gives You Lemons, Call Country Time
Once upon a time, a summer rite of passage for many a child was operating a makeshift lemonade stand, and apparently it's still a thing. (We'd have thought they'd be opening social media management stands or something like that these days.) However, unlicensed lemonade stands are actually not legal, except in 14 states. And sometimes overzealous municipalities do actually enforce it. What to do? Call Saul Goodman? No, actually, Country Time—the makers of the lemonade mix—is on your side. They will offer to cover any fines unwary kids get as a result of not having a permit.
Wipe That Smile Off Your Canvas
am quite enjoying playing around with this camera app that uses AI to remove people from photographs. Bonus: it also works on paintings https://t.co/npzQRoiGfE pic.twitter.com/0ecFNfclYw

— James Vincent (@jjvincent) June 25, 2019
This Week in Printing, Publishing, and Media History
June 24
1842: American short story writer, essayist, and journalist Ambrose Bierce born.
1947: Kenneth Arnold makes the first widely reported UFO sighting near Mount Rainier, Wash.
1949: The first television western, Hopalong Cassidy, is aired on NBC starring William Boyd.
1957: In Roth v. United States, the U.S. Supreme Court rules that obscenity is not protected by the First Amendment.
June 25
1848: A photograph of France's June Days uprising, "Barricades on rue Saint-Maur," becomes the first photograph used to accompany a newspaper story, launching the practice of photojournalism.
1903: British novelist, essayist, and critic George Orwell born.
June 26
1927: The Cyclone roller coaster opens on Coney Island.
1929: American illustrator and graphic designer Milton Glaser born.
1948: Shirley Jackson's short story The Lottery is published in The New Yorker magazine.
1974: The Universal Product Code is scanned for the first time to sell a package of Wrigley's chewing gum at the Marsh Supermarket in Troy, Ohio.
1997: Oh, FFS: the U.S. Supreme Court rules that the Communications Decency Act violates the First Amendment to the United States Constitution.
June 28
1846: Adolphe Sax patents the saxophone.
1926: American actor, director, producer, and screenwriter Mel Brooks born.
June 29
1613: London's Globe Theatre, constructed by William Shakespeare's playing company, burns down. A second Globe was built by 1614, so all's well that ends well.
1900: French poet, pilot, and author of The Little Prince, Antoine de Saint-Exupéry, born.
1920: American animator and producer Ray Harryhausen born.
1975: Steve Wozniak tests his first prototype of the Apple I computer.
2007: Apple Inc. releases the iPhone.
June 30
1937: The world's first emergency telephone number, 999, is introduced in London.