Month of the Meek(er)
Ah, June. The month for grads, dads...and Mary Meeker. Yep, this past week saw the latest edition of Mary Meeker's Internet Trends Report, which media and technology analysts anticipate in the same way that children anticipate Christmas. (She has been doing them since 1995!) So let's revisit a feature of last year's Around the Web: Mary Meeker Slide Roulette, in which we randomly pick a slide out of the 333 in the deck.
Round and round she goes… Our first spin lands on Slide 18: "E-Commerce Sales vs. Y/Y Growth."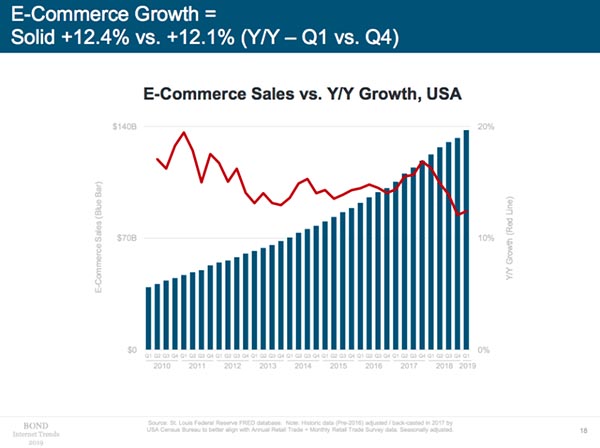 A complete Internet Trends Report archive is here. If you have some spare time, check out 1995's report. It's a hoot!
Madame Kirie
Hard to believe this is just paper. Truly remarkable @kiriken16. pic.twitter.com/BzdzKU1FFb

— George Takei (@GeorgeTakei) June 13, 2019
Flying Cars
What could possibly go wrong? From Bloomberg: "Flying Robotaxis Prepare for Takeoff: More than a half-dozen companies have working prototypes of passenger drones." Time was, the phrase "passenger drone" referred to a taxi fare who wouldn't stop talking.
Benjamin Franklin's Letters
Benjamin Franklin proposed to "rearrange" the alphabet in the United States, removing the letters C, J, Q, W, X and Y.

— Quite Interesting (@qikipedia) June 13, 2019
The Final Chapter?
Some of us did our darnedest to keep them going. From the NY Times: "Barnes & Noble Is Sold to Hedge Fund After a Tumultuous Year."
Bagged to Stop
A Vancouver grocery store is not-so-subtly encouraging customers to bring reusable shopping bags by resorting to shame. From the Vancouver Sun: "a grocer in Vancouver has gone a step further in the battle against single-use plastics, by providing bags with embarrassing slogans to discourage their use."
Actually, there are probably a lot of people who wouldn't be embarrassed by that!
Royal Flush
To Flush or Not To Flush: Kimberly Clark wants to, er, toilet train Florida.
Wolf at the Store
Sometimes we're just easily amused.
They're behind you. https://t.co/ODCBPuMNDo

— (((Joshua Malina))) (@JoshMalina) June 10, 2019
The Kids Today...
...with their hula hoops and their...black-and-white film? Apparently yes. From Gizmodo: "according to FujiFilm, at least we're helping to keep old-school film photography alive, who recently resumed production of monochrome film after a one-year hiatus due to consumer demand 'particularly from millennials and GenZs.'"
€€€???
A couple of weeks ago, we linked to a BBC story about the origin of the dollar sign. This week, the euro symbol gets its due.
A 'C' bisected by two horizontal bars? Well, no, it was actually inspired by the Greek letter epsilon. A reference to the cradle of European civilisation, it emphasised historical continuity – as the design of the banknotes themselves would do – while also evoking an 'E' for Europe.
As for the name "euro":
The new currency's name was chosen in Madrid in 1995. Allegedly the suggestion of a Belgian teacher and Esperanto buff, "euro" triumphed over a string of other contenders, including the irresistibly Shakespearean "ducat". A crucial consideration was that the name must be the same in all of Europe's official languages, and uniformity was deemed vital for the sign that would represent it too.
Brighten Up
Have an extra $150 kicking around? Do you readily fall for dubious health benefit claims? Why not buy a set of LED earbuds that, says HumanCharger: "channels bright light directly to the light-sensitive regions of the brain, right where it is needed the most." Why? "HumanCharger® can be used to increase energy levels, improve mood, increase mental alertness, reduce the effects of jet lag and keep winter blues at bay."
That they don't work shouldn't be surprising, especially given the anatomy of the ear. Of course, if you put in one earbud and the light shines out the other ear, you're in big trouble.
Stepping Out
The idea that we need to walk 10,000 steps a day goes back to the 1960s when a Japanese company started selling pedometers called, in translation, '10,000-step meters'. They chose that name because the character for '10,000'resembles a person walking: ?. (h/t @TheAtlantic)

— Quite Interesting (@qikipedia) June 12, 2019
Breakout!
Some of you may recall the old arcade game Breakout (some of you may even recall arcades...). Now, via Gizmodo, a browser-based game called Brickception is based on Breakout and uses as a paddle a pop-up window which is itself displaying a game of Breakout. Sounds maddening—almost as maddening as pop-up windows.
She's Got Legs...
This is a thing? From the NY Times: "a food-video genre known as mukbang, which involves scarfing down, on camera, more grub than should rightly be consumed in a single sitting." Really? "[H]undreds of thousands of people tune in each week to watch Bethany Gaskin binge-eat shellfish on YouTube." Really?! "The videos, produced in her Cincinnati home, have made her a millionaire, she said." Really?!?! What the heck are we doing in the printing industry?
Wouldn't It Be Ice
Finally, we leave you this week with a version of Vanilla Ice's 1990 hit "Ice Ice Baby"as performed by the machine that Stephen Hawking once used to synthesize his speech, as well as other vintage equipment.
This Week in Printing, Publishing, and Media History
June 10
1793: The Jardin des Plantes museum opens in Paris. A year later, it becomes the first public zoo.
June 11
1572: English poet, playwright, and critic Ben Jonson born.
1892: The Limelight Department, one of the world's first film studios, is officially established in Melbourne, Australia.
1910: French biologist, author, inventor, and co-developer of the aqua-lung Jacques Cousteau born.
1935: Edwin Armstrong gives the first public demonstration of FM broadcasting in the United States.
1936: The London International Surrealist Exhibition opens.
1998: Compaq Computer pays US$9 billion for Digital Equipment Corporation in the largest high-tech acquisition.
2002: Antonio Meucci is acknowledged as the first inventor of the telephone by the United States Congress.
June 12
1817: The earliest form of bicycle, the dandy horse, is driven by Karl von Drais.
1916: American director and producer Irwin Allen born.
1920: American cartoonist Dave Berg born.
1939: Shooting begins on Paramount Pictures' Dr. Cyclops, the first horror film photographed in three-strip Technicolor.
1939: The Baseball Hall of Fame opens in Cooperstown, N.Y.
1949: English singer-songwriter, bass player, and producer John Wetton born.
1959: American singer-songwriter and musician John Linnell born.
1985: American computer programmer and co-creator of Mozilla Firefox Blake Ross born.
June 13
1865: Irish poet and playwright W. B. Yeats born.
1971: The New York Times begins publication of The Pentagon Papers.
1983: Pioneer 10 becomes the first man-made object to leave the central Solar System when it passes beyond the orbit of Neptune.
June 14
1618: Joris Veseler prints the first Dutch newspaper Courante uyt Italien, Duytslandt, &c. in Amsterdam (approximate date).
1822: Charles Babbage proposes a difference engine in a paper to the Royal Astronomical Society.
1933: Polish-American novelist and screenwriter Jerzy Kosi?ski born.
1951: UNIVAC I is dedicated by the U.S. Census Bureau.
1966: The Vatican announces the abolition of the Index Librorum Prohibitorum ("index of prohibited books"), which was originally instituted in 1557.
June 15
1752: Benjamin Franklin proves that lightning is electricity.
1878: To settle a bet, Eadweard Muybridge takes a series of photographs to prove that all four of a horse's hooves leave the ground when it runs. The results become the basis of motion pictures.
June 16
1903: The Ford Motor Company is incorporated.
1904: Irish author James Joyce begins a relationship with Nora Barnacle and subsequently uses the date to set the actions for his novel Ulysses; this date is now traditionally celebrated as "Bloomsday."
1911: IBM is founded as the Computing-Tabulating-Recording Company in Endicott, N.Y.
1917: American publisher Katharine Graham born.