You can have friends or you can correct people's grammar. MARY NORRIS

— Quite Interesting (@qikipedia) June 5, 2019
Fashion Footprints
At Harper's Bazaar, Google and Eco-Fashion Designer Stella McCartney team up to reduce the environmental footprint of fashion, starting with compiling data about the environmental impact at the production of raw goods such as cotton and viscose, expanding later to other parts of the supply chain. The aim is to provide brands with actionable data that will enable them to reduce their environmental impact.
A Bridge Too Far
Sink your teeth into this:
Beam Dental, which uses brushing stats collected by its connected toothbrush to lower dental insurance premiums, raises $55M Series D (@kyle_l_wiggers / VentureBeat)https://t.co/OHkTd17jUZhttps://t.co/oaXqiXUCsM

— Techmeme (@Techmeme) June 2, 2019
Bookstores Unchained
At the New York Times, a story about Canadian bookstore chain Indigo, which reinvented the idea of the bookstore by turning it into a "'cultural department store' where customers who wander in to browse through books often end up lingering as they impulsively shop for cashmere slippers and crystal facial rollers, or a knife set to go with a new Paleo cookbook." Now they're headed to the U.S.
Food for Thought
Google Lens will show reviews if you point it at a restaurant's menu starting this week https://t.co/NOpuzR2L3v pic.twitter.com/CPfAU4oK7o

— The Verge (@verge) June 2, 2019
Thought for Food
At CreativePro, a profile of influential designer Cipe Pineles (1908–1991) who "is credited with blending fine art and lively, colorful illustrations (especially of food, her passion) and hand lettering within her design–especially in her work on magazines. Pineles totally changed the world of editorial design during her reign."
Everywhere a Sign
At Boing Boing, a post about hand-painted Indian transportation signs. "They're a riot of gorgeous typography and design, creative and individual and intensely evocative of the places they came from."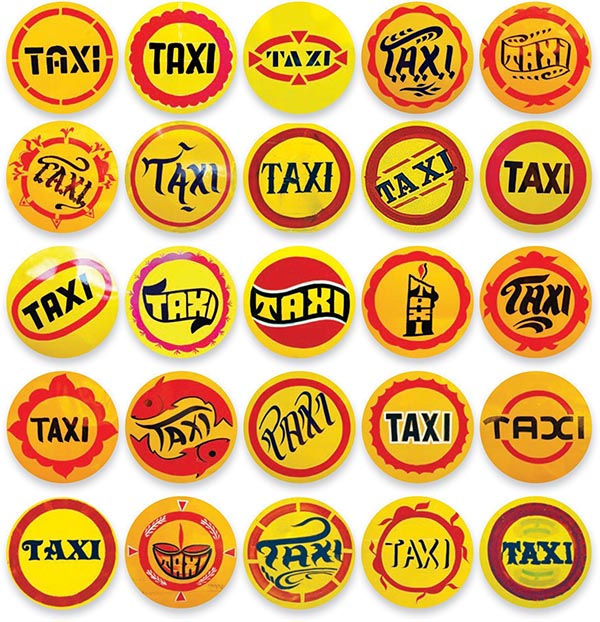 Color Strips
Visual Artist and Grad of @PrattInstitute @Aubrey_Roemer walks us through the creative side of digital print including how it has enabled artistic freedom. This image was produced for a strip club printed on a flatbed printer #DigitalPrintWeek2019 @SmithersPira @PrintingNews pic.twitter.com/yf2BDq7GZB

— WhatTheyThink (@whattheythink) June 6, 2019
It's Like Selling
Can't get anyone to follow you or like your social media posts? Well, why not just buy them? "Quick Fix" is a Finnish art installation commissioned by Helsinki's Pixelache and produced by artist Dries Depoorter in Ghent, Belgium. "Quick Fix in an interactive installation. The artwork makes it possible to buy followers or likes in just a few seconds. For a few euros you already have 200 of likes on Instagram. Choose your product, pay and fill in your social media username. You receive the like or followers just a few seconds later." One caveat, though: "The accounts that like or starting to follow you are fake accounts." In other words, just like Facebook.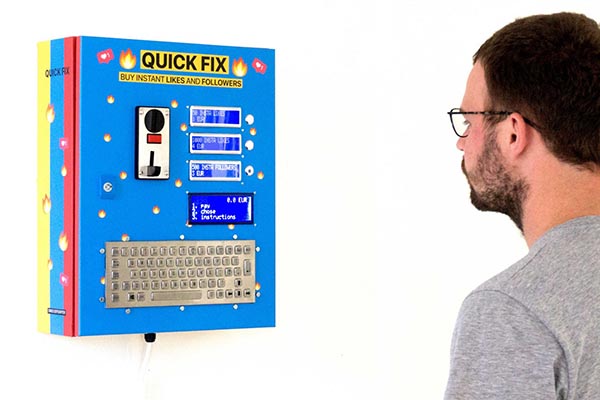 The IoT Heats Up
Unfortunately, quite literally.
So we finally get AC, right? Great.

Google is down. We have a Nest thermostat. Nest runs on Google. Can't turn on AC because app is down.

Neat.

— Danny (@jDantastic) June 2, 2019
Yeah, Correlate This
Some years ago (14, it turns out!), our own Dr. Joe Webb once made a shocking statistical discovery: the decline in printing shipments was all Ken Griffey, Jr.'s fault. Indeed, as the chart shows, the number of games played by former baseball player Ken Griffey, Jr., had a significant correlation with inflation-adjusted printing shipments: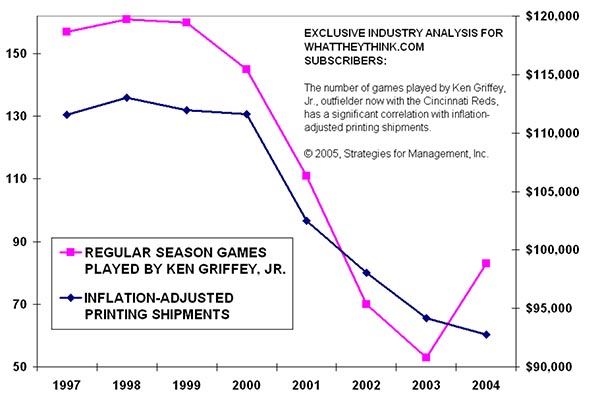 Anyone who looks at charts like this (or like any of those at a site called Spurious Correlations) will immediately yell "Correlation doesn't mean causation!"
"Correlation doesn't mean or imply causation" has become a clichéd phrase, and one Slate author has had quite enough (it's an old post but still relevant): "No, correlation does not imply causation, but it sure as hell provides a hint....A correlation can't tell one from the other; in that sense it's inadequate. Still, if it can frame the question, then our observation sets us down the path toward thinking through the workings of reality, so we might learn new ways to tweak them. It helps us go from seeing things to changing them."
So while some correlations are obviously absurd (Ken Griffey, Jr., and printing shipments, or the number people who drowned in a pool and the number of films Nicolas Cage has appeared in) some may not be, such as the one the Slate writer cited: "Depressed people send more email." It's not difficult to envision how such a relationship may go beyond mere correlation, and just spotting the relationship can provide ideas for further research. It may pan out to nothing, but it provides a compelling question to ask.
Interestingly, the "correlation is not causation" admonition dates back to the 1890s—when the discovery of statistical correlation was first made.
That's when the British statistician Karl Pearson introduced a powerful idea in math: that a relationship between two variables could be characterized according to its strength and expressed in numbers. Francis Galton had futzed around with correlations some years before, and a French naval officer named Auguste Bravaissketched out some relevant equations. But it was Pearson who gave the correlation its modern form and mathematics. He defined its role in science.
Dash Off a Paper
Who'd'a thunk it, and supposedly this isn't just correlation: using hyphens in the titles of academic papers can have a negative impact on citation statistics, or at least that's the finding of a new paper called "Metamorphic Robustness Testing: Exposing Hidden Defects in Citation Statistics and Journal Impact Factors," by Zhi Quan Zhou, T.H. Tse, and Matt Witheridge, published in IEEE Transactions on Software Engineering. (They decided against titlering it "Metamorphic Robustness Testing--Exposing Hidden Defects in Citation Statistics and Journal Impact Factors" for fairly obvious reasons.)
Back in 2015, Letchford and colleagues conducted a large-scale study on Scopus, and found that papers with shorter titles tended to be cited more than those with longer titles.
On the contrary, Professor Tse and the present team find that it is actually the number of hyphens in the title that serves as the more dominating factor for citation counts. Usually, the number of hyphens is correlated to a paper's title length, thus giving the misinterpretation that citation counts depend on title length.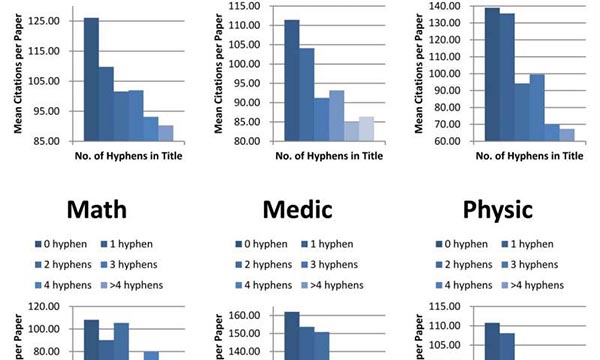 Ding Dong
Can someone write an article on millenials killing the doorbell industry by texting "here"

— stella donnelly stan (@youngandjoven) June 3, 2019
Blowing Up the Art World
Here's an eye-catching headline from the New York Times: "How Nuclear Bomb Tests Are Helping to Identify Art Forgeries." "For years, scientists have been refining techniques to determine the age of a painting using radiocarbon dating and the lingering effects of the tests. Now, a team of researchers has dated one such artwork using a paint chip the size of a poppy seed, according to a study published on Monday in The Proceedings of the National Academy of Sciences."
Incoming! Mail
In 1959, the US Navy successfully delivered post from Virginia to Florida via cruise missile.

— Quite Interesting (@qikipedia) June 6, 2019
AR Takes Off
Filmmakers MaryLiz Bender and Ryan Chylinski are at work on a project that combines a printed book with Augmented Reality and a short film to document "humanity's grand adventure to space." Called Guidance Internal: Lessons from Astronauts:
The art and the pages in this book come to life immediately teleporting you to rocket launch pads, directly to our intimate interviews with astronauts and the people sending missions to space. We fuse art with science blending our love of photography with compelling video to capture the emotion, excitement, and gravity of these events. We also give you a front-row seat to transformative performances by artists inspired by these experiences
They have, er, launched a Kickstarter to fund the project.
Nasal Passages
Boarding a plane now. So many catagories board first. Fortunately for me, right after military personnel are people with unusually large noses.

— Brent Spiner (@BrentSpiner) June 5, 2019
This Week in Printing, Publishing, and Media History
June 3
1140: The French scholar Peter Abelard is found guilty of heresy.
1889: The first long-distance electric power transmission line in the United States is completed, running 14 miles (23 km) between a generator at Willamette Falls and downtown Portland, Ore.
1929: American game show host and producer Chuck Barris born.
1961: American lawyer, academic, author, and founder of the Creative Commons Lawrence Lessig born.
1965: The launch of Gemini 4, the first multi-day space mission by a NASA crew. Ed White, a crew member, performs the first American spacewalk.
June 4
1783: The Montgolfier brothers publicly demonstrate their montgolfière (hot air balloon).
1876: An express train called the Transcontinental Express arrives in San Francisco, via the First Transcontinental Railroad only 83 hours and 39 minutes after leaving New York City. (Insert your own Amtrak joke here.)
1907: American actress Rosalind Russell born. Russell starred with Cary Grant in His Girl Friday, one of the best—and funniest—newspaper movies ever made.
1917: The first Pulitzer Prizes are awarded. Laura E. Richards, Maude H. Elliott, and Florence Hall win the first Pulitzer for biography (for Julia Ward Howe); Jean Jules Jusserand wins the first Pulitzer for history for his work With Americans of Past and Present Days; and Herbert B. Swope receives the first Pulitzer for journalism for his work for the New York World.
June 5
1851: Harriet Beecher Stowe's anti-slavery serial, Uncle Tom's Cabin, or Life Among the Lowly, starts a 10-month run in the National Eraabolitionist newspaper.
1919: American-Swiss author and illustrator Richard Scarry born.
1947: American singer-songwriter and violinist Laurie Anderson born.
1956: Elvis Presley introduces his new single, "Hound Dog," on The Milton Berle Show, scandalizing the audience with his suggestive hip movements.
June 6
1756: American soldier and painter John Trumbull born.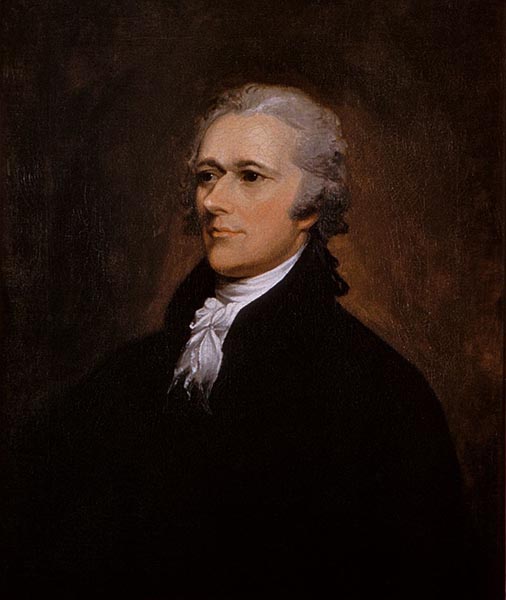 Portrait of Alexander Hamilton by John Trumbull, 1806.
1799: Russian author and poet Alexander Pushkin born.
1875: German author, critic, and Nobel Prize laureate Thomas Mann born.
1892: The Chicago "L" elevated rail system begins operation.
1933: The first drive-in theater opens in Camden, N.J.
1946: American bass player and songwriter Tony Levin born.
June 7
1810: The newspaper Gazeta de Buenos Ayres is first published in Argentina.
1848: French painter and sculptor Paul Gauguin born.
1911: American engineer and designer Brooks Stevens born, most famous for designing the Wienermobile. (As we saw last week, a replica is for sale.)
1955: Lux Radio Theatre signs off the air permanently. The show launched in New York in 1934, and featured radio adaptations of Broadway shows and popular films.
1958: American singer-songwriter, multi-instrumentalist, producer, and actor Prince (né Prince Rogers Nelson) born.
1971: The United States Supreme Court overturns the conviction of Paul Cohen for disturbing the peace, setting the precedent that vulgar writing is protected under the First Amendment to the United States Constitution.
1975: Sony introduces the Betamax videocassette recorder. Alas, the "videotape war" of the late 70s and early 80s would result in VHS becoming the dominant format...for a while.
June 8
1867: American architect Frank Lloyd Wright born.
1887: Herman Hollerith applies for US patent #395,781 for the "Art of Compiling Statistics," which was his punched card calculator.
1912: Carl Laemmle incorporates Universal Pictures.
1949: George Orwell's Nineteen Eighty-Four is published, initially as fiction...for a while
1916: English biologist, biophysicist, neuroscientist, and Nobel Prize laureate Francis Crick is born.
June 9
1523: The Parisian Faculty of Theology fines Simon de Colines for publishing the Biblical commentary Commentarii initiatorii in quatuor Evangelia by Jacques Lefèvre d'Étaples.
1891: American composer and songwriter Cole Porter born.
1930: A Chicago Tribune reporter, Jake Lingle, is killed during rush hour at the Illinois Central train station by Leo Vincent Brothers, allegedly over a $100,000 gambling debt owed to Al Capone.
1934: Donald Duck makes his debut in The Wise Little Hen.
1961: American screenwriter, producer, and playwright Aaron Sorkin born, and walking and talking in no time.
1973: Secretariat wins the U.S. Triple Crown.