Exclusive data from the Smithers Pira study The Future of Spunlace Nonwovens to 2024 shows that in 2019, spunlace will account for 12.1% off all nonwovens consumed. Consumption is projected to be 1.4 million tons or 31.1 billion square meters in 2019, with a global value of $6.19 billion.
Most significantly, spunlace formulations represent the fastest growing of all non-woven material formats. Growth by tonnage is forecast at 7.9% year-on-year to exceed two million tons in 2024. Value will rise at a slightly faster rate to reach $9.15 billion in that year.
Processes and Materials
Smithers's analysis sub-divides this booming market by both production process and base material. Today, the most common type of spunlace is produced using the card-card (CC) process, with a market share of just over three-quarters by tonnage. CC manufacturing produces a structure that combines good strength with good stretch capabilities and soft feel, but they are expensive and not completely biodegradable.
The second most common process of card-pulp-card spunlace is an early spunlace process representing 8.3% of global output in 2019. It is now losing share to CC and wetlaid spunlace (WPS) production, however.
Polyester fiber is the most common raw material for all major spunlace processes and has a 41.1% share of the contemporary market by tonnage. Rayon/lyocell accounts for just over a quarter of the market and is used in the same spunlace variants as polyester.
Wood pulp is the next largest raw material used with a 12.5% market share—even though this material is not used in CC production. The ongoing drive for sustainability in multiple end-use applications—and wipes in particular—means wood and other biodegradable fibers will be increasingly in demand across the next five years.
Market Expansion
Spunlace nonwovens are employed in both disposable and durable non-woven products. In general, disposable spunlace products have seen stronger growth since 2014, as these are mass-market applications, such as baby wipes, and the secondary top sheet of feminine hygiene products. Disposable nonwoven products tend to be more specialized and have higher margins than durable nonwoven products.
Growing demand for these disposable items among an emergent and aspirational middle class in Asia make this the largest regional market for spunlace nonwovens and its largest producer. Asia has 277 identified installed spunlace lines with a capacity of about 1,070,000 tons in 2019. China alone has almost 200 installed lines and nameplate capacity of over 800,000 tons. This will underpin further growth of Asian demand for spunlace products of nearly 350,000 tons through to 2024.
End-Use Trends
Future expansion and profitability in the spunlace segment will be powered by a combination of both evolution in consumer demand, cost dynamics in supply, and innovation in technology. Smithers expert analysis identifies the following leading market trends:
Hygiene is a relatively new market for spunlace. The main applications are in stretch ears for diapers/nappies and the secondary top sheet for feminine hygiene products. Its penetration has been restrained by production and cost considerations compared to spunlaid manufacturing.
Sustainability is growing in importance for disposable items. The European Union agreed to its Directive on Single-Use Plastics in December 2018. Sanitary napkins are one hygiene product on its initial target list. Hygiene product producers are also keen for more sustainable products that they can sell to consumers concerned about the environment, although price will continue to be an equally important factor to 2024.
There is an impetus for material suppliers to identify more sustainable, lower-price fibers and polymers to use in spunlace nonwovens. Equipment suppliers must reduce their capital expenditure by supplying lines that are optimal for lower basis weight hygiene products. Spunlace producers must also develop products that use these new raw materials and improved processes to make lower-cost, softer, sustainable hygiene products.
The first major market for spunlace was in medical applications—surgical drapes, downs, CSR wrap, and wound dressings. Many of these end uses have now been taken over by spunlaid nonwovens, however.
Spunlace is unlikely to match the cost profile of spunlaid nonwovens in this end use; thus the challenge is to identify those medical applications where performance and sustainability considerations transcend those of cost. To increase spunlace use in medical products, raw material suppliers must identify and supply low-cost, sustainable raw materials that are absorbent and offer structures with higher strength and stretch than current spunlace products.
The largest end-use for spunlace nonwovens is wipes, which account for 63.0% of all spunlace consumption in 2019, with nearly half of these being used in baby wipes.
Nonwovens used in baby wipes are mainly spunlace due their strength and softness considerations, even though they are expensive and not completely biodegradable.
Three recent innovations in baby wipes globally include "sensitive" products marketed as having no fragrance, no alcohol, hypoallergenic, with mild, natural lotions; regenerated cotton wipes that take advantage of a low-cost (recycled) cotton raw material; and products made of lyocell, a consumer-recognized sustainable raw material.
The next fiber innovation in baby wipes may be nonwovens made from bio-based polymers. Producers are trialing a spunlace made from polylactic acid (PLA) and negotiating better and more consistent pricing for PLA fiber.
The recent boom in demand for wipes has created an oversupply of high-performance, lower-cost dispersible spunlace nonwovens for flushable wipes—a market once limited by the availability of viable dispersible nonwoven substrates. At least nine new nonwovens production lines entered service between 2013 and 2019 using new technologies for the flushable nonwovens wipes market.
Consequently, flushable wipe producers are looking to new flushable wipe markets. The principle technical target is to evolve contemporary technology to improve dispersibility and increase flushability. If a product can be designed with equivalent flushability to toilet tissue, then potential issues with both the wastewater industry and government regulatory agencies will be avoided.
Spunlace nonwovens consumption by end use, 2019 (tons)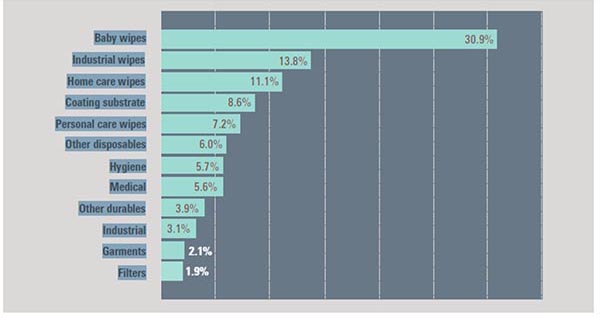 The implications of these trends on future production and profitability is analyzed in detail the Smithers Study The Future of Spunlace Nonwovens to 2024 and quantified in over 120 data tables and figures. The report is available to buy now on the Smithers Pira website.