Garment-to-Garment Recycling
A partnership between the Hong Kong Research Institute of Textiles and Apparel (HKRITA), the H&M Foundation, and Novetex Textiles Limited has resulted in the world's first in-store and industrial garment-to-garment recycling facilities.
Pop Goes the Weasel
Sometimes you see a headline and click on it knowing full well that it will bear no resemblance to the actual story. And then sometimes you are surprised to learn that it was a perfectly accurate and descriptive headline. Armed with that intro, we give you, from Boing Boing, this headline: "The sex weasels of classical portraiture."
In Renaissance art, the weasel was a common fertility symbol—although it bears mentioning that artists back then tended to have a fairly loose definition of "weasel," considering many different kinds of mammals from the Mustelidaefamily as weasels. Think of your ermines, your sables, your ferrets, and your minks. "Weasels" were also depicted in paintings of pregnant women to symbolize the hope for a successful childbirth, were symbols of purity, and also as phallic symbols. Who'd have thought the lowly weasel would be freighted with such meaning?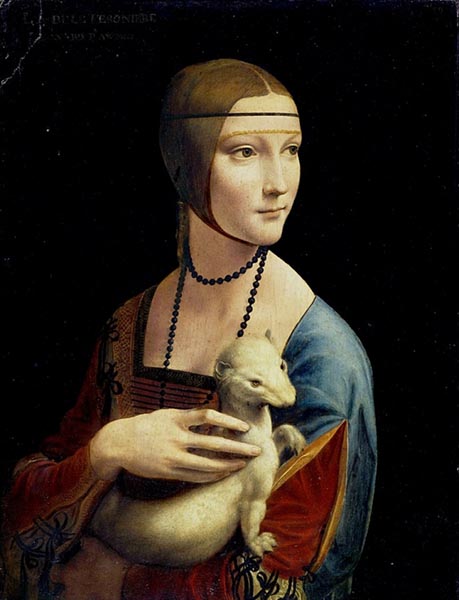 "Lady with an Ermine" (circa 1490) by Leonardo da Vinci. Collection of Czartoryski Museum, Krakow.
Check out the Museum of Ridiculously Interesting Thingsfor more.
Knit Wits
Here's another headline that lived up to its verbiage, this time from the New York Times: "'Knitting Is Coding' and Yarn Is Programmable in This Physics Lab."
Some of the oldest examples date to the 11th century in Egypt. But despite generations of practical and experiential knowledge, the physical and mathematical properties of knitted fabric rarely are studied in a way that produces predictive models about how such fabrics behave.
Dr. Matsumoto argues that "knitting is coding" and that yarn is a programmable material. The potential dividends of her research range from wearable electronics to tissue scaffolding.
Hopefully Not the Poop One
Hershey's chocolate bars will soon have emojis on them ??‍????‍?? https://t.co/foEyWtiNVI pic.twitter.com/Y7zNHUUWKv

— Nerdist (@nerdist) May 23, 2019
Can't Stop the Ads
Think of it as "never say die" signage: Via Gizmodo, a report about a Times Square electronic billboard that, last weekend, burst into flames. Even as it rained debris onto the street below, the billboard continued to doggedly display the ads it was programmed to display—for data collection (a perfect metaphor for our age, perhaps) and Skyy vodka. We'll drink to that.
Billboard fire in Times Square this afternoon. (??: @CandaceMcCowan7) pic.twitter.com/qVQk8Qsj7o

— Ryan Field (@RyanFieldABC) May 18, 2019
Potty Time
Comcast is reportedly developing a smart speaker that would track your bathroom habits https://t.co/XymUo6AgSB pic.twitter.com/mzdBtwKLUB

— The Verge (@verge) May 22, 2019
"You will go sometime between 9 a.m. and 5 p.m."
Fan-Tastic Apparel
Fanatics is a sports apparel manufacturer that has embraced the microfactory-based approach to fast fashion, and has, per Axios, become something like the Amazon of sports apparel.
Similar to fast-fashion retailers like H&M, Fanatics controls the entire value chain (manufacturing, point-of-sale, distribution, etc.), making the company incredibly nimble. It also has licensing deals with all four major sports leagues, MLS, NASCAR, the PGA and over 500 colleges that give it the exclusive right to print jerseys made for order.
...
Result: There's no need to stockpile inventory, zero chance Fanatics runs out of stock and, most importantly, the company is always prepared for unexpected surges in demand. When Odell Beckham Jr. was traded to the Cleveland Browns, for instance, Fanatics was ready to ship jerseys within seconds.
...
Prime example: After the Washington Capitals won last year's Stanley Cup, Fanatics produced the gear the team wore as they celebrated, stocked the store in the Capitals' arena, stocked the NHL's official online store and ran its own retail sites. Again, this is happening in every major sport.
Last year, our Cary Sherburne interviewed Fanatics' VP of Disruptive Technology.
Design for Democracy
Some of us here in the WhatTheyThink Around the Web research bunker have long been big fans of the TV show The West Wing (as well as the rest of the Aaron Sorkin oeuvre). A few years ago, a podcast was launched, called The West Wing Weekly, that provided an episode-by-episode rewatch of the series hosted by mega-fan Hrishikesh Hirway (who is also creator and former host of the brilliant, award-winning podcast Song Exploder) and West Wing series regular Joshua Malina (Will Bailey). The podcast is currently heading toward the end of season 6 of the show, and the podcast has evolved into not just a discussion of a TV program about a fictional Administration (with guests that include West Wing writers, actors, directors, and even series creator Aaron Sorkin himself), but as a podcast that takes a deeper dive into some of the real-world issues that the show brought up and which are still relevant today, with incisive interviews with policy experts and others actively involved in those issues.
This week's episode of the podcast looks at the graphic design of Presidential campaigns, with guests Michael Bierut of Pentagram who designed Hillary Clinton's "H" logo, and Leslie Wah, who was the staff designer on The West Wing and designed all the campaign graphics and logos for the show's Presidential candidates during the sixth and seventh seasons. The discussion is a fascinating look at the evolution of campaign graphics and typography and is worth checking out even if you have never watched The West Wing.
Radioactive
Any steel used in Geiger counters must be from before 1945 so that it isn't contaminated with radiation from nuclear weapons. One of the primary sources for such steel is sunken ships from World War 2.

— Quite Interesting (@qikipedia) May 17, 2019
Quick Response Codes
Over the years, there have been many different uses for Quick Response (QR) codes, but there is one that may be the most potentially useful application of scannable barcodes: protecting dementia patients. From the BBC:
in Japan, people like Mrs Itou are using new practical solutions to deal with memory loss and the need for a constant vigil.
The QR codes pattern are attached to badges and can be read by a smartphone.
The local government provides people with dementia and their carers, with badges they can wear. They display a QR code - a square image similar to a barcode - which can be read by anyone with a smart-phone.
The badges have helped Mrs Itou get home the last two times she went missing.
One of the inventors of the badges, Haruo Hidaka had the idea after watching the grandmother who raised him suffer with dementia.
He believed in the idea so much that his team developed a prototype that he personally went to sell in 630 towns and cities across Japan.
The idea was a success and the company he worked for has been bought by the Japanese pharmaceutical company Toho Holdings.
Make Big Monet at Home
Ever dreamed of hitting it big in the art world? Ever fantasized about buying a "starving artist" painting and hoping it will someday be worth millions?
Well, there's not going to be a rush on Holiday Inn room décor any time soon. Via Barry Ritholtz (who sounds uncannily like our Dr. Joe Webb at one point), commenting on a recent sale of a Monet painting at auction for $110.7 million and a Jeff Koons sculpture for $91 million:
Before you look at these gains and assume that investing in art seems like a sure thing, some cautionary words are in order. The problem with this is that investors tend to notice the big winners, while ignoring the works of art (or other assets) that fail to appreciate in value. Statistically, the vast majority of investments have returns that are nothing like this; some even lose value.
This tendency to give too much weight to the big winners while excluding the losers — otherwise known as survivorship bias — has a long and storied history in investing. Mutual funds were the first great example of this: Funds tend to regularly close down and disappear due to poor performance. The Vanguard Group and Dimensional Funds Advisors each separately found that about half of funds close within 15 years. When the losers get killed off, it makes the average performance of the survivors look that much better.
...
Author and investment adviser William J. Bernstein points out that much of the appreciation in art and other collectibles is really just a lesson in the magic of compounding. One painting by one of the Old Masters bought from the artist for the equivalent of $100 and sold 350 years later for hundreds of millions of dollars returned just 3.3 percent annually, he calculated. "If you save and you have even a modest rate of return over hundreds of years, then you'll have a fabulous amount of money" he said on our Masters in Business podcast.
Selecting appreciated investments after the fact is easy. Instead, consider this challenge: What work of art are you willing to buy and hold for sale in 2052? That question reveals just how difficult investing in collectible assets really is.
The Tragedy of AirPods
Vice's Future Relics column is not impressed with AirPods:
For roughly 18 months, AirPods play music, or podcasts, or make phone calls. Then the lithium-ion batteries will stop holding much of a charge, and the AirPods will slowly become unusable. They can't be repaired because they're glued together. They can't be thrown out, or else the lithium-ion battery may start a fire in the garbage compactor. They can't be easily recycled, because there's no safe way to separate the lithium-ion battery from the plastic shell. Instead, the AirPods sit in your drawer forever.
It now seems that they have become a Millennial status symbol, for some reason.
This Week in Printing, Publishing, and Media History
May 20
1570: Cartographer Abraham Ortelius issues Theatrum Orbis Terrarum, the first modern atlas.
1609: Shakespeare's sonnets are first published in London, perhaps illicitly, by the publisher Thomas Thorpe.
1799: French novelist and playwright Honoré de Balzac born.
1806: English economist, civil servant, and philosopher John Stuart Mill born.
1851: German-American inventor, and inventor of the Gramophone record, Emile Berliner born.
1873: Levi Strauss and Jacob Davis receive a U.S. patent for blue jeans with copper rivets.
1891: The first public display of Thomas Edison's prototype kinetoscope.
1908: American actor James Stewart born.
1983: First publications of the discovery of the HIV virus that causes AIDS in the journal Science by Luc Montagnier.
1985: Radio Martí, part of the Voice of America service, begins broadcasting to Cuba.
May 21
1471: German painter, engraver, and mathematician Albrecht Dürer born.
1688: English poet, essayist, and translator Alexander Pope born.
1703: Daniel Defoe is imprisoned on charges of seditious libel.
1927: Charles Lindbergh touches down at Le Bourget Field in Paris, completing the world's first solo nonstop flight across the Atlantic Ocean.
1932: Bad weather forces Amelia Earhart to land in a pasture in Derry, Northern Ireland, and she thereby becomes the first woman to fly solo across the Atlantic Ocean.
1981: Transamerica Corporation agrees to sell United Artists to Metro-Goldwyn-Mayer for $380 million after the box office failure of the 1980 film Heaven's Gate.
1992: After 30 seasons Johnny Carson hosted his penultimate episode and last featuring guests (Robin Williams and Bette Midler) of The Tonight Show.
May 22
1783: English physicist and inventor (the electromagnet and electric motor) William Sturgeon born.
1804: The Lewis and Clark Expedition officially begins as the Corps of Discovery departs from St. Charles, Mo.
1813: German composer Richard Wagner born.
1859: British writer Arthur Conan Doyle born.
1900: The Associated Press is formed in New York City as a non-profit news cooperative.
1906: The Wright brothers are granted U.S. patent number 821,393 for their "Flying-Machine."
1907: English actor, director, and producer Laurence Olivier born.
1927: American novelist, short story writer, editor, and co-founder of The Paris Review Peter Matthiessen born.
May 23
1829: Accordion patent granted to Cyrill Demian in Vienna, Austrian Empire.
1911: The New York Public Library is dedicated.
1934: Electronic engineer and inventor of the Moog synthesizer Robert Moog born.
1995: The first version of the Java programming language is released.
May 24
1595: Nomenclator of Leiden University Library appears, the first printed catalog of an institutional library.
1683: The Ashmolean Museum in Oxford, England, opens as the world's first university museum.
1686: Polish-German physicist, engineer, and developer of the Fahrenheit scale Daniel Gabriel Fahrenheit born.
1830: "Mary Had a Little Lamb" by Sarah Josepha Hale is published.
1844: Samuel Morse sends the message "What hath God wrought" (a biblical quotation, Numbers 23:23) from a committee room in the United States Capitol to his assistant, Alfred Vail, in Baltimore, Md,, to inaugurate a commercial telegraph line between Baltimore and Washington D.C.
1895: American publisher and founder of Advance Publications Samuel Irving Newhouse Sr. born.
1941: American singer-songwriter, guitarist, artist, writer, producer, and Nobel Prize laureate Bob Dylan born.
1956: The first Eurovision Song Contest is held in Lugano, Switzerland.
1958: United Press International is formed through a merger of the United Press and the International News Service.
1963: American novelist, short story writer, and screenwriter Michael Chabon born.
May 25
1803: American poet and philosopher Ralph Waldo Emerson born.
1878: Gilbert and Sullivan's comic opera H.M.S. Pinafore opens at the Opera Comique in London.
1895: Playwright, poet, novelist and aesthete Oscar Wilde is convicted of "committing acts of gross indecency with other male persons" and sentenced to serve two years in prison.
1898: American publisher, television game show panelist, and co-founder of Random House Bennett Cerf born.
1927: American soldier and author Robert Ludlum born.
1938: American short story writer and poet Raymond Carver born.
1953: The first public television station in the United States officially begins broadcasting as KUHT from the campus of the University of Houston.
1958: English singer, songwriter and musician Paul Weller born.
1977: May the 25th be with you: Star Wars is released in theaters.
2019: Towel Day 2019, annual celebration of the life and work of Douglas Adams and The Hitchhiker's Guide to the Galaxy.
May 26
1897: Dracula, a novel by Irish author Bram Stoker, is published.
1897: The original manuscript of William Bradford's history, "Of Plymouth Plantation" is returned to the Governor of Massachusetts by the Bishop of London after being taken during the American Revolutionary War.
1904: English singer-songwriter and actor George Formby born.
1926: American trumpet player, composer, and bandleader Miles Davis born.
1967: It was 2052 years ago today: The Beatles' Sgt. Pepper's Lonely Hearts Club Band is released.