What Did I Just Buy?
Receipts. We all get them—even if we don't want them and even, if like CVS, they are James Michener-length. Sometimes we need them for reimbursement reasons, sometimes for tax reasons, but they're not really useful in and of themselves. In other words, aside from an amount, they don't really contain too much useful information.
Which was a problem that Susie Lu, a senior data visualization engineer at Netflix, sought to fix. What if a store receipt showed the consumer visually what they actually spent their money on? It would be edifying and answer the question most of have after coming out of a Target, "Jeez, what did I just drop 70 bucks on?" Says Fast Company:
So she acquired a low-resolution thermal printer, the kind used at most stores, and started the process of coding and designing something better. What she created–using a grocery receipt of her own as reference–was a better receipt, with three distinct elements. On top, it features a bubble chart where spending is itemized by category. In her case, "meat & seafood" is a big bubble, representing about a third of her spending, and "snacks" is a tiny bubble, representing only 10%.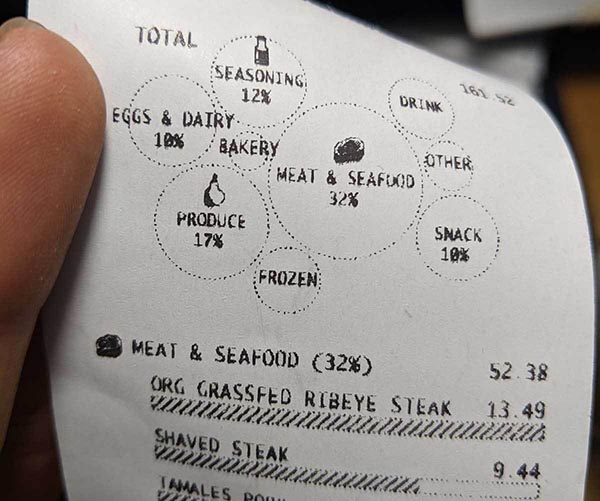 CVS should try this; it would make the best use of all that real estate.
Everywhere a Sign
We are celebrating ISA's 75th anniversary all year long. ISA's new "Changing Face of Signs" video is a look back at events and technologies that shaped the industry to what it is today. Take a look! https://t.co/z95MJsPHoC #75yearsandcounting pic.twitter.com/OxfdJqFyWS

— Lori Anderson (@ISAPrez) May 14, 2019
Library of the Lost
A 500-year-old manuscript was recently unearthed in a Copenhagen museum that, it turns out, was a vast library catalog of books that have been lost to time. Says The Guardian:
The Libro de los Epítomes manuscript, which is more than a foot thick, contains more than 2,000 pages and summaries from the library of Hernando Colón, the illegitimate son of Christopher Columbus who made it his life's work to create the biggest library the world had ever known in the early part of the 16th century. Running to around 15,000 volumes, the library was put together during Colón's extensive travels. Today, only around a quarter of the books in the collection survive and have been housed in Seville Cathedral since 1552.
The discovery in the Arnamagnæan Collection in Copenhagen is "extraordinary", and a window into a "lost world of 16th-century books", said Cambridge academic Dr Edward Wilson-Lee, author of the recent biography of Colón, The Catalogue of Shipwrecked Books.
"It's a discovery of immense importance, not only because it contains so much information about how people read 500 years ago, but also, because it contains summaries of books that no longer exist, lost in every other form than these summaries," said Wilson-Lee.
He He
OK, it may be no laughing matter, especially if you are Party City, which sells helium balloons, but the world is actually running low on helium. That's a bit ironic, considering that helium is the second most abundant element in the universe, but unless we can run a pipeline from the sun ("where hydrogen is built into helium at a temperature of millions of degrees," as the song goes), that doesn't really help all that much. From CNN:
;The Earth holds pockets of helium buried under rock, but it's notoriously hard to capture because it, well, floats. When drilling or fracking for natural gas, energy companies capture some helium and sell it. But helium makes up a tiny percentage of the gasses trapped under rock formations.
Over the past few years, some drillers have claimed to find troves of helium buried underground, but those haven't always panned out. Party City said it really started feeling the pinch in August 2018.
There are other helium suppliers, but they may also feel the pinch. And there is also the possibility that as helium gets scarcer, it will get pricier. And while hydrogen might make for a useful substitute, there were some folks in Lakehurst, N.J., who could tell you a thing or two about hydrogen.
Ah, So That's Where It Went
Leaked NASA photo of the Sun being taking away for maintenance. pic.twitter.com/Eko2WfLYhU

— Antonio Paris (@AntonioParis) May 13, 2019
Bad Air Day
We've all been holed up in seemingly airless conference rooms, and experienced the loss of productivity and general discomfort. But, says new research, "bad air" in stuffy conference rooms may actually adversely affect the decisions people make. Says the New York Times:
At least eight studies in the last seven years have looked at what happens specifically in a room accumulating carbon dioxide, a main ingredient in our exhalations. While the results are inconsistent, they are also intriguing.
They suggest that while the kinds of air pollution known to cause cancer and asthma remain much more pressing as public health concerns, there may also be pollutants whose most detrimental effects are on the mind, rather than the body.
High levels of carbon dioxide—which can accumulate indoors thanks to better sealed and insulated buildings (in the name of energy efficiency)—have been found to adversely affect brain function and cognitive ability. Combine that with the various chemical substances exuded by carpeting and office furniture (and if someone reheated fish in an office microwave) and it could very well be a toxic brew, at least when it comes to making rational decisions.
That could explain rather a lot, couldn't it?
Beside Himself
There was only ever one Faber (Geoffrey) in the publishing firm Faber & Faber – he added the second to make it sound more respectable. pic.twitter.com/5epDovKCSV

— Quite Interesting (@qikipedia) May 10, 2019
Listen Ear
Think you child (or yourself) may have an ear infection, but don't want to go to the hassle and potential expense of seeing a doctor? There may soon be an app. According to Gizmodo, scientists are working on a mobile app that "uses a smartphone and folded up paper to detect one of the telltale signs of infection—fluid in the ears—with about the same or greater accuracy as a doctor."
Green Light
If you really want to go green, someday you may be able to swap out your electric lighting with plant-based lighting. We kid you not. From MIT News:
Imagine that instead of switching on a lamp when it gets dark, you could read by the light of a glowing plant on your desk.
MIT engineers have taken a critical first step toward making that vision a reality. By embedding specialized nanoparticles into the leaves of a watercress plant, they induced the plants to give off dim light for nearly four hours. They believe that, with further optimization, such plants will one day be bright enough to illuminate a workspace.
It would also be helpful if you ever need to eat a salad in the dark.
Disc Drive
Even some of us who are fully immersed in the online world, cloud computing, Google Docs, Slack, etc., still prefer to listen to an old-fashioned compact disc. Says Ben Sisario, a reporter who covers the music industry: "To be honest, my preferred way to listen to music is on CD, as unfashionable as that might be. You push a button, the music plays, and then it's over — no ads, no privacy terrors, no algorithms!"
You Might Want to Rethink that Headline...
May 15, 2019
This Week in Printing, Publishing, and Media History
May 13
1842: English composer Arthur Sullivan born.
1907: English novelist and playwright Daphne du Maurier born.
1937: American author and poet Roger Zelazny born.
1944: American author, screenwriter, and actor Armistead Maupin born.
1954: The original Broadway production of The Pajama Game opens and runs for another 1,063 performances. It will later receive three Tony Awards for Best Musical, Best Performance by a Featured Actress in a Musical, and Best Choreography.
May 14
1925: Virginia Woolf's novel Mrs Dallowayis published.
1944: George Lucas born. (May the 14th be with you....)
1952: Singer-songwriter, producer, and actor David Byrne born.
May 15
1856: American novelist L. Frank Baum born.
1858: The present Royal Opera House in Covent Garden, London, opens.
1905: Las Vegas is founded when 110 acres, in what later would become downtown, are auctioned off.
1905: American businessman, amateur photographer, and creator of the "Zapruder film" Abraham Zapruder born. (Funny, he never made another movie after that.)
1928: Walt Disney character Mickey Mouse premieres in his first cartoon, "Plane Crazy."
1948: English singer-songwriter, keyboard player, and producer Brian Eno born.
May 16
1866: The United States Congress establishes the nickel.
1888: Nikola Tesla delivers a lecture describing the equipment which will allow efficient generation and use of alternating currents to transmit electric power over long distances.
1891: The International Electrotechnical Exhibition opens in Frankfurt, Germany, and will feature the world's first long distance transmission of high-power, three-phase electric current (the most common form today).
1929: In Hollywood, the first Academy Awards ceremony takes place.
1946: English guitarist, songwriter and producer Robert Fripp born.
1960: Theodore Maiman operates the first optical laser (a ruby laser), at Hughes Research Laboratories in Malibu, Calif.
May 17
1792: The New York Stock Exchange is formed under the Buttonwood Agreement.
1875: Aristides wins the first Kentucky Derby.
1900: L. Frank Baum's The Wonderful Wizard of Oz is first published in the United States.
1902: Greek archaeologist Valerios Stais discovers the Antikythera mechanism, an ancient mechanical analog computer.
1949: English drummer, songwriter, and producer Bill Bruford born.
1977: Nolan Bushnell opens the first Chuck E. Cheese's in San Jose, Calif.
1983: The U.S. Department of Energy declassifies documents showing world's largest mercury pollution event in Oak Ridge, Tennessee (ultimately found to be 4.2 million pounds), in response to the Appalachian Observer's Freedom of Information Act request.
May 18
1048: Persian mathematician, astronomer, and poet Omar Khayyám born.
1593: Playwright Thomas Kyd's accusations of heresy lead to an arrest warrant for Christopher Marlowe.
1822: American photographer and journalist Mathew Brady born.
1872: British mathematician, historian, philosopher, and Nobel Prize laureate Bertrand Russell born.
1912: The first Indian film, Shree Pundalik by Dadasaheb Torne, is released in Mumbai.
1931: American cartoonist Don Martin born. (Splork!)
1949: English progressive rock keyboardist and songwriter Rick Wakeman born.
May 19
1743: Jean-Pierre Christin developed the centigrade temperature scale.
1941: American director, producer, and screenwriter Nora Ephron born.
1963: The New York Post Sunday Magazine publishes Martin Luther King Jr.'s Letter from Birmingham Jail.