The History of Writing in 12 Objects
If you find yourself in London, you'll want to check out the British Library's new exhibition Writing: Making Your Mark, a history of writing from Mesopotamian clay tablets all the way up to, well, today's computer tablets. Check out 12 highlights of the show over at the BBC. Our own highlight: the Diamond Sutra, the oldest known printed book, found in a cave in China and dating from AD 868.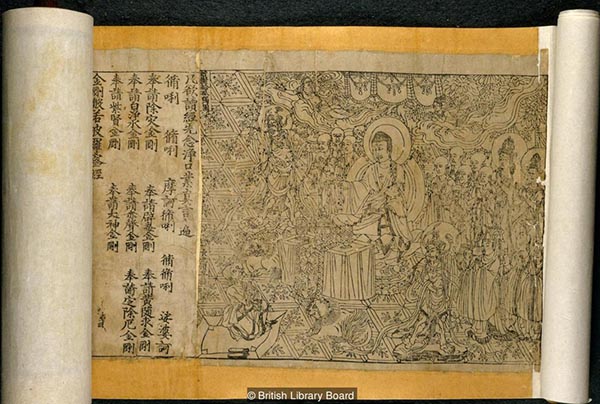 68% of People Agree with This
Word of the day: QUANTOPHRENIA - the undue reliance on statistics to prove a point.

— Quite Interesting (@qikipedia) April 30, 2019
Perfect for Hoopy Froods
As per Douglas Adams, "There's a real frood who knows where his towel is." But how often do you wash your towels? How do you even know when they need washing? Washing items too often causes wear, uses water unnecessarily, and has other environmental impacts. Not washing them enough...well, that could cause all kinds of things, few of them pleasant. Mizu towels solve that by telling you when they need washing via color-changing strips. Perfect for hitchhiking across the galaxy.
The Money Machine
This guy can't carry a wallet like a normal person?
Alien: The Encore
Some weeks back, we mentioned a high school in New Jersey that had staged a production of Alien. Well, it turns out that the movie's star—Sigourney Weaver—got wind of it and attended a performance. Says Gizmodo:
Weaver also met the students, and spoke to the audience, reportedly saying, "How exciting is it to be here tonight? I've only been here a couple of hours, but I can tell this is a very special place in a very special town, and in a school like this you have extraordinary teachers…I met the students and I want to say they are so great.
In the Pink
An artist, Stuart Semple, has created the pinkest pink ever! ????#QI | @BBCTwo | 10pm | https://t.co/MdbLp6k3Hp pic.twitter.com/NO3tAoF0FF

— BBC Two (@BBCTwo) May 1, 2019
Time Out
The Dave Brubeck Quartet's "Take Five" is perhaps one of the most recognizable pieces of music period, let alone of jazz (it's the biggest selling jazz single of all time). There is perhaps a good reason why it has been licensed by so many TV shows, movies, commercials, and so on. We discovered this week, via an excellent weekly podcast devoted to the TV show The West Wing(cleverly called The West Wing Weekly), that Paul Desmond, the composer of "Take Five," in his will directed royalties from "Take Five" to be donated to the American Red Cross. "Desmond's contributions to the Red Cross, largely by way of 'Take Five's" royalties, are now 'well north of six million dollars.'" Pretty neat.
Email Mail
Mail A Letter makes it easy for you to write real letters online. You provide the letter and a mailing address and we do the rest! By the next business day, we will print your letter, address the envelope, affix postage, and post your letter.
To Dye For
Kelly Fernandez, head gardener of the Herb and Shakespeare gardens at The Huntington, and her team of docent volunteers are always on the lookout for plant materials that make a good natural dye. They have used the common weed oxalis to dye yarn a bright, neon yellow. They have made dark red dyes from madder root and vivid blues from indigo.
Recently, they became interested in making iron gall ink, the dark, indelible ink made from oak galls and used for centuries to create manuscripts, including many of those in The Huntington's library collections. "We started looking into gall ink and just got really fascinated with it," Fernandez said. "The more we dug in, the more we found."
That'll Happen
In 2011 a 75-year-old woman accidentally broke a fibre optic cable with a spade and cut off Armenia's internet.

— Quite Interesting (@qikipedia) April 29, 2019
This Week in Printing, Publishing, and Media History
April 29
1863: American publisher and politician William Randolph Hearst born.
1953: The first U.S. experimental 3D television broadcast showed an episode of Space Patrol on Los Angeles ABC affiliate KECA-TV.
1968: The musical Hair opens at the Biltmore Theatre on Broadway.
1986: A fire at the Central library of the City of Los Angeles Public Library damages or destroys 400,000 books and other items.
1996: The off-Broadway musical Rent opens on Broadway at the Nederlander Theatre. No day but today.
April 30
1897: J. J. Thomson of the Cavendish Laboratory announces his discovery of the electron as a subatomic particle, over 1,800 times smaller than a proton, at a lecture at the Royal Institution in London.
1927: Douglas Fairbanks and Mary Pickford become the first celebrities to leave their footprints in concrete at Grauman's Chinese Theater in Hollywood.
1938: The animated cartoon short Porky's Hare Hunt debuts in movie theaters, introducing Happy Rabbit, an early version of Bugs Bunny.
1939: NBC inaugurates its regularly scheduled television service in New York City, broadcasting President Franklin D. Roosevelt's N.Y. World's Fair opening day ceremonial address.
1993: CERN announces World Wide Web protocols will be free.
May 1
1753: Publication of Species Plantarum by Linnaeus, and the formal start date of plant taxonomy adopted by the International Code of Botanical Nomenclature.
1786: In Vienna, Austria, Mozart's opera The Marriage of Figaro is performed for the first time.
1840: The Penny Black, the first official adhesive postage stamp, is issued in the United Kingdom.
1971: Frank Romano's national holiday—Amtrak (the National Railroad Passenger Corporation) takes over operation of U.S. passenger rail service.
1999: SpongeBob SquarePants premieres on Nickelodeon after the 1999 Kids' Choice Awards.
2002: Dr. Joe Webb's national holiday—OpenOffice.org releases version 1.0, the first stable version of the software.
May 2
1611: The King James Version of the Bible is published for the first time in London, England, by printer Robert Barker.
1885: American actress and gossip columnist Hedda Hopper born.
1895: American playwright and lyricist Lorenz Hart born.
1952: The world's first ever jet airliner, the De Havilland Comet 1 makes its maiden flight, from London to Johannesburg. (Certain airlines are still using it...)
1955: Tennessee Williams wins the Pulitzer Prize for Drama for Cat on a Hot Tin Roof.
2000: Rand McNally's national nightmare—President Bill Clinton announces that accurate GPS access would no longer be restricted to the United States military.
2012: A pastel version of The Scream, by Norwegian painter Edvard Munch, sells for $120 million in a New York City auction, setting a new world record for a work of art at auction.
May 3
1469: Italian historian and philosopher Niccolò Machiavelli born.
1913: Raja Harishchandra, the first full-length Indian feature film is released, marking the beginning of the Indian film industry.
1935: American businessman and founder of the Ronco Company Ron Popeil born. But wait! There's more!
1952: The Kentucky Derby is televised nationally for the first time, on the CBS network.
1957: Walter O'Malley, the owner of the Brooklyn Dodgers, agrees to move the team from Brooklyn to Los Angeles.
1958: Danish-English comedian, author, and radio host Sandi Toksvig born.
1959: English actor, director, and screenwriter Ben Elton born.
1960: The Off-Broadway musical comedy The Fantasticks opens in New York City's Greenwich Village, eventually becoming the longest-running musical of all time.
1965: Welsh actor and comedian Rob Brydon born.
1973: The 108-story Sears Tower (now officially the Willis Tower) in Chicago is topped out at 1,451 feet as the world's tallest building.
1978: The first unsolicited bulk commercial email (which would later become known as "spam") is sent by a Digital Equipment Corporation marketing representative to every ARPANET address on the west coast of the United States.
May 4
1939: Israeli journalist and author Amos Oz born.
1953: Ernest Hemingway wins the Pulitzer Prize for The Old Man and the Sea.
1959: The 1st Grammy Awards are held.
1972: The Don't Make A Wave Committee, a fledgling environmental organization founded in Canada in 1971, officially changes its name to "Greenpeace Foundation."
May 5
1809: Mary Kies becomes the first woman awarded a U.S. patent, for a technique of weaving straw with silk and thread.
1813: Danish philosopher and author Søren Kierkegaard born.
1835: The first railway in continental Europe opens between Brussels and Mechelen.
1864: American journalist and author Nellie Bly born.
1866: Memorial Day first celebrated in United States at Waterloo, N.Y.
1891: The Music Hall in New York City (later known as Carnegie Hall) has its grand opening and first public performance, with Tchaikovsky as the guest conductor.
1905: The trial in the Stratton Brothers case begins in London, England; it marks the first time that fingerprint evidence is used to gain a conviction for murder.
1912: Pravda, the "voice" of the Communist Party of the Soviet Union, begins publication in Saint Petersburg.
1927: Semicolon lovers' national holiday—To the Lighthouse by Virginia Woolf is first published.
1943: English actor and screenwriter Michael Palin born.
1959: English singer-songwriter and guitarist Ian McCulloch born.