Apparel and Footwear Brands Mix Up Reality
Mixed reality—a combination of 3D imaging and virtual reality—via InContext's ShopperMX moves into customized offerings for apparel and footwear retailers and brands. While these mixed reality approaches will help brands and retailers get products to market faster and stay in tune with changing consumer behaviors and preferences, the really exciting part will be when mixed reality becomes a part of the shopping experience. Millennial fashion designer Rebecca Minkoff is taking a leading role here.
Knitting Doesn't Get More Extreme...
Sounds like an interesting press junket for our Textiles doyenne.
The first Heavy Metal Knitting World Championships will launch this July in Joensuu, Finland.https://t.co/sMCErR29cb

— Quite Interesting (@qikipedia) April 15, 2019
Jeans Therapy
What's Your Fave Jeans Brand? One of the most important things about jeans is fit... Here is some advice for brands and manufacturers on getting fit right.
Did It for the Kicks
The only ones who go through shoes faster than children are runners (and other athletes), and even if you're not the Imelda Marcos of sports, it's easy to accumulate quite a collection of worn-out sneakers that either get dumped into a landfill or, if you are loath to throw things out, tossed into an increasingly-cluttered closet. What if running shoes could be resoled the way dress shoes (apparently) can?
Enter Adidas and its FutureCraft design studio, which has created "the Loop." It's not a true solution just yet, but is taking some important first steps (as it were) into reducing waste from shoe manufacturing. Says Gizmodo:
The Loop got its name because instead of being part of a dead-end pattern the sees million of sneakers get thrown away every year, Adidas has created a 100 percent recyclable sneaker, that can then be, worn, processed, shredded, and then reborn again as a brand new shoe, over and over again.
It's kind of the Groundhog Day of sneakers.
Another important thing to note about Adidas' grand plan, is that unlike other recyclable products that get down-cycled and turned into plastic bottles or used to make children's playground, the Loop is intended to be up-cycled, meaning materials from the Loop will be reused to make future pairs of shoes and not other products.
However, to get athletes to bite, it's going to have to be all about performance.
Also, for anyone worried about a Zion Williamson-style blowout while exercising, FutureCraft senior director Graham Williamson told me that while the Loop is designed to be more sustainable and environmentally friendly than a traditional shoe, it's also a piece of high-quality workout gear. That's why FutureCraft chose to make the Loop a running shoe in the first place: The team knew that once it could create single-material running shoe that could match the performance of its traditional sneakers, more casual shoe styles would be a cinch.
The runners on the WhatTheyThink team are intrigued.
Have a Heart...We Insist
One of the killer apps for 3D printing is medical devices and even organs and other body parts. Now, for the first time, scientists have 3D-printed a human heart, with blood vessels, ventricles, and everything.
It marked "the first time anyone anywhere has successfully engineered and printed an entire heart replete with cells, blood vessels, ventricles and chambers," said Tal Dvir, who led the project.
"People have managed to 3D-print the structure of a heart in the past, but not with cells or with blood vessels," he said.
But the scientists said many challenges remain before fully working 3D printed hearts will be available for transplant into patients.
Journalists were shown a 3D print of a heart about the size of a cherry at Tel Aviv University on Monday as the researchers announced their findings, published in the peer-reviewed journal Advanced Science.
As the Grinch could tell you, that's too small for a proper heart.
Researchers must now teach the printed hearts "to behave" like real ones.
Of course, there are some natural hearts that have the same problem.
What Could Possibly Go Wrong?
It is our duty to inform you that Facebook is apparently developing its own voice assistant. Consider yourselves warned.
Pressing Matters
Frank Romano's birthday is coming up, and what would make a better gift than a Lego printing press (assuming he doesn't have one already)? It even works (after a fashion...).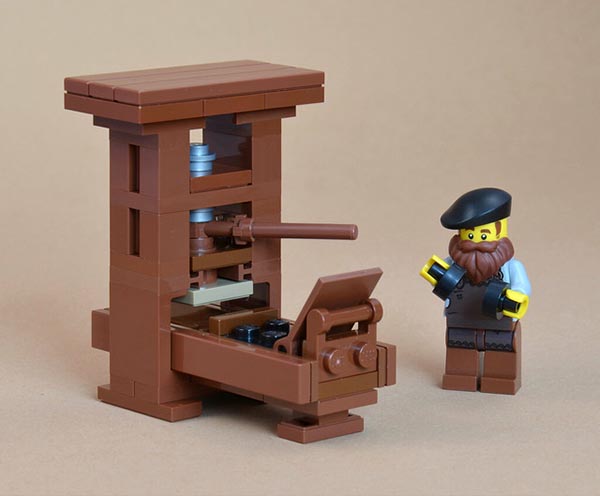 Book 'em, Danno
Within a decade of opening in 1707, Marsh's Library in Dublin had so many books stolen that they resorted to locking patrons in cages while they read.

— Quite Interesting (@qikipedia) April 18, 2019
Cursive, Foiled Again!
Once deemed a dying—or at the very least irrelevant—skill, cursive handwriting appears to be making a comeback, for some reason. From the New York Times:
Even as keyboards and screens have supplanted pencil and paper in schools, lawmakers and defenders of cursive have lobbied to re-establish this old-school writing pedagogy across the country, igniting a debate about American values and identity and exposing intergenerational fault lines.
When Anne Trubek, the author of "The History and Uncertain Future of Handwriting," started studying the resurgence of cursive about a decade ago, reasons for teaching it focused on developing a civilized, well-mannered population.
"People were upset about the idea that you might not seem educated if you didn't know cursive," she said.
The argument seems to have taken a different tack as of late.
"Part of being an American is being able to read cursive writing," Ms. Roach told King 5 News.
Lawmakers have also invoked the Declaration of Independence, which was marked by John Hancock's flamboyant signature, as a reason for a script revival.
If John Hancock were alive today he'd be really really old, but there is no doubt that he'd be using eSign—and the file would be enormous.
Music Must Change
Via Barry Ritholtz's The Big Picture, 44 years of recorded music revenues by format. Some of us still have most, if not all, of these formats!
(Click image for larger version.)
Netflix Streams...Into Print?
Via Fortune, Netflix is apparently producing a print magazine, although it will be more of a one-off rather than a regular publication, and it's not intended for its subscribers or other unwashed masses.
The world's largest online TV network plans to publish a journal—titled Wide—to promote its programs and stars ahead of this year's Emmys, the biggest awards gala in TV. The 100-plus page inaugural issue will include interviews, essays, and features about and by people who work on Netflix series, according to emails reviewed by Bloomberg.
The free publication will help Netflix highlight particular shows and talent from its ever-growing lineup within the Hollywood community. The company released about 700 programs last year, spanning movies, TV series, documentaries, standup comedy specials, and animation.
Netflix has spent hundreds of millions of dollars in pursuit of Hollywood awards, which help burnish the image of the streaming service's still-young studio in the eyes of consumers and the entertainment industry. Last year, the company tapped veteran publicist Lisa Taback to oversee its awards operation, and recently hired Krista Smith, an editor from the magazine Vanity Fair, to assist.
The question for magazine recipients: binge-read it all in one sitting?
Inflating Travel Times
Sure, here in the US, Amtrak is not without its problems, but UK rail companies have a unique problem that is causing big service disruptions: balloons.
Network Rail said there was a growing problem from helium-filled balloons, which it blamed for causing hundreds of train delays annually at a cost to taxpayers of about £1m.
Across England, Scotland and Wales, 619 balloon-related incidents – almost two a day – were recorded by the company last year. Most of the delays were caused by helium balloons becoming tangled around high-voltage overhead wires, which can be potentially fatal for the person holding the balloon if they fail to let go.
"Balloon-related incidents" is the phrase of the week.
Best tweet of the day. Hands down. https://t.co/drKx0QZR0y

— Stephen King (@StephenKing) April 17, 2019
The Plot Thickens
If today is a quiet Good Friday in your office, why not play around with the Grether Labs Mad Libs-esque Science Fiction Plot Generator?
A new plot with every page refresh!
Book Sigh-ning
okay, this stings a little pic.twitter.com/lifRNPPO9C

— Seth Fried (@Seth_Fried) April 16, 2019
And if you really have nothing to do today:
If there are 10 books on a bookshelf, they can be arranged in 3,628,800 different ways.

— Quite Interesting (@qikipedia) April 17, 2019
This Week in Printing, Publishing, and Media History
April 15
1452: Italian painter, sculptor, and architect Leonardo da Vinci born.
1755: Samuel Johnson's A Dictionary of the English Language is published in London.
1924: Rand McNally publishes its first road atlas.
April 16
1844: French journalist, novelist, and poet, Nobel Prize laureate Anatole France born.
1871: Irish author, poet, and playwright John Millington Synge born.
1889: English actor, director, producer, screenwriter, and composer Charlie Chaplin born.
1947: Scottish singer-songwriter Gerry Rafferty born.
2012: The Pulitzer Prize winners were announced, it was the first time since 1977 that no book won the Fiction Prize.
April 17
1397: Geoffrey Chaucer tells The Canterbury Tales for the first time at the court of Richard II. Chaucer scholars have also identified this date (in 1387) as the start of the book's pilgrimage to Canterbury.
1524: Giovanni da Verrazzano reaches New York harbor. ("If only there were a bridge here," he is rumored to have remarked.)
1897: American novelist and playwright Thornton Wilder born.
1955: English singer-songwriter and guitarist Pete Shelley born.
1957: English novelist, essayist, lyricist, and screenwriter Nick Hornby born.
April 18
1930: The British Broadcasting Corporation announced that "there is no news" in their evening report.
April 19
1927: Mae West is sentenced to 10 days in jail for obscenity for her play Sex.
1971: Launch of Salyut 1, the first space station.
1987: The Simpsons first appear as a series of shorts on The Tracey Ullman Show.
April 20
1535: The sun dog phenomenon observed over Stockholm and depicted in the famous painting Vädersolstavlan.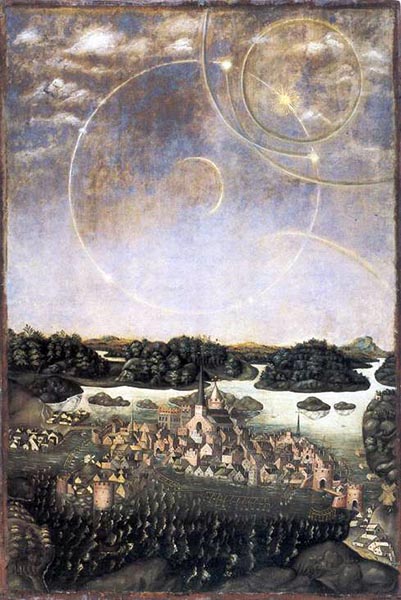 1893: Spanish painter and sculptor Joan Miró born.
April 21
753 BC: Romulus founds Rome (traditional date), but not in a day.
1816: Cornish-English novelist and poet Charlotte Brontë born.
1838: Scottish-American environmentalist and author John Muir born.
1934: The "Surgeon's Photograph," the most famous photo allegedly showing the Loch Ness Monster, is published in the Daily Mail. (In 1999, it was revealed to have been a hoax.)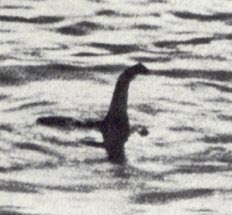 1977: Annie opens on Broadway.