Just Let it Go
German engineering student Phillip Frenzel has designed an 'airbag' for smartphones that protects your device if you drop it: it's a case that releases metal prongs if it 'senses' that the phone is in free fall. https://t.co/eLIYRrfPRn

— Quite Interesting (@qikipedia) April 3, 2019
Fooling Around
Monday was April 1, and here at WhatTheyThink, we embrace April Fool's Day with something akin to glee. When someone bites and thinks a story is real, it's even better. A cease-and-desist letter from a major national chain is also a highly coveted prize, and shows how high the steaks can be....
A good April Fool's joke can be good for PR and marketing. Still, humor can be tough to navigate effectively, and, as a story over at Vox points out, when the brands themselves attempt such a prank, it doesn't always go especially well, particularly in the age of social media.
(Fruit) Fly the Friendly Skies
If you travel with any regularity, the inevitable circadian rhythm disruption you know as jet lag is an occupational hazard, but new evidence suggests that it may actually be good for brain health—or at least it is if you're a fruit fly.
But then maybe jet lag isn't the real problem.
can't wait to apply a software update to my plane with a USB drive, the future rules https://t.co/RqT2g8X6Gl

— Internet of Shit (@internetofshit) April 3, 2019
3D Color
As 3D printing starts to become more common, especially for advertising and marketing purposes, color management will become more important. Enter Pantone.
Under terms of a new partnership agreement, Stratasys becomes the first 3D printing solutions provider with technology officially designated as PANTONE Validated™ - Both Stratasys J750™ and J735™ PolyJet™ 3D Printers are endorsed by Pantone as meeting the PANTONE Validated standards of color quality and realism. This is the second 3D-related announcement we have seen from Pantone, following its agreement with FiberForce Italy to bring professional color to 3D printing.
Ah, So That's What it Is
A meeting involving three people in a conference room for two hours can raise carbon dioxide levels enough that you are cognitively impaired simply by being in the room. (source: https://t.co/2NbzeUmFOg)

— Quite Interesting (@qikipedia) April 1, 2019
Stop Sharing
We've all been there: you share your screen in a meeting or—even worse—during a big presentation and suddenly your private life is put, quite literally, on display. The New York Times shares some stories from the trenches.
Low Budget
Food $200
Data $150
Rent $800
Streaming service subscriptions $3,600
Utility $150
someone who is good at the economy please help me budget this. my family is dying

— Chris Schilling (@schillingc) March 25, 2019
Repo Men
This week, Microsoft announced that it was discontinuing its ebook store, as it was not making any money. The interesting wrinkle, says Boing Boing, is that, since those books were DRM-enabled, they are also repossessing those books that were actually purchased.
This puts the difference between DRM-locked media and unencumbered media into sharp contrast. I have bought a lot of MP3s over the years, thousands of them, and many of the retailers I purchased from are long gone, but I still have the MP3s. Likewise, I have bought many books from long-defunct booksellers and even defunct publishers, but I still own those books.
When I was a bookseller, nothing I could do would result in your losing the book that I sold you. If I regretted selling you a book, I didn't get to break into your house and steal it, even if I left you a cash refund for the price you paid.
So if you bought a Microsoft ebook of The Exorcist, it would be...repossessed.
Have a Ball
Economists Gently Suggest American Manufacturing Maybe Start Again With Something Simple Like A Ball https://t.co/45ETsZMscG pic.twitter.com/5KRVSagOoQ

— The Onion (@TheOnion) April 4, 2019
One Ruler to Rule Them All
Do you prefer imperial units or metric units? Many of us often have to choose when we are shopping for a measuring device (despite the fact that the standard ruler often has imperial units on one side and metric on the other). Now, a new ruler design has both imperial and metric units intermingled on the same side:
I present to you, my new universal fractional
The centimeter and millimeter sized divisions are labeled with fractional inch units. To get this fairly close, without going too large on my fractions, why limit yourself to powers of two for the denominators? This ruler takes full advantage of the full power of fractions by varying not just the numerator but also the denominator.
For example, what would be "1 cm" in metric is 37/94 inches. 2 cm is 68/80 inches and 10 centimeters is 3" 89/95.
Maybe it's just us, but that seems more confusing.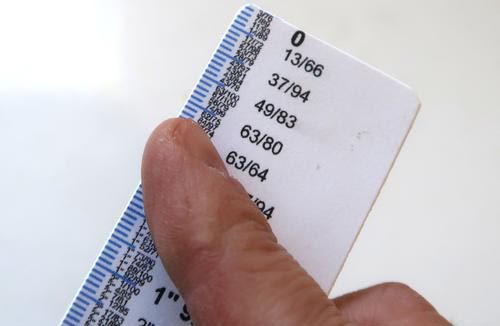 We'll Drink to That
It was only a matter of time. Distressed to note that it doesn't specify if the gin has been hand-crafted in small batches by bearded artisans pic.twitter.com/ObZFUWmqvZ

— Stephen Fry (@stephenfry) April 4, 2019
This Week in Printing, Publishing, and Media History
April 1
1854: Charles Dickens' novel Hard Times begins serialization in his magazine Household Words.
1960: The TIROS-1 satellite transmits the first television picture from space.
1976: Apple Inc. is formed by Steve Jobs, Steve Wozniak, and Ronald Wayne in Cupertino, Calif.
2004: Google announces Gmail to the public.
April 2
1800: Ludwig van Beethoven leads the premiere of his First Symphony in Vienna.
1805: Danish novelist, short story writer, and poet Hans Christian Andersen born.
1840: French novelist, playwright, journalist Émile Zola born.
1902: "Electric Theatre," the first full-time movie theater in the United States, opens in Los Angeles.
1941: American radio host Dr. Demento born.
1956: As the World Turns and The Edge of Night premiere on CBS. The two soaps become the first daytime dramas to debut in the 30-minute format.
1973: Launch of the LexisNexis computerized legal research service.
April 3
1783: American short story writer, essayist, biographer, historian Washington Irving born.
1860: The first successful United States Pony Express run from St. Joseph, Mo., to Sacramento, Calif., begins.
1895: The trial in the libel case brought by Oscar Wilde begins, eventually resulting in his imprisonment on charges of homosexuality.
1898: American publisher, and co-founder of Time Magazine Henry Luce born.
1949: English singer-songwriter and guitarist Richard Thompson born.
1955: The American Civil Liberties Union announces it will defend Allen Ginsberg's book Howl against obscenity charges.
1973: Martin Cooper of Motorola makes the first handheld mobile phone call to Joel S. Engel of Bell Labs.
1981: The Osborne 1, the first successful portable computer, is unveiled at the West Coast Computer Faire in San Francisco.
2010: Apple Inc. released the first generation iPad, a tablet computer.
April 4
1581: Francis Drake is knighted for completing a circumnavigation of the world.
1768: In London, Philip Astley stages the first modern circus.
1818: The United States Congress, affirming the Second Continental Congress, adopts the flag of the United States with 13 red and white stripes and one star for each state (20 at that time).
1975: Microsoft is founded as a partnership between Bill Gates and Paul Allen in Albuquerque, N.M.
April 5
1710: The Statute of Anne receives the royal assent establishing the Copyright law of the United Kingdom.
1908: American actress Bette Davis born.
1929: English songwriter and producer Joe Meek born.
1954: American singer-songwriter and guitarist Stan Ridgway born.
April 6
1483: Italian painter and architect Raphael born.
1861: First performance of Arthur Sullivan's debut success, his suite of incidental music for The Tempest, leading to a career that included the famous Gilbert and Sullivan operettas.
1892: American journalist and author Lowell Thomas born.
1895: Oscar Wilde is arrested in the Cadogan Hotel, London, after losing a libel case against the Marquess of Queensberry.
1947: The first Tony Awards are presented for theatrical achievement.
April 7
1770: English poet William Wordsworth born.
1805: German composer Ludwig van Beethoven premieres his Third Symphony at the Theater an der Wien in Vienna.
1927: The first long-distance public television broadcast (from Washington, D.C., to New York City, displaying the image of Commerce Secretary Herbert Hoover).
1949: The Rodgers and Hammerstein musical South Pacificopens on Broadway; it would run for 1,925 performances and win 10 Tony Awards.
1964: IBM announces the System/360.
1969: The Internet's symbolic birth date: Publication of RFC 1.