The State of Books, or The Books of the States
Thriftbooks maps the most popular books of 2018 by state. Wyoming and Colorado are into classic dystopian fiction, Nebraska likes its dystopias a bit more recent, Texas is looking for love, more than a few states are looking to get rich quick, Delaware seems to have a drinking problem, and several states are just crazy about Harry.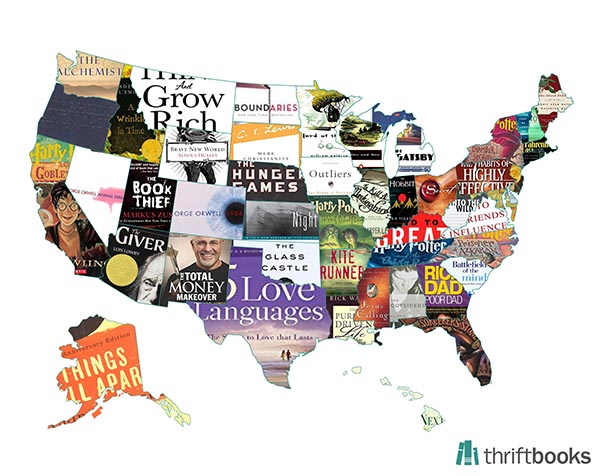 Venn Again
Another mock blue plaque has appeared in Hull - this time @alternaheritage have done one for John Venn next to the Drypool Bridge. The series of plaques celebrate local quirks & people. pic.twitter.com/FfxDfdXwMG

— David Harrison (@DaveHarrisonBBC) March 15, 2019
Brought to You By the Letter F
Did a change in human dietary habits change the way we speak? A new study published in Science suggests that a switch to cooked—and therefore softer—foods affected the kinds of sounds humans could make. Says the New York Times:
Certain sounds like these 'f' sounds are recent, and we can say with fairly good confidence that 20,000 or 100,000 years ago, these sounds just simply didn't exist," said Balthasar Bickel, a linguist at the University of Zurich and an author of the new research.
The study concluded that the transition to eating softer foods changed how bites developed as people aged. The physical changes, the authors said, made it slightly easier for farmers to make certain sounds, like "f" and "v."
Through various other processes that the study did not directly address, these sounds made their way into about half the languages used today. The study's authors called for greater consideration of biological factors in studying the development of human language.
Eat My Chuddies
To mark the 90th anniversary of the completion of its first edition, the venerable Oxford English Dictionary recently launched a crowdsourcing project to capture regional vocabulary. And some of those new terms made it into the official lexicon, such as "jibbons" (Welsh English for "spring onions"), "chuddies" (Indian English for "underpants") and "sitooterie" (a Scottish term for "a place in which to sit out").
Well, we should be grateful that at least they didn't add an emoji this year.
Let the Madness Begin
?? Here's a bit of history to go with your bracket. ?? https://t.co/aYMdz7B41z

— Merriam-Webster (@MerriamWebster) March 21, 2019
And if you're not into basketball, pit these "One-Hit Wonders" against each other.
One-Hit Wonder Bracket: Putting the catchiest songs head-to-head (with playlist) https://t.co/JWWTJOt4YS pic.twitter.com/6KvOW3YWvC

— IndyStar (@indystar) March 19, 2019
(We should point out that some of these are not true "one-hit wonders." But then we question some of the NCAA's choices, as well.)
The Kids Today...
...with their predilection for sustainability and eco-friendly products are driving new types of products. From Adweek:
As Gen Z defines the types of products that resonate with them, brands like Allbirds and S'well have stood out for their sustainable sneakers and water bottles. Those products partially derive their value from sustainability and eco-friendly materials, which young individuals have increasingly favored.
A 2017 study from NDP Group found that Gen Z is willing to spend as much as 10 to 15 percent more on sustainably produced clothing. Meanwhile, a Nielsen study from 2015 found nearly three-quarters of 15- to 20-year-olds would pay more for a sustainable product, compared to just 51 percent of Baby Boomers.
And as brands look for new ways to cater to Gen Z's love for sustainability, they've begun to tap into streetwear, which has a reputation for sustainability thanks to its drop model, second-hand reselling and gender neutral looks.
Selling Like Hotcakes?
Is squeezing maple syrup out of a bottle too arduous a process? Why not try spray-on maple syrup.
For those of you who are not from Vermont or New Hampshire, that is not what happens if you vigorously shake a maple tree.
That's Exactly How it Works
Satellite Frantically Trying To Bounce Signal To Swearing Man's Phone https://t.co/Gs8QMFjZba pic.twitter.com/L3WWzxWOEY

— The Onion (@TheOnion) March 21, 2019
I Scream?
Think you know Edvard Munch's The Scream? There has long been debate over whether the figure is itself screaming or is instead hearing a scream. A new display at the British Museum, a black-and-white lithograph of the image, suggests that the latter is the correct interpretation. Says the Telegraph:
The lithograph, unlike the coloured works, features an inscription by Munch that reads: "I felt the great scream throughout nature."
It is a reference to his inspiration for the painting. Munch was walking by a fjord overlooking Oslo in 1892 when the sky turned blood red, a sight that had a profound effect upon him.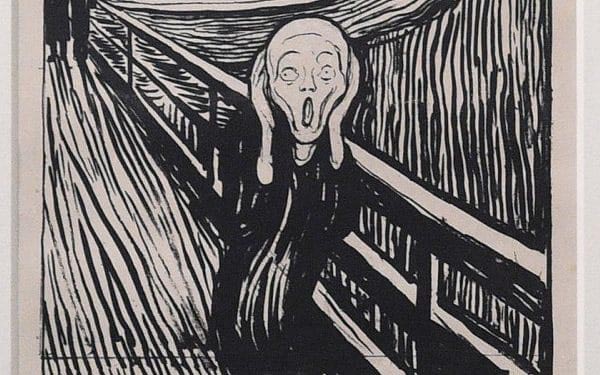 If you're in the UK, be sure to check out "Edvard Munch: love and angst," which runs at the British Museum from April 11 to July 21.
Lost In MySpace
In the news this week was the story that during a server migration, MySpace (remember that?) lost virtually everything uploaded to the site during its first 12 years of operation. Said Gizmodo, "This would mean that music uploaded before around 2015 could have been lost." So...basically everything that was ever uploaded to MySpace.
Probably the most surprising thing about this story is that MySpace still exists. Perhaps it's social media for people who are antisocial.
No More Shushing
Libraries are not just for books anymore. BBC Culture reports on nine libraries around the world that are transitioning from basic book repositories to "cultural hubs."
Here in the States, Chicago's West Loop Library makes the grade:
This is the first ever public library in West Loop, and the 81st branch in the city. It's housed in two former TV studios buildings, which have been given a weathered steel façade. Inside, previously concealed original bow-truss ceilings and skylights have been exposed. Designed by Skidmore Owings & Merrill, the 1,500-sq-m space doubles as a community centre, with meeting rooms and a digital learning space with a recording studio for teenagers. For younger children, there's a 'tinkering lab' with a digital maker-space; and the storytelling rooms have walls with magnetic and writeable surfaces. And like other Chicago branches, free after-school tutoring is on offer.
Perhaps our European correspondent Morten Reitoft could tell us all about the Tingbjerg Library in Copenhagen.
The Write Stuff
Yes, you CAN make a font out of your handwriting... though it helps if you have the persistence of a type designer to really make it shine. Meet Adobe Handwriting, featuring the penwork of Ernie, Frank, and Tiffany ?????? https://t.co/WzlRJL4TjB pic.twitter.com/a31ZH76MnD

— Adobe Type (@AdobeType) February 12, 2019
The New Old Social Network
Looking for a social network that doesn't bombard you with notifications and @mentions, or deploy ads that stalk you around the web? The New York Times sings the praises of the good old-fashioned newsletter:
my new social network is an email newsletter. Every week or so, I blast it out to a few thousand people who have signed up to read my musings. Some of them email back, occasionally leading to a thoughtful conversation. It's still early in the experiment, but I think I love it.
The newsletter is not a new phenomenon. But there is a growing interest among those who are disenchanted with social media in what the writer Craig Mod has called "the world's oldest networked publishing platform." For us, the inbox is becoming a more attractive medium than the news feed.
Some of us miss printed newsletters, but we'll take what we can get.
Lettuce Entertain You
When in Vienna (and who among us isn't regularly jetting off to Vienna?), be sure to check out the Vegetable Orchestra:
a 10-piece ensemble from the city of Beethoven, Brahms and Mozart that plays music with instruments made entirely from fresh produce. Over the past 21 years, the group has played nearly 300 shows at packed venues around the globe and performed everything from classical with cabbage to techno with turnips in a rich, rhythmic ratatouille. The orchestra recently released its fourth album after a successful 'Krautfunding' ('herb-funding') campaign and is showing the world that, actually, you can play with your food.
Vegetables are unpredictable," said Susanna Gartmayer, who plays the carrot marimba, radish bass flute and a dozen other edible instruments in the group. "No two pieces of produce are the same. It's a challenge.
They do tour regularly. We don't know how much a ticket costs; probably a fair amount of cabbage.
Cheesy Music
Reasearchers at Bern University of Arts have discovered that Emmental cheese exposed to six months of hip hop while it is maturing has a stronger flavor and aroma than that exposed to Mozart or Led Zeppelin.

— Quite Interesting (@qikipedia) March 19, 2019
Swiss cheese, though, is positively affected by Houses of the Holey.
This Week in Printing, Publishing, and Media History
March 18
1733: German author and bookseller Christoph Friedrich Nicolai born.
1850: American Express is founded by Henry Wells and William Fargo.
1932: American novelist, short story writer, and critic John Updike born.
1961: American singer-songwriter and guitarist Grant Hart born.
March 19
1813: Scottish missionary and explorer David Livingstone born, we presume.
1895: Auguste and Louis Lumière record their first footage using their newly patented cinematograph.
1928: Irish-American actor, director, producer, and screenwriter Patrick McGoohan born. (Be seeing you.)
1931: Gambling is legalized in Nevada. (What are the odds it'll catch on?)
1933: American novelist Philip Roth born.
1962: Bob Dylan releases his first album, Bob Dylan.
March 20
43 BC: Roman poet Ovid born.
1828: Norwegian poet, playwright, and director Henrik Ibsen born.
1852: Harriet Beecher Stowe's Uncle Tom's Cabin is published.
1896: With the approval of Emperor Guangxu, the Qing dynasty post office is opened, marking the beginning of a postal service in China.
1915: Albert Einstein publishes his general theory of relativity.
1922: American actor, director, producer, and screenwriter Carl Reiner born.
1923: The Arts Club of Chicago hosts the opening of Pablo Picasso's first United States showing, entitled Original Drawings by Pablo Picasso, becoming an early proponent of modern art in the United States.
1948: With a Musicians Union ban lifted, the first telecasts of classical music in the United States, under Eugene Ormandy and Arturo Toscanini, are given on CBS and NBC.
1950: English drummer, percussionist, and songwriter Carl Palmer born.
March 21
1952: Alan Freed presents the Moondog Coronation Ball, the first rock and roll concert, in Cleveland, Ohio.
2006: The social media site Twitter is founded.
March 22
1765: The British Parliament passes the Stamp Act that introduces a tax to be levied directly on its American colonies. (Spoiler alert: it didn't go well.)
1887: American actor Chico Marx born. (Why a duck?)
1931: Canadian actor William Shatner born.
March 23
1857: Elisha Otis's first elevator is installed at 488 Broadway New York City.
1910: Japanese director, producer and screenwriter Akira Kurosawa born. (Everyone who witnessed his birth described it differently.)
1965: NASA launches Gemini 3, the United States' first two-man space flight (crew: Gus Grissom and John Young).
March 24
1693: John Harrison, English carpenter and clock-maker, invented the Marine chronometer. (Harrison was the subject of Dava Sobel's excellent book Longitude.)
1721: Johann Sebastian Bach dedicated six concertos to Margrave Christian Ludwig of Brandenburg-Schwedt, now commonly called the Brandenburg Concertos, BWV 1046–1051.
1834: English textile designer, poet, and author William Morris born.
1874: Hungarian-Jewish American magician and actor Harry Houdini (né Ehrich Weiss) escaped from the womb.
1907: The first issue of the Georgian Bolshevik newspaper Dro is published.
1949: English singer-songwriter, bass player, and producer Nick Lowe born. And so it goes.
1958: Elvis Presley is drafted in the U.S. Army.