The Acme of Signage
Who says Parks and Recreation employees don't have a sense of humor? Read the fine print on this coyote warning.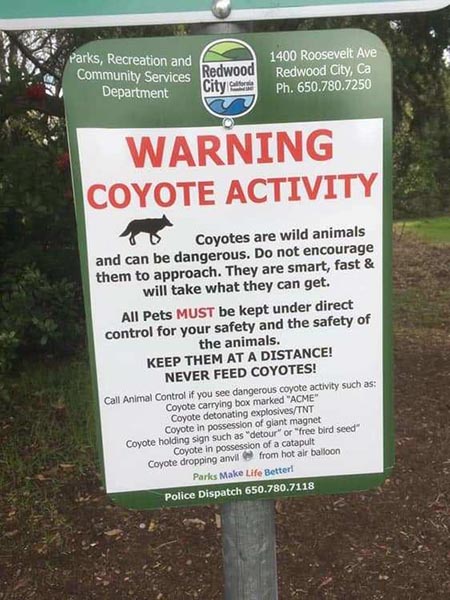 Mean Green Mother
In what must surely be a sign that the End Times are nigh, a houseplant now comes with an End User Licensing Agreement. (Via Boing Boing.)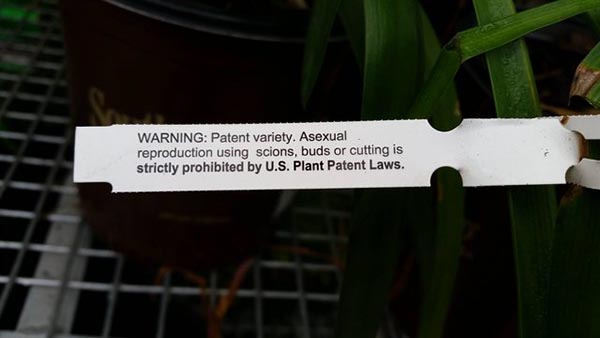 DRM. For. Houseplants.
Lice-nse to Ill
Here's one for Cary's Textiles page.
One of the things that let us know when people started making clothes is the fact that between 80,000 and 100,000 years ago head and body lice became two separate species.

— Quite Interesting (@qikipedia) February 6, 2019
The Long Walk
What do you think is the longest continuous walk you could take in the world? From what we hear, it may very well be the show floor at Printing United, but via Brilliant Maps, it's actually Cape Town, South Africa, to Magadan on the Sea of Okhotsk in eastern Russia. That's a distance of 13,910 miles, which Google Maps says would take 187 days to make the hike.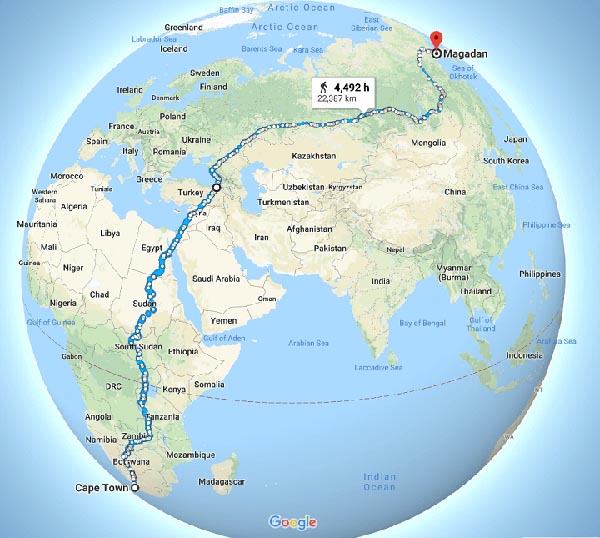 If you like long walks, you could try a more sensible option (although that probably depends on your definition of "sensible") that some of us are attempting: the Run the Year in which over the course of 2019 you run and/or walk 2,019 miles. That would only get you one-seventh of the way from Cape Town to Magadan, though.
The Weighting Is the Hardest Part
Do you wrestle with making decisions? If so, via Boing Boing, why not try Benjamin Franklin's algorithm for drawing up lists of pros and cons and properly weighting them:
my Way is, to divide half a Sheet of Paper by a Line into two Columns, writing over the one Pro, and over the other Con. Then during three or four Days Consideration I put down under the different Heads short Hints of the different Motives that at different Times occur to me for or against the Measure. When I have thus got them all together in one View, I endeavour to estimate their respective Weights; and where I find two, one on each side, that seem equal, I strike them both out: If I find a Reason pro equal to some two Reasons con, I strike out the three. If I judge some two Reasons con equal to some three Reasons pro, I strike out the five; and thus proceeding I find at length where the Ballance lies; and if after a Day or two of farther Consideration nothing new that is of Importance occurs on either side, I come to a Determination accordingly
Scoopbot
All the news that's fit to automate. The New York Times writes about the rise of the robot reporter:
As reporters and editors find themselves the victims of layoffs at digital publishers and traditional newspaper chains alike, journalism generated by machine is on the rise.
Roughly a third of the content published by Bloomberg News uses some form of automated technology. The system used by the company, Cyborg, is able to assist reporters in churning out thousands of articles on company earnings reports each quarter.
The program can dissect a financial report the moment it appears and spit out an immediate news story that includes the most pertinent facts and figures. And unlike business reporters, who find working on that kind of thing a snooze, it does so without complaint.
Here at WhatTheyThink, you have our promise that all our stories are written by actual humans. —WTT Editing Unit #867
Just Plane Creepy
Specialty printing items are all the rage these days, and can form a large and important part of a marketing campaign. However, Rule #1 should be: don't be creepy. From Business Insider:
Delta Air Lines and Coca-Cola have apologised for handing out "creepy" Diet Coke napkins to passengers on board flights.

Travellers have been sharing images of the napkins, which feature an array of messages encouraging fliers to flirt with fellow passengers, on Twitter.
"Be a little old school. Write down your number and give it to your plane crush. You never know…" reads one napkin.
Another says: "Because you're on a plane full of interesting people and hey… you never know."
There are even dedicated spaces on the napkins for people to write down their name and phone number.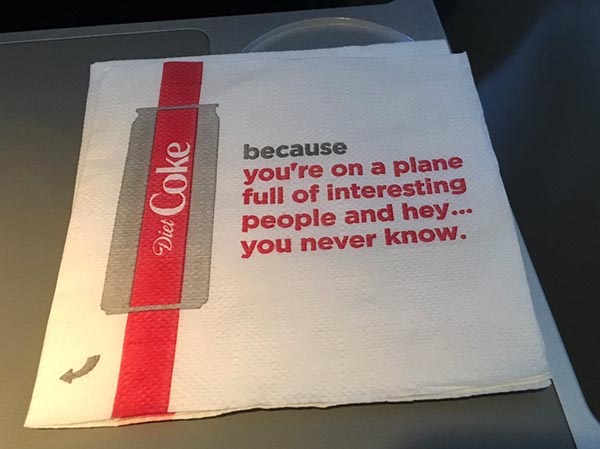 Who could possibly have thought this was a good idea?
Runaway Twain
In 1905, Mark Twain's editor asked the President if he would change the date of Thanksgiving so that it didn't clash with Twain's birthday (he didn't).

— Quite Interesting (@qikipedia) February 7, 2019
JQA on Broadway
Well, not quite Broadway, but close.
John Quincy Adams was the second one-term President in US history (the first was his father John) and his controversial electoral victory in 1824 made him a bitter enemy of Andrew Jackson (but then who wasn't?). He had a woefully unsuccessful Presidency; although he had great plans and aspirations, he was so hated by Congress that he couldn't get anything accomplished. Plus ça change, plus c'est la même chose.
Anyway, the life of JQA heads to the New York stage in March via a new play by Aaron Posner called JQA. It's tempting these days to associate any stage production based on American history with Hamilton, but Posner's drama could not be further removed from Lin-Manuel Miranda's hit show. For one, JQA is not a musical, and Adams was not quite the colorful character that Hamilton was, nor would Adams' drafting of the Monroe Doctrine as Secretary of State likely make for a rousing Broadway show-stopper. It's also not entirely about John Quincy Adams. Says the New York Times:
"While it uses the life of JQA, it's a work of historical fiction," says Posner, a director with a long list of Washington credits who will direct this production, as well. "If anyone is looking for factual history, they are going to be disappointed. They're remarkable people I have thrown into this play, but I'm really writing about what's going on today."
Posner says he's using Adams's politics and presidency as a way of considering larger questions about the role of government, and the ways in which Americans engage in the civic life of the country — or don't. "It's certainly the most daunting thing I've ever done," he says.
Tramps Like Us
[RANDOM]

Charlie Chaplin once allegedly joined a Charlie Chaplin-look-alike contest and lost terribly, placing 20th.

The story was published in 1920, August edition of The Straits Times newspaper. However, the authenticity of the story is, up to now, still debated. pic.twitter.com/9QCnarEMmt

— my mind palace (@dailyeruditions) December 23, 2018
Zapped!
We are keeping our eyes on 5G, the emerging "next-gen" mobile communications standard that promises much faster mobile connectivity and speed. And you can't have a new technology without a corresponding conspiracy theory. Says the Daily Beast:
The Eugene protests are just the latest outcropping of internet conspiracy theories surrounding 5G networks, the latest, fastest wave of cell network technology. YouTube videos promising dire consequences from 5G networks have proliferated online, earning millions of views with claims that the technology will cause cancer or even be a tool for government mind-control. The fear has translated to protests across the world where opponents have had some success.
Just think how fast these folks will be able to get their message out once 5G becomes reality. Oh, wait...
Out on the Tiles
Too bad Scrabble wasn't invented in Alphabet City.
The perfect street sign, it's where Scrabble was invented... (Image: Clark Gregor) pic.twitter.com/cVfQfdFsp9

— Quite Interesting (@qikipedia) February 5, 2019
This Week in Printing, Publishing, and Media History
February 4
1859: The Codex Sinaiticus is discovered in Egypt.
1960: American composer and playwright (Rent) Jonathan Larson born.
2004: Facebook, a mainstream online social networking site, is founded by Mark Zuckerberg.
February 5
1909: Belgian chemist Leo Baekeland announces the creation of Bakelite, the world's first synthetic plastic.
1919: Charlie Chaplin, Mary Pickford, Douglas Fairbanks, and D. W. Griffith launch United Artists.
1924: The Royal Greenwich Observatory begins broadcasting the hourly time signals known as the Greenwich Time Signal.
1940: Swiss painter, sculptor, and set designer (Alien) H. R. Giger born.
February 6
AD 60: The earliest date for which the day of the week is known. A graffito in Pompeii identifies this day as a dies Solis (Sunday). In modern reckoning, this date would have been a Wednesday.
1756: American colonel and politician, 3rd Vice President of the United States Aaron Burr born. Wait for it.
1945: Jamaican singer-songwriter and guitarist Bob Marley born.
February 7
1497: In Florence, Italy, supporters of Girolamo Savonarola burn cosmetics, art, and books, in a "Bonfire of the vanities."
1812: English novelist and critic Charles Dickens born.
1885: American novelist, short-story writer, playwright, and Nobel Prize laureate Sinclair Lewis born.
1898: Émile Zola is brought to trial for libel for publishing J'Accuse…!.
1997: NeXT merges with Apple Computer, starting the path to Mac OS X.
February 8
1828: French author, poet, and playwright Jules Verne born.
1834: Russian chemist and academic, and creator of the Periodic Table of Elements Dmitri Mendeleev born.
1915: D. W. Griffith's controversial film The Birth of a Nation premieres in Los Angeles.
1922: United States President Warren G. Harding introduces the first radio set in the White House.
1946: The first portion of the Revised Standard Version of the Bible, the first serious challenge to the popularity of the Authorized King James Version, is published.
1971: The NASDAQ stock market index opens for the first time.
1978: Proceedings of the United States Senate are broadcast on radio for the first time.
February 9
1737: English-American philosopher, author, activist, and pamphleteer Thomas Paine born.
1870: US president Ulysses S. Grant signs a joint resolution of Congress establishing the U.S. Weather Bureau.
1923: Irish rebel, poet, and playwright Brendan Behan born.
1964: The Beatles make their first appearance on The Ed Sullivan Show, performing before a record audience of 73 million viewers across the US.
1986: Halley's Comet last appeared in the inner Solar System.
February 10
1890: Russian poet, novelist, literary translator, and Nobel Prize laureate Boris Pasternak born.
1898: German director, playwright, and poet Bertolt Brecht born.
1940: Tom and Jerry make their debut with the cartoon Puss Gets the Boot.
1962: Roy Lichtenstein's first solo exhibition opens. It includes Look Mickey, which featured his first use of Ben-Day dots, speech balloons, and comic imagery sourcing, all of which he is now known for.
1967: American director, producer, and screenwriter Vince Gilligan born.
1996: IBM supercomputer Deep Blue defeats Garry Kasparov in chess for the first time.