Pwn Shop
Curious to know if your email address has been compromised in a data breach? Check out the free resource Have I Been Pwned and see.
(By the way, if you're behind the times—or have a life—"pwn" is defined thusly: "Pwn is a leetspeak slang term derived from the verb own, meaning to appropriate or to conquer to gain ownership. The term implies domination or humiliation of a rival, used primarily in the Internet-based video game culture to taunt an opponent who has just been soundly defeated [e.g., 'You just got pwned!']." You're own your own with "leetspeak."
3D Space
Thanks to 3-D printing, NASA can now effectively email tools and replacement parts to the International Space Station.

— Quite Interesting (@qikipedia) January 31, 2019
Good Gravy
Some of you may have curled up on Christmas Eve in front of the fire, burning the KFC 11 Herbs & Spices Firelog. Now, for a truly romantic evening any time of the year, we give you the KFC Gravy Candle.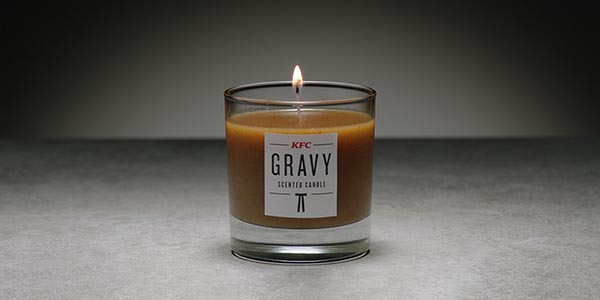 Only 230 are being made, so act now!
Ad Hock
A curious style of old ad for O'Mara's hams and bacon, Limerick. Another ad I'd seen described them as "ranked amongst the foremost of the bacon-curing firms of the City of the Violated Treaty". #Ireland pic.twitter.com/CVfBCxltvC

— Old Ireland (@OldeEire) January 28, 2019
"To Virtually Be Or Not..."
Have you ever wanted to trod the boards? Are you Prince Hamletand was meant to be? Well, thanks to the wonders of virtual reality, you can! Says the New York Times:
Hamlet is in a bathtub with water up to his neck delivering "To be, or not to be." Look to your right and you'll see his mother, Gertrude, in her bedroom putting on makeup. Look in the distance, and you'll see Laertes, practicing with his sword.
And if you look to your left, you will see your own reflection in a gilded mirror. You will appear haggard, bloody, ferocious and, in fact, dead. Because in this virtual reality version of Shakespeare, you are the ghost of Hamlet's murdered father.
That version, "Hamlet 360: Thy Father's Spirit," is a joint production of two very different outfits: Commonwealth Shakespeare Company, which is known for staging free Shakespeare on Boston Common, and the tech giant Google. Its creators hope that beyond the fresh experience it provides, it will also serve as a tool to bring great theater to wider audiences — and bring bigger audiences to theater.
Abstract Notes
Are you a fan of Dutch abstract painter Piet Mondrian, sticky notes, or even The Partridge Family? Why not pick up this essential desk accessory created by designers Assia Quetin and Catherine Denoyelle.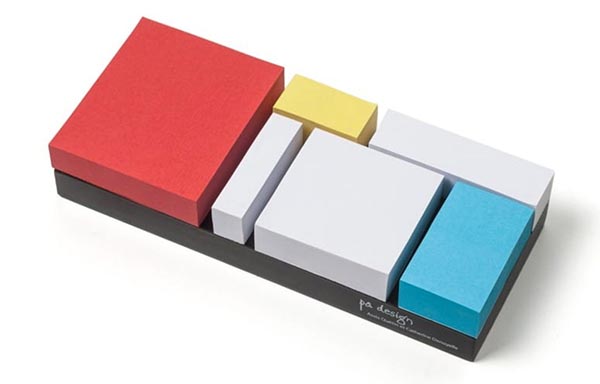 A Superfluity of Words
Many modern collective nouns, such as 'a gaggle of geese', can be traced back to The Book of St Albans from 1486 which included a large list of such terms. A 'superfluity of nuns' has sadly fallen out of usage. pic.twitter.com/2Agf1PS9D2

— Quite Interesting (@qikipedia) January 26, 2019
Play Bill!
If there is one place that print continues to be in demand, it's—somewhat ironically—at the theater. Says the New York Times:
You can feel the bafflement percolating in the audience when ushers have nothing to give out before a performance in New York. We theatergoers have gotten used to the fact that some shows don't want us getting our paws on a playbill until afterward — they don't want us distracted, maybe, or a surprise spoiled — but the new twist is no program at all.
At least not one we can hold in our hands.
Often, they want us to go online to read a digital version — a money-saving move, surely, but one that shortchanges artists and audiences alike.
...
But any information you access on a phone or tablet exists in a space that lets the whole restless world in, coming at you in a calm-shattering barrage of text messages, emails and news alerts. A digital program doesn't stand a chance of holding someone's attention against all that. It's not a great place to send people to think about the art and artists they've just seen.
And an e-playbill, unlike a printed one, won't ease anyone into the experience of seeing a show, acclimating them as surely as an overture would. If that sounds like an exaggeration, think about how focused you feel reading a physical book or newspaper, and how relentlessly interrupted when your eyes are on a digital device.
Body Count
Today's WTF computer error.
I can't help feel that it feels a little as though the computer is passing a damning indictment on the human race from the command line. @internetofshit pic.twitter.com/xkH4ebW4xo

— Keith Farquharson (@kdfarquharson) January 25, 2019
This Week in Printing, Publishing, and Media History
January 28
1706: English printer and typographer John Baskerville born.
1754: Sir Horace Walpole coins the word "serendipity" in a letter to a friend. What a stroke of luck.
1813: Jane Austen's Pride and Prejudice is first published in the United Kingdom.
1873: French novelist and journalist Colette (née Sidonie-Gabrielle Colette) born.
1878: Yale Daily News becomes the first daily college newspaper in the United States.
1956: Elvis Presley makes his first national television appearance.
1958: The Lego company patents the design of its Lego bricks, still compatible with bricks produced today.
1965: The current design of the Flag of Canada is chosen by an act of Parliament.
January 29
1737: American revolutionary and pamphleteer Thomas Paine (Common Sense, et al.) born.
1845: "The Raven" is published in The Evening Mirror in New York, the first publication with the name of the author, Edgar Allan Poe.
1860: Russian playwright and short story writer Anton Chekhov born.
1886: Karl Benz patents the first successful gasoline-driven automobile.
1923: American author and screenwriter Paddy Chayefsky born.
1980: The Rubik's Cube makes its international debut at the Ideal Toy Corp. in Earl's Court, London.
January 30
1969: The Beatles' last public performance, on the roof of Apple Records in London. The impromptu concert is broken up by the police.
February 1
1462: German lexicographer, historian, and cryptographer Johannes Trithemius. His famous treatise In Praise of Scribes implored monks to not abandon manuscript copying. However, his need to distribute a large number of these treatises quickly resulted in his having to have it printed on a printing press, a great moment of historical irony,
1884: The first volume (A to Ant) of the Oxford English Dictionary is published.
1896: La bohème premieres in Turin at the Teatro Regio (Turin), conducted by the young Arturo Toscanini.
1902: American poet, social activist, novelist, and playwright Langston Hughes born.
1904: American humorist and screenwriter S.J. Perelman born.
1938: American drummer and singer (Mothers of Invention) Jimmy Carl Black born. He was the Indian of the group.
1942: Voice of America, the official external radio and television service of the United States government, begins broadcasting with programs aimed at areas controlled by the Axis powers.
1942: Welsh actor, director, screenwriter, and Python Terry Jones born.
1964: The Beatles have their first number one hit in the United States with "I Want to Hold Your Hand."
1996: The Communications Decency Act is passed by the U.S. Congress, apparently.
February 2
506: Alaric II, eighth king of the Visigoths promulgates the Breviary of Alaric (Breviarium Alaricianum or Lex Romana Visigothorum), a collection of "Roman law."
1882: Irish novelist, short story writer, and poet James Joyce born.
1887: In Punxsutawney, Pennsylvania the first Groundhog Day is observed. Again and again and again...
1922: Ulysses by James Joyce is published. Yes.
February 3
1690: The colony of Massachusetts issues the first paper money in the Americas.
1811: American journalist and politician Horace Greeley born.
1907: American author and philanthropist James A. Michener born, in rather epic fashion.
1947: American novelist, essayist, and poet Paul Auster born.
1947: English singer-songwriter and guitarist Dave Davies born.
1959: The day the music died: Rock and roll musicians Buddy Holly, Ritchie Valens, and J. P. "The Big Bopper" Richardson are killed in a plane crash near Clear Lake, Iowa.