Dancing Barefoot
Kinis introduces the ultimate in barefoot training footwear. This unique footwear is designed to be flexible and water resistant, yet machine-washable, with a rubber sole to protect the bottom of the feet. It will be available online in both indoor and outdoor versions later this year at kinis.com.
Falling for It
We all love scientific studies, especially those that offer counterintuitive conclusions—and the more dramatic the better. However, it's always important to read past the topline results to the end.
Case in point: The BMJ (British Medical Journal) recently published a study about parachute effectiveness, the objective of which was "To determine if using a parachute prevents death or major traumatic injury when jumping from an aircraft." The highly surprising result was that "Parachute use did not reduce death or major traumatic injury when jumping from aircraft in the first randomized evaluation of this intervention."
Pretty shocking isn't it—especially when you think carefully about the methodology, which involved having one group of participants jump out of a plane wearing a parachute and a control group jump wearing only an empty backpack.
But a clarification of the methodology a few 'graphs down brings us to the punchline: "However, the trial was only able to enroll participants on small stationary aircraft on the ground, suggesting cautious extrapolation to high altitude jumps."
Waka waka. Yes, the study—which is pretty elaborate and has some pretty funny images—was a joke published in the journal's Christmas issue, and was designed to illustrate the pitfalls of not reading scientific studies carefully.
Tech Crunch
Frito-Lay had to withdraw their Sun Chips from sale because the noise made by crinkling the packaging could reach 95 decibels, as loud as a motorbike.

— Quite Interesting (@qikipedia) January 7, 2019
G Whiz
The coming of 5G—the "next generation" of mobile connectivity—promises to transform (again) the mobile Internet, and perhaps even the Internet itself, with exponentially faster speed and better reliability. (Get caught up with TechRadar's 5G primer here.) However, beware some companies' marketing hype that claims that their "enhanced" networks are 5G when they're really not. Warns TechCrunch:
After a recent update some AT&T phones now have a 5G E icon. This icon replaces the one indicated the phone is running on a 4G network. But here's the thing: The phone is still on a 4G network....
...The so-called 5G E (5G Evolution) network is just a beefed-up 4G network and not true 5G, which is still far from being ready for general consumption.
2019 will see the introduction of the first true 5G networks and devices, but true reliable 5G connectivity is still a little ways off.
That may not necessarily be a good thing for our industry; historically, whenever there has been a jump in Internet speed, there has been a corresponding decline in printing shipments. Coincidence? Perhaps, perhaps not. But that's a conversation for another time.
Putting Paper On the Map—and Vice Versa
In this age of GPS and Google Maps, it's tempting to think of the paper map as a relic of the past. And yet, one British map store is betting on paper maps making a comeback—thanks to on-demand cartography. Says The Guardian:
Part of the reason for this possible comeback is that Stanfords can now print any map you need, centred on the place you choose, at a scale that suits your purpose. Martin takes me through the process. "You know how the hike you want is often at the join between two or more maps? We simply re-centre it and print it for you."
...
And who buys such maps?
"All sorts: a man who was researching an ancient pilgrim footpath in Italy got me to create a whole new map for it; a canoeist doing the Yukon River needed something similar. We get homeowners who are in boundary disputes, pilots – and a lot of people who can't get maps in their own country."
Here's how it works:
We go through the process of printing a map: I choose an OS Explorer-style production with my own house bang in the middle. Handy for walks straight from the door. Martin bumps up the scale a bit. "It's amazing how much more you see in a map when the scale is changed from 25,000 to 12,000. There's no more information – we can't add that – but you do spot things you'd previously missed."
We move to the formidable printing machine and load up with the paper of my choice, then watch as woods, streets and rivers roll out. Next to us is the map of London's streets that taxi drivers use when learning The Knowledge.
"People still do it?"
"Oh yes. We sell a lot of these."
Flush with Technology
Why? Just...why?
Here's a headline for the ages. From The Verge:
Kohler's smart toilet promises a 'fully-immersive experience'
Terrified yet? It sounds like a digital swirly. But anyway, at CES this week, Kohler did indeed demonstrate "an 'intelligent toilet' with built-in surround sound speakers, ambient mood lighting, and Amazon Alexa voice controls." It's actually on its second version, and is called the Numi 2.0. Or perhaps it should be called Numi Number Two.
Board Online
Again...why? Just...why?
internet.....connected.....wood https://t.co/ILoKBt9VMD

— Internet of Shit (@internetofshit) January 7, 2019
Sock It to Me
The new season of the highly entertaining BBC Radio 4 panel show The Unbelievable Truth started last week. (Premise: David Mitchell hosts four comedians who give joke-laden "lectures" on various topics and have to smuggle five true facts past the rest of the panel. Players are awarded points for correctly identifying true facts, and have points deducted for identifying false facts as true.)
Anyway, on this week's episode, one of the lectures presented a true fact that caught our attention: Netflix developed a pair of "smart socks" that sense when a viewer has fallen asleep and automatically pauses what they were watching. It's a few years old, but was news to some of us. From Business Insider:
Netflix based the sleep-detection system in the socks off of "actigraphy," which uses an accelerometer to tell when you've stopped moving for a while (presumably when you've fallen asleep). In the socks prototype, an LED light in the cuff of the sock begins to flash red when you've been immobile, letting you know it is about to pause your show. If you move at all, it cancels the countdown.
All That Jazz
If you are a jazz aficionado, the genre is often as much visual as it is auditory. Jazz record art has a distinct visual style, which was pioneered by the classic Blue Note Records. Vox takes a deep dive on how one record label—and one graphic designer—created an entire musical iconography.
Tweet of the Week
I am "have only heard of the larger font bands at Coachella" years old.

— John Ross Bowie (@JohnRossBowie) January 6, 2019
Screen Font
Do you have trouble reading text on screen (like this), particularly at small sizes? Enter Inter UI:
Inter UI is a typeface specially designed for user interfaces with focus on high legibility of small-to-medium sized text on computer screens.
The family features a tall x-height to aid in readability of mixed-case and lower-case text. Several OpenType features are provided as well, like contextual alternates that adjusts punctuation depending on the shape of surrounding glyphs, slashed zero for when you need to disambiguate "0" from "o", tabular numbers, etc.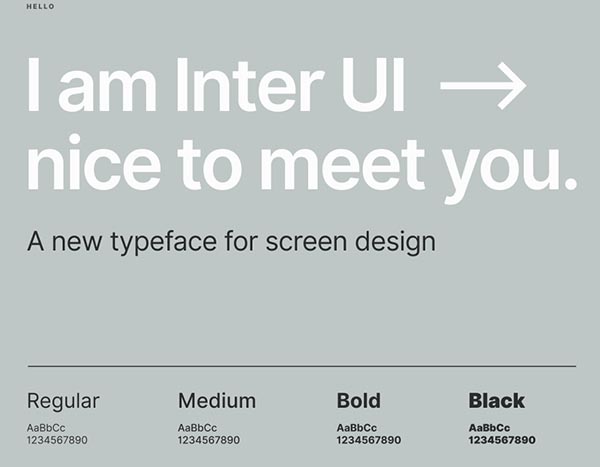 A Season In Hell
Have you ever wanted to have an immersive experience in Dante's Inferno? Neither have we. But, via Boing Boing, the Alpaca graphic design group has developed an "illustrated and interactive Dante's Inferno." You can chew the fat with the gluttons, hook up with the "carnal malefactors," or even hang with Lucifer himself frozen in ice at the bottom of the Ninth Circle. You'll want to avoid the flatterers, though...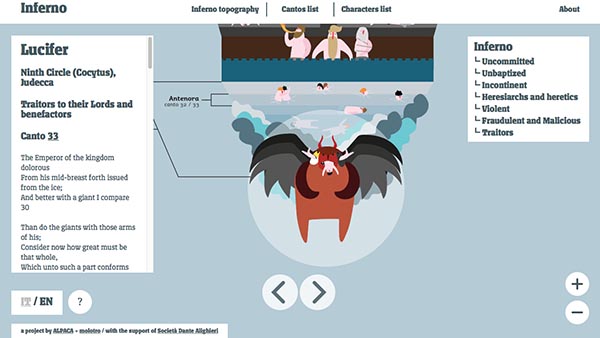 Still, it beats a disco inferno.
Hello, Dali
For Christmas 1936, Salvador Dalí sent Harpo Marx a harp with barbed-wire strings. Harpo sent back a photograph of himself with bandaged fingers.

— Quite Interesting (@qikipedia) December 22, 2018
For Your Eyes or Ears Only
This is a debate we're not inclined to wade into, so we will offer it, via Boing Boing, without comment:
Is it better to read a book or listen to it?
In a New York Times essay, Willingham parses the benefits and drawbacks of both formats. Which one is better? Of course personally preference and convenience matter, but Willingham argues that generally right now when it comes to listening or reading a book, there is "equivalence for easy texts and an advantage to print for hard ones." For example, audio books provide prosody, the intonation, tone, and rhythm of the words. Sometimes, hearing those cues helps us understand the material. But not always.
This Week in Printing, Publishing, and Media History
January 7
1706: German publisher Johann Heinrich Zedler born.
1831: German postman and founder of the Universal Postal Union Heinrich von Stephan born.
1873: Hungarian-American film producer and co-founder of Paramount Pictures Adolph Zukor born.
1894: William Kennedy Dickson receives a patent for motion picture film.
1912: American cartoonist Charles Addams born.
1927: The first transatlantic telephone service is established from New York City to London.
January 8
1547: The first Lithuanian-language book, Simple Words of Catechism, is published in Königsberg.
1824: English novelist, playwright, and short story writer Wilkie Collins born.
1862: American publisher and founded of the Doubleday Publishing Company Frank Nelson Doubleday born.
1889: Herman Hollerith is issued US patent #395,791 for the "Art of Applying Statistics"—his punched card calculator.
1904: The Blackstone Library is dedicated, marking the beginning of the Chicago Public Library system.
1935: Elvis Presley born.
1941: English actor, screenwriter, and Monty Python member Graham Chapman born.
1942: English physicist and author Stephen Hawking born.
1947: English singer-songwriter, producer, and actor David Bowie born.
January 9
1606: English printer William Dugard born.
1890: Czech author and playwright Karel ?apek born. His play R.U.R.coined the word "robot."
1944: English guitarist, songwriter, and producer Jimmy Page born.
January 10
1776: Thomas Paine publishes his pamphlet Common Sense.
1927: Fritz Lang's futuristic film Metropolis is released in Germany.
1990: Time Warner is formed by the merger of Time Inc. and Warner Communications.
January 11
1927: Louis B. Mayer, head of film studio Metro-Goldwyn-Mayer (MGM), announces the creation of the Academy of Motion Picture Arts and Sciences, at a banquet in Los Angeles, California.
1949: The first "networked" television broadcasts took place as KDKA-TV in Pittsburgh, Pa., goes on the air connecting the east coast and mid-west programming.
1964: Surgeon General of the United States Dr. Luther Terry, M.D., publishes the landmark report Smoking and Health: Report of the Advisory Committee to the Surgeon General of the United States saying that smoking may be hazardous to health, sparking national and worldwide anti-smoking efforts.
1755: General, economist, and politician, 1st United States Secretary of the Treasury, "Ten-Dollar Founding Father" Alexander Hamilton born.
1807: American businessman and philanthropist, founder of Western Union and Cornell University Ezra Cornell born.
January 12
1908: A long-distance radio message is sent from the Eiffel Tower for the first time.
1949: Japanese novelist, short-story writer, and essayist Haruki Murakami born.
January 13
1888: The National Geographic Society is founded in Washington, D.C.
1898: Émile Zola's J'accuse…! exposes the Dreyfus affair.
1910: The first public radio broadcast takes place; a live performance of the operas Cavalleria rusticana and Pagliacci are sent out over the airwaves from the Metropolitan Opera House in New York.