New Dimensions
We ran this item in our Newsfeed earlier this week, but it bears repeating. MakerBot announced the MakerBot Method, a device that bridges the gap between desktop and industrial 3D printing. And the price point is $6,499, one-third the cost of an entry-level 3D printer. Opportunities abound for commercial printers. Be sure to check out Cary Sherburne's interview with MakerBot.
[I]t could provide [commercial printers] with the opportunity to act as a service bureau. It is green-button simple to operate from the printing side. It's WiFi connected, has a camera on board, and doesn't necessitate the complexities of desktop 3D printer operation—how to calibrate, tweak for materials, control temperature, all of that is handled automatically. And loading filament is easy with directions on-screen.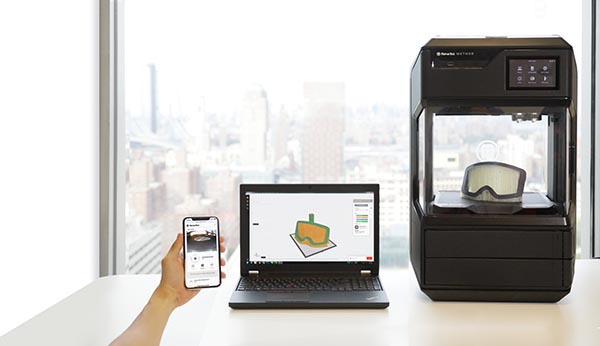 Too Much to Wear
Here is some food for thought:
The fashion industry is enormous. If each one of the 7.5 billion people on Earth owned only one pair of pants and one shirt, that would make 15 billion items of clothing.
And so wwhat if some of us do only own one pair of pants and one shirt? Still...
We often hear about landfills overpacked with discarded textiles and all the excess overproduced clothing incinerated. If you are looking for a good resource on the scal of textile overproduction, be sure to check out ShareCloth's Apparel and Fashion Overproduction Report.
And Now a Word from Our Gladiator
Roman gladiators did "product endorsements" before a battle.The producers of the film Gladiator wanted to include these, but feared the audience would not find it believable.

— Quite Interesting (@qikipedia) December 13, 2018
Word Up
New York Times obituary for Evelyn Berezin, inventor of the word processor:
Evelyn Berezin, a computer pioneer who emancipated many a frazzled secretary from the shackles of the typewriter nearly a half-century ago by building and marketing the first computerized word processor, died on Saturday in Manhattan. She was 93.
John Hodgman has some edits:
Why not just say "invented the word processor and thus fundamentally changed the course of tech, business, and life in the 20th century?" Why all this "she freed the hassled career gal!" language? And isn't there a word missing in this headline? B- first draft. Rework & resubmit https://t.co/Uqie1npuUj

— John Hodgman (@hodgman) December 13, 2018
Jules Van Sant Embarks on New Adventure
After stepping down from her long-time role as Executive Director of PPI, the PIA affiliate in the Northwest, Jules Van Sant has joined with Jill Crossley to found Bubble & Hatch, a marketing consulting firm targeting small and mid-sized organizations that need help with marketing efforts. The firm will perform a current-state assessment, understand where the client would like to be, and create and help implement a complete marketing plan. "Particularly for printing companies," Van Sant says, "we encourage them to use the technology they have on-site to promote themselves!" The pair has already lined up an impressive array of clients.
He, Robot
From Gizmodo:
Russian state TV apparently became confused yesterday while airing footage of a technology forum aimed at kids. A TV reporter proclaimed that Boris the robot, seen above, "has already learned to dance and he's not that bad."
Slight problem, though:
Boris isn't a real robot. It's just a man in a suit.
This reminds us of an old chess-playing machine that was all the rage in Europe in the 19th century. Called the Turk, it "had a chessboard atop a large wooden cabinet — which was filled with gears and other mechanical contrivances — and seated behind the chessboard was an intimidating, be-turbaned, Turkish-looking mannequin which had working arms that moved the chess pieces." It famously beat the likes of Benjamin Franklin and Napoleon. However, like Boris the "fauxbot," the Turk actually had a human chessmaster hidden inside it.
Bad Signs
Via the New York Times, someone in New York City is making anonymous complaints about store signage that violates NYC's obscure sign codes.
They were complaints about an arcane New York City statute requiring special permits for businesses to hang signs or awnings larger than six square feet.
The caller — or callers — was clearly targeting certain commercial strips, making complaints in batches, as on Nov. 26, when calls came in reporting 25 businesses along a two-block stretch of Eighth Avenue in Sunset Park, Brooklyn. The businesses did not have a license for their signs, the complaints said.
But it wasn't just a couple of days of calls, city data shows. In Brooklyn, the hardest-hit borough, 234 calls about illegal signage were made to New York City's help line in November — compared with 23 the same month last year. And the calls are still coming in.
The fine starts at $6,000 and replacing a sign can cost a lot more.
But who was responsible? Who was the mystery caller? And why?
Could it be someone who stood to gain, like a sign hanger? Maybe someone with a vendetta? A local busybody, incensed about infractions against the municipal code? Or could it be real estate developers looking to push tenants out?
We do not advise this as a way of marketing and selling signage production services.
Floppy Disks
Still decorating you Christmas tree? May we suggest these "downloadable papercraft models of retro PCs."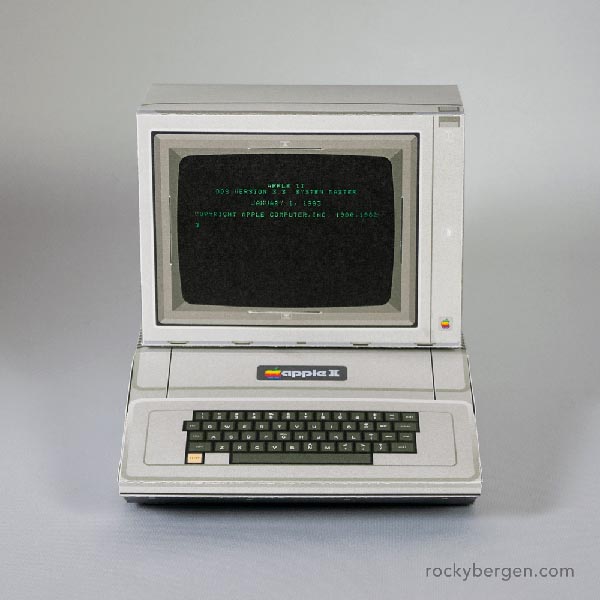 Com Castoff
Via Ars Technica, the small town of Charlemont, Mass., voted to build its own fiber optic network rather than pay Comcast.
Comcast offered to bring cable Internet to up to 96 percent of households in Charlemont in exchange for the town paying $462,123 plus interest toward infrastructure costs over 15 years. But Charlemont residents rejected the Comcast offer in a vote at a special town meeting Thursday.
However, the town could come out ahead:
An increase in property taxes would cover the construction cost. But the town would also bring in revenue from selling broadband service and potentially break even, making the project less expensive than Comcast's offer.
"With 59 percent of households taking broadband service, the tax hike would be 29 cents [per $1,000 of assessed home value], similar to that for Comcast," a Recorder article last month said. "But if 72 percent or more of households subscribe to the municipal-owned network, there is no tax impact, because subscriber fees would pay for it."
HP Plays Leadership Role in Environmental Sustainability
Despite the fact that the United States is the only country in the world that does not endorse the Paris Agreement on climate, many U.S. companies are taking the responsibility on board, even exceeding the goals established in Paris. HP is a great example of this. HP goes beyond environmental sustainability to sustainability efforts around Planet, People and Community. We encourage you to take the time to listen to this web session that outlines what HP has accomplished and still plans to accomplish on sustainability. The company takes to heart this statement from one of its founders: "The betterment of our society is not a job to be left to a few It's a responsibility to be shared by all." —David Packard
We Love to Fly and It Really Shows
We've all left things on planes, but jeepers:
Southwest Airlines says a Dallas-bound flight returned to Seattle last weekend because a human heart was left onboard.
It can't have been Tony Bennett's, because that would have been on the San Francisco flight.
It's not clear what the heart was for.
Umm...
Finger-Lighting Good
Nothing says "Christmas" like the smell of...fried chicken? There could be a colonel of truth in that.
Made with 100 percent recycled materials, the KFC 11 Herbs & Spices Firelog from Enviro-Log is dramatically less wasteful and significantly more effective at making your home smell like fried chicken than burning actual fried chicken.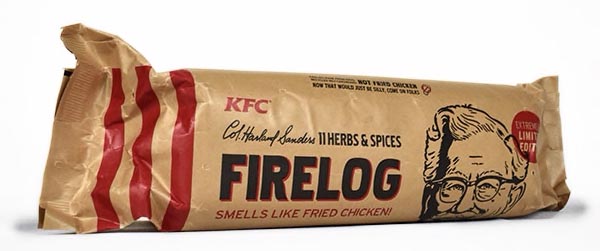 This Week in Printing, Publishing, and Media History
December 10
1520: Martin Luther burns his copy of the papal bull Exsurge Domine outside Wittenberg's Elster Gate.
1768: The first edition of the Encyclopædia Britannica is published.
1815: English mathematician and computer scientist Ada Lovelace born. Working on Charles Babbage's Analytical Engine, she s often considered the first computer programmer. (She was also the only legitimate daughter of Lord Byron.)
1884: Mark Twain's Adventures of Huckleberry Finn is published.
1909: Selma Lagerlöf becomes the first female writer to win the Nobel Prize in Literature.
December 11
1918: Russian novelist, historian, short story writer, and Nobel Prize laureate Aleksandr Solzhenitsyn born.
1972: Apollo 17 becomes the sixth and final Apollo mission to land on the Moon.
December 12
1821: French novelist Gustave Flaubert born.
1901: Guglielmo Marconi receives the first transatlantic radio signal (the letter "S" [***] in Morse Code), at Signal Hill in St John's, Newfoundland.
December 13
1962: NASA launches Relay 1, the first active repeater communications satellite in orbit.
1972: Apollo 17 astronauts Eugene Cernan and Harrison Schmitt become the last humans to set foot on the Moon.
December 14
1902: The Commercial Pacific Cable Company lays the first Pacific telegraph cable, from San Francisco to Honolulu.
1903: The Wright brothers make their first attempt to fly with the Wright Flyer at Kitty Hawk, N.C.
1948: Thomas T. Goldsmith Jr. and Estle Ray Mann are granted a patent for their cathode-ray tube amusement device, the earliest known interactive electronic game.
1972: Apollo astronaut Eugene Cernan is the last person to walk on the moon.
December 15
1791: The United States Bill of Rights becomes law after it is ratified by the Virginia General Assembly.
1939: Gone with the Wind (the highest inflation-adjusted grossing film) receives its premiere at Loew's Grand Theatre in Atlanta, Ga.
December 16
1775: English novelist Jane Austen born.
1901: Beatrix Potter privately publishes The Tale of Peter Rabbit. It goes on to sell over 45 million copies worldwide.
1917: British science fiction writer Arthur C. Clarke born.
1928: American science fiction writer Philip K. Dick born.
Merry Christmas from WhatTheyThink. May your holidays smell like fried chicken.