By Any Other Name
Here is an interesting variation on the field guide to flora: The Flower Color Guide, which lets you identify your favorite flowers—or perhaps those given to you by a suitor—by color. Written by Darroch and Michael Putnam, the book contains 400 varieties of flowers, organized by color gradation from the white rhododendron molle azalea and to the "black star" zantedeschia calla lily.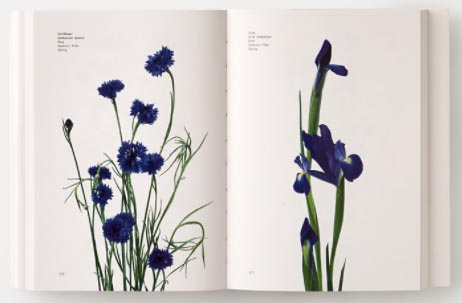 One-Sheet to the Wind
Do you have an extra $1.5 million that's burning a hole in your pocket (or your Swiss bank account)? Why not pick up a piece of movie memorabilia—one of the original movie posters for the 1932 Boris Karloff horror classic The Mummy. It's one of only three that are believed to still exist, and Sotheby's is expecting it to fetch between $1 and $1.5 million.
Let's hope it doesn't self-destruct....
Shredded at Auction
...Because you may have seen in the news last week that a painting by mysterious and elusive street artist Banksy sold at auction for $1.4 million. And then, in a first for Sotheby's:
"we heard an alarm go off," Morgan Long, the head of art investment at the London-based advisory firm Fine Art Group, who was sitting in the front row of the room, said in an interview on Saturday. "Everyone turned round, and the picture had slipped through its frame."
The painting, mounted on a wall close to a row of Sotheby's staff members, had been shredded, or at least partially shredded, by a remote-control mechanism on the back of the frame.
Sotheby's hasn't revealed the name of the buyer, but it would only be appropriate if he or she put the $1.4 million check through a paper shredder.
O Caption My Caption!
Very cool: Last week, the National Theater in London introduced "smart caption glasses" that display dialogue on the lenses as the actors speak—essentially closed captioning for live theater. "The glasses can be used without charge for the play 'War Horse' and for the musical 'Hadestown,' and they will be available for all of the theater's 2019 season."
Marie Pascall, founder of Performance Interpreting, a British provider of sign language interpreters, said in a phone interview that she had recently tried the glasses and had found them "fantastic." She said they were much better than alternatives like captions above or below the stage, which force you to look away from the action. (The National Theater uses those options for three or four performances per play each season.)
onathan Suffolk, the theater's technical director, said that the glasses had taken two years to develop. "We could have offered the scripts on a phone, but we wanted a technology that was much more discreet and immersive and wouldn't disturb anyone," he said.
The biggest challenge was creating software that allowed the words to be displayed in real time so that people wearing the glasses reached important moments — such as jokes — along with everyone else, Mr. Suffolk added. It is easy to load a script into a subtitling system and hit "go" at the start of the play, he said, but problems would then arise if actors spoke quicker or slower than expected.
The software used by the theater follows live speech and recognizes certain stage directions, like lighting changes, to ensure the subtitles appear in the right place. The words are then transmitted to the glasses over Wi-Fi.
CVS Goes Long
With receipts, that is. If you have bought anything in a CVS recently—aspirin, toothpaste, or an Ace bandage—you have likely received a printed receipt that could be used as, well, an Ace bandage. It's nice to know that in an age when companies everywhere are trying to cut down on their use of paper some are eagerly expanding it, even if the reasons for it are a bit bewildering. (Although it has not been without protest, but then what ever is?) Anyway, Vox delves into the world of the CVS receipt and compares it to other receipts.
Thought for Food
Two incredibly bad Christmas confectionaries:
Archie McPhee's Mac & Cheese Candy Canes. Otherwise known as "instant lactose intolerance," we would suspect. Oddly, they have become rather popular. Says the ordering site: "Because of their extreme popularity, we are limiting Mac & Cheese Candy Canes to a maximum of one (1) per customer." That's one set of six, not a single candy cane, although the latter might be preferable. Says Boing Boing: "This one isn't bad! Smells like cheese and tastes like Mac n cheese but the sweetness overpowers the flavor eventually so it's doable."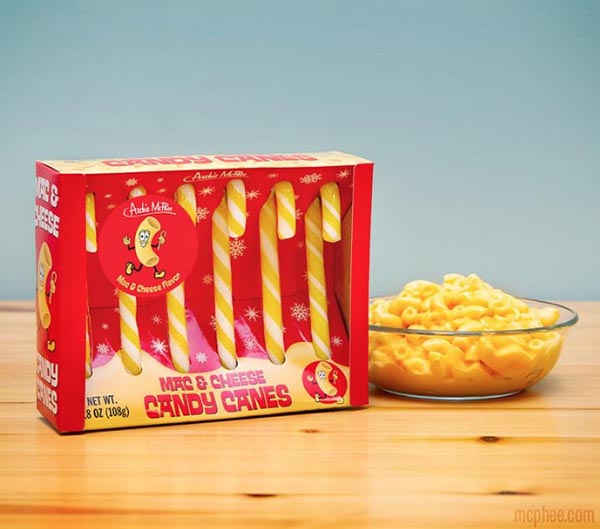 Put them on your Christmas tree and the smell of cheese may overpower the smell of pine, but you can offset that with potato chips that taste like Christmas trees. And it's all natural; none of that chemical trickery to simulate the taste of Christmas trees—"Potatoes, Sunflower Oil, Pine Salt Flavour Seasoning (6%) (Maltodextrin, Sea Salt, Dextrose, Salt, Yeast Extract, Flavouring, Pine Oil)."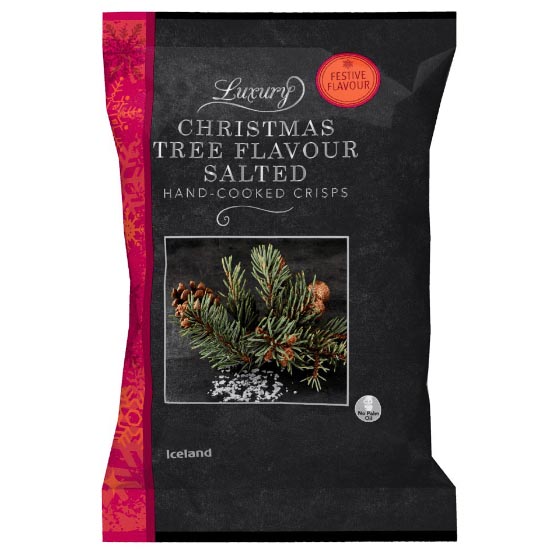 At present, they are only available in the UK, mercifully.
Then there are Clamdy Canes, but we'll be bringing them up later...
Click Here to Kill Everybody
The New York Times looks at the dark side of the "Internet of Things" (assuming there is a light side), and talks with security consultant Bruce Schneier, author of the marvelously titled new book, Click Here to Kill Everybody.
"I'm not pessimistic generally, but it's really hard not to be," said Bruce Schneier.
...
Mr. Schneier argues that the economic and technical incentives of the internet-of-things industry do not align with security and privacy for society generally. Putting a computer in everything turns the whole world into a computer security threat — and the hacks and bugs uncovered in just the last few weeks at Facebook and Google illustrate how difficult digital security is even for the biggest tech companies. In a roboticized world, hacks would not just affect your data but could endanger your property, your life and even national security.
Is there any way to save us from what could possibly be a dystopian future?
Mr. Schneier says only government intervention can save us from such emerging calamities. He calls for reimagining the regulatory regime surrounding digital security in the same way the federal government altered its national security apparatus after the Sept. 11, 2001, attacks. Among other ideas, he outlines the need for a new federal agency, the National Cyber Office, which he imagines researching, advising and coordinating a response to threats posed by an everything-internet.
"I can think of no industry in the past 100 years that has improved its safety and security without being compelled to do so by government," he wrote. But he conceded that government intervention seems unlikely at best. "In our government-can't-do-anything-ever society, I don't see any reining in of the corporate trends," he said.
We're doomed.
This Week in Printing, Publishing, and Media History
October 8
1921: KDKA in Pittsburgh's Forbes Field conducts the first live broadcast of a football game.
October 9
1446: The hangul alphabet is published in Korea.
1907: French actor, director, and screenwriter Jacques Tati born.
1940: John Lennon born.
October 10
1924: "Actor," "director," and "screenwriter" Ed Wood born.
October 11
1910: Former President Theodore Roosevelt becomes the first U.S. president to fly in an airplane.
1950: CBS's mechanical color system is the first to be licensed for broadcast by the U.S. Federal Communications Commission.
October 12
1892: The Pledge of Allegiance is first recited by students in many US public schools, as part of a celebration marking the 400th anniversary of Columbus's voyage.
1979: The Hitchhiker's Guide to the Galaxy, the first of five books in Douglas Adams' Hitchhiker's Guide to the Galaxy comedy science-fiction trilogy, is published.
October 13
1983: Ameritech Mobile Communications (now AT&T) launched the first US cellular network in Chicago.