For over 10 years BERGSTEIN has been developing and delivering industrial printers. Their first flatbed printers were based on solvent inks, already printing products with a height up to 30 cm. They put significant investments and developments into small flatbed printers, which are suitable for a huge range of industrial products using UV or LED inks and direct to shape. And in the last 5 years Bergstein is selling solutions for customer in Industrial Single Pass printing!
Peter Bergstein had the advantage of almost 30 years' experience and customer relationships in pad printing and screen printing, which meant at BERGSTEIN they are able to solve almost all issues on industrial products, which had previously been printed using an analogue technology.
Their technology enabled the likes of P&G, Bosch and Adidas to personalize products, or print variable information on products in small runs, whilst delivering strong speed of production and maintaining print quality and adhesion. He has been able to develop Industrial Single Pass Inkjet Solutions, which are fully automated (often using robotics) working with partners such as Xaar, Ricoh, INX and Fanuc.
Printing small order quantities and variable data is now possible in a quick and efficient manner, as well as digital printing on large surfaces and objects up to 30 cm height. The printers also stand out by their extensive and innovative specifications and printing capabilities, high speed state of the art production automation as we all drive towards Industrial 4.0.
I was fortunate enough to visit Bergstein BV in Kerkrade and speak to Peter about his business and his vision for the future.
What are customers looking for at the moment?
'Demand is particularly significant for Single Pass Digital Print for Direct to Shape, we are building to order automations for large FMCG and Pharma companies that want to be able to print onto plastic for their products. We are fulfilling orders in Dubai, China, Europe and the USA – focused on unique customer needs'.
'The advantage that we have with our digital automations is that it gives greater flexibility to respond to unique customization – with variable prints. With changes in the retail landscape this flexibility is key'.
We have a number of basic modular equipment which can then be tailored to the needs of the customer. Our success at the moment derives from the fact that we really listen to the customer and solves their problems.'
What type of Inkjet Printing are your automations being used for at the moment?
'The key market for us at the moment tends to be Direct to Shape – particularly on plastic. Examples of this would be plastic liquid containers and plastic cases. The customer wants to be able to print variable messages or colors on the end of the line production. Our single pass automations allow then to fully integrate into the production process.'
What machines do you offer?
We have our DIGI 5 and the DIGI 7, which are industrial single pass high speed printers, which can be used for short or long runs. The DIGI 7 is a complete automation with a conveyor belt system, where customers can change their products in a very short time due to the usage of special mother jigs.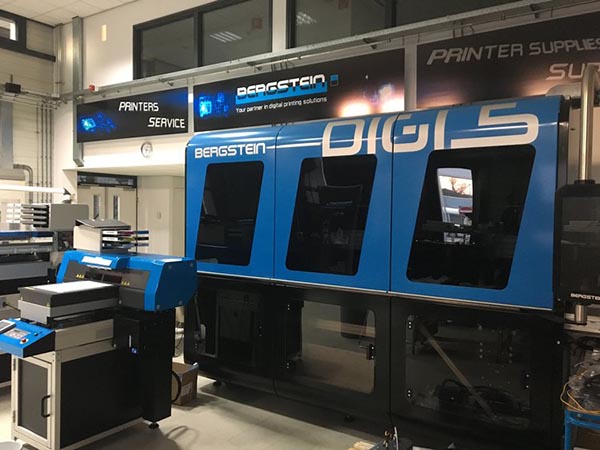 Bergstein Digi 5 Single Pass Inkjet machine
What is the future for Bergstein?
'Well we have a strong order book with a constant stream on new enquiries. We are looking for more warehouse space to grow. I guess we are nearing the stage where we need more investment to begin to upscale our production. We are producing several automations per year, but we could make more. At this moment we do some new development in our existing DIGI 7, where print quality as well as environment items will be upgraded. Also, the usage of robots in combination with our digital modules is taking new developments and under construction' More info on www.bergstein.nl.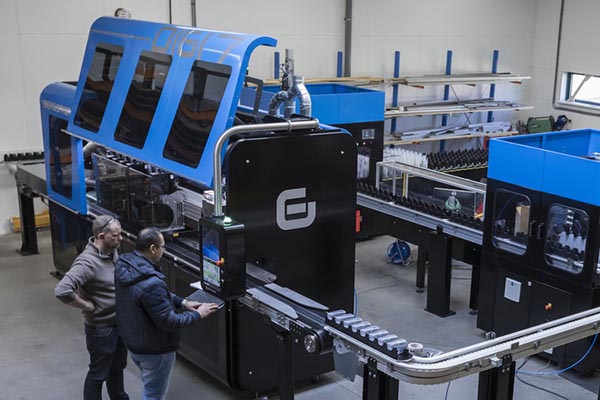 Digi 7 - amazing single pass technology
Bergstein will be exhibiting at the InPrint event in Milan 20-22nd November find out more by visiting their stand or checking out the website www.bergstein.nl.