Best Buy Back
MarketWatch explains how some companies manipulate share buybacks to inflate earnings. "Accelerated Share Repurchases can turn a firm's quarterly miss into a stock-boosting beat," writes Mark Hulbert.
Color Me Bad
What's the least attractive color?
Research shows that PANTONE 448C (below) is the least attractive colour. It is often used on plain packaging for cigarettes. pic.twitter.com/CDYOZPMIge

— Quite Interesting (@qikipedia) September 27, 2018
New Words to Win With
Are you an avid (or even occasional) Scrabble player? Well, now you have some new words to try to rack up and play. Merriam-Webster has just updated the Official Scrabble Dictionary, adding ~300 new words to more closely align with current pop culture and popular usage (or herald the end of civilization, depending upon your viewpoint). Now you can play—if given the chance and the tiles—"sriracha, aquafaba, beatdown, zomboid, twerk, sheeple, wayback, bibimbap, botnet, emoji, facepalm, frowny, hivemind, puggle and yowza," says The Guardian.
Bibimbap?
Anyway, some eagerly awaited two-letter words have been added: OK and ew.
Rock Music
We all know that the word "lithography" means "stone writing" (lithos, "stone" and graphein "to write"), as indeed, the first image carriers used for lithographic printing were limestone slabs. But have you ever heard (or heard of) a lithophone? It's essentially a stone version of a xylophone, using bits of stone rather than wood, which the original xylophone did (xylon, "wood" and phone, "sound, voice"). Lithophones are just as old as xylophones, and 10 years ago a lithophone was found in Colorado. From Boing Boing:
The ancient people who lived near the Great Sand Dunes crafted their lithophones out of dense, often volcanic, rock to get the best sound. The stones have different sizes, which gives them different tones and pitches. Each one has a pair of dead spots where you can hold them so they resonate.
Here is a lithophone cover of Paul Simon's "You Can Call Me Al" (but not "I Am a Rock").
Technologies Great and Small
Boing Boing waxes nostalgic for the classic BIC four-color pen. Remember this?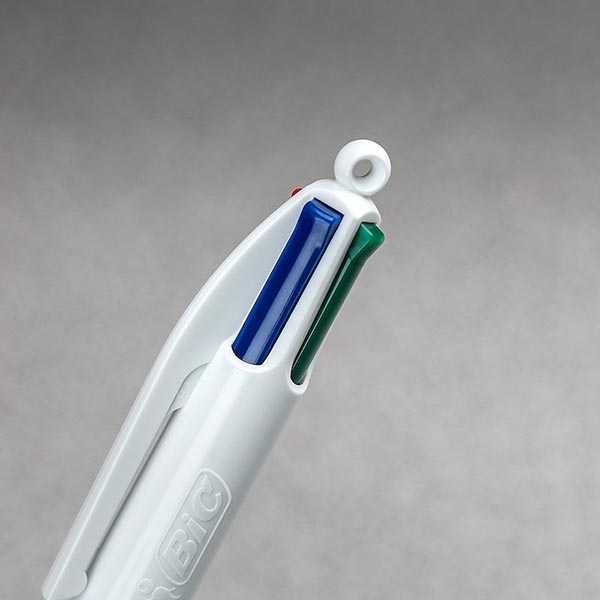 Those of us who came of age in a much simpler time recall these quite fondly. And they still exist! Pick up a pack of three for $4 at Amazon.
Operation Runway
As trade show season kicks into high, and a fair percentage of our readership takes to the air (or hopes to), here is some useful advice from Dublin on what not to do if you are late for your flight. From the BBC:
A passenger has been pinned to the ground by police at Dublin Airport after running out of the terminal towards a plane and shouting at the pilot to wait.
Patrick Kehoe, 23, made it to the taxiing Ryanair aircraft before police arrested him at about 07:00 local time.
He has been charged with criminal damage to a door lock and granted bail.
A ground crew member said he "just ran from the building towards the plane", which was departing for Amsterdam.
The Irish man was "quite determined" to make his flight, an eyewitness told Irish broadcaster RTÉ, adding that he ran towards the plane "with his suitcase under his arm".
He must have been desperate if it's a Ryanair plane he was chasing. Anyway, Mr. Kehoe also offered an object lesson in what not to do following your subsequent court appearance:
Mr Kehoe covered his face with a folder and shouted abuse at waiting journalists as he left the court, before swinging his suitcase at the crowd and lowering his trousers to expose his backside.
Planet Vegas
This could possibly be the only interesting thing about Las Vegas:
The light beam on the top of the Luxor Hotel and Casino in Las Vegas attracts so many moths that it has its own ecosystem, including bats and owls. (Image: Scott Swigart) pic.twitter.com/rRr4XIMShA

— Quite Interesting (@qikipedia) September 26, 2018
Patched Up
Thanks to 3D printing, a dachshund named Patches has a new skull. The nine-year-old dog had a large tumor in its head and, in order to remove it all, vets had to also remove up to 70% of the poor dog's skull. While we have all known a few dogs that were out of their skulls, it's generally not a good thing for a dog to be, so with the help of 3D medical printing, the vets were able to mold a titanium plate to fit where the bone had been removed. From the New York Times:
Although the technology has existed since the 1980s, 3-D printers have been used in clinical applications only in recent years, mostly in veterinary teaching hospitals, according to a 2014 article in The Journal of the American Veterinary Medical Association.
The technology is used to make 3-D models from two-dimensional CT scans before operations on animals like horses and dogs, enabling surgeons to plot their approach before the first incision is even made.
Seal of Disapproval
And in what seems like a perfect metaphor for this past week, one of the most-circulated videos was of a seal slapping a man across the face with an octopus. Nuff said.
This Week in Printing, Publishing, and Media History
September 24
1896: American novelist and short story writer F. Scott Fitzgerald born.
1936: Muppet creator Jim Henson born.
September 25
1690: Publick Occurrences Both Forreign and Domestick, the first newspaper to appear in the Americas, is published for the first and only time.
1897: American novelist, short story writer, and Nobel Prize laureate William Faulkner born.
1906: Leonardo Torres y Quevedo demonstrates the Telekino, guiding a boat from the shore, in what is considered to be the first use of a remote control.
September 26
1888: Poet, playwright, critic, and Nobel Prize laureate T. S. Eliot born, not with a bang, but a whimper.
1905: Albert Einstein publishes the third of his Annus Mirabilis papers, introducing the special theory of relativity.
September 27
1840: Iconic cartoonist Thomas Nast born.
1962: Rachel Carson's Silent Spring is published, inspiring an environmental movement and the creation of the U.S. Environmental Protection Agency.
1998: The Google internet search engine retroactively claims this date as its birthday.
September 28
1951: CBS makes the first color televisions available for sale to the general public, but the product is discontinued less than a month later.
1952: American satirical novelist Christopher Buckley born.
September 30
1939: NBC broadcasts the first televised American football game between the Waynesburg Yellow Jackets and the Fordham Rams. Fordham won, 34–7.
1947: The World Series, featuring the New York Yankees and the Brooklyn Dodgers, is televised for the first time. (The Yankees won.)
1980: Ethernet specifications are published by Xerox working with Intel and Digital Equipment Corporation.