New Odor Capture Finishes from Microban Now Oeko-Tex Certified
Microban® International, Ltd., a global provider of antimicrobial, odor control, and surface modification technologies, announced that its Scentry and Scentry Revive non-antimicrobial odor control treatments have been certified as safe for humans and the environment in line with the Eco Passport system from Oeko-Tex.
The company, whose global headquarters are in Huntersville NC, states that the main causes of odor in textiles are organic carboxylic acids, which embed in fabrics causing persistent or permanent odor. Scentry forms a protective barrier on fabrics that traps body odor, preventing apparel from giving off an offensive smell during wear and between washings.
Scentry Revive is a patent-pending technology that neutralizes odors and maintains freshness on apparel for up to five consecutive wears between washes, continuing to work for up to 50 home launderings. The company states that an average shirt without Scentry Revive undergoes 50 washings per year; with Scentry Revive, it would require 10 washings per year, for a savings of 26 gallons of water per year.
Both finishes can be pad applied to polyesters and other activewear fabrics during the manufacturing process.
Tired of Linen Clothing Wrinkling?
Linen is a great fabric, but boy can it wrinkle! Now a solution is in the offing—a polyester fiber that can be used to produce linen-like textiles from Teijin Frontier Co Ltd of Tokyo. The company says the fibre boasts a natural appearance and is suitable for the manufacture of jackets, trousers and blouses. So now we can look forward to that great linen look without the annoying wrinkles!
New Roman Times
For those—presumably students—whose essay assignments stipulate a specific page count, here's a cute cheat: Times Newer Roman. It's the same typeface you've known and loved since 1932, only "supersized": each character is 5–10% wider than Times New Roman Classic. This could come in handy when noodling with margins begins to look too conspicuous. Of course, it won't help if the assignment requires a specific word count and is submitted digitally, bur for those assignments that are still turned in on paper (are there any anymore?), it's a nice way of giving the illusion that you completed the assignment properly, setting up a lifetime of failing to meet expectations.
Thinking Outside the Box
Because sometimes thinking inside the box isn't really an option....
Anyway, one of the odder specialty printing applications we have come across is personalized coffin printing (see here, for example). But there are some artisans that can create custom-built coffins. Want to be buried inside a Coke bottle? Or your favorite production inkjet press? Want to R.I.P. in a RIP? Well, "coffin artist" Paa Joe specializes in what w might call R.I.P.P.—Rest in Personalized Peace. From Boing Boing:
He crafts fantasy wood "proverb coffins" (aka as abebuu adekai in his culture) out of his shop in Ghana. He's considered the grandfather of the fantasy coffin trade and his work is exhibited in museums worldwide.
The business fell on hard times, but a recent documentary (now streaming for free with Amazon prime) called Paa Joe & the Lion profiles how he and his son are bringing the business back from...well, you know.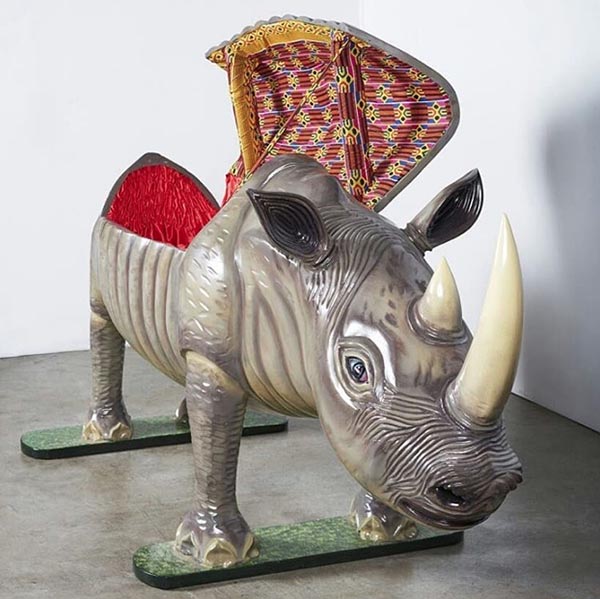 The Looming Robot Holocaust: Latest Developments
If the Battlestar Galactica reboot has taught us anything, it's that when robots appear benign, to the point that us puny humans don't recognize that they're robots, we're in for a world of hurt. (Or, in the case of BSG, 12 worlds of hurt.)
"Science fiction!" you scoff.
Yes, well, but then there's this from Science Daily:
When you think of robotics, you likely think of something rigid, heavy, and built for a specific purpose. New "Robotic Skins" technology developed by Yale researchers flips that notion on its head, allowing users to animate the inanimate and turn everyday objects into robots.
Wha?
The skins are made from elastic sheets embedded with sensors and actuators developed in Kramer-Bottiglio's lab. Placed on a deformable object -- a stuffed animal or a foam tube, for instance -- the skins animate these objects from their surfaces. The makeshift robots can perform different tasks depending on the properties of the soft objects and how the skins are applied.
To demonstrate the robotic skins in action, the researchers created a handful of prototypes. These include foam cylinders that move like an inchworm, a shirt-like wearable device designed to correct poor posture, and a device with a gripper that can grasp and move objects.
This is great! Apply robotic skins to, say, the bottles in a six-pack of beer and simply summon a beer at will. No more having to endure the rigors of getting up and walking to the fridge. And imagine your next dinner party. The meal can serve itself!
Dimensions: The Next Dimension
There is a lot of cool stuff on Science Daily this week. Take this: a new system can turn 2D videos into 3D-printed "motion sculptures."
Recently, though, researchers from MIT's Computer Science and Artificial Intelligence Laboratory (CSAIL) have come up with a way to get a better handle on this understanding of complex motion.
The new system uses an algorithm that can take 2-D videos and turn them into 3-D printed "motion sculptures" that show how a human body moves through space. In addition to being an intriguing aesthetic visualization of shape and time, the team envisions that their "MoSculp" system could enable a much more detailed study of motion for professional athletes, dancers, or anyone who wants to improve their physical skills.
In Praise of Luddites
For those of you (us?) who sometimes feel like technology is getting out of hand (like, say, the ability to make any object a robot) and feel like ditching the lot of it and pulling a Thoreau, Scientific American has a worthwhile essay on why being a Luddite isn't such a bad thing, at least in part.
The good thing about Luddism is that enables critical reflection and evaluation of the world we have built and are building. At times, we need to break away, to deconstruct the systems within which we find ourselves embedded and to evaluate how the technologies we take for granted influence who we are and can be. This is why some Luddism is important for society.
Wrapped Up In Books
Some of us are lucky if we ever win a book in a raffle; Ceisjan van Heerden won an entire bookstore. The Guardian explains:
The unusual prize was dreamed up by Paul Morris, who opened Bookends in Cardigan four years ago. The shop is profitable and would have made an estimated £30,000 in a sale, but Morris said he wanted to give someone else the chance to realise their dream of running a bookshop. Over the last three months, anyone who spent more than £20 was eligible to be entered into a raffle to win it.
The name of the winner, Ceisjan Van Heerden, who is from the Netherlands, was drawn out of a hat containing 59 others at a ceremony last week, as Abba's The Winner Takes It All played to a crowd.
Morris, who worked in the book industry for years before he opened his own shop, told the Guardian that he had chosen to take early retirement at 52 after his osteoarthritis worsened.
Hmmm...some of us here at WhatTheyThink do actually spend the equivalent of 20 quid at their local bookstore. Here's hoping this idea catches on.
My Three Pens
Boing Boing is beside itself (twice) over one pen company's deceptive packaging that uses an optical illusion to give the illusion that the package contains three pens and not one.
It beggars belief that this packaging wasn't designed to trick people into thinking there are three pens in the box instead of just one.
The reflective cardboard is set at an angle to make it look like three pens are bundled together.
"But it says ballpoint pen! Pen, not pens! For the love of god, it says pen!"
This is true, but when you see three pens, that's what matters here.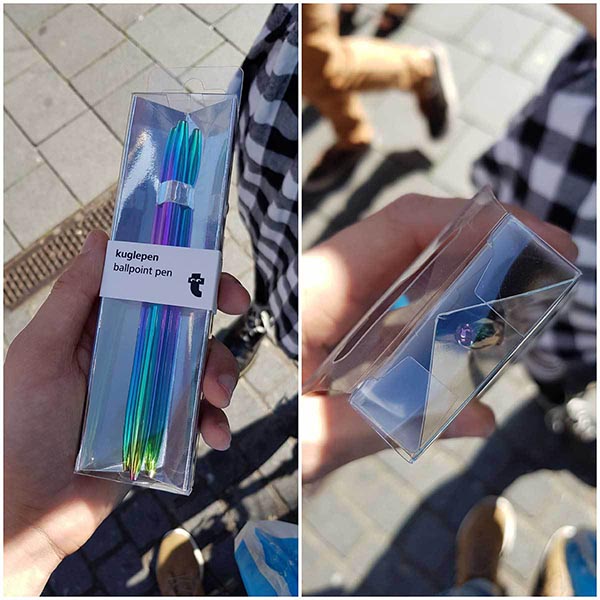 This Week in Printing, Publishing, and Media History
September 17
1787: The United States Constitution is signed in Philadelphia.
1920: The National Football League is organized as the American Professional Football Association in Canton, Ohio.
September 18
1851: First publication of The New-York Daily Times, which later becomes The New York Times.
1927: The Columbia Broadcasting System (CBS) goes on the air.
1709: English lexicographer and poet Samuel Johnson born.
September 19
1796: George Washington's Farewell Address is printed across America as an open letter to the public. ("One last time...")
September 20
1878: American novelist, critic, and essayist Upton Sinclair (The Jungle) born.
September 21
1937: J. R. R. Tolkien's The Hobbit is published.
1866: English novelist, historian, and critic H. G. Wells born.
1947: American author and screenwriter Stephen King born.
September 22
1789: The office of United States Postmaster General is established.
1888: The first issue of National Geographic magazine is published.
1991: The Dead Sea Scrolls are made available to the public for the first time by the Huntington Library.
September 23
1911: Pilot Earle Ovington makes the first official airmail delivery in America under the authority of the United States Post Office Department.
1889: American journalist, publisher, and co-founder of The New Republic Walter Lippmann born.
1949: American singer-songwriter and guitarist Bruce Springsteen born (to run).